Danny Cipriani's first Premiership game in cherry whites was largely a success, guiding the side to a 27-14 victory over the Northampton Saints.
An imposing first-half performance had Gloucester's attack firing on all cylinders with finesse and precision, opening up Northampton on multiple occasions leading to 21 points.
The signing of the re-called England flyhalf has undoubtedly elevated Gloucester's chances this year. Already we are seeing the effects of his arrival – the backs are clicking into gear with timing in sync and fast, clinical ball handling has been built around Cipriani's passing game.
The brash, cocky playmaker exudes confidence but also brings high expectations. He looks to be a perfectionist, chasing the smallest of details from his teammates. The right lines, ideal spacing and perfect timing are all expected and demanded by the 10.
The creative genius will do the rest if you just give him the right canvas to paint on.
Gloucester's attack has seemingly inherited a number of plays and concepts the Wasps ran last year with Cipriani at the helm, using 'overload sweep' plays and screens he is expertly adept at running.
There were early signs that this newly-adopted attack would suit Gloucester when they used a typical overload sweep play to make an early line break.
This play design allows Cipriani to get out to the edge with a 'sweep' line and ball play with the overlap. Often the Blindside winger will come with him to 'overload' the far side with a numbers advantage.
What will ignite these plays for Gloucester is the work of young halfback Callum Braley, who can hit a target on the chest from 20-metres away with a flat ball, finding extreme width with great velocity.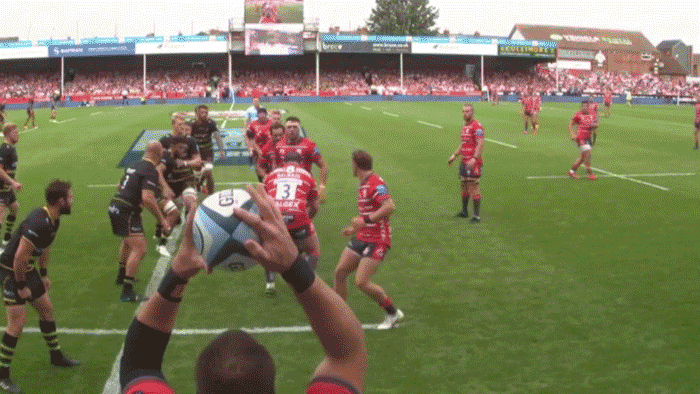 Usually, a throw to the tail of the lineout is required to make the midfield pass easier for the halfback, but here Gloucester targets the front and still run the play. Braley, who won two World Rugby under-20 championships as England's halfback, is an elite level passer who will give Cipriani first-class service this year.
It was telling that in the 37th minute when he went off to the blood bin and didn't return, the side only scored 6 more points.
Braley's tempo, off-the-deck delivery and passing width is a real asset. Paired with Cipriani's creativity, the halves pairing will cause damage across the Premiership this season. Braley will allow Cipriani to play both wider from the ruck and flatter, almost on top of the defensive line where he can pull strings and manipulate defenders.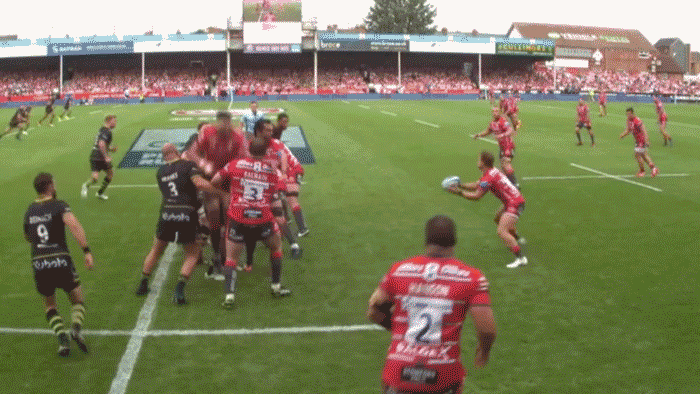 They run the same play borrowed from the Wasps playbook and Cipriani ends up with blindside winger Matt Banahan running open into a channel and fullback Jason Woodward also free.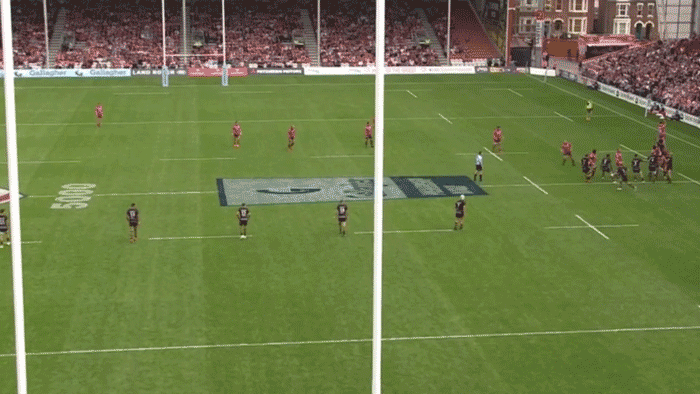 Cipriani's ability to bounce out coming off the screen and commit defenders is world class. Look how delayed his 'bounce' is, waiting until the last second to change his angle. He adjusts his line slightly in and then out again to create deception.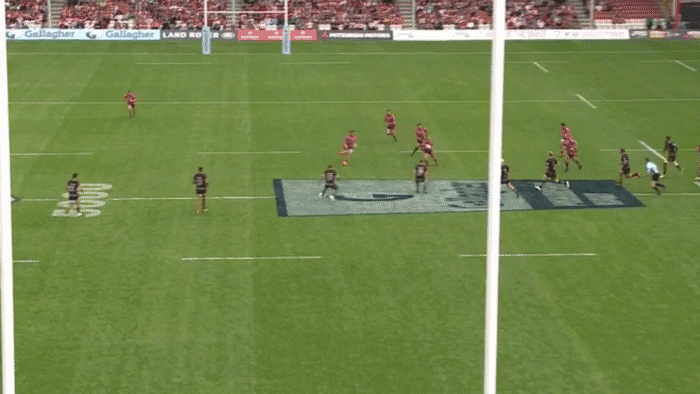 This makes the line run by centre Henry Trinder believable, as Cipriani does not look a receiving option. Gloucester score their first try from a rolling maul following this line break.
Cipriani's dream long ball came again off set-piece, this time from a scrum play using a truck-and-trailer off the back with 8-9 to create a screen pass with Cipriani floating behind his 12 as the backdoor receiver.
Gloucester ran this same play earlier in the half in the 8th minute, around halfway down a narrow corridor. They found the same space on the wing, with Cipriani attempting a cutout to find his winger.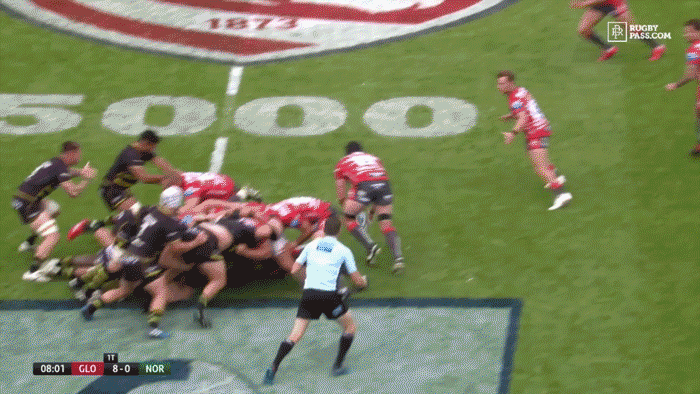 The Saints were able to defend with a sliding defence in the narrow space, but this knowledge would be tucked away to be used in the 35th minute when they were given a scrum infield with more space to play with.
They run the same play again, attacking to the right. As the scrum earns a penalty advantage, Cipriani knows he has some leeway to take some risk. He decides to fire early, in a quick catch-and-pass motion he whips a 21-metre rainbow off his left wrist with deadly precision.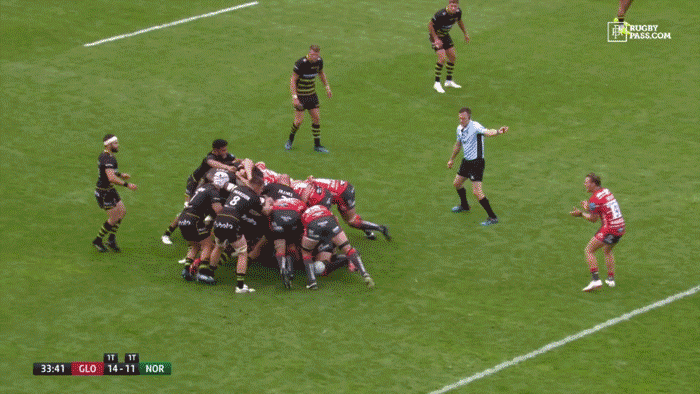 Saints fullback Ahsee Tuala is caught lingering too far inside as the ball drops over his head into the outstretched arms of Charlie Sharples for a stunning strike.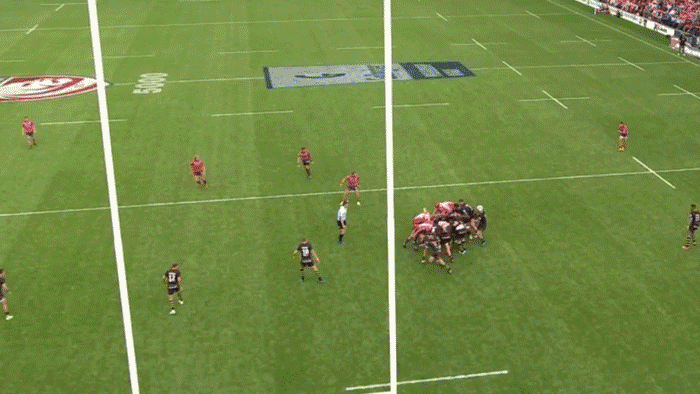 Even edge defenders have to be aware of where their opposite man is when Cipriani is in play. The Saints sliding defence was caught out by a masterful piece of skill. Aided by the knowledge his side would receive a penalty, he took the gamble and it paid off stretching the lead to 21-11 just before halftime.
Sign up to our mailing list here and we'll keep you up to the minute with weekly updates from the world of rugby.