The future of Joey Carbery was the off-season's most debated topic in the Pro14.
The Leinster product was caught in the centre of a switch deal to ensure Ireland's number two outhalf could receive as much game time as possible ahead of the World Cup.
Many believed Carbery should've been able to stay in Dublin while those at Thomond Park were delighted when the news broke of a two-year deal to Munster.
His undoubted ability showed in a 64-7 thumping of Ulster, setting the stage for his return to Leinster in what will be arguably one of the biggest club games of his young career.
What have we seen so far from Joey Carbery at Munster and can he continue his early form against Europe's superpower, and his old club, Leinster?
Undoubted raw talent
There is no denying the 22-year-old outhalf has the ability to be a triple threat 10 – an attacking force that can run, kick or pass, creating opportunities with all three. We are already seeing that come into fruition at Munster, but it will take time to hone the decision-making skills into the complete package.
To illustrate his raw ability but also highlight how Carbery can get better as a ball-player this play is the perfect example.
We see the big 'rainbow' off the right wrist which hits winger Alex Wootton in the breadbasket, a remarkable piece of skill, but when you delve deeper into the play, it doesn't do enough to break down Ulster's defence.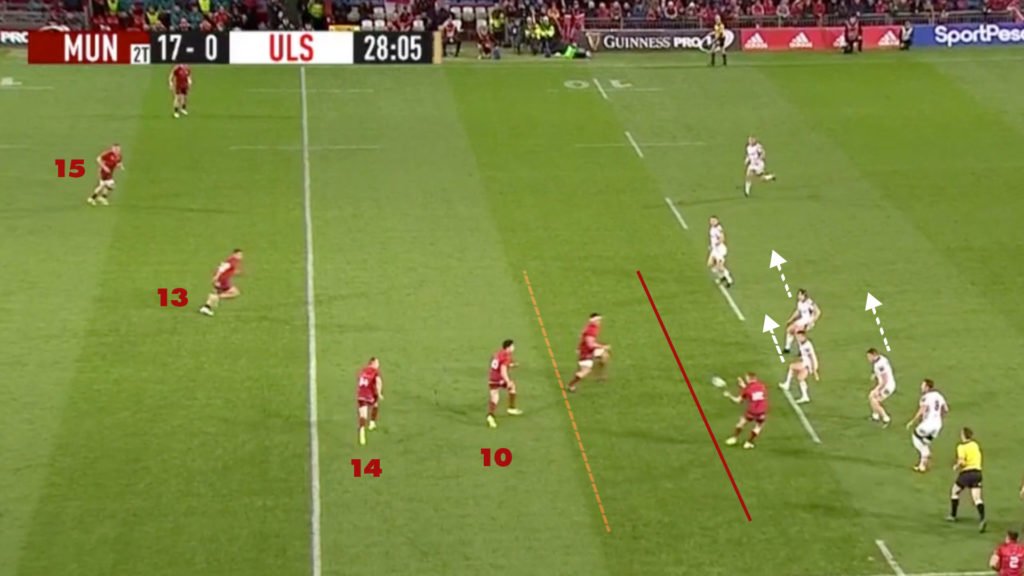 The problems start on the first pass by Rory Scannell (12), who feeds Joey Carbery out of the back behind a line from CJ Stander.
When the pass is released, Stander is not flat enough to hold or commit any defenders allowing Ulster's inside defence to slide. You can see all the players in white have plenty of time to decide Stander is not an option and push wide. He does hold them for a fraction, but all of them are able to recover and slide onwards.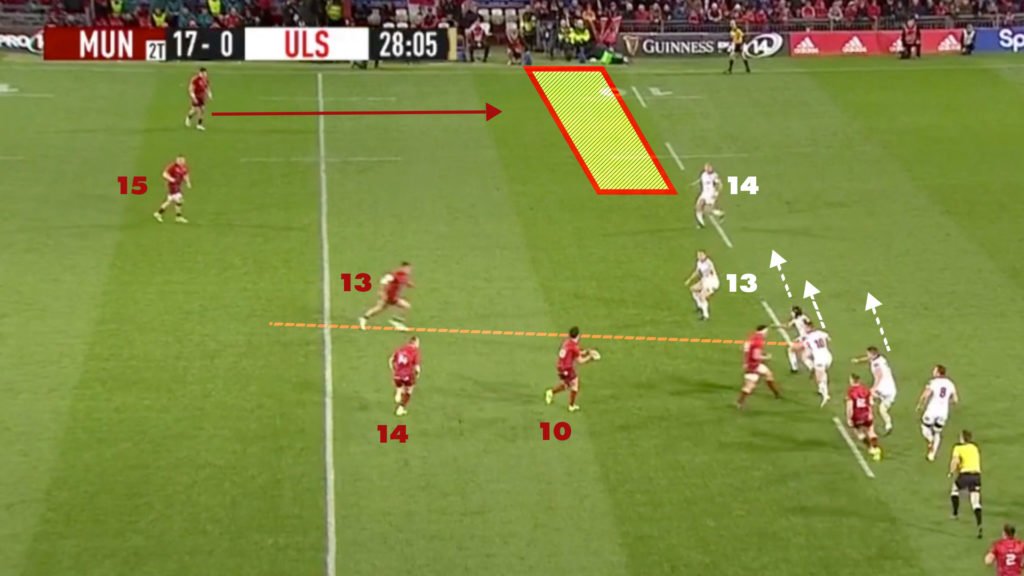 Carbery receives the ball deep but still has plenty of time to sum up his options. Munster have an overlap developing and he can see the space his left wing has.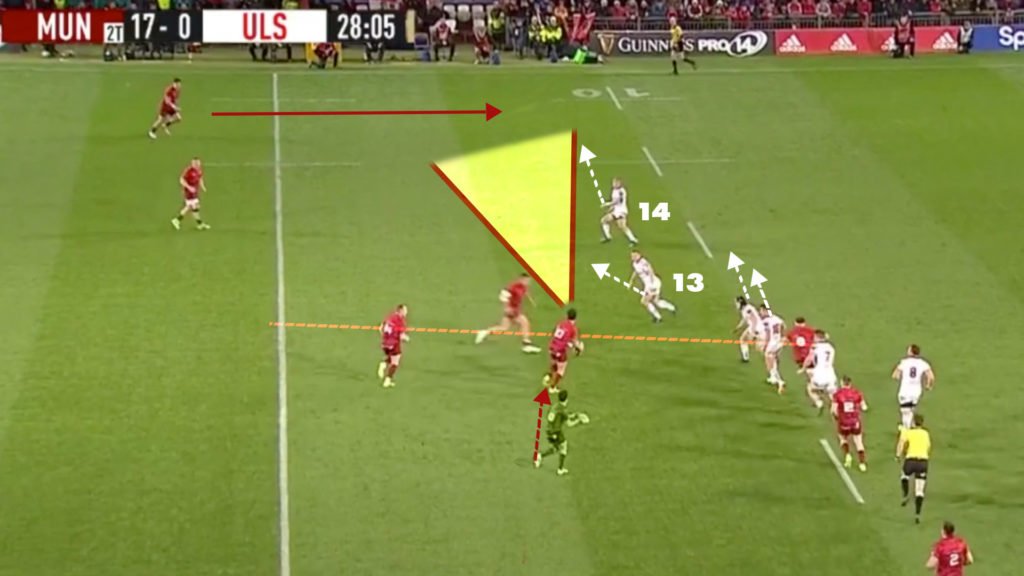 Ulster's outside defenders (13 & 14) bite down but start to push out as they see Carbery's eyes locked in on the outside option. Coupled with Ulster's sliding inside defence, they will likely be able to cover the wide channels without too much bother. Everything is moving a bit too laterally for Munster, driven by Carbery who is moving sideways.
Carbery crabbing across field too much interferes with his centre Goggin, who is running a hard 'unders' line. The option to hit his 13 short expires as Goggin steams past him, and he also removes his own option to run by sliding behind the centre.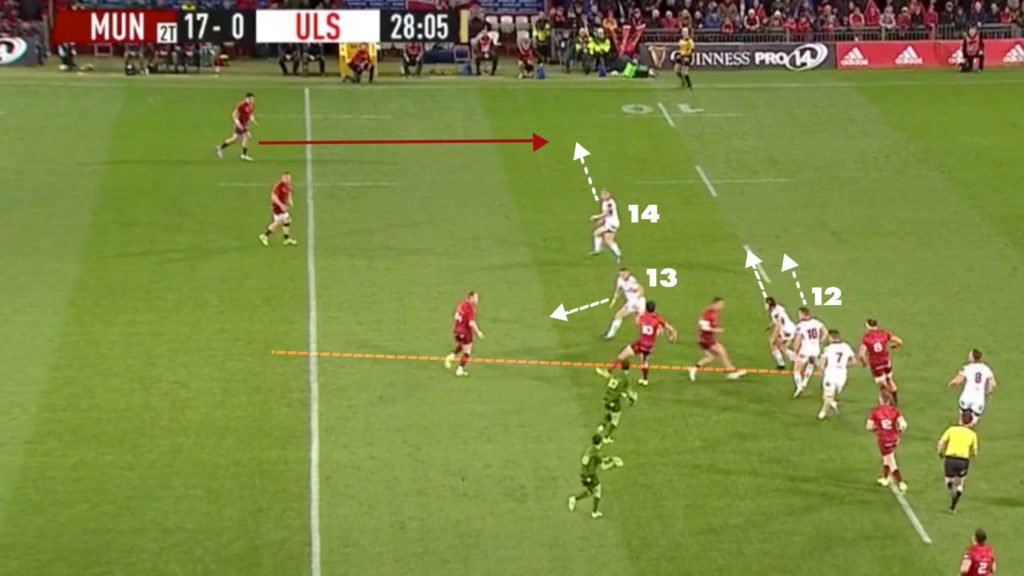 In order to avoid an obstruction, he now has to throw the pass, and he does, unloading a perfect cutout ball that hits Wootton in stride.
The problem is Ulster have every player available on their feet to shut this down, and while the ball sails in the air, they have the time to get there.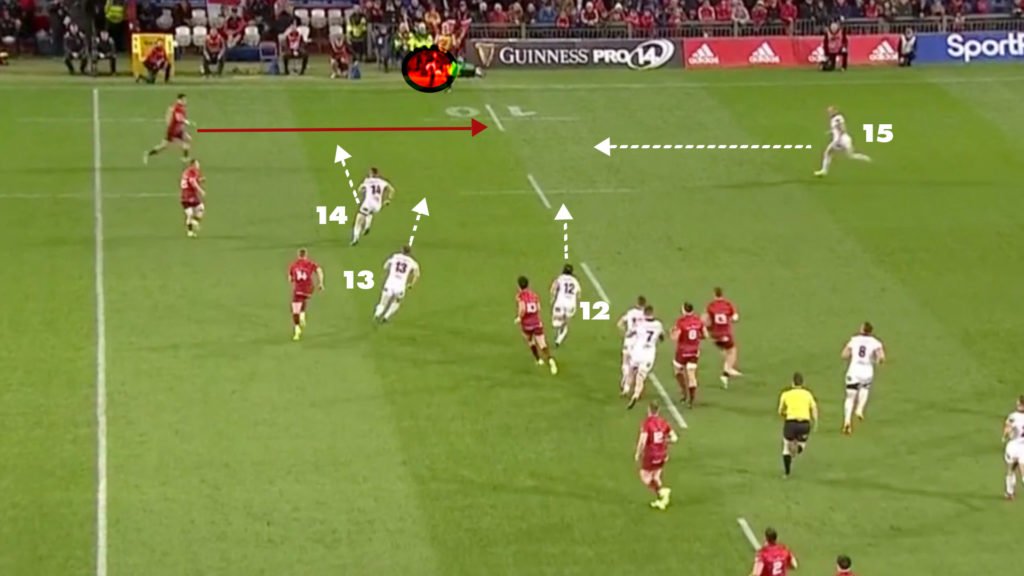 Fullback Peter Nelson (15) races up as dictated by their last man defence system, and all the other backs close down the space and prevent support players receiving offloads or passes.
Munster makes good ground on the play achieving a net gain but they don't open up Ulster for a scoring opportunity.
Carbery shows his impressive long-range passing ability but can learn from this situation. It's worth understanding how Carbery's own body language worked against him, as well as his movement, which was too lateral.
With his head cocked left and eyes locked in on the outside option, he is leading Ulster's defence to the ball. They read his cues and push out in anticipation of the long ball. He also runs himself out of other options by not playing direct, getting caught running behind his own player.
If he squared up earlier and looked to fix a defender, he could have played his short option (potentially hitting his 13 into a hole) but still kept the long-ball available. Taking out some of the interior defence by engaging contact would also give Munster more probability of keeping the play alive as it unfolds downfield.
Here is a more direct path Carbery could have taken to do this.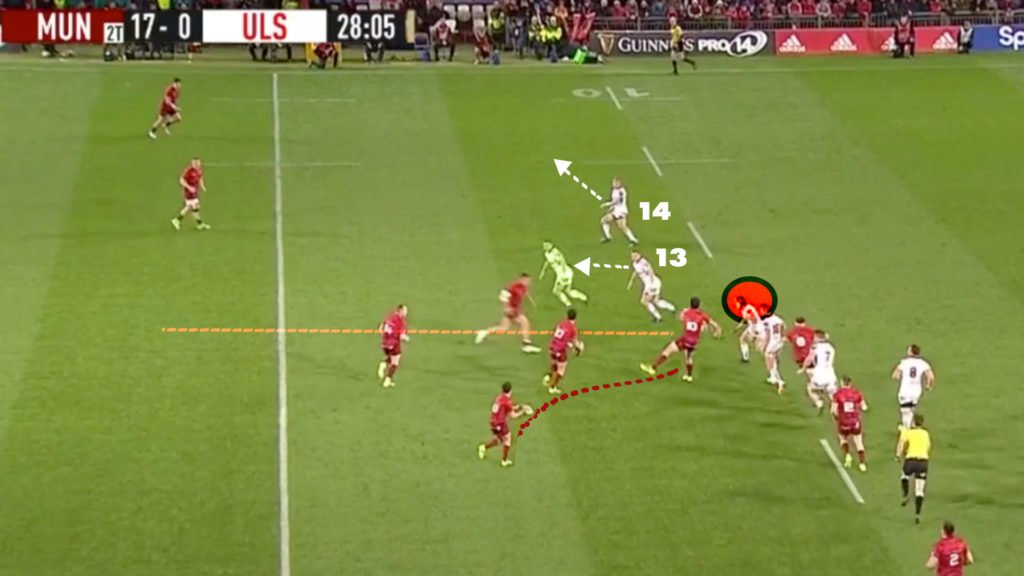 He could still use his eyes to sell the 'rainbow' pass, causing the outside defence to push up-and-out and over commit, whilst squaring up and fixing the opposite 12, opening up a running lane for his 13.
Selling the long-ball and playing short would adhere to the playmaker's mantra 'make the defence think one thing and do something else', instead of locking in on one option early and revealing his cards.
This skill, however, is one of the most difficult things to do in the game consistently. We are talking about the ability to manipulate the defence and make sound decisions in under 1.5 to 2.0 seconds, all at the game speed of professional rugby.
This requires the disguise to hide your hand, the poise to execute a pass flawlessly with the knowledge you are about to get hammered, whilst picking the right option. It's extremely difficult but is also the difference between a game-changing 10 and a one that is just a serviceable distributing 10.
Carbery already shows flashes of this ability, so it is about doing it consistently, which will come with time and experience.
Earlier in the game, he shapes to play the inside runner before re-adjusting to play outside, showing he is prepared to progress through different options and make the decision late.
After picking up a loose ball he assesses the cross field kick quickly but then fires a long skip pass.
Attacking the goal line he skips to the outside, turning in the outside defender before throwing the cutout at exactly the right time. Ulster's Number 8 Jean Deysel plants and turns in thinking Carbery will run exactly as he loads up to pass. It's a beautiful double-pump and floated ball for Peter O'Mahoney to score in the corner.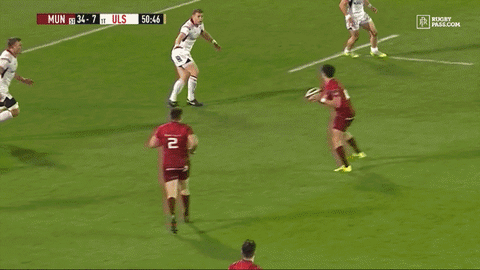 Getting comfortable on top of the line takes time to develop and requires absolute precision from the players around you. Any minor errors in timing or spacing by support players can throw off a move. The playmaker has to possess the innate ability to make correct reads, experience to know when to square up just the right moment, and the Dutch courage to take a shot while vulnerable.
Carbery has the full bag of tricks, but is not the finished product yet.
Against Leinster, the window of opportunity will be much smaller, the line speed will be faster and the hits are going to be harder. It will be a great chance for Carbery to test himself and duel Sexton for the first time, but don't expect the master to be outdone by the apprentice just yet.
RugbyPass+ Membership
Join RugbyPass+ now and be a part of the conversation with all-new commenting!
JOIN NOW