203cm, 23 stone Will Skelton is dwarfed by his younger brothers
Giant Wallaby second row Will Skelton – one of the largest professional rugby players in the sport – says he is dwarfed by his two younger brothers.
The 6'8 Skelton has regained some of the weight he lost at Saracens and is now tipping the scales between 145kg to 150kg. The 29-year-old is a big body, even in a position that has traditionally favoured outsized humans.
Yet it may surprise some that he's not even the biggest rugby-playing member of his family. The hulking Aussie told Le French Rugby Pod that he is in fact the smallest of three brothers.
It sounds like a bizarre claim, not least given when he arrived at Saracens for his second stint at the club, he was around 15kg heavier than the heaviest player in the league's history (Biyi Alo at 143kg).
'When I first went on loan at the club (Saracens). I got a taste of what it was like. I played eight games for the club. I played in Europe which was cool. I played against Sale. We played Scarlets too, which was a bit of a different experience. I think I was about 140."
When he returned to the London club for a second stint he had gained a significant about of weight.
"I'd signed for two years, but I'd broken my arm a month before I had to be in England.
"So I hadn't done any training, had all the excuses; straight off the flight, put on 6kgs from the flight, all the business class food," laughed Skelton. "I was all the water retention I think. I jumped on [the scales] at almost 160, I think".
160kg equates to about 25 stone 3 pounds or 352Ibs, 7kgs north of France tighthead Uini Atonio.
"They were like 'Ohhh, wow. That's not going to be play on".
"I've still got a great relationship with the trainers and the coaches. We just went to work that first season. I was pretty injury prone and I broke my arm again. It wasn't a specific regime. It was just what they had at the time. Just train harder and try to get back to where I was before I left".
He would eventually get down to about 125kgs at his lightest in London, weight he has largely regained since moving to Top 14, where giant forwards are still favoured.
"ROG [Ronan O'Gara] hates when I'm too heavy. I'm sitting around the same, around 145kg and 150kg I try to float. I try to stay as light as I can.
"I was talking to [former England prop] Kieran Brookes, after we played them [Toulon] at home the first time. I didn't really know him that well. I played against him when he was played for Wasps and Northampton.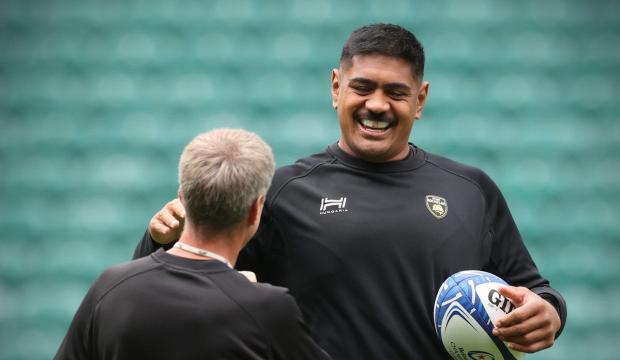 "Funnily, when you see somebody that's a foreigner, you like gravitate towards them. You're like 'Hey man, how's the family' and I'd like never met this guy before. But I was speaking to him and he's like 'Mate, I've actually lost weight'. I was like 'Mate, how do you lose weight?'.
"I think they're doing 8Ks down in Toulon, before they let go of their coach before. That'll do it."
Yet the colossus isn't the biggest member of the Skelton household.
"I've got two younger brothers, Cameron and Logan. They're 27 and 22 this year. I'm the smallest in the family.
"Cam is about 6'11 and Logan, the baby, is about 7'2. So they're big boys.
"He's [Logan] is huge. I get bullied when I go home," quipped Skelton, who wears size 18 to 19 shoes. "Logan stopped playing [rugby] when he was quite young. He wasn't really into it. It was mainly me and Cam playing a lot. It just wasn't his thing.
'Tah's lock Will Skelton's brother. He's 13. RT @JIP2EZY Met this unit today. I'm 5'11 & Big Logan is 6'9 pic.twitter.com/wjHt3PA25D

— Ben Coles (@bencoles_) April 16, 2014
"Cameron is still trying to get there. He's just got married a month ago, so he's trying to get back on the field. He's played Waikato, Counties NPC and he's slowly trying to get back into good shape to play some high level rugby.
"They were really good players growing up, Cam especially. He had a contract with the Tah [Waratahs] with me back in 2014/15. He almost wanted to split to make his own way and he headed over to New Zealand.
Cameron Skelton on the left. 2.05 cm, 153 kg, 19 years old. pic.twitter.com/weYjOEthte

— Lunga Biyela of Krypton (@KingBiyela) November 12, 2014
"It could have been him and me as the locks at the Tahs, which would have been pretty cool."
Podcast co-host and former Scotland back row Johnnie Beattie suggested Cameron 'surely' could pick up a contract in France.
"I'll try to get him to La Rochelle. Our lineout will definitely only be four or five man!"
Asics provided a specially made rugby size 19 boot for Skelton, even though he claims to only be size 18.
"I think it like 53 or 54 in European sizes. Cam and Logan have bigger feet than me. I think Cam gets really nice shoes and tries to squeeze in.
"I remember when I was younger my cousins used to say 'Mate, just cut your toes off. You'll be size 14."
His smaller La Rochelle teammates prank Skelton by putting their shoes inside his.
"Uini and Victor [Vito] know my struggles. Victor has about a size 15 too."
Comments
Join free and tell us what you really think!
Join Free