Twitter trolls, Owen Farrell and playing for England U20s - 'Big Jim's Big Interview' with Ross Moriarty
In a new series for RugbyPass, our man Jim Hamilton interviews some of the most prominent figures in the games in Big Jim's Big Interviews.
To kick-off the series, Jim speaks to Wales and British and Irish Lions star Ross Moriarty about his move to the Dragons, his past in an England jersey and his relationship with his father, among much more.
Jim Hamilton:Right Rosco, we're in. First question, why did you delete Twitter? Mate, I was loving it on there.
Ross Moriarty: *laughter* Erm, I just can't be dealing with all these people who, how do you word it, people who've never experienced professional rugby or professional sport and who have too much to say and know too much about everything that goes on. Obviously, there are a lot of people on there who do have good comments, people who have experience that I do respect, but it's just the other side of it that's tiring.
JH:So, it's not because of the twitter trolls, but people giving banter and all the palava?
RM: Fine, banter, but it's the people who think they know everything.
Continue reading below…
JH: And do you feel refreshed for not being on social media? I came off for about a month and to be fair, I actually did enjoy it.
RM: Yeah, it's nice. I just don't really see the point in it, to be honest with you. When you're younger, yeah, it's nice to have it, you get a bit of attention, but then you get to experience what it's really like and you just realise you can't be bothered with it.
JH: Ok, good stuff. And on to a bit of rugby, so you agreed to join the Dragons in November? Were you worried when you agreed to sign how the results went last season?
RM: Nah, I wasn't fussed about their season last season. There's about 20 players who have gone on to other clubs and they've obviously brought in a lot of new players, so it wasn't really the thing to look at for me last season. The coach [Bernard Jackman] didn't really do the recruiting for that season, he was more about getting to see the younger players that he was wanting to see there this season, so it was a bit of a project for him to see what kind of squad he wanted for this year.
JH: And off the back of that, he's brought in some good signings. Obviously, yourself and [Richard] Hibs. Is there anyone else in the Dragons we should be looking out for?
RM: There's a lot of young players, like Leon Brown is a young prop and he played in the autumn last year and did well. He's had a bit of an injury problem the last year, but I think he'll be a big one for the future. Also, Elliot Dee and Cory Hill played a lot for Wales last season. Cory came from nowhere, really, and now he's captained Wales. There are a lot of players there who have been, not overlooked, but they've definitely taken their chance now that they have been given it.
JH: You might not think it or know it, but being the club's biggest signing for a long, long time and off the back of the Lions tour – and I know you were injured there – you've signed in your prime, do you feel added pressure to drive the standards and perform? I know you suffered a lot with injury last season, but do you feel any pressure?
RM: I don't, really. I think if I feel pressure then I won't perform to where I'd like to. I don't really get myself worked up about who I'm playing against or I'm playing with anymore, it's just a matter of I'm out there enjoying it, knowing what I need to do and applying it on the field. I think I'm comfortable with what I can do. I know what I can do and I know what I can work on.
JH: Are you looking forward to playing for the Dragons? I know a lot of guys in the past moved to Wales just with an eye on playing for Wales and to get looked after, which is rightly so and I'm sure they will look after you, but is your goal, I imagine, to perform for the Dragons and take them up the league?
RM: Yeah, of course. I'm not the sort of player who doesn't play hard for my friends. There are players who I know through Wales at the club and I get on with them well, so I'll always put everything in for my friends when I'm playing with them. From what I've heard from the boys in preseason, it's a really good group of players, so that's what I enjoy doing. Obviously, I love playing with friends, you know when you play with your mates you're going to put everything on the field and that's what I'm going to do.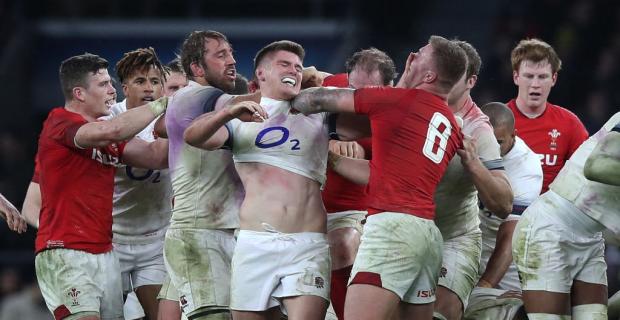 JH: A little bit on the Six Nations, as well, I thought Wales did quite well? Mate, you don't need to answer this, but the bosses want me to ask– one thing I enjoyed was your little ding-dong with [Owen] Farrell on the floor, what did he say to you when that was all kicking off? He likes a bit of a ta-do. Why did he go for one of the hardest men on the pitch. Were you telling them they were getting the wooden spoon, yeah?
RM: *laughter* Nah, to be fair to Faz, I get on with him. I've got a lot of respect for him, I've got a lot of respect for his father. I think he enjoys the physical confrontation and I do, too. Obviously, his father was a tough player, same as mine was, and they both came from the same era of rugby league and that's the way we like to play. It's always nice to have a bit of old school on the field, which I think is dying in rugby. We don't really say much to each other when we mess around. I think we just laugh and it's a bit of a joke, but we try not to hurt each other too much. Fair play to Owen, he played well in that game last season. It's a bit of friendly banter, nothing more.
JH: Talking of friendly banter, do any of the lads in Wales give you any abuse for representing England?
RM: No, I think they understand the route I took and I make sure they know why I did it as well, because I feel like if I didn't do that, I wouldn't be playing for Wales. I think people who know me properly respect what I did and I'm not afraid to say I'm proud of what I achieved when I was with England and I think that was a huge stepping stone for me.
JH: Ah mate, I think it was. This can be off record if you like, but was it weird signing the English national anthem? For me, singing the Scottish national anthem for the first time was a little bit weird, even know I grew up with my Dad being Scottish and having a broad Scottish accent, I'd grown up in England and spent all my Rugby career at Leicester. Was it different for you? The Welsh sing the anthem with a lot more passion? The perception is, they seem to be a lot more passionate about their rugby. Did you know that, from growing up with your old man?
RM: Yeah, I understood that. I also came to know that it was the British national anthem, not the English, so I'm not too caught up about it. I was playing with a group of players who accepted me and I wasn't going to do anything to make them feel like I wouldn't put everything in for them, so that was part of the reason for me to sing it.
JH: A bit on [Warren] Gatland, as well. He's obviously a big fan of yours, picking you for Wales and the Lions, how have you found working with him? I've actually loved watching the criticism he's taken over the last few years, he's one of these guys who just goes about his work and makes the tough decisions when it matters, but he's really backed you, hasn't he?
RM: Yeah, I try to do what he tells me all the time and get better. He's not one for giving out too much praise to your face but he's achieved a lot and you can't knock him for what he's done. He's been Lions coach twice, he's drawn a series against the All Blacks that no one expected, so you've got to have a huge amount of respect for him.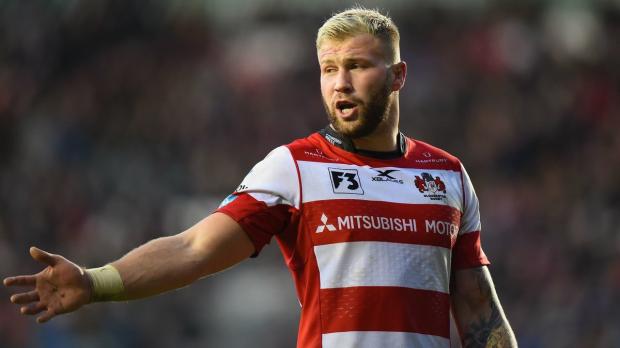 JH: On the Lions, I imagine how happy you were getting picked? Some people might have said it was a bit out of the blue, but I don't think so, I think you fully deserved to go. How was the experience for you, from start to finish?
RM: After the Six Nations, I was a bit enthusiastic to get in, I felt that I did do enough, although a lot of Scottish players would think otherwise but you know, it's not up to me to pick the team. I'm not going to say no if I'm getting picked, but I felt that even in that first game when I played, I did myself justice. Even with two slipped discs in my back, I put down a marker in that first game. I made a lot of metres with the ball in hand and I felt I had a very solid game. You know, people can say people don't deserve things, but if I go out there and put things right, I show those people that they're wrong.
JH: So, you played in that game, Ross, with two disc problems in your back?
RM: Yeah.
JH: Is that what ended the Lions tour for you? Did your back just give out?
RM: Yeah, I felt two discs in my back pop in that first game. It was very uncomfortable but Sam [Warburton] went off with a sore ankle so I had to stay on!
JH: Warrior, mate. Having been on that tour and the last couple of years, the way that your career has gone, have you reflected on anything? You've obviously chosen to come off social media, we've mentioned that, but in terms of where you want to take your game to the next level, anything different you want to do? Or is it just a case of carrying on as is?
RM: I think there's always work-ons and the game is always changing. Every season, someone is bringing something new, so there's always things to learn and look back on your own games and see how people play against you. Just how to make yourself better, I guess. I think myself and social media, it's not just for the rugby reasons. I've let rugby engulf my whole life, which has been quite difficult. Obviously, the family background plays into that, but I just feel that it [deleting social media] will give me a refresh and let me concentrate on myself and not worry about what other people are thinking. That's probably the whole reason why I did it.
JH: On your dad, I've worked with him. Big, massive fan of how he's emotionally-driven. How is he with you? Is he emotionally-driven with you or can he contain his emotion when he sees you playing for Wales or you've had a good game and been picked for the Lions? How does he interact with you?
RM: I think it's quite a unique relationship. Anyone who knows my father knows what he's like. He is an emotional person and rugby has been his life since he was 17 years old. I wouldn't say I'm the same as him emotionally, I like to switch off from it quite a lot, but he's 24/7, 365. I don't think that's going to change now that he's getting older. He is good, he knows when to give me a talking to, maybe if I haven't played too well, but he knows how to give me praise in the right way, too. Not too much, so I act like that kid who thinks he's the top dog, but he's been good the last few years.
JH: Lastly, you mention the rugby league background, any ambitions to play a bit of rugby league or do anything out of the ordinary?
RM: I'd love to play rugby league. I've watched league since I was a kid and I actually probably watch it more than I do union. It wouldn't be too bad to live on a beach in Australia and play NRL and get your face smashed in every week.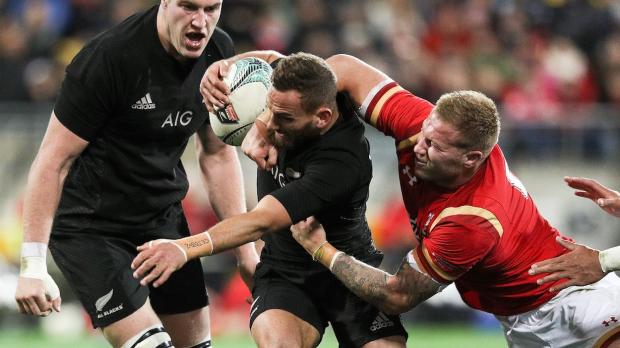 JH: You'd like that?
RM: *laughter* Nah, I'm being sarcastic. Well, the life after rugby wouldn't be too bad out there, but I think getting smashed in by big Islanders every week is a bit too much for me!
JH: Head to Wigan or Hull, then, you'll be alright up there.
RM: Yeah, that'd be a great place to settle.
JH: Ok, Ross, so what do you reckon on rugby league? You're saying there might be a chance?
RM: Very slim. I'm not sure, I can't really say, but you never know. You can never say never.
JH: Never say never, mate. Cheers, Ross. Say hi to your old man. I'm a big big fan of his.
Comments
Join free and tell us what you really think!
Join Free