The rise of Chile: From outsiders to World Cup qualifiers
Just over a week ago Chile made history by qualifying for their first ever Rugby World Cup. They swept aside the US Eagles in the Americas 2 play-off, recovering from a 22-21 first leg defeat in a mud-caked Santíago.
Chile then travelled to Colorado for the second leg and needed nothing less than a 2pt win to seal qualification, but started slowly, conceding three early tries in quick succession.
This gave the USA a 20-point cushion, but that advantage slowly dissipated as Los Condores proceeded to mount a memorable comeback that culminated in Santiago Videla slotting a 75th minute game-winning penalty.
The 31-29 win was just enough for Chile who prevailed 52-51 on aggregate and booked their ticket to the Rugby World Cup next autumn.
This stunning result was somewhat overshadowed by Ireland's series win in New Zealand which happened earlier on the same day, but take nothing away from Chile. They qualified for this playoff showdown by sweeping aside Canada, who have featured in every single World Cup to date, and backed that win up by defeating the USA away from home.
Five years ago Los Condores would only win the odd international game, but now they are gearing up to face England, Japan, Argentina and Samoa in Pool D next year.
Their rise has been staggering, but how exactly did Chile transition from rugby outsider to a contender on the biggest stage?
The journey began in 1991 when Chile were invited to join the International Rugby Board (now World Rugby). This gave the country an opportunity to compete in World Cup qualifiers for the very first time.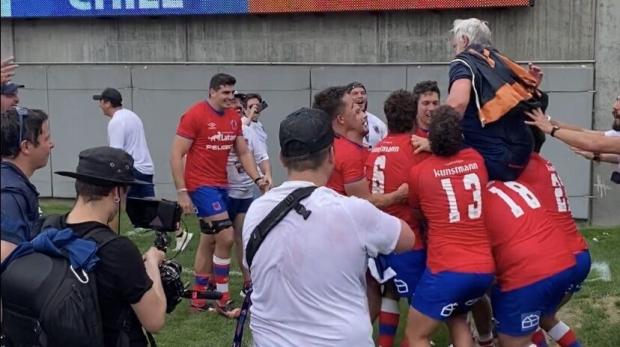 Success was not forthcoming in the immediate years afterwards as the men in red continued to come up short, finding it hard to displace their South American rivals Argentina and Uruguay.
But things began to change in 2016 when Chile were inducted into the Americas Rugby Championship – an international competition which included Argentina, Brazil, Canada, the USA and Uruguay. This provided the national team with invaluable game-time experience against tier-two level opposition.
Then in April 2019 a new club competition called the Superliga Americana de Rugby (SLAR) was launched – South America's first professional league. Six different sides compete in the league, including the Chilean team Selknam who reached the 2022 grand final, only to lose 24-13 to the Uruguayan side Peñarol.
Incidentally, all but seven of the members of the squad that beat the USA play for Selknam, demonstrating the value of this relatively new outlet for competitive club rugby.
Both the Americas Rugby Championship and the SLAR helped develop the sport at national and international levels, but this on its own was not enough.
To engineer a true turnaround Chile needed someone influential to take charge of the national team. That role was filled in August 2018 by Pablo Lemoine, a former prop who had coached his home nation Uruguay to World Cup qualification in 2015, ending their 12-year absence from the competition.
Lemoine left his coaching role that same year but, despite his absence, Uruguay have continued to progress and in October 2021 they qualified for a third successive World Cup following a win over the US Eagles.
Lemoine returned to coaching in 2018 to take charge of the German national team, but was quickly ousted after their failure to qualify for the 2019 World Cup. Chile quickly snapped up the newly unemployed Lemoine and haven't looked back since.
That is not to say it was plain sailing to begin with. In his first year in charge Lemoine saw the full scope of the job in front of him.
Chile finished dead last in the 2019 Americas Rugby Championship, ending with an overall points differential of minus 214, having scored just 33 points across five matches.
In the wake of that result, Lemoine set about restructuring his team and his first was appointing young flanker Martín Sigren as captain.
He also successfully launched an appeal for High Performance funding from World Rugby, which has given Chilean rugby a revenue boost of more than £200,000 over the last two years. That money has been used to mentor new coaches and build new training facilities, all with the aim of enhancing the opportunities available to prospective rugby players in the country.
The 47-year-old was an integral part of this appeal, partly because he also helped kickstart Uruguay's High Performance plans back when he was their head coach.
Countries looking to improve rugby across all levels often rely heavily upon this type of external investment. The increased cash flow does, however, tend to come with the promise of improvements on the pitch, which is why Chile's famous win over the USA is even more important.
The country's new Sports Minister Alexandra Benado said as much when she announced that World Rugby have promised funding packages for the next five years off the back of Chile's historic World Cup qualification.
Benado also explained that the money would first be used to redevelop a High Performance centre in the foothills overlooking Santiago.
When Chile first joined the Americas Rugby Championship in 2016, they were obliterated 64-0 by the USA in Fort Lauderdale and lost 64-13 to Canada. Six years on and they have beaten both north American nations on their way to reaching the Rugby World Cup for the first time in their history.
Comments
Join free and tell us what you really think!
Join Free