'That's kind of what bothers me, and it's probably what bothers the players now'
Ahead of their Gallagher Premiership showdown with Harlequins this weekend, Exeter Chiefs' Director of Rugby Rob Baxter has opened up about what bothered him most about their loss to the Londoners in last year's final.
It's the first meeting of the two clubs since last June's finale, which Quins edged 40 – 38. Exeter currently sit fifth on the ladder and know a win over the reigning champions would help springboard their campaign and get 2022 off to the perfect start.
Yet for Baxter, there's clearly still plenty about last year's defeat in Twickenham that irks.
"Harlequins deserved to win the final, I've no problem with that," said Baxter. "The frustration I have is that we probably put ourselves in a position where, those final weeks of the season, we didn't really accelerate into those games. Our performance against Northampton and Sale were funny, it was like we were trying to manage our way into the semi-final.
"We won those games, but not with what you'd call a real authority in our game. The semi-final against Sale was better, but then we almost drew breath again and never got our foot down again. We never went for the Harlequins jugular and that's kind of what bothers me – and it's probably what bothers the players now.
"I can take wins and losses all the time, but you tend to win the games in which you deserve to win. We didn't deserve to win the final. It was not the loss as such which hurt, it was more our performance on the day."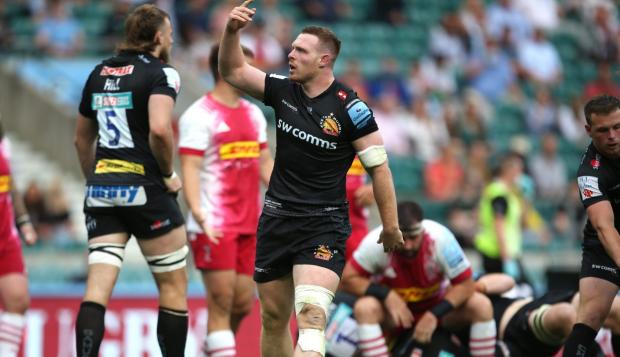 Baxter admits he's a fan of Harlequins' swashbuckling, attacking approach to the game.
"Looking at Quins this season, they seem just as good now as they were that day. They are clearly very comfortable with how they are playing and they look like a side who are enjoying their rugby. Personally, I like watching them play, but I also realise the threat they bring, so it's up to us as a squad to make sure we bring more of the key elements to the game this weekend than they do.
"A bit like we said ahead of Bristol, we have to challenge ourselves in a way that brings the best out of us. Our key focus must be on what we want to get from the game and how we want to play."
Baxter cites a lack of player availability at the start of the season with their somewhat sluggish season to date and says he's content with where the club finds itself.
"I'm kind of okay with where we are," said Baxter. "We always knew the start was going to be a challenge, particularly with the injuries we had in the back five of the scrum, plus the unavailability of the guys who had been away with the Lions.
"I ate so much food in December that I ended up feeling like a very large section of gone-off stilton cheese with eyeballs."@davidflatman has a few things to get off his muscular *52-in chest as he hits 2022 hard…

*educated guesshttps://t.co/3GotNbZGgl

— The XV Rugby (@TheXV) January 7, 2022
"It meant things were slightly broken up, but that's happened, we've just got on with things. The things that make it look less comfortable are those two narrow home losses to Northampton and Newcastle. Flip those results the other way round and we'd be looking quite comfortable for a team who went through all that unavailability.
"People would then be looking at Exeter and thinking about the strength of our squad and how well we have done to get through that period without some key people.
"As I said, we're okay with where we are, but I know there is more to come from us. We're not at peak performance by any means, but we will get that in the future. The challenge for us is that other teams are also performing well and league is very tight. The table changes every week with sides going up and down, we just have to make sure we are the side that is going up."
"We want to be in the top four challenging, so the pressure is on us to perform," added Baxter. "Last week was pleasing and was another step in the right direction for us. In a lot of ways it was more about the performance than the result which I liked the most.
"There was a real sense amongst the supporters and the players – and you could see it in the training week leading into it – that we found a bit of our mojo and a bit of alignment. There was an extra energy, an extra drive, which all came through in the performance.
"Now, we have to take all of those ingredients and put them together again for this weekend against what will be a very good Harlequins side. We know going up there will be tough, but that's kind of what you expect every week in the Premiership. There should be no easy games and you should expect to be challenged."
EXETER CHIEFS
15 Stuart Hogg
14 Jack Nowell
13 Henry Slade
12 Ian Whitten
11 Facundo Cordero
10 Joe Simmonds
9 Jack Maunder
1 Alec Hepburn
2 Jack Yeandle (capt)
3 Josh Iosefa-Scott
4 Jonny Gray
5 Jonny Hill
6 Dave Ewers
7 Jannes Kirsten
8 Sam Simmonds
REPLACEMENTS:
16 Jack Innard
17 Ben Moon
18 Patrick Schickerling
19 Sam Skinner
20 Don Armand
21 Sam Maunder
22 Harvey Skinner
23 Tom Hendrickson
Comments
Join free and tell us what you really think!
Join Free