Sinckler needs to deal with 'chip on shoulder' if he wants to make mark on game - Andy Goode
Kyle Sinckler may have played in all three Tests for the British & Irish Lions in the summer but he needs to smarten up his act if he wants to continue to make his mark on the game.
The Harlequins prop has been cited after being accused of making contact with the eye area of Michael Paterson in his side's 30-22 defeat to Northampton on Saturday and it is the latest of a number of incidents that suggest he's unable to control himself at times on and off the field.
The offence took place in the 49th minute and was punished only by a penalty as the detail on the big screen wasn't quite clear enough for referee Luke Pearce, who I thought handled things well, to take further action.
It seemed crystal clear to Paterson, though, as he told Pearce that there had "100 per cent" been contact with the eye area. And, you can see the incident much more clearly in the close-up, slow-motion footage that has emerged since the end of the game.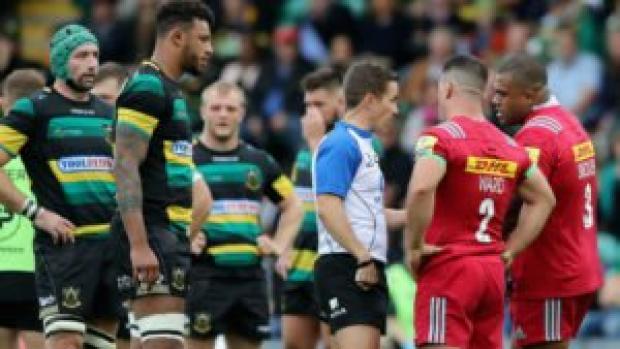 I'm not a citing commissioner and they'll go through their process and come to a decision but the zoomed in footage doesn't look good.
He pulls the scrum cap off and then he goes back again and I think you see a finger in the eye. The evidence looks damning and whether it's intentional or not is irrelevant.
Chris Ashton was banned for 10 weeks in 2016 for making contact with the eye area of Ulster's Luke Marshall and that was just reckless and stupid but didn't look as bad as this.
Intent doesn't come into it anymore in terms of the regulations.
Joe Marler ripped James Haskell's scrum cap off a couple of weeks ago and Sinckler has done the same this weekend but then made it a million times worse by appearing to put his finger in the eye.
In my opinion, you've got to make an example of it if someone is found to have put a finger in an opponent's eye as it could blind someone.
Sinckler had already been warned for his language at scrum time, been involved in a fracas with Ben Glynn and thrown his arms up after he thought he had been pulled back off the ball.
He is a player with such talent and ability but he continues to get angry and throw his weight around in an out of control manner. You don't see the best players in the world getting involved in these kinds of acts and controversies but it's becoming a trademark of his that's going to get him in a lot of hot water.
He's an aggressive player but he does seem to have a chip on his shoulder. He seems to want to prove a point that he's a big, rough, tough bloke every week but there is absolutely no place for that in the game anymore.
Intimidation gets you nowhere in the game nowadays because we all know it's very unlikely that anybody is going to throw a punch for fear of getting banned for a very long time.
It's disappointing because he could end up with a long ban. There is a low-entry suspension point of four weeks for making contact with the eye area but, under World Rugby's Sanctions for Foul Play, the low-end punishment for making contact with the eye is 12 weeks, with the mid-range at 18 weeks and the top end goes all the way up to four years.
He wasn't in the England squad that trained in Oxford last week but he could easily miss the autumn international fixtures against Argentina, Australia and Samoa, which won't please Eddie Jones.
John Kingston will be equally unamused as Quins are inundated with injuries at the moment and had Cameron Holenstein and Phil Swainston as prop replacements at the weekend after Lewis Boyce and Will Collier both withdrew at the last minute due to back injuries.
This incident comes just over a couple of months after Sinckler was arrested following a night out in Auckland on the Lions tour as well.
He acknowledged after returning from the tour to New Zealand in the summer that he's treading a "fine line" and needs to continue to play his game aggressively but that "it can't be to the detriment of the team".
He added: "I am human and I will make mistakes."
This could be a costly one and very much to the detriment of his team.
Comments
Join free and tell us what you really think!
Join Free