The flawed logic underpinning Saints 7 game losing streak explained – Andy Goode
They say a change is as good as a rest. Northampton might be getting a bit of respite in the next couple of weeks with no hope of European qualification but a change is what they badly need.
Saints have now lost seven on the spin in the Premiership and Champions Cup and the five they've lost in the league constitutes their worst losing run since 2011. Jim Mallinder was at the helm then too and will back himself to turn things around but I can't help thinking that he could do with a bit of help from outside.
I'm not advocating people losing their jobs or a complete overhaul of the coaching staff at all but I have said for a while that they could definitely benefit from a different opinion and a fresh pair of eyes.
Mallinder, Dorian West, Mark Hopley, Alan Dickens and Phil Dowson are all Saints stalwarts and have been there a long time. There isn't any outside influence, apart from Dowson having spent a couple of years away at Worcester!
Alex King was a forward-thinking coach and has gone on to do a good job with Montpellier but he clashed with some of the older guard in terms of his opinions. Sometimes coaches are averse to bringing in outside influences because they see it as a challenge to their authority but Saints are in a rut and it is sorely needed at the moment.
It does seem like they're reluctant to change and, while the players need to take their share of the blame, the coaches at Franklin's Gardens haven't evolved with the changes in their squad and the changes in the sport in recent seasons.
When Saints were successful, they had a big pack with some really big ball carriers who would get them over the gainline. They're still trying to play that way but they don't have the same personnel and the game has moved on.
They don't have the same monstrous ball carriers like Samu Manoa or Louis Picamoles any more and the coaches need to adapt to who they do have in their squad and also move with the times as well.
Saracens have evolved as a team from basing their game on defence and kick chase to building on those solid foundations and playing a decent brand of rugby. Northampton need to do the same.
Mallinder and West both spoke earlier on in the season about the need to increase their physicality and they need to do that again but I think it's about being smarter as well and adapting the game plan.
They do need to be more physical on both sides of the ball, though, because their defence has been atrocious at times. They've conceded a try bonus point in six of the seven games in this latest run of defeats in the Premiership and Champions Cup. That is not good enough by anyone's standards.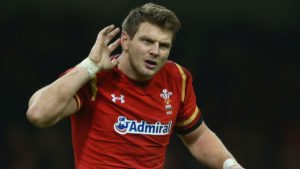 A team's stability and success is also built a lot on its halfback pairing because they give you direction and Dan Biggar can't arrive in the East Midlands soon enough. If you're chopping and changing in those positions, it's very difficult for a team that's lacking in confidence to get any kind of momentum.
Northampton played James Grayson at fly half this weekend and Piers Francis, Harry Mallinder and Stephen Myler have all had a go as well. They are just desperately waiting for Biggar to rock up next year.
They're not going to get relegated this season but they need to start thinking ahead because Bristol are coming up with big intentions next season and a rapid downward spiral towards relegation has happened to them before.
They reached the Premiership semi-final in 2004 before going down in 2007, when they had a damn good squad but there was a split between the Kiwis and the English and the coaching setup was changed after it got stale. They finished top of the table at the end of the regular season in 2015 but look a world away from that sort of team at the moment.
I'm certainly not advocating anyone getting the sack but there's no doubt in my mind that they would really benefit from bringing someone else into the fold.
Just look at Gloucester as the blueprint for what kind of impact an outside influence can have. They have finished ninth in three of the last four seasons and eighth in the other but they're sitting pretty in second at the moment after five wins in a row in the Premiership and their best run since 2011.
The Gloucester faithful have suffered in recent years and are right to be confident and celebrate their lofty position in the table but Rome wasn't built in a day and they might not quite be back to the glory days just yet.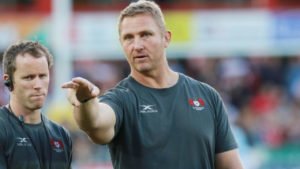 Johan Ackermann has had a massive impact, though, particularly on the culture and mentality at the club, and winning is infectious so you can see them staying in the upper echelons of the Premiership.
They don't lose too many players when the Six Nations is on and they're in the Challenge Cup as well, which means their big players get more rest than those at other clubs and that'll help.
Owen Williams and Ed Slater were top signings in the summer and, as well as quality, they have brought a hard-nosed edge from Leicester that has rubbed off on others but the exciting thing for Gloucester fans is that Ackermann hasn't really dipped into the transfer market yet himself to improve the squad where he sees fit.
He'll definitely want to add players but you can't buy culture, you have to work hard on it and he seems to be getting that aspect right straight away and getting contributions from players you wouldn't necessarily expect to be performing at the top level.
Tom Hudson was working in Kuala Lumpur after retiring from the game due to a nerve issue but came to Gloucester last season and now Ackermann has him looking like a top class full back.
I still think the top four will remain the same is at was at the end of last season but Gloucester have put themselves in a very strong position to finish in the top six and really push those four teams hard.
They go to Wasps in their next league game just before Christmas and that will be the litmus test for them in terms of whether they can sustain a challenge towards the top end of the table this season.
The Cherry and Whites are looking up, though, and Saints need to look outside if they want to follow their lead and turn their fortunes around.

Comments
Join RugbyPass+ now and be apart of the conversation with all-new commenting!
Join Now