Ref watch: Deano is wide of the mark on both counts
Despite Newcastle grabbing a late win over Wasps in Saturday's Gallagher Premiership clash, their Director of Rugby Dean Richards cut a frustrated post-match figure.
The cause of his angst was referee Anthony Woodthorpe's second half decision to show a red card to home full back Tom Penny whose fingers allegedly made contact with Jimmy Gopperth's eye.
Richards was of course once a teak-tough member of a Leicester pack renowned for never taking a backward step as amateurism gave way to the professional era in the 1990's.
And as with so many recent controversies, this seems to me another case of rugby union's former greats judging a 2021 incident through a 20th century lens.
"Tom is distraught in the changing room because he didn't think anything was deliberate," Newcastle's boss explained.
"His leg was trapped in by Jimmy Gopperth, and you've got to look at who the instigator of the whole thing was.
"Tom tried to release his leg three times and couldn't, as he's stumbling away and breaking free he pushes his face and catches I think his eye.
"Jimmy makes a meal of it, and if there is contact with the eye then so be it.
"It wasn't deliberate, and you have to look at who the protagonist is. It's clearly Jimmy Gopperth, and why should our boy get penalised for being held in at a ruck?"
"It was a big story last season and we were totally surprised (he was appointed) and you have to beg the question why did the RFU do that?" #NEWvWAS

– reports @chrisjonespress ???https://t.co/b5M3cInAgG

— RugbyPass (@RugbyPass) October 3, 2021
Having viewed the replay a few times, it is clear that Penny makes three attempts to free his leg from the grasp of the former Falcons' fly half, on each occasion pushing Gopperth's head and neck area firmly with one hand.
Had this been reviewed by the TMO, it seems unlikely that much action would have followed, but it is Penny's fourth and final contact which seems to have done the damage.
Gopperth instantly reaches for his eye at this point – and while it is entirely possible that Penny had no intention of making contact there, he was by this point free of Gopperth's grip and had no need to seek any further involvement.
Given the safety focus that now exists any contact with the eye will result in an instant red card. Neither is this a new thing since Chris Ashton's lengthy ban for gouging Ulster's Luke Marshall dates as far back as 2016.
Whether or not Gopperth makes a meal of it is irrelevant. The question of intent on Penny's part is also in the current environment entirely academic – in the eyes of modern rugby law he is required to avoid reckless actions which carry risk of causing injury.
The disciplinary hearing scheduled for Wednesday evening will consider Gopperth's part in the incident and whether he should have been yellow carded.
However, despite Woodthorpe unusually acting on TMO advice without reviewing video footage himself, it is difficult to see Penny overturning the red card and escaping a ban.
REF WATCH: 'In asking us to excuse the waterboy's conduct on the basis that he was simply doing what he was told, Nienaber is telling us that chasing the AR to rant at him would have been acceptable had Carley's decision been incorrect'

Paul Smith ???https://t.co/vvXDsuPf1t

— RugbyPass (@RugbyPass) October 3, 2021
His usually very considered boss may also face a trip to the beak after his frustration got the better of him when referencing the after-the-event red card given to Mateo Carreras by the citing commissioner during last season's Newcastle-Wasps clash.
"It's the same official we had against Wasps last year when he missed the Josh Bassett incident, and he wasn't going to miss anything today," Richards said.
"We were expecting a little bit of something today, and I'm surprised the refereeing department put him on this game if I'm totally honest about it.
"It was a big story last season and we were totally surprised (he was appointed) and you have to beg the question why did they do that?"
Having issued a red card, it is always slightly awkward for player and referee when their paths cross again. This is usually dealt with via a pre-match handshake or brief exchange while boots are being checked then instantly forgotten.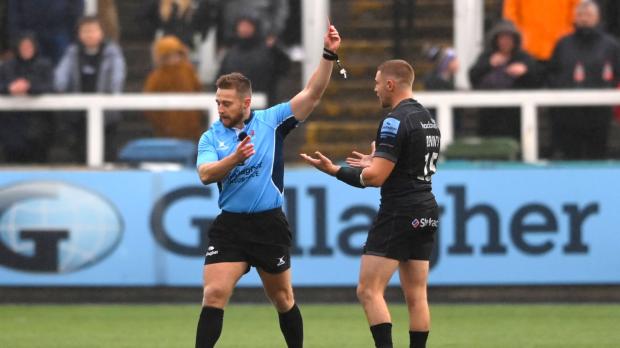 A match official's preparation does involve learning lessons from previous encounters but making a particular note to look out for one specific type of foul play is definitely not something anyone would consider.
After all, why would a repeat incident be more likely to happen when Newcastle meet Wasps rather than any other club?
In truth, eye gouging is almost impossible for on-field officials to spot – as this alleged incident shows. Had Gopperth not immediately raised it with the touch judge, it is entirely possible that the TMO would also not have picked anything up.
Anyone involved in officiating is fully aware that for Woodthorpe or his touch judges to spot the Carreras offence in real time would have required a huge slice of luck. Any suggestion that he arrived at Kingston Park last Saturday with one eye on a specific agenda (forgive the pun) is therefore well wide of the mark.
Following Richards' train of thought to its logical end point, would any official who takes charge of a game in which a citing commissioner report results in a retrospective red card then become ineligible to officiate at a future game involving the guilty party?
Refereeing appointments may become quite complex…
Fair to say former @IrishRugby centre Kevin Maggs has lost none of his competitive edge! ???
"If I had the chance I would love to move through time and put myself against the likes of Manu Tuilagi"https://t.co/R4oT9Ge0hN

— RugbyPass (@RugbyPass) October 4, 2021
Comments
Join free and tell us what you really think!
Join Free