After narrowly edging Worcester 21-20 in their first competitive hit-out of the new Premiership season, Wasps director of rugby Dai Young conceded his side were 'nowhere near perfect'.
While not at full-strength, a last-gasp victory that could have easily been an opening-round loss – against a side who were on the brink of relegation last year, no less – may yield concerns for last year's semi-finalists.
The Wasps attack looked lethargic, clunky and far-removed from a side that scored 76 tries last season – third most in the competition. They stumbled out of the blocks on Saturday and never really found their rhythm. One would be forgiven for thinking the Wasps had lost their sting.
Young is renowned for his attacking brand of rugby, evidenced by the impressive strike rates of Christian Wade, Josh Bassett and Elliot Daly in recent years. So why did they fail to fire on Saturday afternoon at Sixways? And what can they do before next weekend's clash with Exeter Chiefs.
A lot of Wasps' attacking woes started and ended with debutant fly-half Billy Searle. The 22-year-old left Bristol for Coventry and will likely be usurped by million-dollar man Lima Sopoaga as early as next weekend.
While Searle showed some flashes – and a cool head in scoring what turned out to be the winning points with a 68th minute penalty – his ability as a distributor and playmaker led to the stagnation and essential elimination of Wasps' most potent attacking weapons.
Too often Searle opted to hit a forward short or take the ball into contact himself, as he was unable to free up his backline who were starved of the ball. Elliot Daly was limited to just five touches and five metres in the midfield, while left wing Josh Bassett saw the ball four times.
After a couple of early attempts to get Wade involved on the right wing, it took 24 minutes for the ball to be released left to Bassett. With little deception the wing was able to carve off a 30 metre gain. Despite the result, Wasps rarely spread the ball back to the wings after this instance. The addition of Sopoaga and eventual return of fullback Willie Le Roux should help remedy this.
27-year-old Sopoaga is coming into a unique situation in Coventry. It's not often that a club's marquee signing has big boots to fill. Last season the Wasps were an attacking force with England flyhalf Danny Cipriani pulling the strings, and will be hoping to replicate that level of point production with Sopoaga at the helm.
Cipriani was hugely influential on the Wasps attack from flyhalf, showing an incredible knack for creating space and freeing up the rest of his backline before finding them with precise and crisp passes. Like Cipriani, Sopoaga is an elite option taker, with excellent vision and the ability to get the ball to where it needs to be in a multitude of ways from both hand and boot.
In his side's Super Rugby semi-final, Sopoaga's decision making and playmaking ability was on full display as he helped orchestrate a pair of well-worked first-half tries.
Ten minutes into the match, the flyhalf found space near halfway behind a pair of his forwards, identified a rushing opposition midfielder and sent himself through a hole before perfectly timing a wide ball to hit wing Waisake Naholo in stride for the opening try.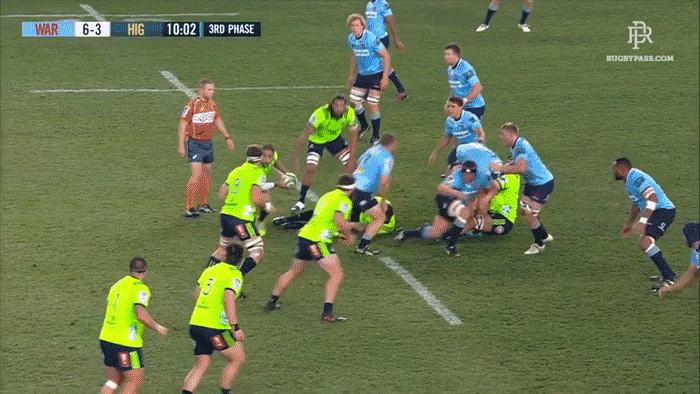 Shortly after, the Highlanders struck again through a broken down set play. Following a couple of phases just outside the opposition 22, Sopoaga looked for left wing Tevita Li running an inside line. When Sopoaga realised the option had been cut off, he quickly read the situation and masterfully kept play alive by spinning and flicking the ball on to Teihorangi Walden, who was freed by a second decoy runner. Walden then found Rob Thompson off his shoulder, who strolled in untouched.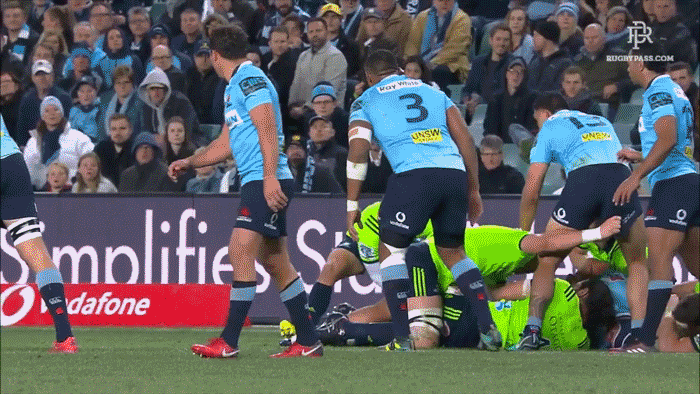 Not long after the second try, Sopoaga identified prop Sekope Kepu isolated on the right wing and placed a cross-field kick into space. Unfortunately the Highlanders had no one giving chase but the kick remained a good option and example of Sopoaga's supreme attacking vision. At 1.92m tall, a wing like Bassett gives Sopoaga a big target down the edge for these types of kicks, while a speed merchant like Wade should benefit from Sopoaga's elite passing ability and pinpoint wide balls.
Young acknowledged that while Sopoaga is a different player than Cipriani, he is confident his new man will fit the pattern that isn't "going to be drastically different to last season."
While we won't see what Young has up his sleeve for Sopoaga until at least next week, Young's expansive style may allow us to see a different version of Sopoaga. What's scary is we may not have seen him at his best yet. Young's ball retention model combined with a player who has all of the tools to make the Wasps' backline just as damaging as they were with Cipriani in charge could be the key to unlocking that.
During his time at the Highlanders, Sopoaga was often asked to pin the opposition deep and trust his defence. Under Young, Wasps rarely kick away possession, which should give the flyhalf ample opportunity to create space for those outside him.
Inserting a ball-playing Sopoaga into a lineup with strike weapons like Daly, Bassett, Wade and Le Roux out wide serves to provide the perfect fit Young has talked about, and allow the side to get maximum production from their backline.
After a shaky start, it's Lima Sopoaga who will give the Wasps their sting.
In other news:

Mailing List
Sign up to our mailing list for a weekly digest from the wide world of rugby.
Sign Up Now