James Haskell's New Zealand punch recalled by solicitor
The issue of player testimonies in Disciplinary Hearing is one that has been front and centre in recent months.
In May Auckland Blues hooker James Parsons denied a SANZAAR statement that claimed he received an apology from Owen Franks following the incident that led to the latter's two-week suspension.
Franks pleaded guilty to striking Parsons in the head during the Crusaders' 32-24 win over the Blues.
All Blacks prop Franks' four-week ban was halved due to his "good record over an extensive playing history" and because he "expressed remorse and apology to the other player", a SANZAAR statement read. That matter was contested by Parsons.
On a recent edition of the Short Ball podcast that discussed that matter, the 2012 case of then James Haskell was recalled briefly by his then solicitor Aaron Lloyd.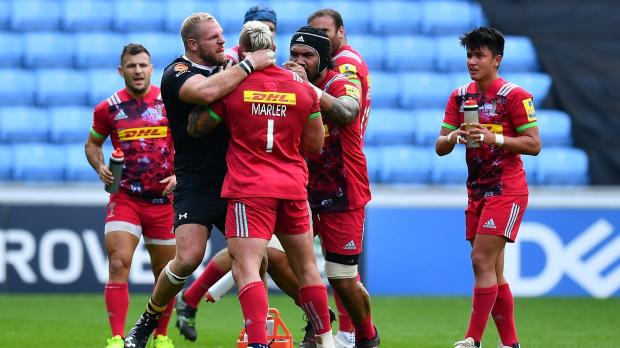 In 2012, then Highlander Haskell punched the Cheetahs number 7 Justin Downey twice during a Super Rugby match.
The first punch was with his right hand to Downey's head (after being held and retaliating) and the second with a left jab in the face. The citing alleged that the second resulted in Downey going down on his haunches holding his face. The footage confirmed that, and Haskell accepted that he had punched the Cheetahs player twice.
The citing report at the time also stated that Downey received stitches for a gash on his eyebrow and that was confirmed by the medical report. You can view the video below.
The disciplinary panel report at the time noted: "Haskell has a very impressive record over a period of approximately 10 years of professional rugby. I was told that he has no previous citings and has received only a single yellow card in his professional career (which was not for foul play)."
It was also noted that the Haskell was reacting to the Downey apparently grabbing him in a 'particularly sensitive area.'
He was initially given three weeks suspension.
However 10 days later the ban was increased to 4 weeks.
The adjudicator "reduced the prescribed entry point sanction from six weeks to three weeks due to a number of mitigating factors including Haskell's guilty plea, remorse for the act and his impressive record of no previous citings in over 10 years of professional rugby.
Haskell had however neglected to mention a previous incident.
"After issuing the decision it was brought to SANZAR's attention that in fact Haskell had received a 1-week suspension in 2008 following a match between Wasps and Worcester.
The SANZAR report states: "Haskell explained that he had completely overlooked it (because it was such a different and unusual matter) and apologised."
SANZAR Duty Judicial Officer Mike Heron concluded that: "It is vital for the proper functioning of this disciplinary system, that players and their support personnel provide accurate and complete information to the Judicial Officer. In this case I accept it was an oversight. I note for completeness that a deliberate failure to provide accurate and complete information on material matters such as previous disciplinary record, could amount to Misconduct under the SANZAR Code of Conduct."
A lesson for us all.
Comments
Join free and tell us what you really think!
Join Free