Leicester Tigers setting the pace
For rugby lovers of all persuasions, it was a beautiful weekend, where the only battle was when to leave the sofa for refreshments. Back-to-back, high-quality games with lashings of drama, dust-ups and derring-do. Leicester and Sale progressed in the Champions Cup to keep English hopes beating, where Harlequins, Exeter Chiefs and Bristol fell by the wayside, while the usual suspects, Leinster, Racing 92 and Toulouse (just), progressed to the tournament's latter stages. Elsewhere, there was more proof that Saracens are warming up for a strong finish to the season and cheer in Wales was offered by the Dragons who showed West wasn't best in a thriller.
Here's what RugbyPass+ made of the action…
Leicester lie in wait for European royalty
In the last vestiges of Geordan Murphy's Leicester reign as head coach, with the club only saved from relegation by Saracens' salary cap transgressions, there would have a sense of foreboding, even dread, were Leinster, the four-time European Champions to visit Welford Road for a knockout game.
The fact that there is hope, even confidence, for the visit of Irish Royalty, points to the majestic job Steve Borthwick has done in rejuvenating a fallen giant of the game. Clermont Auvergne are a side steeped in European history, yet the Tigers swatted them aside over two legs, winning 56-27, this after putting on a masterclass in France, with a 29-10 victory. The visitors put up more resistance for the return leg, with French pride dented, but it was not enough to trouble the East Midlands side, who rolled up their sleeves in the bright sun, and got on with the job.
They cantered into the quarter-finals despite having a man sent off in both ties, with Ollie Chessum red-carded for a high-tackle but despite those set-backs, their shape, game management and ultimately conditioning never wavered. Borthwick runs a tight ship, and does not welcome distractions. You cannot, for example, imagine him agreeing to letting the cameras into the inner-sanctum as Harlequins have with Amazon Prime, but while Tigers keep on grinding out results, fans will not care a jot that he is not openly 'selling the game'.
Borthwick, who has been ably assisted by Matt Smith, Brett Deacon, Richard Wigglesworth and Kevin Sinfield, has built an obdurate, tactically-astute side, littered with talent. While George Ford is a masterful controller of the game, Freddie Steward, who is still only 21, oozes class and finished off the try of the game after Harry Potter scampered across the turf for 60 metres, after a Ben Youngs break. It is up front, however, where the Tigers grind down opponents, with a mix of English bulldog provided by Ellis Genge, Harry Wells and Chessum, and South African grunt provided by Hanro Liebenburg, Jasper Wiese and Eli Synman. It more than stood up to the massive Clermont eight packed with behemoths.
Borthwick allowed some reflection before looking ahead. "If you look back at the start of the season, who would've thought Leicester Tigers would be European Champions Cup quarter-finalists. You would've thought there was no chance of that, but that's what we've done. The players deserve enormous credit."
When Leo Cullen and Stuart Lancaster's squad touch down, they know they are in for an almighty tussle.
The curse of Ed Sheeran
When it is winter and it is match night in Limerick, the floodlights beckon you towards Thomond Park like moths to a light. It's that kind of stadium, Limerick that kind of city.
There's a different sound to the place on match-day, the toot-toot-toot of car horns filling the air, signalling the distress of drivers up against the clock, hoping to make it to the match on time.
It's noticeable inside the ground, too, every break in play the cue for fans to break into song. Do these things make a difference in a game as technical and tactical as rugby? Anyone who was there in 2018, the day a star-studded Toulon side lost to an average enough Munster one, will tell you the answer.
So will the Exeter Chiefs. Man for man, there is no way they are 16-points inferior to Munster and even if scorelines can be freakish on any given day, the big takeaway from Saturday's second leg in Limerick was that if these two teams were to meet again in the same ground, in the same circumstances, you would confidently expect the same result.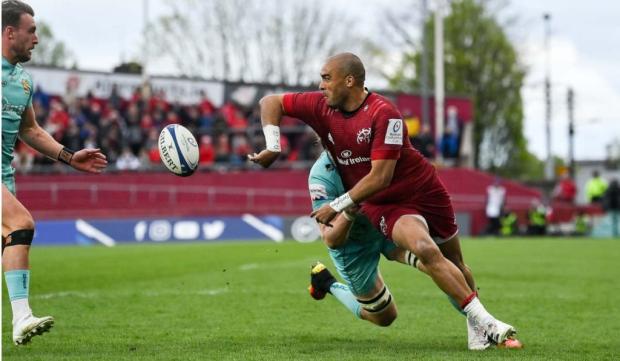 If, however, the tie was moved to the Aviva Stadium, your prediction would differ. This may sound nonsensical; this idea that the same set of rugby players could perform differently in separate arenas yet it is an assertion backed up by years and years of evidence. Look at the statistics of home and away results across the history of the Champions Cup and note how lopsided they are. Next look at how the percentage of home wins dropped by between 25 and 35 per cent during lockdown in each of Europe's major leagues.
Thomond Park, with its limited capacity, enclosed spaces, generates a raucous atmosphere on European nights. Next time there's a big European night, in May, the place will be packed, that is guaranteed. Sold-out signs have already been posted. Except it's not for Munster versus Toulouse, rather for Ed bloody Sheeran, who is holding a concert in the stadium that weekend.
That means you'll be hearing Galway Girl instead of the Fields of Athenry, screeching high-pitched voices of adoring Sheeran fans rather than passionate cries from supporters dressed in red shirts as a contentious try or offence is replayed over the big screen. For sure, passion can travel from Limerick to Dublin, where Munster's quarter-final with Toulouse will now be played, but don't let argue against you when you say that the French side have just gained 10 points. Munster will be cursing the day a concert was fixed for the same weekend as a European quarter-final.
Farrell is back
"Slow it down!" bellowed Owen Farrell, as the seconds ticked away and his Saracens team-mates embarked on risky one-out carries. "Slow it down!"
Saracens had Cardiff where they wanted them: out of possession, out of goal-kicking range, seven points down in the final minute. They attacked, near halfway, sensing desperation and disorganisation in Welsh ranks, until Farrell's rasping commands blared over the referee mic. Slow it down.
It was the captain's influential afternoon in microcosm, as his return from the ankle injury that kept him out of the Six Nations continues apace. This was his third start and his most compelling performance since returning to action.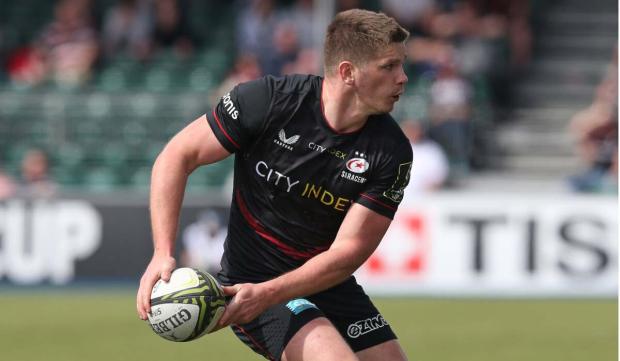 The entertaining Challenge Cup last 16 showdown was laced with reminders of Farrell's class. The arrowing touch-finders that hemmed Cardiff in their own 22. The awareness of space to gain yardage and put the thoroughbred outside backs flooding through channels. The leadership and calm and streetsmarts in those final throes, and well before. The gorgeous sleight of hand to send Max Malins, the game's outstanding player, sauntering under the sticks for the decisive try. Farrell was grinning with satisfaction before Malins had got within 10m of his destination.
Amid all the – justified – love-bombing and all the garlanding of Marcus Smith, Farrell's rugged excellence should not be lost. There are many reasons he is so precious to Mark McCall and Eddie Jones, many more why his peers hold him almost without exception in the highest regard. And there are a fair few, too, why some loathe what he brings to the pitch, typically those fans whose teams were undone by his talent or riled by his truculence. Whatever the proclamations about a 'New England', Farrell will be right at its forefront.
The nagging doubt hanging over Leinster
In the build-up to the first-leg of Leinster's round of 16 game with Connacht, Leo Cullen was asked a simple enough question about whether his team could be endangered by the peril of complacency.
His answer was interesting, in the sense that he traced his way back through the club's recent history, their semi-final defeat last year, quarter-final loss the season before and Champions Cup final reversal in 2019. "We're always seeking to learn to get ourselves to a place where we'll be ready for that challenge again," he said.
There's just one problem with that. In the URC, and so far in this season's Champions Cup, the opposition haven't provided the type of challenge Leinster need. While they have been beaten – in Cardiff, home and away by Ulster – it was never with their first-team.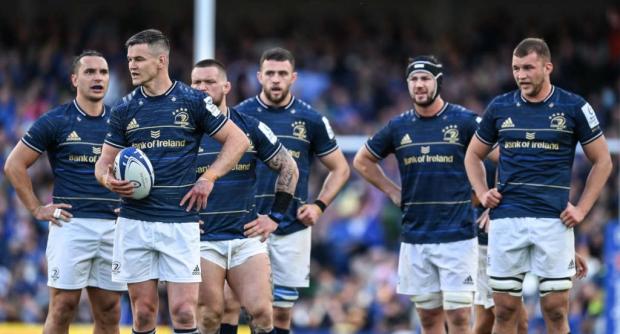 When the possibility of being rigorously examined by the leaders of the Top 14 came around, the away fixture in Montpellier got cancelled due to Covid-related factors while the home game turned into a farce after the French side sent across a B team.
To conquer Europe again, Leinster must now negotiate a path past the Premiership leaders, Leicester, and inevitably at least one star-studded French side. The danger is they'll be undercooked when they get far, even if the bulk of their team make up the Ireland side, for the one area they've struggled in recently, is the one area where they have a couple of untimely injuries: the second row.
Bulk has been Leinster's enemy when they've lost to Saracens in 2019 and 2020, and then to La Rochelle last year. In this respect, having James Ryan and Ryan Baird on the injured list is a concern.
Scots find hope in Challenge Cup
There has been a collective licking of wounds among Scottish rugby folk since the bleak end to the Six Nations Championship, a limp tournament undermined further by yet more trouble in the camp. There has been a degree of civil unrest too: are you Team Hoggy or Team Gregor? Should players be allowed a night out after a Test match, or should we expect elite athletes to be able to contain themselves for seven days?
The Scottish game needed a little tonic (hold the gin) and it has found it in the form of the Challenge Cup. Sure, Edinburgh and Glasgow would love to be mixing it with the big dogs in the knockout rounds of the top tier, but the sister competition offers a tantalising crack at silverware.
On Friday, Glasgow did a job on Newcastle. The Falcons are in a bad place right now, but still a notoriously tough nut to crack at Kingston Park. A night later, Edinburgh put Bath away. Bath, too, are coming out the other side of a grim campaign but are laden with Test pedigree that belies their league position.
The Scottish victories came in considerable style, too. Warriors weaved some lovely stuff in the Northeast, free-scoring Johnny Matthews finishing a belter. Edinburgh were defensively suspect, but lavish enough with ball in hand to score a few belters, particularly through Ramiro Moyano.
Both teams, reinvented after the barren, covid-handicapped 2020-21 term, are going well in the URC. Neither, you fancy, is quite good enough yet to mix it in the Champions Cup last 16 against a motivated French, Irish or English outfit. And so the Challenge Cup offers the new and realistic prospect of going deep in Europe, maybe even of winning the whole thing.
Glasgow's task is tougher, assuming Lyon's interest in the tournament does not wane as they push for a Top 14 play-off berth. They are unlikely to put out a weakened team at home. And they have a smattering of French internationals, though none of the front-line Grand Slammers, as well as Lima Sopoaga, Charlie Ngatai and the frightening Josua Tuisova. Tough, but doable.
Edinburgh are at home, where they seldom slip up, and where their free-wheeling elan comes to the fore. Wasps, too, will make for stern opposition. Alfie Barbeary, Paolo Odogwu and Jack Willis are over serious injuries, and the breakdown duel between Willis and Hamish Watson ought to be seismic.
Of the eight left standing, Saracens will be favourites to take the crown. But it is not beyond Glasgow or Edinburgh. Their last-16 victories injected Scottish rugby with a dose of much-needed feelgood. Opportunity knocks.
Did the Dragons lose? No
You know it's bad when a Twitter account pops up with the simple handle did 'insert struggling team' lose? Italy had one for seven years and the Gwent-based region had their own burner account for opposition fans to chuckle about. The portents against an in-form Scarlets team were not exactly rosy. The Dragons hadn't won a game since October – their only win of the season against Connacht – and had shipped over 150 points in their last three outings. They hadn't won in Llanelli for 14 years, either.
Indeed, their fans would have felt that familiar sense of doom when Dwayne Peel's side went 27-21 up late in the game, with a bonus-point Kieran Hardy try. Only sport can do funny things. When Corey Baldwin was yellow carded on 71 minutes, the visitors seemed emboldened. First replacement hooker Taylor Davies powered over the line after a well-executed driving maul, and three minutes later, Rhodri Williams sprinted down the touchline for their fifth try as they racked up 17 unanswered points to win the game 38-27, with Sam Davies becoming only the fourth player in the URC (United Rugby Championship) to pass 1,000 points.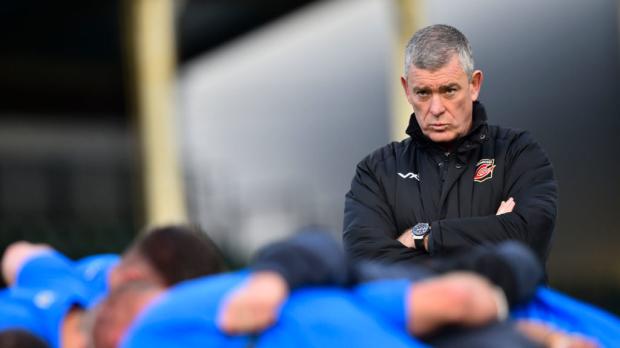 It was a stunning late riposte from Dean Ryan's beleaguered side. It's no secret that Welsh rugby has been in a rut, with speculation over the sustainability of continuing to run four regions and some Dragons players may feel they are playing for their futures. The current squad is one of its stronger iterations in recent years, which only serves to increase the frustration. They have some Test quality players in Taine Basham, Will Rowlands and the injured Ross Moriarty, but there is a spine of selfless, hard-working professionals who deserve more. Jack Dixon, is playing the best rugby of his career in midfield and at 27, is being mentioned for a late call-up with Wales. Harrison Keddie, their captain, is consistency personified and Ben Carter is developing into a lock of some distinction. In short, they merit more success.
Ryan, who has been under some scrutiny of late, preferred to pass the praise onto his players. "I'm more pleased for others, for people that work so hard, fans, the chairman (David Buttress). The players have had moments like that and not been able to close it out so they deserve their time in the sun enjoying that."
The hope is that the Dragons can kick on and notch another few wins so their mocking Twitter account can be consigned to history.
French renaissance
Just when we were pronouncing their Champions Cup hopes to be dead and buried, we discovered the corpse still had a pulse. Down by 13 points, down to 14 players, Toulouse scored a converted try in the closing minutes of their first leg against Ulster and ultimately progressed because of that.
Their scorer then, Romain Ntamack, proved to be their match-winner a week later, terrorising the Ulster defence with his no-look passes and elegant running. Ntamack's partner in crime, Antoine Dupont, ended up getting the winning try, redemption for a player who threw an intercept try in the first-leg.
They may have looked far from champions. They may have been lucky. But until the coffin is covered in soil and the mourners have dispersed, you can't write this crowd off. Munster, Leinster and Leicester will know, and fear, that more than anyone.