Back

By Gregor Paul
Can Will Jordan buck the trend of All Blacks wings?
If Will Jordan continues to score at his current rate, he'll be closing in on Doug Howlett's all-time try-scoring record by the World Cup.
He has played 13 tests and scored 17 tries. Probably about half of those came from being on the end of a backline in good form against relatively weak opposition, but the other half were conjured out of nothing.
Jordan is probably the world game's greatest opportunist. No one has the same knack of sensing where they need to be and when, as was evidenced last year when he scored two tries in four minutes against the Pumas just by following the ball and putting himself in the right place to pounce.
This year he showed he is more than an opportunist, however, as some of his tries were the work of his vision, creativity and incredible skill-set. His try against Wales where he fielded a loose kick, jogged it back and then accelerated through the advancing pack to then chip over the top of the last defender and re-gather was quite sensational.
He scored a similar try against Ireland, although his chip ahead was gathered by Rieko Ioane who passed it back to him, but the skill execution, awareness, timing and speed were all world class.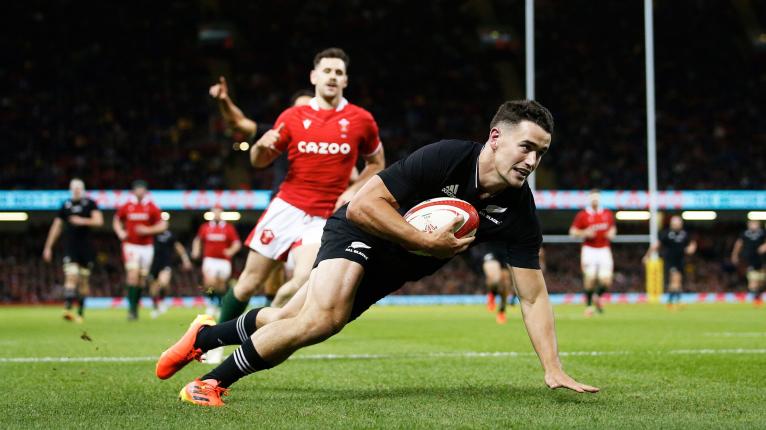 Jordan's finishing has been sensational all year and he has scored tries that maybe no other wing in the world game would have because he's in possession of not only blinding acceleration and genuine top-end speed, but also supreme micro-skills and anticipation.
He's the full package in terms of attack, with some work to do on his defence where he needs to get better at getting his whole body under the high ball rather than just his arms and at 23, he's got a lot of time ahead of him.
He finished the year as the All Blacks preferred right wing and easily their best and most consistent attacking weapon – the big moment coming against Wales when he was as solid on defence, as he was brilliant on attack.
"I thought Will Jordan probably, for me, came of age a little bit in that third quarter," All Blacks coach Ian Foster said.
"He's making some really good progress, I was delighted with him. He's new to the All Blacks. I know he's scored a lot of tries, and admittedly some of those were against 'softer' opposition.
Jordan is by no means the first All Blacks in his early 20s to storm onto the international stage and score at a rate of more than one try per game.
"But if you look at his game, he's just been progressing. In the South African game, he learned a little bit about what it's like in those big tests, the physical side and the decision-making side."
The thing about Jordan is that his pace is important in enabling him to be the player he is, but it's not the only gift he has and that's why it's possible to see him popping up all over the place to score the most sensational and unlikely tries for some time yet.
But there needs to be some cautionary filter through which the future is viewed.
Jordan is by no means the first All Blacks in his early 20s to storm onto the international stage and score at a rate of more than one try per game.
We have been here before several times, even as recently with Ioane himself and no one, it seems, can keep up the rate of one try per game.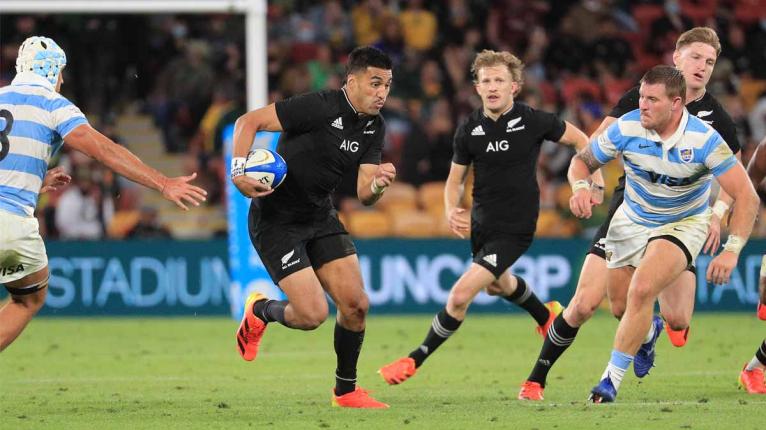 It seems that it's possible for two years, maybe even three but then something happens – the world works out how to stop these fliers and the tries dry up.
Ioane was just 19 when he was first capped against Italy in Rome in 2016 – a game in which he came off the bench and scored a try.
The following year he became the first choice left wing and scored 10 tries that season in 11 tests and another 11 tries in 2018 in 11 tests. He has only scored another nine tries since, however, and a record that was once played 20 tests scored 21 tries is now played 47 scored 31.
He hit a blip in 2019, when he couldn't find his top-end pace or confidence and as a consequence, he decided to reinvent himself as a ball-playing centre in 2020. The positional switch explains partly why his scoring rate has slowed down.
But the point is, it has slowed down. He hasn't been able to sustain the one try per test ratio of his first two seasons. He might still end up breaking the current all-time record of 49 tries as he currently sits on 31, but few would imagine he'll do it in this World Cup cycle the way he appeared destined to back in 2017.
Before Ioane, there was Julian Savea who won his first cap against Ireland in 2012 and scored a hat-trick on debut. The 21-year-old was 107kg of raw power with pace and agility and by 2014, Savea had played 27 tests and scored 27 tries.
That's why ahead of playing South Africa at Ellis Park that year, All Blacks coach Steve Hansen, said of Savea: "I think he's probably better than Jonah Lomu. He can do more things than Jonah. Jonah was a great player, but I think Julian has got more to his game to be honest and that's saying something. I genuinely believe that.
"He's very good going back, under the high ball, with the ball on the ground, as well as being a greater carrier so I think he's right up there."
It was a comment that alluded to the possible longevity of Savea, who Hansen was suggesting had more than just speed to offer. At 24, Savea was a red hot favourite to push on to break the try-scoring record but he suddenly went off the boil in 2015.
His conditioning was poor and while he found it in time to play at the World Cup, he lost it again in 2016 and played his last test in 2017. He fell as fast as he rose and by 27 years old, Savea was done as a test footballer, finishing with 46 tries from 54 tests – a still brilliant strike rate and total but not as high as everyone was anticipating earlier in his career.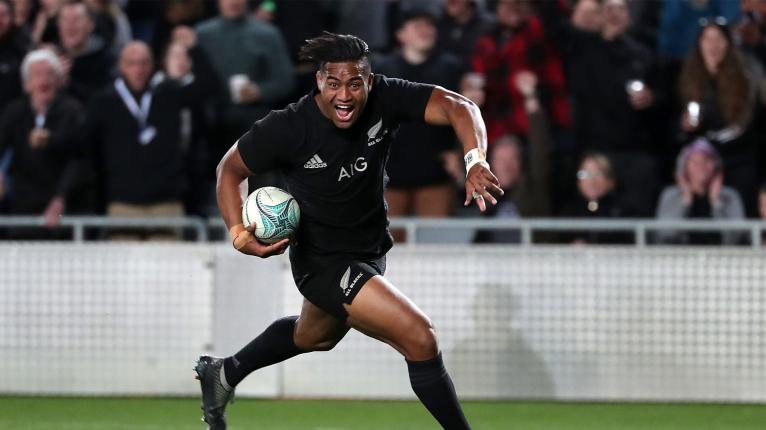 Again, he was scoring a try per game for the first three years of his career and then boom, he hit the wall, so to speak.
Joe Rokocoko was the same. In his rookie season in 2003, he scored 17 tries and managed to keep going at an impressive rate through to 2007. By the end of 2007 he had scored 43 test tries in 45 tests. But between 2008 and his last test in 2010, he played another 23 tests and scored just three tries.
We can't really blame age because he was 27 when he played his last test – incidentally the age that other prolific try scorers Christian Cullen and Jeff Wilson both were when they retired from test football.
So the question is, can Jordan break the pattern? Is he going to be the one who manages to keep scoring tries as he gets older and maintain a scoring rate of one per test or at least something close?
And can he do it into his late 20s or even early 30s and buck this trend of supernovas burning out in their mid-20s?
He certainly seems well equipped – or at least better equipped than others. He is not a power athlete which might be critical. Jordan is 92kg and 1.88m which is a body shape relatively easy to maintain.
Heavier wings such as Rokocoko and Savea found it hard to balance their weight to power ratios as they got older, but Jordan should be able to maintain his top-end speed deeper into his career – just as the similarly built Beauden Barrett has managed to sustain his pace and agility.
The other advantage Jordan has is that his ability to beat defenders is not based on just one thing. He's quick, but he's also clever and much of what makes him special is innate and that is not something he's likely to lose.
Nor is it something that defences are likely to be able to work out and while some big wings lived off surprise factor in their first few seasons, Jordan is not a player that is ever going to become predictable. He won't be someone defences work out easily because he pops up in places no one is expecting.
The attribute that maybe marks him as different is that he has an all-round skill-set. His preferred position is fullback where he can use his refined kicking game to better effect.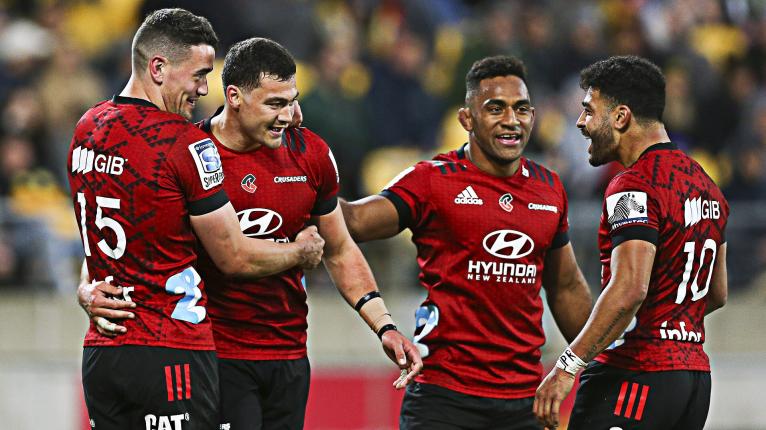 And while he's not yet world class under the high ball, he's good in the air and so it would seem he has an entirely sustainable future – one where his magic shouldn't wear off quickly.
The final quality that Jordan brings is a robust attitude and depth of desire, as demonstrated by his decision to stay with the Crusaders in 2019.
The Blues made him an offer to come north – one that was financially superior and came with the guarantee of a regular start under his former Tasman coach Leon MacDonald.
He turned it down, though, to stay with the champion club for less money and the uncertainty of how much game time he would win given the back three resources at the club.
The Crusaders had Sevu Reece, George Bridge, Braydon Ennor and David Havili all competing for back three spots and so it was going to be hard for the 21-year-old Jordan to be selected each week.
I think at the end of the day, the opportunity to keep playing for my hometown province, a team that's had a good track record of producing All Blacks and developing players was something that was too good to turn down.

Will Jordan on why he chose to remain at the Crusaders
But he backed himself to be good enough, arguing that if he was going to make the All Blacks, he was going to be competing against those same players anyway.
"Both are great teams with great cultures," he said in explaining why he signed a three-year deal with the Crusaders.
"But I think at the end of the day, the opportunity to keep playing for my hometown province, a team that's had a good track record of producing All Blacks and developing players was something that was too good to turn down."
Jordan is unlikely to surpass Howlett's record before the next World Cup, but he does seem likely to surpass it at some stage and break the pattern of fast scoring superstars burning out in their early 20s.