Wales' run of six consecutive losses is starting to take its toll on the world ranking figures, with Wayne Pivac's side plummeting following the weekend's result.
Ranked as the No.1 side in the world for a time in 2019, Wales have fallen to ninth in the world ranking following their latest loss, this time at the hands of Ireland in Dublin.
It's the lowest Wales have ranked since 2012.
A year ago Wales' victory completed over England in the Six Nations saw them climb to the No.1 spot from seventh following an 18-month run of 15 wins from 16 tests.
They have been leapfrogged by the Pumas who despite not playing any meaningful fixtures in 2020, managed to topple the All Blacks in the Tri-Nations. Mario Ledesma's men now occupy eighth place.
Meanwhile, New Zealand have also fallen down the table and now rank third behind England and South Africa. They previously dropped to third for one week after their World Cup semifinal loss to Eddie Jones' England in Japan but reclaimed the second spot with their bronze medal win over Wales.
The Springboks maintain the top spot by a healthy gap of newly 5 points from second place England. France are in fourth, followed very closely by Ireland in fifth. Australia are in sixth spot, with Gregor Townsend's Scotland breathing down their necks in seventh.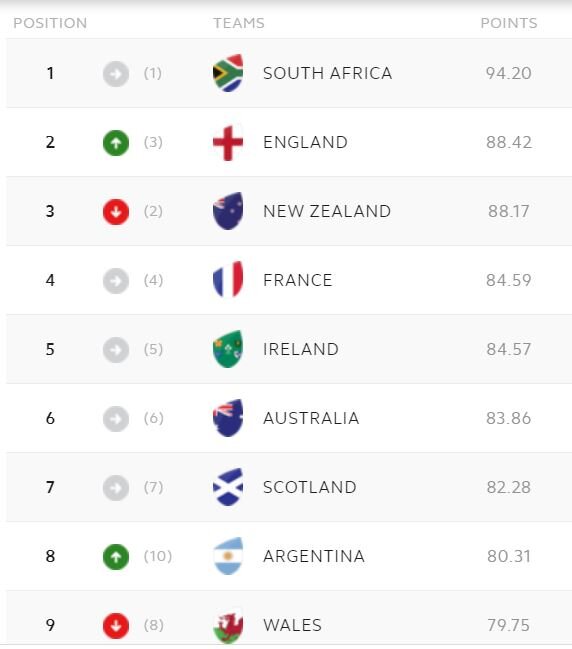 Mailing List
Sign up to our mailing list for a weekly digest from the wide world of rugby.
Sign Up Now