Job and salary cuts facing Saracens stars
Edward Griffiths, the new Saracens chief executive, has told the club's high-profile squad some players may have to leave or face salary cuts to prove they are operating within the Premiership salary cap this season.
Griffiths returned to the club last week after a five-year break charged with clearing up the debris left by a 35 points deduction and £5.3m fine for Saracens breaching the £7m (plus two marquee players) salary cap for the last three seasons. Some of Saracens international stars may have to follow Scarlets bound Wales full-back Liam Williams out of the club to lower the salary bill.
He told RugbyPass that there is no "magic wand" to solve the current financial problems and what used to be the strongest club brand in world rugby has been significantly tainted by the controversy.
Griffiths is working to identify the current financial situation and said: "Clearly there is damage to the brand. We are only obliged to show compliance with the salary cap at the end of the year but we recognise there are special circumstances and that is why we want to demonstrate compliance as soon as possible.
"I am currently examining what the scope of any issue is and there are two ways of dealing with it. You either reduce your headcount by letting people go or alternatively you reduce the salaries of those already there. This will clearly cause instability and uncertainty within the squad and it is in everyone's interest that this is sorted as soon as possible while also being mindful that we are dealing with people's lives, livelihoods and reputations.
"I would hope to have answers sooner rather than later. I told the squad last week the primary challenge is to provide certainty, confidence and clarity as soon as possible but there is no magic wand. It cannot be done in hours and I hope it would be done in a matter of weeks. Of course this is a difficult time but we need to follow this process carefully and sensitively.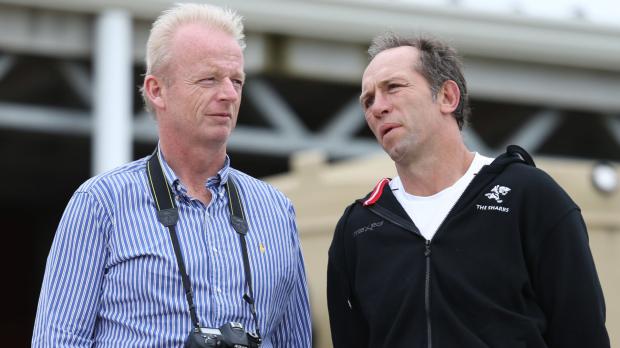 "It is now about how we deal with things and mistakes have been made but there have been an enormous amount of good things at the club and while it is important to address the errors we must not overlook the good.
"The first step is that after being found guilty and receiving an unprecedented fine and points reduction we have to demonstrate unequivocally that we are operating within the salary cap in the current season. We have to do that without any ifs or buts on two levels; on the spreadsheet with a calculator and also deal with the perception issue. We need to address the perception we are not operating on a level playing field in the coming days."
Bernard Lemaitre picking up where Mourad Boudjellal left off at RCT. https://t.co/eBZCcT1eLA

— RugbyPass (@RugbyPass) January 5, 2020
Griffiths, who oversaw the move to Allianz Park from Watford during his previous time in charge, accepts the club's relationship with other Premiership outfits has been damaged. "We need to recognise that we are partners with the other Premiership clubs and we are not adversaries. We are all shareholders in the same business and the ultimate goal is a commercially viable league and we absolutely support a vigorously applied salary cap. That is why we need to ensure we are compliant in the current season.
"If relationships have become strained then that is something we need to address. We are undertaking this process now not because anyone is telling us to do it but because we want to do it. This has been driven internally."
The remaining 12 clubs with Premiership shares have each been given £350,000 of the fine levied on Sarries and Exeter, the fiercest critics of the North London club, have announced their share of the money has been donated to the Exeter Chiefs Foundation, the club's official charity. Griffiths added: "We have the utmost respect for Tony Rowe (Exeter chairman) and the Exeter Chiefs but as a policy we would not comment either positively or negatively on the internal matters of another Premiership club."
Comments
Join free and tell us what you really think!
Join Free