Confused fans are flooding the All Blacks Twitter with the same question about Caleb Clarke
One of the breakout stars of the All Blacks 2020 has been young Blues winger Caleb Clarke, who elevated onto the world's stage after a blockbusting display at Eden Park against the Wallabies in his first start.
The young wing began to draw unrestrained hype after beating 11 defenders in a dominant performance of power running on his home ground. Since that game, Clarke earned two more starts against Argentina, scoring his first test try after the buzzer in the loss in Sydney.
In the final test of the season Clarke was frequently used by the All Blacks all over the park to generate strong carries, finishing with 13 runs, just one less than Number 8 Ardie Savea.
His increased involvement led to more screen time on the TV broadcast, where fans began to notice Clarke looked different to the rest of his teammates, appearing to have a different uniform.
The All Blacks official Twitter received the same question over and over again from fans, asking why Caleb Clarke had a different pair of socks to his teammates on the field.
Hey @AllBlacks & @SuperRugbyPod , why are Caleb Clarke's socks different from his mates?

— The Canadian Ruck (@CanadianRuck) November 28, 2020
@AllBlacks – why does Caleb Clarke wear different match socks to the rest of the team?

— SKO (@dubie68) November 28, 2020
Most important question for me is…why does Caleb Clarke have special vertically striped socks? #ARGvNZL

— Craig Ray (@craigray11) November 28, 2020
If I am not mistaken that is their Sevens team socks?

— Morne (@Mud_n_Guts) November 28, 2020
Why are Caleb Clarke's socks different? @AllBlacks they have 3 vertical lines on back?

— Gareth Teahan (@GarethTeahan) November 28, 2020
Why is Caleb Clarke wearing different socks to everyone else?

— Ryan Aloiai (@Eagleeyedkiwi) November 28, 2020
Why is Caleb Clarke wearing non standard socks tonight? #AllBlacks

— Allan Moyle (@moylea) November 28, 2020
@AllBlacks why did Caleb Clarke wear different socks to the rest of the team in the last 2 games?

— Andrew Taylor (@talataylor) November 3, 2020
Clarke's All Blacks socks appeared to have three vertical stripes down the back compared to the regulation three hoops around the top of the sock. One fan offered the theory that Clarke was wearing the All Blacks Sevens socks from his time in the shorter version of the game.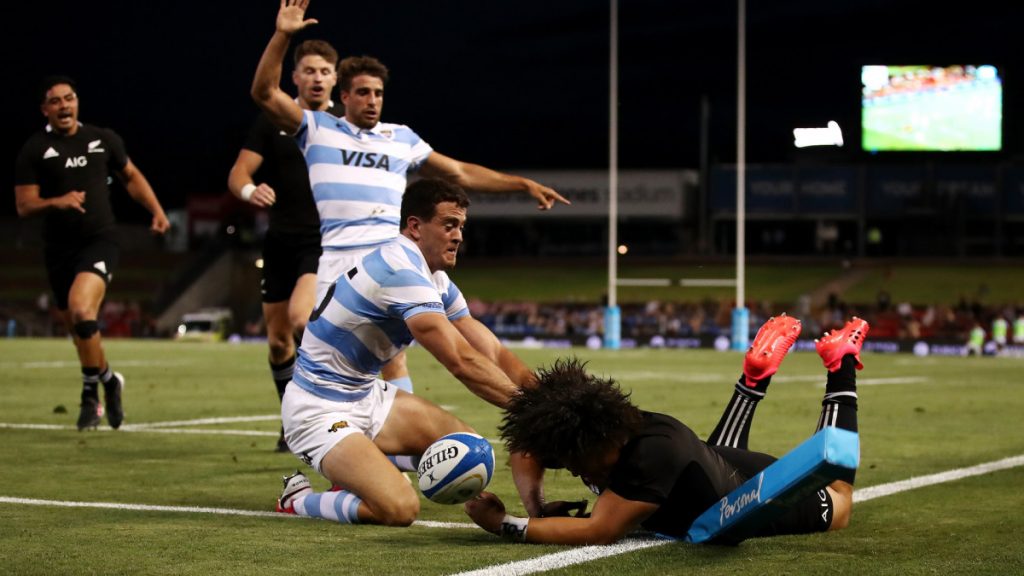 Of course, the answer to the fans question is quite simple. Clarke was not wearing non-regulation socks as many had thought, just compression socks underneath his normal ones which had rolled down.
Clarke's socks weren't the only discussion point by fans during the match, with many Northern Hemisphere fans questioning the young winger's finishing ability on the night after a couple of missed opportunities.
Many Northern Hemisphere fans, including the popular social media personality Squidge Rugby, were prepared to tout Welsh winger Josh Adams as a player who would have made more of the same opportunities.
Another Irish fan claimed he was 'diet James Lowe' as an inferior version of the recently capped former Chiefs wing.
Say we compare Caleb Clarke against Josh Adams… ?

— Linebreak Rugby ? (@LinebreakRugby) November 28, 2020
Caleb Clarke is a diet James Lowe

— Mick Cotter (@MichaelCotter1) November 28, 2020
I think he's a great player. But he is overhyped and overrated. Imo Bridge is a better player. Maybe less physically gifted, but a better technical player.

— Cameron Fisher ??????? (@HuwJonesMarryMe) November 28, 2020
Josh Adams would have scored at least a hattrick if put in the situations Clarke was today, don't @ me

— Squidge Rugby (@SquidgeRugby) November 28, 2020
I genuinely spent the whole game just saying "Josh would've finished that". He would have scored twelve tries given the two chances Will Jordan was.

— Squidge Rugby (@SquidgeRugby) November 28, 2020
Whilst some of the comments were made in jest, there were enough questions asked of Clarke as his teammate Will Jordan came on and scored two long range tries with his first two touches against the run in play on the right wing.
The expectations on Clarke seems to have spiralled out of control as the 21-year-old has only four tests under his belt, with three starts.
Clarke has plenty of time to hone his finishing skills over the summer with the season now over for the All Blacks, as well as finding some new tape to keep his socks up.
But for now, he will put his feet up as the team completes a two-week isolation on the return leg home.

Comments
Join RugbyPass+ now and be apart of the conversation with all-new commenting!
Join Now