Confessions of a No.7 - Gruesome accidents, referees and why Luke Wallace believes he's a Test animal
Thousands of miles from the Twickenham Stoop, amongst the sprawling slums of Kolkata, Luke Wallace hands out brand new rugby shirts to young Indian children. He and two other Harlequins players, James Chisholm and Mark Lambert, are visiting an orphanage as part of the Future Hope charity work the club has been involved with.
It is quite something.
Three hulking Premiership giants, dressed in flip flops, vest tops and adorning a bindi each, are surrounded by children smiling the sorts of smiles that reach inside your chest. At one point, one young lad immediately pulls on his new Quins shirt before launching into a hug of Mark Lambert that knocks the big man on to his heels. The pleasure pours out of everyone; the humbling is palpable.
Back in the UK, some three months later, Luke Wallace talks to me across his lunch: a mean plate of rice and various meats. We talk of his most recent trip out to the orphanage; what it feels like to be amongst those smiles; how he found out about Paul Gustard's appointment whilst backpacking around Sri Lanka; and how he loves to surf and mountain bike.
Continue reading below…
Occasionally, he will tuck his long, distinguishable hair behind his ears and jab his fork around his plate, his hunger obvious. He is seven weeks into a preseason that has breathed new life into his ailing London club. A preseason that is without the coaches he spent ten years listening to and working for; a fresh breeze is blowing through South West London. His responses to me are open and frank. He speaks softly, assuredly, with a feeling of unmistakable serenity. Which is at odds with how I thought he might be, considering the last twelve months he has had.
"I remember it very well," he begins. "About fifteen minutes into our preseason game with London Irish, about this time last year. I was over the ball, in a perfect position; Wayne Barnes should have blown for something, holding on probably…" He smiles at me to suggest that, as an openside, referees are always to blame. "And one of their locks had about a twenty metre run up to clear me out. I knew something was badly wrong: the angle of my thigh; the reaction of the medics. They gave me a lot of painkillers, and then the doctor had to push it back in pitchside; he told me he'd never done that before. It was an unusual injury. I resigned myself to the fact that I was going to be out for a long time, pretty quickly."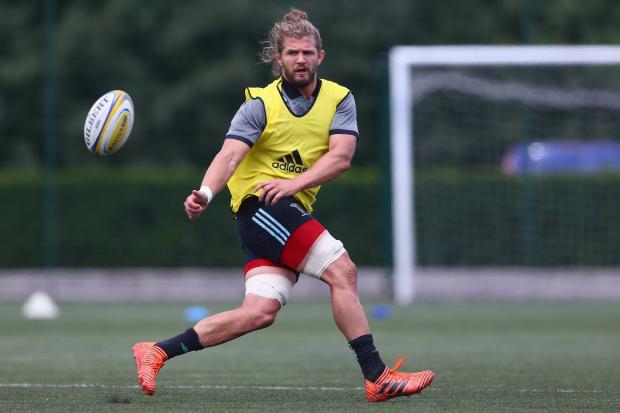 Wallace's dislocated hip made hardened rugby players wince. And there was still the uncertainty of what damage had been done to the joint. "I was sent to hospital for scans. There was a ninety percent chance I'd fractured the socket. And yet luckily, it turned out, I hadn't. I lay in the hospital thinking of my Mum and Dad and that I had to phone them. They'd not been at the game. Because they were with my brother."
As Wallace lay in bed reaching for the receiver, his consciousness swirling under a concoction of morphine and adrenaline, he was painfully aware that this phone call would not be the worst his parents had received in the last year. Despite the severity and singularity of his possible career-ending injury, he still wasn't the most damaged son in his family.
A few months earlier, a freakishly cruel twist of fate had befallen his brother. Walking down a road near the farm he runs in Wales, a car had come off its handbrake and rolled down the hill towards him. Unable to stop it, or get out of its path, it slammed him up against the wall of a house and there he remained trapped for some considerable time, unable to use his mobile or call for help. The accident was life changing; he'd shattered bones in both legs and had to have one amputated below the knee. Mr and Mrs Wallace were with him, aiding his recuperation, when Luke phoned and told them why he was in hospital. Who would be a parent?
Luke's return from injury was going to be long. "At first, they didn't give me a return date. That helped. I'd prepared myself for the very worst each time I spoke to doctors, so in a way, everything was a bonus. I was positive. I was never frustrated. I hadn't had an injury this bad before and in a weird way, I thought I was due one. And it seemed to work.
"My rehab went well and before long they were saying that I was going to be back involved. March, became February and then January. I took the field just after Christmas. I was very lucky in a way."
Lucky would not be the word used to describe Harlequins' season last year. Injuries were two a penny. As well as Wallace, the likes of Demetri Catrakilis, Francis Saili, Jack Clifford were all out for long spells. Suspensions also mounted up as a dangerous downward spiral started to form. Back row options were particularly short and when Luke did eventually get back on the field, a huge amount was asked of him.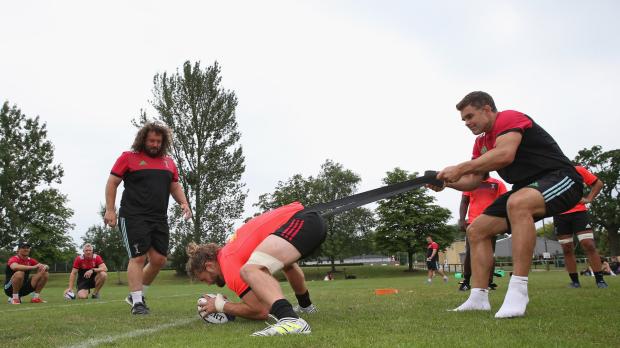 "I came back for the Big Game just after Christmas and then I wasn't registered for Europe, so had two weeks off. But then I played eight weeks on the bounce and I wasn't ready for that.
"My body could barely cope. But that was what it was like last year. You just had to play for as long as you could, until you dropped, and hope that someone else was going to get fit and take over."
"We were constantly resetting the goalposts. Top four, became top six, then top seven. And then just trying to finish as high as we could. The Irish game was the worst. Everyone was so gutted to lose that. Then we went back to playing how we used to; really high tempo. But it didn't work, because I don't think we were fit enough. Which is why you saw those games where we slid off; in them for sixty minutes and then we'd lose comfortably. It was horrible."
"I've known JK (John Kingston) and Nick Easter for eleven years. It was sad to see them go, especially personally, but, it was probably the right thing. We needed a clean slate and everyone to be on the same footing. That's happened with Gussy (Paul Gustard). He didn't know any of us and you can feel it in training; everyone is playing for a place. And maybe that wasn't the case last year.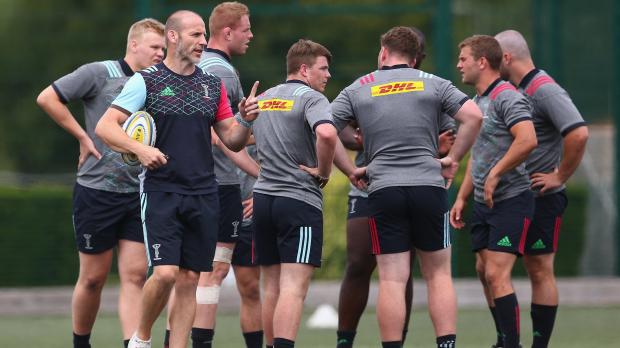 "The sessions have become more intense. We don't train as long; it's more purposeful, I think. Defensively we've improved, we are working more as a fifteen. And we've balanced the ball carriers up a bit more. I think we went too far one way: we had too many props and second rows trying to hit it up and some of our bigger ball carriers weren't getting the ball. It's been a case of small tweaks. Hopefully we can score a few more tries this year. "
Determined to see beneath the tranquil veneer, I address the England question. At nearly ten years in the Premiership with the number seven on his back – an area England have been theoretically lacking – why does he think he has been overlooked?
"I don't know, if I'm honest. You try and just do what you can, don't you? There's always been a dialogue between me and whoever is in charge of England, which is good. I feel that perhaps the refereeing in the Premiership makes it quite hard.
"It is different to international rugby. That frustrates me, because I feel I could make a real nuisance of myself in a Test. You don't get the same time over the ball in the Prem. The game versus Sarries at the Olympic Park last year stands out for me, as an example. I thought I'd got demolished on the floor in that game. But when I watched the tape, I was in a good position nearly all of the time but I was getting cleared out from behind, from the side. How I deal with that this season is massive for me.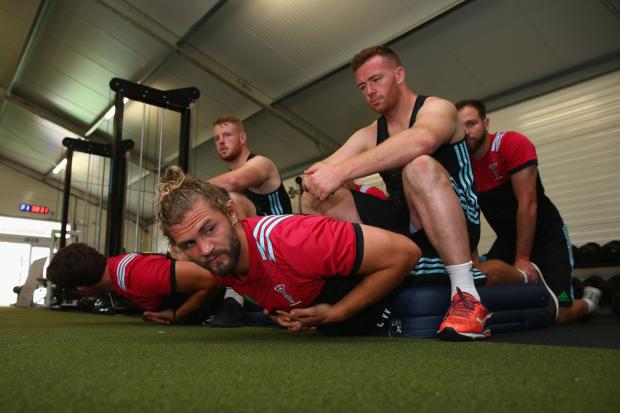 "If people aren't going to blow for penalties, I have to make more of an effort to win it cleanly. And also, trying to stay in there for longer. My game has changed, for sure, but I think I am still improving. I'd love a shot at England. I know I have to show week in, week out that I should be playing. And maybe it's right that those younger players get a chance, but I think I'd do a good job. Hopefully, I can this year."
I ask about other opensides he plays against. Is there a little nod in the direction of others, like bus drivers passing on a carriageway?
"Me and Dave Seymour used to share a knowing look. He was a couple of years older than me, so there wasn't really a rivalry as such, but I always loved coming up against him."
Does he feel he has a rival in the Premiership?
"Matt Kvesic," shoots from his mouth before I have finished my question. "That's who I would say. He's really strong over the ball, probably not as quick as me but he was the year below me and we always seemed to be vying for the same England spot. At one point, we were also the only two young English opensides coming through."
Do you ever speak to him?
"No, I never have. We didn't play together, so it's not happened." There is a wry smile. An acknowledgement that his curt answer belies the competitive streak that courses through Wallace's veins. Despite the way he has taken the last year in his stride and returned to this campaign with little fanfare, the fire rages within. A strange, ingrained burning that almost compels him to put himself in harm's way. It has always been there, he admits.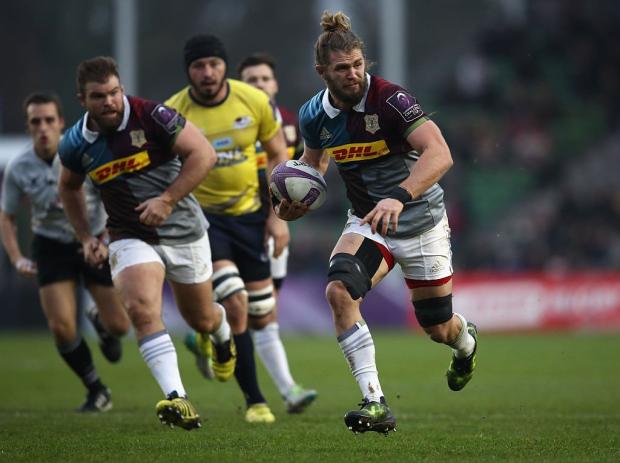 "I guess that's what injury does," says Wallace, now sat back in his chair, replete from his meal. "Makes you realise how much you love the game. Perhaps before, I took it for granted. Going out to India and throwing a ball around with those kids, makes you realise how amazing rugby can be too. Sometimes, I guess, it's easy to forget that."
Wallace appears at peace with the last twelve months, he also seems very ready for the next. He nears a decade of Premiership work in the most dangerous of positions. Harlequins are a lesser team without him. And I'd be very surprised if Paul Gustard disagrees with me.
Comments
Join free and tell us what you really think!
Join Free