Billy Vunipola: 'I'm definitely staying' but No.8's England future is unclear
Billy Vunipola is staying at Saracens and the No.8 is preparing for playing in the Championship, where he hopes a season in the English second tier will give his body an opportunity to heal.
The 130kg England backrow is not clear, however, about his international prospects when playing in the Championship, having not spoken with anyone within the RFU on the matter.
Speaking to RugbyPass on 'The Lockdown' with Jim Hamilton, Vunipola says he can only see positives for Saracens, who were automatically relegated earlier this season for breaches of the salary cap.
"There way I see, it's part of the journey of the club.
"Some boys have had to try and further their careers, as they are at the start of their careers. I'm kind of in the middle of it.
"Boys are in different situations, and I can understand that. They've got families and things to look after.
"From my point of view, I'm just trying to sit still and play it out, see where we end up next year.
"I can't see a negative in it. I've haven't spoken directly to the powers at the top, when it comes to England or at Sarries, as to what will happen in terms of international recognition but if there's one positive to take out of it, is I hope that my body will take less of a battering.
"With no disrespect to the Championship, it will give my body a chance to heal. I don't think they play as many games in the Championship. They don't have Champions Cup or those big games. You (Jim Hamilton) know what it's like, they just keep coming.
"I'm excited for next year. I reckon I'll play as much as I can, try to help the team as much as possible and hopefully we'll come straight back up.
Asked if he had had his head turned along the way by the lure of Japan, France or even Super Rugby, Vunipola was clear: "No, not really."
"All the reports coming out, the club have looked after me, and not just me, my family. It's time for me to dig my heels in and scrap with the boys and hopefully come up next year.
"There lots of examples of clubs going down, like Northampton going down and coming up and doing well, same thing goes for Quins, so, it's kind of a good point in our journey as a club to reset some of our goals and accelerate."
"Yes, I'm definitely staying."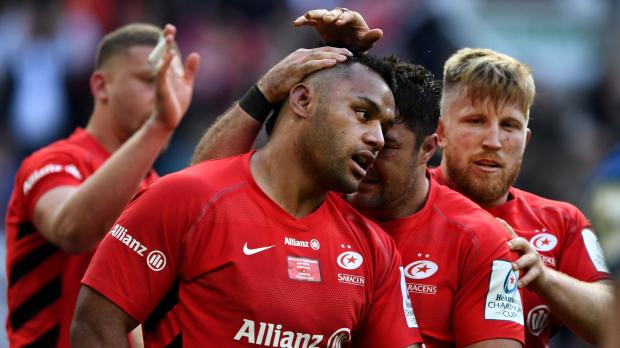 "It was always us against everyone else. That siege mentality, we kind of got stuck into that.
"If I was at another club I would have been annoyed. But I think a lot of things that did come out were exaggerated. Some points were made to seem worse than they were.
"You kind of let people get their feelings out there. I'm glad that none of boys reacted in ways that we would regret. The best way for us to react was try to win as many games as we could.
"When you think about where we are going to be now, players like my little cousin (Manu Vunipola), who's playing at 10, and players around him, are going to get an opportunity to play against really, really experienced players in the Championship.
"Obviously, as the season goes on you feel it a bit more worn down and last year I got to point with my shoulder where I was hanging on towards the end"
– @Jono__Ross tells @chrisjonespress what it takes on the @premrugby front line with @SaleSharksRugbyhttps://t.co/6YquDrrmfu

— RugbyPass (@RugbyPass) March 24, 2020
"We'll probably get taught a few lessons and it will be good for their progression. In two or three years time these guys will be at the top of their game and the English game. That's something people haven't really thought about but that's something we've talked about.
"We're going to get to a situation where we are going to struggle to keep a hold of good players. As you know, the environment always breeds players that want to reach the top.
"There are no negatives to take out from it. People saying what they want to say, that's just the way the world is.
"You look at what a person like Maro has done during his career, and you can't take anything away from him. He's gone from playing how many games unbeaten to playing for the Lions and proving how good he is.
?BREAKING ? Maro Itoje voted the world's best lock in 2020 by majority decision. Ohhh Maroo Itooooje, ohhhh Maroo Itooooje. ????? #EnglandRugby #Saracens pic.twitter.com/laYxpHy8rS

— RugbyPass (@RugbyPass) March 24, 2020
"We've had a system where we've allowed players to be themselves. The end result is we've had a few world-class players within the one squad.
Vunipola broke his arm earlier this season, an injury that has plagued him since 2017.
'My problem was, I probably wasn't looking after it really well when I first broke my arm. Not listening to medical advice in wearing protective gear around it, so that was on me. But now, with the lockdown and not knowing when the season will start again, has given me time to let it heal and let it get better on its own, rather than me always rushing back for a big game.
"I got into a bad cycle of always getting back quickly. It started in 2017 and 2018. I won't have to rush back for a big game like Leinster, who we would have had to play in two weeks time."
Vunipola had surgery on the arm, but says he would have tried to get back for that Leinster game in Europe, had the season still have been going.
"This arm I've broken three times but this was a different part of the bone. With the titanium plate in there, it's so rigid, it's different to how your bones are, so I just got it caught. Hopefully, I can get back to 100 per cent."
Comments
Join free and tell us what you really think!
Join Free