Argentinian pocket rocket Santiago Cordero has landed in the perfect place in the Premiership.
The fleet-footed winger slash fullback was brought in on a short-term deal to finish last season in January by the Exeter Chiefs and was rewarded with a new one-year contract for this season after only a few appearances. That commitment by Rob Baxter and Chiefs management is starting to pay dividends.
The astute pairing of Cordero with the team that will use him the most is already causing havoc in the new season. Being one of Exeter's 'X-wings' – multi-purpose backs that pop up all over the park – means Cordero has been dropped into a world of possibility.
His phenomenal footwork and explosive speed has the potential to take Exeter's attack into another dimension. Plugging a player with this ability into the Chiefs system has so far been a masterstroke, with Cordero beating a staggering 17 defenders for 7 line breaks in just two games.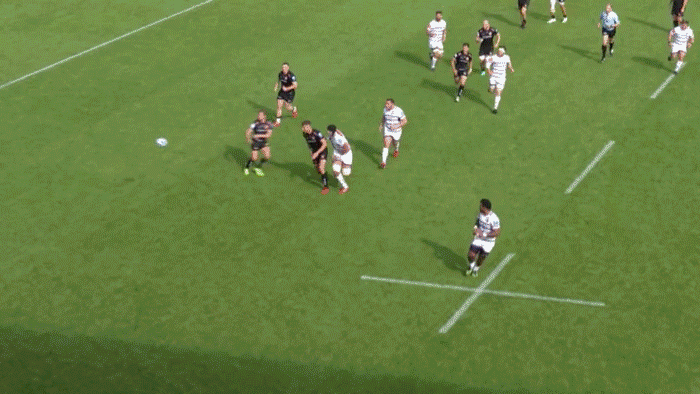 This signing is the perfect match of player skill set and team system, setting the stage for Cordero to become the Premiership's most exciting player this year.
Exeter's system and the role of the wing position
As detailed last year, the role of the winger in Exeter's system has changed dramatically. No longer do they sit on one flank, waiting for the ball. Exeter's wingers are hybrid flyhalves/fullbacks/midfielders, playing multiple roles within the structure that requires diverse skills usually seen in other positions.
They float regularly across the park, popping up in various positions allowing them to inject regularly in the attack.
Exeter's pattern is a hybrid version of 2-4-2 and 1-3-3-1, stuck in between somewhere. The generally operate only one pod of three before dropping down to two-forward pods or even one lone forward on the next phase heading the same way.
It is common to see Exeter in a 2-3-2-1, 1-3-2-2 type formations. This can seem confusing but the key is really the middle '3-2' explained below.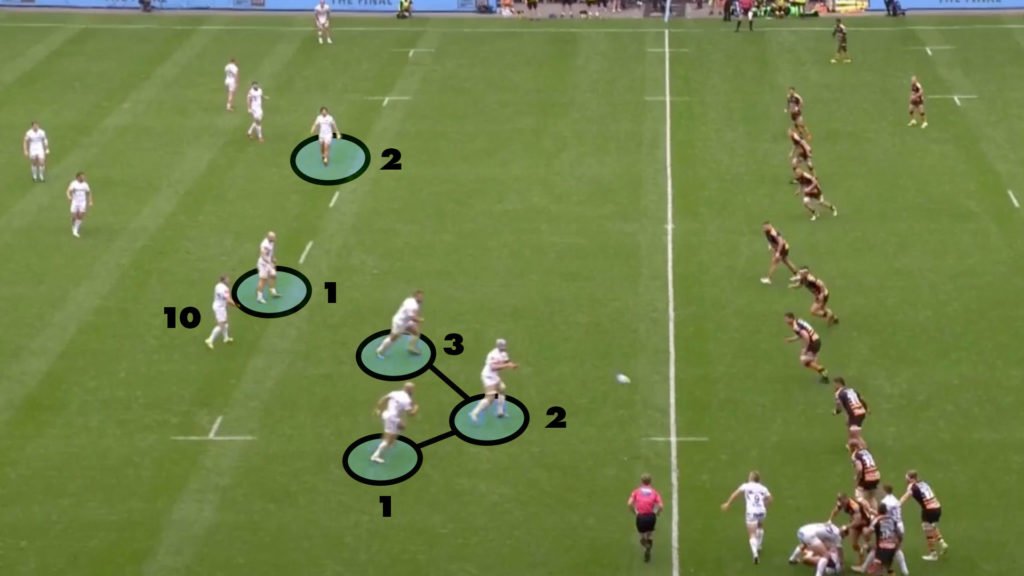 The first phase back from the touchline or tramlines will typically be a standard 3-man pod, which we can see above. They will carry and clean to set up the next phase, which will only involve a two-man forward pod. We can see the next two-man pod moving into position but not quite set.
On the second phase, the 10 or ball playing back will jump into first receiver and use the two-man pod as an option, hitting either runner flat or using a screen pass to find another back out the backdoor.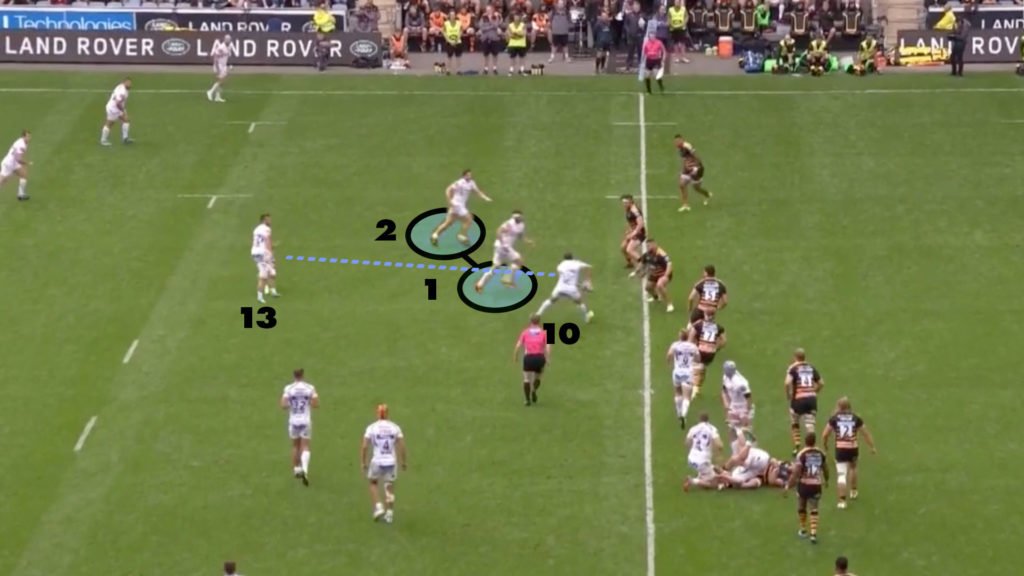 On this occasion, Wasps are already stretched so Gareth Steensen (10) plays out the back to find Henry Slade (13) to attack the edge. With Exeter's roaming wings, at times you may find the opposite right wing linking in outside Slade, but even left-wing Cordero will be in-field looking to attack in this space.
This is the '3-2' two-phase setup we see frequently with Exeter.
This allows the screen passing game to release the backs frequently, from which the ball players (10, 12, 13) can free up the danger men (11, 14, 15). This no hard and fast rule as the Chiefs have been built on flexibility, with almost all the players from 10 to 15 interchangeable in phase play.
Here is the same 'second phase' play heading the opposite way where Cordero sparks an Exeter line break.
Usually within two phases, Exeter are hitting the edge, playing with constant width and a high passing volume. They play their pattern anywhere outside their 22, so with a small exit zone so you often get to watch a quality game of running rugby.
Now, imagine this guy is getting a high volume of touches, on both sides of the pitch with constant overlaps and room to roam.
You won't have to imagine it, because that's the reality for Premiership defences this season. With Cordero set to be unleashed all over the park, you will see the best of one of Argentina's finest talents. And that's just during phase play. With potentially more action from set-piece and counter-attack, Cordero will be one of the most exciting weapons at Exeter's disposal.
In other news:
Mailing List
Sign up to our mailing list for a weekly digest from the wide world of rugby.
Sign Up Now