Back

By Gregor Paul
Schmidt will help All Blacks see themselves through northern eyes
There are times when it feels the All Blacks are as pig-headed as their fans, maddeningly wedded to a desire to pass and run as if winning ugly is beneath them.
For the last decade, maybe longer, the All Blacks have had to occasionally justify why they pursued higher risk strategies when they didn't work. It really hasn't been often, but still, the few times they have stood in defeat and suggested they would rather lose with style than win with none have been hard to fathom.
Their steadfast refusal to drop goals at critical times in the last decade has been an extension of that philosophy. It seems that the All Blacks wouldn't consider a victory secured by a drop goal to be a victory and this odd failing in rational thinking was prevalent throughout 2021. The All Blacks lost three of 15 tests which is hardly a disaster, but with a bit of pragmatism and lower risk rugby, they might have gone through the year undefeated. Alas, though, there were periods when they wanted to prove they could pass and run their way through blitz defences no matter that it appeared to be a hopeless cause.
That was the weird thing about their big games in 2021 – they actually had most success when they tightened up, kept the ball close to the ruck and played low-risk pick and drive.
Their best performance of the year came against Wales, when they started the game with a Northern Hemisphere mindset of driving their lineouts, scrummaging for penalties, kicking high and chasing and using their forwards to pick and go through endless, energy-sapping phases.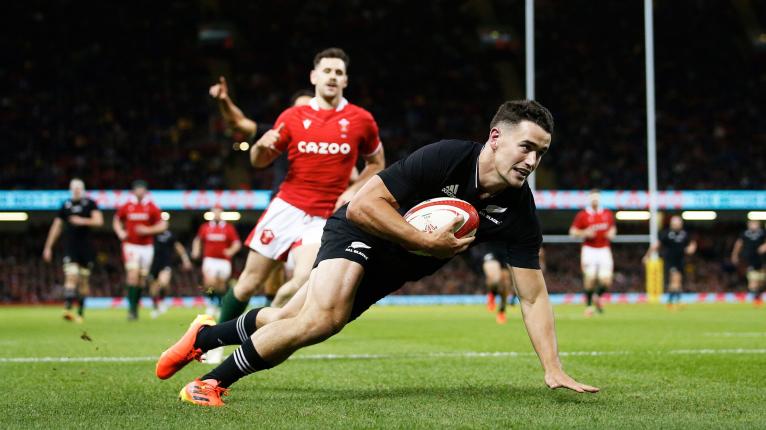 Piece by piece they broke Wales down and slowly turned the scoreboard into a weapon – winning penalties and kicking goals and then grinding out a couple of tries from drives from lineout mauls.
It wasn't pretty but it was effective and by the final quarter, the All Blacks were able to play wider and more expressively because the Welsh were dead on their feet.
Everyone appreciates it was not a full Welsh side with several players unavailable due to club commitments, but what isn't so widely appreciated is that Wales are the team that plays with the greatest defensive line speed.
South Africa, Ireland and England are often hailed as the great rush defenders and yet the All Blacks insist it is Wales who get off the line the quickest.
So the facts about the Cardiff test are these: the All Blacks scored 54 points against the best rush defenders in the world. And they did so by playing a mostly conservative, low-risk game, with a final quarter of Champagne football.
The All Blacks had their formula, but they didn't use it against either Ireland or France in the following weeks. Or at least, they did use it in Paris for 25 minutes after the break, a period in which they were able to totally dominate the game and claw the score back from 24-6 down to 27-25.
It was the same against Ireland to some degree – when they played tighter and took fewer risks, they were more successful and probably in the five biggest tests they played, it was only in the first half of the second game against the Springboks where their pass and catch, naturally expansive game had any impact.
What's staring the All Blacks in the face is that if they want to play the rugby they prefer – the fast, wide, expansive stuff where the likes of Will Jordan, Rieko Ioane and Beauden Barrett are able to cut loose, then they have to be prepared to build an element of conservatism into their mix.
They have to be willing to play ugly for periods to build pressure and create the opportunities to attack. Captain Sam Cane recently acknowledged that in their end of season reviews, the players came to see how effective they had been at a style of rugby that was not familiar to them.
"We almost surprised ourselves how well we went with our pick-and-goes, considering it is not traditionally how we play," he said.
"So, maybe it is about shortening up some of our attacking stuff to bring in defenders and find space elsewhere."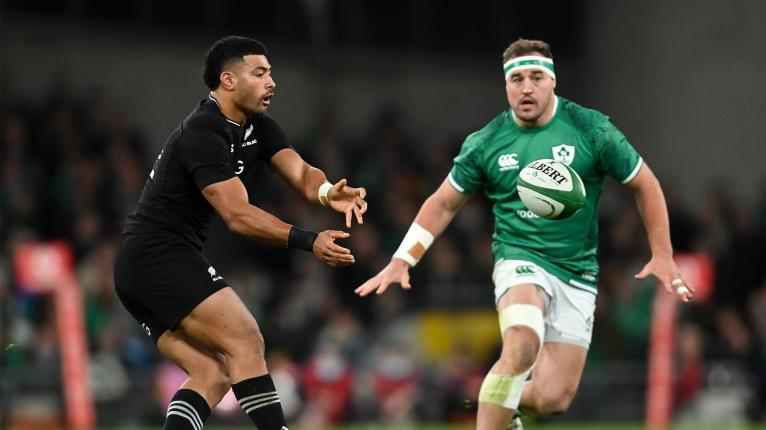 That was maybe the first hint that the realisation is dawning on these All Blacks that they are going to have to ditch their run at all costs attitude and embrace, to some degree, the idea of playing with a blunt, physical edge.
It's not that they need to give up with their ambition to pass and catch and play wide, expressive rugby, it's more that they have to be prepared to earn that right – to not expect to be able to run out at any ground in the world and immediately start flinging the ball around and cut teams open.
The second and more significant evidence that the All Blacks are going to change their mindset and attacking patterns next year is the confirmation that former Ireland coach Joe Schmidt is joining the coaching team – nominally as an independent selector but with a wider brief as a performance analyst.
Schmidt is one of the more detailed thinkers in the game and knows how the building blocks of test rugby work. But more importantly, he knows the Northern Hemisphere mindset and how most of the teams there have built their blueprint.
What he will be bringing to the All Blacks is an ability to analyse the northern sides and South Africa, see what they are really doing and build counter-strategies for the All Blacks to employ.
"He's very analytical in a very practical way," says All Blacks coach Ian Foster. "He's got a big picture of the game and he breaks that down really well for his playing group. It's been easy to see the success he's had with that technique.
"He sees the game slightly differently to me and it's a great time to bring a fresh set of eyes into the picture. I think we're tracking really well but it's a great way to put us under the microscope and make sure we're maximising our growth.
"He's also a bloke I know you can have a good honest conversation with and from an All Blacks' selection perspective, that's critical.
"You learn in the international game that you don't know everything. We need people to help us grow. At times you've got to expose yourself to being really challenged. The fact Joe has a different perspective on the game is vital for us. We feel privileged he's accepted the role.
"We think we're doing a lot of things well but we're fully aware we've got some areas to tweak so I'm sure he'll be a big help in that space."
Essentially, Schmidt is going to bring hard and relevant intel about the Northern Hemisphere sides. He's also going to look at the All Blacks through the eyes of those sides and determine where the likes of Ireland and England will likely see weakness.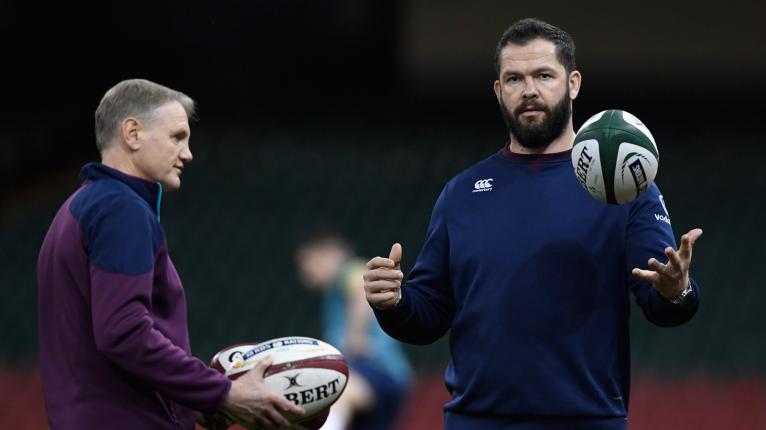 He'll use that knowledge to help guide Foster's strategic response and of course, have a voice in selecting the team. It could be said that in essence he'll be tasked with helping the All Blacks better understand attrition rugby.
The All Blacks have all the natural rugby instincts and innate skills to exploit space better than any team in the world. When they have space, they are deadly. They don't lack flair or imagination and that's why they want to run at all costs: why they want to always spread the ball wide and see what's cooking on the fringes of the field.
What Schmidt's main task will be, is to ensure they build a number of effective ways to create that space. That's been the problem for the All Blacks – they can exploit space, but they don't always know how to create it when they come up against bruising sides.
Schmidt knew how to build a brick wall and hence he knows how to dismantle one and if the All Blacks can learn the art of generating momentum against the best teams, then they are going to be a lot harder to beat.
And the added beauty of the role is that it will suit Schmidt perfectly. The pressure of being a head coach didn't sit well with him at Ireland. He didn't enjoy the scrutiny and the intrusion and has been persuaded to join the All Blacks on the basis he'll be out of the limelight and devoid mostly of any direct responsibility.
As he says: "A lot of head coaching is managing up and out and not getting the time you really want with your feet on the ground doing the job.
"I'm looking forward to doing less of the management and putting a bit of headspace around player performance and development and the sorts of combinations Fozzy and the team are looking for so I can best complement what they're looking to put in place."
It would seem that the All Blacks, after a decade or more of wanting to win in a particular way, are ready to adapt and join the rest of the world in slugging it out in the trenches.