Back
By Tom Vinicombe
League of his own
Leicester Fainga'anuku is not your typical rugby player.
Anyone who witnessed his outrageous score for the Crusaders against the Chiefs in Christchurch can attest to that.
But there's been almost six years of build up to what could be the 21-year-old's breakout season of Super Rugby.
At just 15 years of age, the prodigiously promising outside back signed his first professional rugby contract, committing the next four years of his life to the Tasman Rugby Union.
Why, some might ask, would a provincial union be willing to invest so much time and money in one unproven player at such an early stage in their rugby development?
The Tasman union's hand was effectively forced by the attention that Fainga'anuku had received from rugby league clubs in Australia. The Roosters were on the cusp of signing the teenager while there were also offers on the table from the Paramatta Eels, South Sydney Rabbitohs and Gold Coast Titans.
In short, Fainga'anuku was in hot demand – and with rugby league his passion, it was going to take something special to get the sizeable outside back to commit to union.
Perhaps the most unusual thing about Fainga'anuku, however, is nothing to do with his past but everything to do with his future.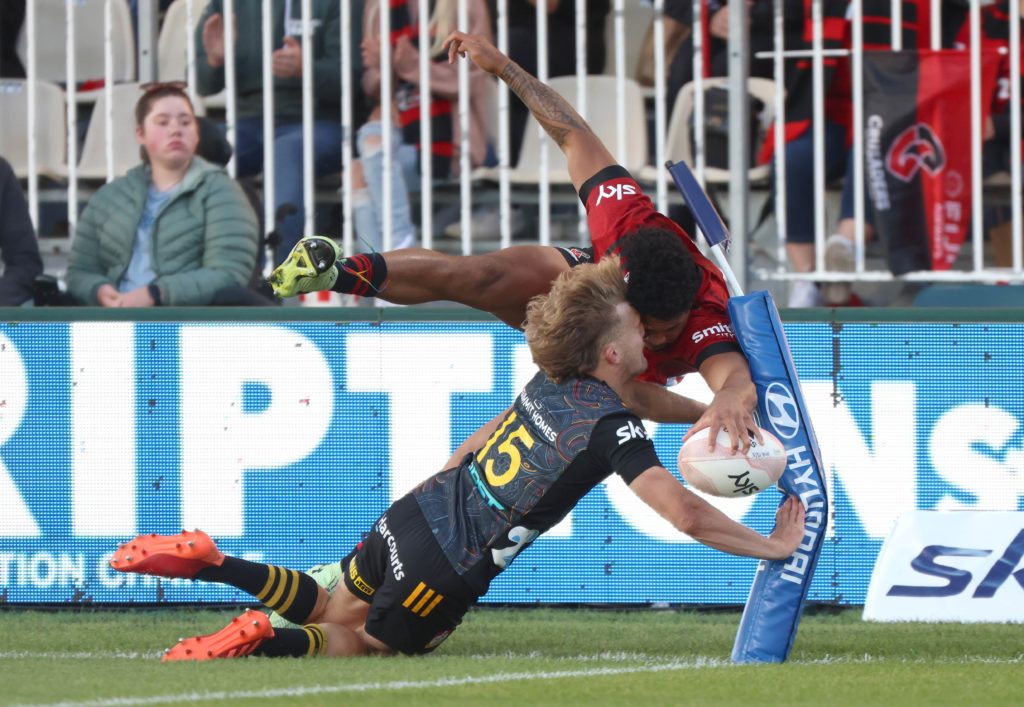 "If the All Blacks come knocking on the door then that's cool," Fainga'anuku tells The XV. "If they don't, then hey, it's never been a goal of mine to be in the All Blacks."
That's a startling admission from the now-21-year-old. What young rugby player doesn't dream of one day running out in the black jersey with a silver fern emblazoned on their chest and the crowd screaming their name?
Fainga'anuku, however, is a little different – that's just something that happens when you grow up idolising the likes of New Zealand league stars Simon Mannering, Manu Vatuvei and Benji Marshall, not your Richie McCaws and Dan Carters of the 15-man code.
In fact, Fainga'anuku's goal during his formative years at Nelson College was to be the next Simon Mannering – and he came within a hair's breadth of accomplishing that feat before eventually putting pen to paper with the Mako.
While Fainga'anuku grew up playing union in South Auckland, a shift south to Tasman was quickly followed by a shift to the 13-man code. It's the game that Fainga'anuku loved more than anything, the game he watched his older brother play as a youngster, and the game that captured his attention on Saturday evenings.
If the All Blacks come knocking on the door then that's cool. If they don't, then hey, it's never been a goal of mine to be in the All Blacks.

Leicester Fainga'anuku
Fainga'anuku's big opportunity came when he joined the Tasman Titans in his early years of high school in Nelson.
"When I heard there was a league team in Nelson, I was one hundred per cent committed," Fainga'anuku says.
"My first league tournament in the South Island, I was lucky enough to pick up the MVP of the tournament and was selected in the South Island team which went up to nationals. I played up at the nationals in that first year, enjoyed it, and so I did a second year.
"My second year, I went up again – and they have a whole lot of scouts watching from Australia and after I returned from that tournament, I got a phone call from my agent saying that the Roosters are keen to have a look at you. It was music to my ears. It was exactly what I wanted to hear, exactly where I wanted to be heading."
Fainga'anuku, then playing in his first year of First XV rugby, hadn't exactly escaped the notice of local union scouts either, and when he was on the cusp of heading to Australia to become acquainted with the Roosters' facilities, the Tasman Rugby Union knew they had to act fast.
"It's a pretty funny story.
"I was meant to fly out of New Zealand on a Friday, I think it was, head over to Sydney to check out their facilities and meet the trainers and whatnot, and obviously put pen to paper," says Fainga'anuku.
"I think it was on the Wednesday that the Tasman union rang me, rang my dad and asked if we would come in for a meeting. I ended up heading along, not really having any idea what union actually was. Yes, I played it, but – one example – I didn't learn until my last year of First XV that you were only allowed to kick the rugby ball out on the full if you were inside the 22.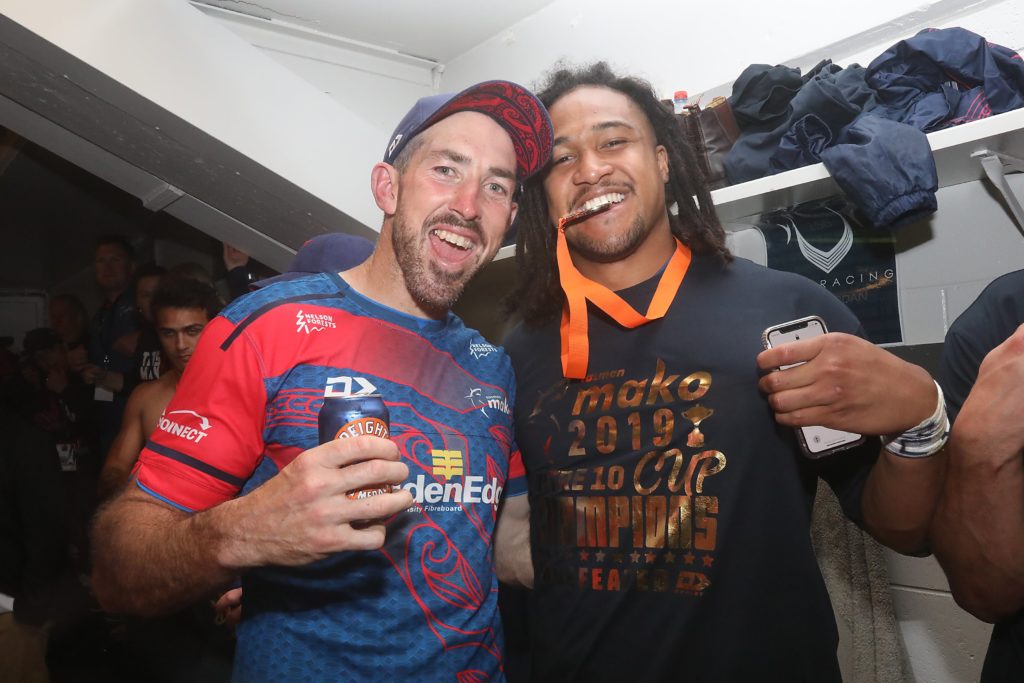 "But I sat down with the CEO at the time, Tony Lewis, and a few of the academy managers, and they pretty much gave me the whole run through on how they had kept an eye on me since a very young age and the potential future they saw for me in the pathway of rugby union.
"At the time, knowing I was going with rugby league, I basically had a brick wall in front of my eyes; I wasn't really hearing everything they were saying. I was just sitting there thinking 'You guys are wasting your time. I'm a league man, I'm committed.'"
Tasman offered Fainga'anuku a two-year provincial union development contract, which would see the youngster train with the Mako while he was still attending school. In comparison to what was on offer in Australia, however, the decision was a no-brainer – and Fainga'anuku left the contract sitting on his kitchen table, untouched.
A day or so later, Tasman came back with an even more impressive deal.
"The day before I was supposed to fly out, they must have heard I was heading over to Sydney to sign some papers, so they were ringing my old man to come back for another meeting because they were getting a bit worried that they hadn't heard anything.
"They thought this 15-year-old kid would be excited to get a contract like this, they didn't know what was going on. So they rang me to come back in and I remember saying to my old man, 'Can we just not go?' I didn't want to have anything to do with union. But he told me that it would be good to keep my doors open."
This time, the Crusaders were involved – and that's when Tasman upped the ante and offered Fainga'anuku an additional contract which would see him join the Mako on a full-time basis one year after he'd finished his schooling. They were offering the teenager a clear pathway to playing rugby professionally.
At the time, knowing I was going with rugby league, I basically had a brick wall in front of my eyes; I wasn't really hearing everything they were saying.

Fainga'anuku
While it still took some convincing from his father, Fainga'anuku ended up signing on the dotted line for Tasman.
"The way he spoke to me, I knew the contract was quite a serious thing," he says. "At the same time, I was thinking, 'Man, I'm leaving tomorrow. I'm meant to fly out of here and sign with the Roosters.'
"I was hardcore into rugby league, my dreams and aspirations were rugby league, but then with my old man, talking to him, I sort of did it, put pen to paper, just for him. I knew that he always wanted me to play union."
So began an intense journey for the 15-year-old. Early morning trainings with Tasman were followed by long days at school and then First XV practice in the evenings – it was a packed schedule, to put it mildly.
Fainga'anuku had help managing his workload from the likes of brothers Chris and Andrew Goodman.
Chris, the Tasman academy manager, was his off-field mentor, picking him up in the early mornings and delivering him to training, as well as providing a guiding voice when the going got tough.
Andrew, his then-First XV coach, quickly ascended the ranks at Tasman and by the time that Fainga'anuku was a full-time member of the Mako squad, Andrew had taken over as head coach. He's now an assistant with the Crusaders – effectively mirroring Fainga'anuku's rise to professional rugby.
"I think they're the ones that got me in union and kept me in union," Fainga'anuku says. "They've both been massive influences on my footy pathway.
"They've been big believers in me since a young age and a lot of credit has to go to them, I owe them a lot. It's been cool, just being able to have them there."
Which takes us to where Fainga'anuku is now – the Crusaders' semi-permanent fixture on the left wing in the absence of injured All Black George Bridge.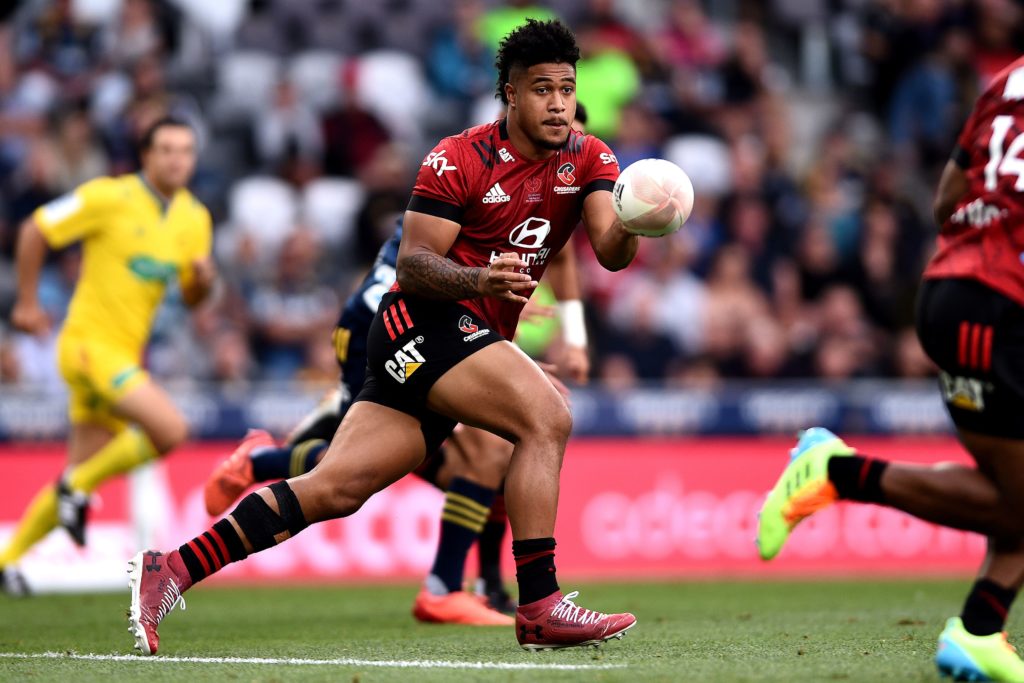 In his fleeting appearances for the Crusaders over the past two years, Fainga'anuku has impressed with his raw power – but also with his subtle touches. The 6 foot 2, 110 kilo behemoth spent time in the midfield and at fullback for Nelson College and while he's handy enough on the wing, there are some who suspect that a move back to the centres could be on the cards.
Following a successful but less than busy Super Rugby Aotearoa campaign last year, Fainga'anuku was surprisingly named in the midfield for the South Island squad in their exhibition match with the North.
"I wasn't even thinking I'd even be in the squad," he says. "I didn't really get much game time with the Crusaders so I didn't think they really got to see much of what I could do.
"I was just shocked. I was excited just to be in there but midfield, heading into the camp, I knew if that was where I was going to play, it was going to be a challenge, one hundred per cent, because it's a position I hadn't really played since school.
"Heading into that camp, it was tough because I was learning both wing and midfield. I don't know exactly where I was going to be playing but I knew there was a challenge ahead and it was definitely something I took with both hands.
"Going into the game, I was just hoping they'd put me on the wing because that's where I felt comfortable and that's where I knew I could do a lot because I know how to play as a winger."
Fainga'anuku was named in the 23 jersey for the match and mere minutes into the game, centre Braydon Ennor was carted off the field with an ACL injury and all of a sudden, it was Fainga'anuku's time to shine.
"I was looking at the bench, realising I was the only one that could play in the midfield. It was quite weird. I hadn't played midfield at all, so just trying to read my opposition, trying to understand and trying to figure out what I was doing in the centre role was pretty tough.
"I was getting tested in the midfield against Rieko Ioane and Anton Lienert-Brown so I was obviously quite nervous but it was also a great challenge. It was the best way to learn, competing against the best. There were definitely a few lessons that were taken out of that game."
Fainga'anuku was also used in the midfield by Tasman in their 2020 Mitre 10 Cup campaign but admits that he's still learning his trade even on the wing – let alone at centre.
"I've always wanted to be a wing that's world-class in all areas," he tells The XV. "Not just my running game but getting up for the high balls or ruck opportunities. I love rucks. Most wingers hate them but I love them because for me, it's an opportunity.
I love rucks. Most wingers hate them but I love them because for me, it's an opportunity.

Fainga'anuku
"I want to be a winger that's good at kicking, good at passing, good at defence, good at getting game-line carries. All areas, I want to be world-class in. That's what I always try to strive for. But it's always good to be able to go into that centre role – it's good to have something to work towards."
Fainga'anuku's selection in the South Island squad was perhaps indicative of how highly the 21-year-old is rated by All Blacks coach Ian Foster and his assistants.
From the outside looking in, it's easy to see what Foster might like about the strapping winger-cum-centre, given that there are few truly sizeable midfielders running around New Zealand.
There are some heavy hitters like Ngani Laumape and Patelesio Tomkinson while Rieko Ioane sits just north of the 100kg mark – but all three pail in size compared to Fainga'anuku.
For the man himself, however, national selection is of little concern.
"When I was at school, I'd get friends and family asking me if I wanted to be an All Black. That was always a common question I got asked," Fainga'anuku says.
"For me personally, it was always a 50-50 – it would be cool but, at the same time, it wasn't a goal of mine. Even to this day, it's not a goal of mine because at school, the reason why I was working hard, the reason why I wanted to make it and succeed in this game, was I wanted to do what I love for a living and most importantly, at the same time, be able to support and give back to my family.
"My dream has always just been to play footy. It's never been to be in the Tasman Mako, be in the Crusaders, be an All Black. I think most youngsters, they have this pathway they want to follow, and that pathway ends with that black jersey. For me, at the end of that road is just playing footy and doing what I love."
Perhaps that's a product of growing up as lover of rugby league and while Fainga'anuku is happy with the decision he made when he was just 15, he still harbours that appetite for the 13-man code.
"I am loving what I'm doing, for sure. At the same time, I still have that same passion and love I had for rugby league. I always watch the footy when I can. I've got a few mates that I used to play league with, they play league over [in Australia] in the top sides. It's good to see how they're going and I do think to myself some days that I could be playing with them.
"I think if I'd moved to Aussie, I know I wouldn't be the guy I am today. I think a whole lot would have changed, especially moving away from family. I think if it wasn't for my old man, I obviously wouldn't be where I am today but at the same time, wouldn't be the person I am today. So massive credit to my old man.
"He's a happy man, that's for sure, seeing his boy playing rugby union and obviously falling in love with the game. And as long as he's a happy man and he's proud, then that's all I can ever ask for."
While an All Blacks call-up may not be the be-all and end-all for Leicester Fainga'anuku, if he continues his early season form for the Crusaders then it's hard not to see the national selectors bringing the 21-year-old into the fold.
Yes, he has work-ons – he'd be the first to admit it. But there's a massive upside to Fainga'anuku's game, and the hulking outside back could be a thorn in many an international side over the next decade. Watch this space.
More stories