Back

By Jon Cardinelli
Andre the Giant springs Bok up after smackdown
Two years ago, you wouldn't have said that André Esterhuizen and Harlequins were the perfect fit. Back then, Esterhuizen was categorised – and utilised – as a gain-line specialist suited to a more attritional game plan. Eyebrows were certainly raised in South African rugby circles when Esterhuizen moved to the attack-minded London club with the intent of taking his game to the next level.
Fast-forward to the present, where Esterhuizen has developed into one of the most complete inside-centres in Europe and where Harlequins have challenged widely held perceptions about the game on a weekly basis.
The player who was told that his bulk – Esterhuizen is roughly the same size as Springbok colossus Duane Vermeulen – would be better in the back row is now regularly praised for his intelligence and distribution in that crucial No 12 channel. The team who were told that they wouldn't win a major trophy by prioritising attack over defence have already claimed one Premiership title – and are currently gunning for a second.
Critics and non-believers alike have been forced to view Esterhuizen and Harlequins in a new light. It wouldn't come as a surprise to see 'André the Giant' striding back into the Springbok squad in 2022, as the world champions look to invigorate their attack with a view to the 2023 World Cup.
Coach Jacques Nienaber finds himself with the right sort of selection headache. Damian de Allende – the Boks No 12 incumbent – is currently the leading inside-centre in Test rugby. Frans Steyn has served as the official understudy to De Allende since the 2019 World Cup and is viewed as an integral squad member given his ability to cover fly-half, centre and full-back from the bench.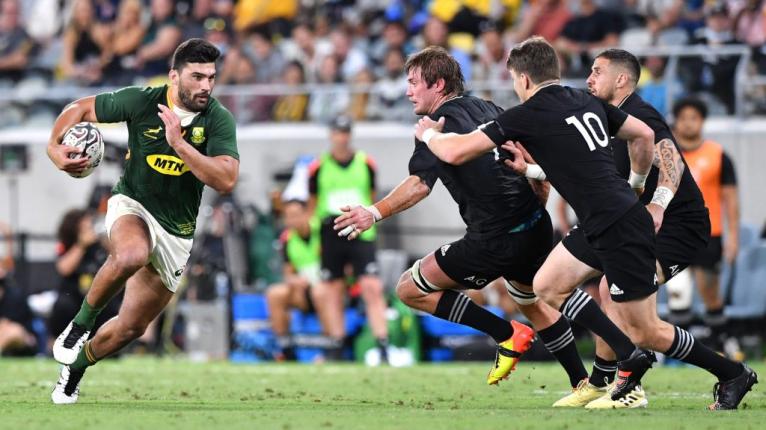 And yet Steyn himself has hinted that his ageing body may not be up to the demands of a fourth World Cup. It's for this reason – and for the sake of planning for a scenario in which De Allende is unavailable due to injury – that Nienaber must explore alternatives sooner rather than later.
Esterhuizen's present form, as well as his familiarity with the South African systems and players, should place him at the front of the queue. His relationship with Bok regulars Handré Pollard and Jesse Kriel stretches back to the South Africa Under-20 team in 2014. What's more, he has played a lot of senior rugby at the Sharks and Boks alongside Lukhanyo Am and Makazole Mapimpi.
He is yet to be sounded out by the Bok management team about a possible recall in 2022. Some players may take that as a bad sign but Esterhuizen is optimistic.
I haven't heard from anyone since I've been up here. I don't believe the door is closed yet, though, and I will do what it takes to get back in the mix.

André Esterhuizen
"It's great to see the Boks doing well, winning the World Cup and the Lions series in recent years," he tells The XV. "You will always support the nation of your birth but as a player you want to be a part of the success.
"I haven't heard from anyone since I've been up here. I don't believe the door is closed yet, though, and I will do what it takes to get back in the mix."
Esterhuizen has unfinished business with the Boks. Across the 2018 and 2019 seasons, he started in seven of his eight Tests. Often he was utilised in the second-string midfield combination alongside Kriel, while De Allende partnered Am in Rassie Erasmus's first-choice team.
Esterhuizen was part of the World Cup training squad but narrowly missed out on selection for the 31-man party that travelled to Japan for the tournament. When Kriel broke down with a tournament-ending injury after the first game of the campaign, Erasmus opted to replace the centre with a utility back in Damian Willemse instead of a specialist like Esterhuizen. The snub hurt but also served as motivation to improve.
Esterhuizen was one of the stand-out performers for the Sharks during a short yet impressive 2020 Super Rugby campaign. When the Covid-19 virus brought the game to a halt, the Sharks were at the top of the log.
"It was unfortunate timing," says Esterhuizen. "We had a great start to that competition and I began to think that I might actually win my first trophy. It's funny how things work out – as I won a title with Harlequins a year later.
"We didn't have what you might call a traditional South African pack, so the coaches decided that we were going to utilise our smaller, more agile players to play a more expansive game. We had the ability to play tactically when required but our focus was on attack and everything clicked.
"It was very different to what the Sharks, and indeed most of the other South African teams, had produced in previous years."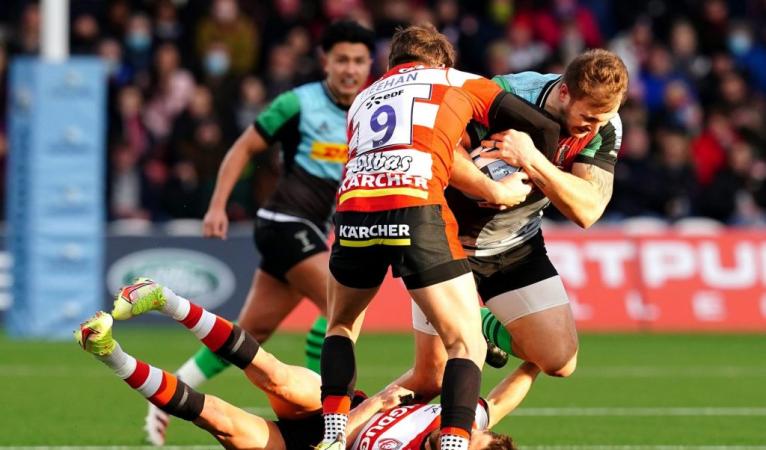 That last season with the Sharks prepared Esterhuizen for his first year with Harlequins. It took some time, though, for the Quins coaches to realise that Esterhuizen could be more than a bulldozer in midfield.
"When I arrived, the coaches told me to stick to what I had done before. I suppose that they weren't aware that I could pass and kick, as I hadn't been asked to do a lot of that when playing for South African teams in the past," he says.
"As the months went by, I started to express myself more and more. Once they recognised that I had these other skills, they encouraged me to develop them."
Faf de Klerk was a potent attacking player for Super Rugby's Lions between 2014 and 2017. It was only after moving to Sale Sharks and playing in the Premiership, however, that the Bok scrum-half developed the necessary tactical kicking and defensive skills needed to win big tournaments – which he did with South Africa in future seasons.
Willie le Roux is another prominent Bok who has spoken about the benefits of playing in the Premiership and in the other top tournaments in Europe. For many South Africans, it's an opportunity to develop, especially in areas like attack. Esterhuizen feels the same way and credits Harlequins for his recent improvement.
"People in South Africa have this idea about English rugby, which is shaped in large part by the weather up here," he says. "The reality is that English sides are less conservative than South African sides. In terms of what we've seen over the past 12 months or so, more sides are embracing the attacking side of the game.
"I'm not saying that is all down to Quins but the fact remains that an attacking team won the Premiership last season. Everyone knows that it can be done. This season, we've seen more teams embracing that attitude."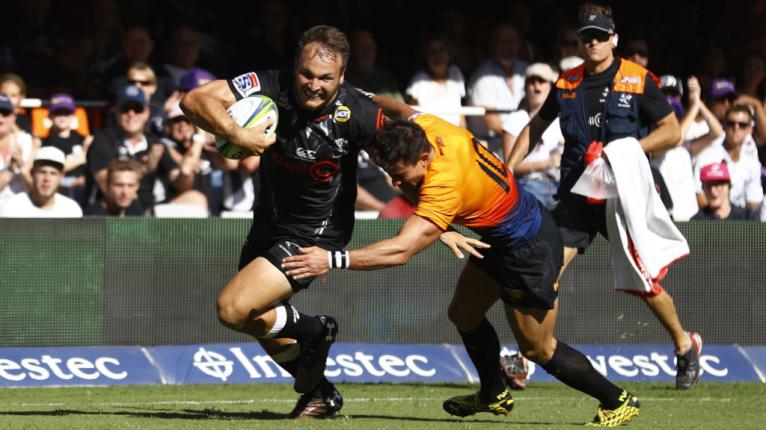 Esterhuizen joined the club during one of their more turbulent chapters. Paul Gustard, the former England defence coach, stepped down as head coach in January 2021.
The assistant coaches and the players themselves then proceeded to steer the team in a more attacking direction – and the shift culminated in a famous win against the defending champions, Exeter Chiefs, in the Premiership final.
"I think back to where we were about a year ago… we had lost six or seven games in a row. Then we got the news that our coach was leaving the club," says Esterhuizen.
"Incredibly, everybody came together after that to turn the campaign around. We had a meeting with all the players and assistant coaches, and spoke about the way we wanted to play. The assistant coaches gave us their support and went out of their way to help us and the club fulfil that ambition.
"Quins have always boasted an attacking reputation but we started to show that we could stay true to that style as well as win matches."
Where would Esterhuizen be right now if he had taken Jake White's advice back in 2014 and made a career-changing move from centre to flank?
Here is this World Cup-winning coach telling you that you're not good enough to play centre at this level… I decided that I was going to prove him wrong, I was going to use that criticism as motivation.

André Esterhuizen
White, a former Springbok coach, implemented a number of fundamental changes during his brief stint as Sharks director of rugby in 2014. The team won the South African conference that season and managed to claim a rare win against the Crusaders in Christchurch.
It must have taken plenty of guts for Esterhuizen – then only 20 – to challenge a coach as knowledgeable and accomplished as White on this particular matter.
"When Jake asked me to move to flank, it was a real eye-opener, something that caught me by surprise. Here is this World Cup-winning coach telling you that you're not good enough to play centre at this level," he says.
"I didn't say 'no' right away, I played flank for a couple of games and I didn't enjoy it. I decided that I was going to prove him wrong, I was going to use that criticism as motivation.
"It was a hard decision at the time but I felt that as the years went by, and certainly after the Premiership win with Harlequins, that I was vindicated. You do what you can for the team but you also have to stay true to yourself."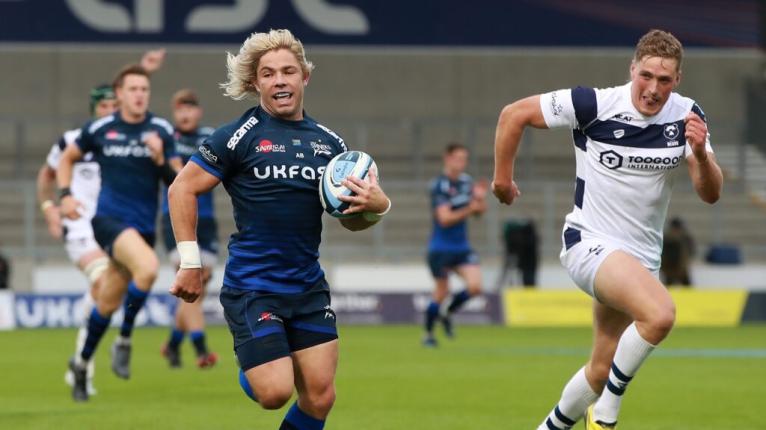 Five years later, though, Esterhuizen was deemed surplus to South Africa's requirements by Erasmus. "I was angry and it took a while to get past that disappointment. Every player wants to represent his country at a World Cup and I felt like I was playing good rugby at the time," says Esterhuizen.
"When I eventually left the Sharks for Harlequins, I was uncertain about my future with the Springboks. The bad situation in South Africa also influenced my decision to move to England, as I wanted to bring up my family in a secure environment.
"The dream to play for the Boks at a World Cup never left me but at the time I was uncertain about whether I'd get another chance in the green and gold again."
By moving outside of his comfort zone and by taking on new responsibilities as a father of two young kids, Esterhuizen was forced to grow.
"It's always a tough one when people ask you to measure your growth but I believe that I have matured a lot since that 2019 season," he says.
"Maybe I was thinking about myself a bit too much back then, instead of the group as a whole. My wife and my kids have also encouraged me to think about the bigger picture."
One of the themes here at Harlequins is you go flat out whenever you can. By pushing myself, I've grown as a person as well as a player.

André Esterhuizen
Esterhuizen's other family at Harlequins has certainly made the transition easier. "There are some familiar South African faces at the club and Stephan Lewies has been my best mate for ages," he adds. "But the coaches and the local players have embraced me from day one and I have tried to give my best at all times. You're always going to try to repay the people who back you.
"One of the themes here at Harlequins is you go flat out whenever you can. By pushing myself, I've grown as a person as well as a player.
"Honesty is important too. We didn't live up to our own standards at the start of this season. We lost a few games that we really should have won. The team addressed that slump, though, and we bounced back over the festive season to pick up some important wins.
"We have a young side, particularly in the backline, so we are building for the future. At the same time, we are very ambitious in terms of the current season in England and Europe. We've just got to peak at the right moment."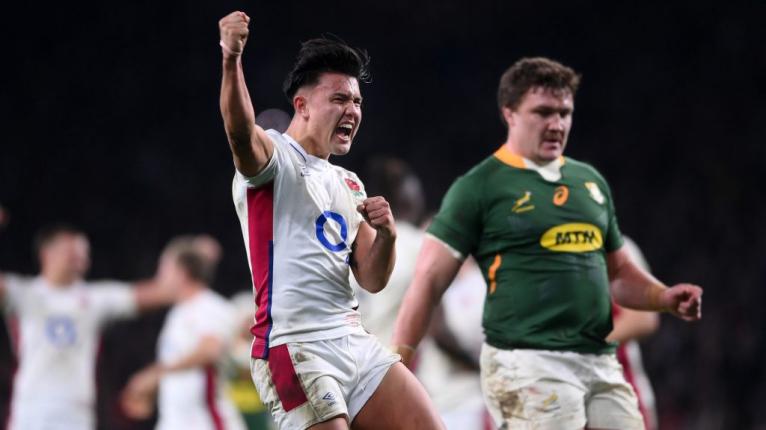 Has Esterhuizen considered what might transpire if he returns to the Bok side and ends up facing England – either at Twickenham this coming November or in the 2023 World Cup knockout stage?
If such a scenario materialised, Marcus Smith, the gifted fly-half who has lent so much impetus to Harlequins and England in recent months, would be in Esterhuizen's sights. Would Esterhuizen's 10-12 partnership with Smith at Quins prepare him for such a challenge and would he take an edge into that contest?
"I don't think that's possible," says Esterhuizen with a laugh. "You just never know what to expect from a player like Marcus.
"He's the best fly-half I've ever played with, in terms of how he puts team-mates into space and how he manages everything on the field.
"I'm not thinking too far ahead, though. While I have my goals and would love to play at the next World Cup, I'm excited about where Harlequins are going as a team.
"We've said that we want to make history and go back to back in the Premiership. We've won two out of two in Europe and we want to maintain that momentum.
"It's hard to say where we will end up at the end of the season but we aren't going to hold back."