'We were driving around every day looking for training pitches'
Ex-England international Dean Schofield has revealed that the Premiership title-winning Sale used to drive around during the Philippe Saint-Andre era looking to find a pitch to train on as they didn't have a training ground. The 2006 Premiership win by the Sharks is recalled in the latest episode of Rugby Stories, the BT Sport documentary series featuring all 13 of the current top-flight clubs. 
This Friday night's edition on Sale focuses on the time Saint-Andre was in charge at the Manchester club, a period that culminated in their Twickenham final win over Leicester 16 years ago. 
Investment had come into the club via Brian Kennedy, 2003 World Cup winner Jason Robinson commenting in the opening sequence: "One of the key things about Sale's rise was the investment from Brian Kennedy. To be successful you need to put some money into it and fair play to him, he did that."
However, Schofield suggested things weren't quite right heading into their famed 2005/06 season. Talking about the Sale pre-season that summer, the twice-capped lock said: "There was a few politics at the club at the time which probably no one knew about. We didn't have a training ground – we were driving around every day looking for pitches in a professional era." 
The contribution from Schofield also shed light on the transformation of the Sale squad under the director of rugby Saint-Andre after he returned to the Premiership in England in March 2004 two years after he had resigned from a similar position at Gloucester.  
"The first meeting with Philippe he said, 'You're not good enough, you've got to buck your ideas up or there's not a part for you in this club'. I'd been nurtured basically with Jim (Mallinder) and Steve (Diamond) as a young player coming through, starting late, and that filled me with confidence. 
"It was either stick with Philippe or join another club – Sale was for me," quipped Schofield, who added: "I don't think the French lads [guys such as Sebastien Chabal] were on big, big money, I think they just wanted to play for Philippe."
Sale won the European Challenge Cup in 2005 and then went on to win the Premiership the following season, dethroning defending champions Wasps in the semi-finals and then consigning Leicester to a second successive final defeat. 
"Everybody had probably written us off, thought we'd never do it," said Robinson. "But if you commit to something and work at it consistently it's amazing what you can do. So for us to stand there on that pitch and for me as captain to hold that trophy, that's what makes it all worthwhile. 
"The party went on into the night and fair play to the boys, they delivered when it counted and we'll be forever remembered as the team that delivered on the day."
BT Sport's Rugby Stories documentary series continues on Friday night with Power Shift, the story of the 2005/06 Sale Sharks season. Tune in from 10pm on BT Sport 1 following live coverage of Sale Sharks vs Wasps. For more information visit bt.com/sport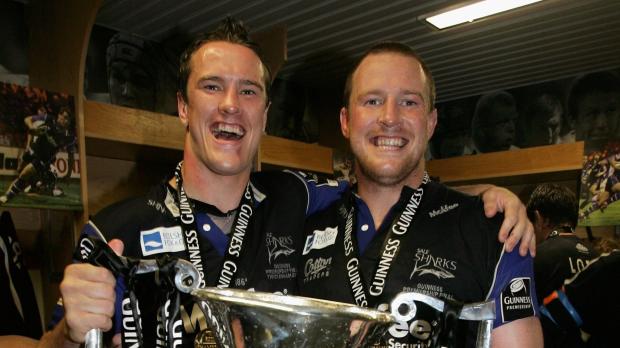 Comments
Join free and tell us what you really think!
Join Free