Irish must not throw the baby out with the bathwater
It was an unenvious position for Nick Kennedy and his coaching staff to be in right from day one.
Fresh on the heels of having led London Irish's academy to success in the Premiership U18s league, Kennedy was appointed director of rugby at the club, bringing with him Declan Danaher and Paul Hodgson from the U18s, as defence and attack coaches respectively.
Irish had just been relegated – their first stint outside of the top tier since the 1995/96 season – the club's squad was arguably at its lowest ebb in terms of quality and depth in years and the deficit in budget between the one the club would have to operate on and the ones the sides who would remain in the Premiership would have, relative to the deficits Harlequins and Northampton Saints endured during their stints in the Championship, was extreme.
That's a tough scenario for any coaches to have to deal with, let alone a trio cutting their teeth at the senior level for the first time.
Unfortunately, the Championship is – or at least was – a tough place to be and sell to players the vision you have of future Premiership success, especially on a budget as small as the one that Irish were working with. The fact Irish's Premiership status last season wasn't confirmed until the 24th May, thanks to the two-legged playoff, severely hindered their recruitment strategy, and there was very little doubt that they would be favourites to return to the Championship this season.
That fate hasn't been sealed yet, thanks to the club's impressive win over Worcester Warriors last weekend, which has cut the gap between the two clubs to 12 points, with six games remaining.
Mathematically, that could account for a 30-point swing.
Realistically, Irish's schedule doesn't promise anything close to that.
Their remaining slate of games sees them visit Wasps this weekend, before later trips to Harlequins and Bath, with home games against Gloucester, Exeter Chiefs and Saracens mixed in. At the minimum, Irish would need three wins from those six games to have a chance and that is assuming Worcester pick up nothing from their remaining six fixtures, something which seems unlikely given their recent upturn in form.
A shock away win at the Ricoh Arena this weekend could offer some small hope of salvation, but it's clutching at straws at this point.
If we assume relegation is now the likely outcome, plans for a season in the Championship must be made and if there is one priority the club should have, it is to keep Kennedy and his coaching staff on board, as well as technical director Brendan Venter.
RugbyPass caught up with Kennedy at Irish's Hazelwood training base last month and it is hard not to be impressed by the honesty of the man.
Irish's fate this season has not been a result of poor planning or ineffective coaching – despite the self-effacing answers of Kennedy in that interview – and the testing campaign has had its roots in the size of the budget the club has and the lack of time to adequately recruit for the season, thanks to the Championship playoff system.
If you need an example of what might have been possible, look no further than the positive impacts that midseason recruits Piet van Zyl and Arno Botha have had on the performances of the team.
The Championship is a different beast, now. The playoffs have been scrapped and teams are now able to recruit, as early as January and February if their league position is strong enough, as if they will be a Premiership side next season.
Obviously, Bristol are in a different league in terms of funding to Irish, which explains additions like Steven Luatua and the soon-to-be arriving Charles Piutau, but signings announced earlier this year like Harry Thacker, Nic Stirzaker and John Afoa, whilst likely also all being on considerable pay packets, are the result of the club's future in the Premiership being a lot more secure than in previous seasons.
Kennedy and Venter did not have that luxury last season and you can certainly argue that this side isn't truly 'theirs', yet.
Having been appointed shortly after the club's relegation to the Championship was confirmed, recruitment options were limited at that point and the priority was holding on to some of the club's more important players. Furthermore, the two-legged playoff with Yorkshire Carnegie a year later, a hurdle the favourites have fallen at in years gone by, then denied them the time to adequately strengthen ahead of their Premiership return.
If they can navigate the travails of the Championship again next season, something which is no given, with Yorkshire always a threat and the job director of rugby Ben Ward has done at Ealing being a story which deserves far more press and recognition, they should have the time to strengthen accordingly.
Let's not forget that the Championship, whilst being a hard-hitting financial purgatory, is an opportunity to lay the foundations for future success. One of the key ways this can be achieved is through recruitment.
For any Premiership club attempting to lure another Premiership player away from their current side, they are only able to talk through intermediaries before January 1st, whilst Championship clubs are able to steal a march on their Premiership rivals and can get face-to-face time before that, something which can be crucial in convincing a player of your club's ambition.
If the rumoured investment in the club is also forthcoming, it will allow Irish to make more of a splash, something which they have lacked in the past two seasons, but let's play devil's advocate and say no investment is coming and what Irish have now is what they will have 12 months from now, as they hopefully bid to return to the Premiership.
Who better to have on board than Kennedy, Hodgson and Danaher?
If there is another opportunity the Championship provides, especially this new format which could see a champion crowned before the season's end, it is that it is battleground on which young players can be tested. It is by no means forgiving, but it doesn't have the same quality that the Premiership does. There are fixtures where selection risks can be taken and emerging stars can, hopefully, grasp those opportunities with both hands.
These three coaches have shown that they can develop and improve players and are blazing a trail for younger coaches who make their names in club academies.
Who better to help develop the likes of Ben Loader, Rory Brand, Josh Basham, Isaac Curtis-Harris and Tom Parton than these coaches? Having worked with them within in the academy and again now as seniors, they know better than anyone what those players are ready for in terms of senior rugby.
England U20s were beaten in Myreside last night, but how about THIS for a score from @gloucesterrugby's @T_Seabz ? pic.twitter.com/E5YTDlVkdD

— England Rugby (@EnglandRugby) February 24, 2018
There is also the next raft of U18s to be promoted to the senior academy this offseason, again, all of whom Kennedy and his coaching staff worked with and know well. One particularly impressive player is Ben Donnell, who will sign professional terms and join Irish's senior academy next season. They will know best when to blood him, as well as games and roles that would be most suitable for him, and this way his development is managed well and possibly even kickstarted, rather than new coaches taking time to learn his – and the rest of the youngsters on board at Irish – strengths and weaknesses.
If you can't buy in new talent at the same rate as the other Premiership clubs, then you need to develop your own at a faster rate. If this is the goal, Irish have the right staff in place.
Then there is Venter, someone with more coaching experience than the rest of the Irish coaching staff combined, which also includes George Skivington and Charlie Hodgson, and he is the ying to the yang of the otherwise youthful set-up.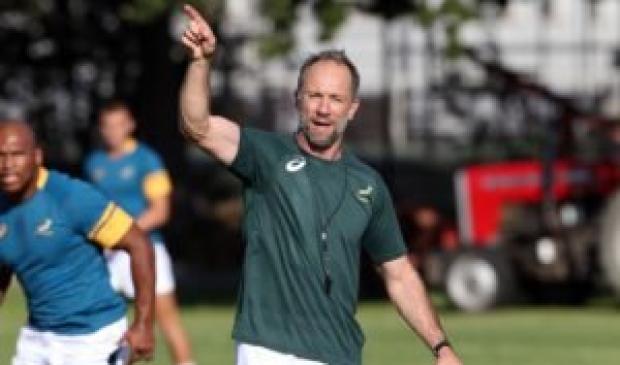 An innovative rugby mind, Venter was one of the masterminds behind the creation of a culture at Saracens that has led to them being double European champions and perennial Premiership challengers.
Obviously, Saracens operated on a significantly larger budget than the one Irish have at their disposal, so those early steps to competitiveness may take longer than they did in north London, but having that kind of intellectual property around the club is extremely valuable. There would be no shortage of suitors if Venter and Irish were to cut ties.
There is a nice blend of innovation, experience and ability to develop talent in Irish's senior leadership and one poor season in the Premiership doesn't change that.
Kennedy, Venter, Hodgson and Danaher all signed new contracts at the club last summer and hopefully the club will not be tempted into doing anything rash, as these men are the best candidates to return the club to its former glories, they just need more time to shape the squad.
The Championship is a tough testing ground for young and aspiring players – not to mention coaches – but there is no reason why, in 12 months' time, we can't be looking at an Irish side poised to return to the Premiership that is in a much healthier position than when they accomplished the same feat 12 months ago.
Rugby is becoming a less patient sport with coaches and directors of rugby, but when you have to grow something organically, with fewer resources than your competitors, the need for consistency and a clear vision is paramount and that is something Irish already have in place.
Comments
Join free and tell us what you really think!
Join Free