Rob Baxter's brutally objective review of Henry Slade's performance
Exeter Chiefs' director of rugby Rob Baxter felt their first-half performance laid the platform for a much-needed first Premiership victory of the season.
Despite going 10-0 down and failing to make a dent in the Sale Sharks defence in the opening 39 minutes, they dominated possession in the second quarter and eventually got their reward.
Henry Slade touched down twice and Will Witty added another try as they secured a 25-15 triumph to get off the mark in 2021-22.
"The key part of the game was that half-an-hour period in the first half where it probably looked like Sale were dominant in defence – it didn't look like we were going anywhere – but actually that's part of the wearing down process," Baxter said.
"It's never about running over people from the first minute. From the first minute, you work hard and I think the half-hour after we went 10-0 down was the making and breaking of the game.
"We didn't concede any more points, we worked really hard and, although we didn't really get anywhere, we stayed at it and that opened up space later on. That was what we capitalised on as the game wore on."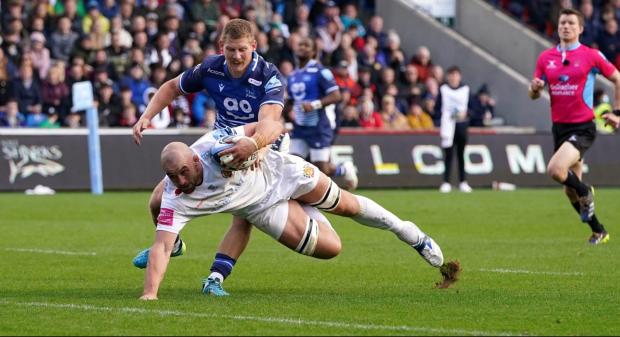 Witty earned the man-of-the-match award but it was Slade who was at the heart of everything the Chiefs did – both good and bad.
There were a number of errors from the England centre but he also produced when it mattered to help the Devonians out of their rut.
"He's probably a microcosm of us as a team," Baxter said. "There was some really good stuff, some real hard work and some real quality play, but it was interspersed with some real poor play.
"He dropped the first kick-off of the game and there was a pass to nobody when we had a broken field in front of us. His great play was interspersed with poor play, but that's a little bit like where we have been suffering as a team.
"Once we get that a little bit more solid, that's what will allow us to really thrive again."
Exeter handed Sale their first defeat of the campaign and Sharks boss Alex Sanderson felt his side went away from the game plan in the second period.
"Aside from a little bit of ill-discipline around the ruck, we had them physically and we looked comfortable defensively – back to our best," Sanderson said.
"In the second half we had a very clear plan in terms of where we were going to play the game and how we were going to get there, and we went away from that.
"We've got to address that. Maybe I'm not clear enough but the players just said I was, so either we can't execute it or some of the lads could have done better.
"That's the worry. We need to be on the same page. That's where we lost it – a couple of sets after half-time which led to 10 points."
Comments
Join free and tell us what you really think!
Join Free