Gareth Thomas calls out Folau over latest gay faux pas
Former Welsh star Gareth Thomas has taken a proverbial swing at Israel Folau on Twitter.
Thomas – rugby union's first openly gay athlete – was reacting to Folau's latest comments regarding homosexuality, in which he suggested that god's plan for gay people was: "HELL… unless they repent of their sins and turn to God".
The Wallaby and Waratahs player made the comments on social media after being asked for his thoughts following a biblical post on "God's plan".
Doesn't quite fit with Israel Folau's "I love and respect all people for who they are and their opinions" line from last year. pic.twitter.com/A023XnxRBd

— Ben Coles (@bencoles_) April 3, 2018
The comment has since been removed, but not before it stirred plenty of reaction, including support and criticism on social media.
Folau is no stranger to controversy on the topic and made his beliefs known on social media during the same-sex marriage debate:
I love and respect all people for who they are and their opinions. but personally, I will not support gay marriage.???

— Israel Folau (@IzzyFolau) September 13, 2017
Thomas queried what plan god had for the Wallaby star, tweeting with a picture of a headline: "What's his plan for you then".
What's his plan for you then @IzzyFolau pic.twitter.com/tWecB6M3z4

— Gareth Thomas (@gareththomas14) April 4, 2018
It's not the first time the Welshman has directed his ire at Folau. He tweeted '**** you' after Folau's tweeted his views on on homosexual marriage in Australia.
Folau – who is of Tongan heritage – is currently sidelined after picking up an injury over the weekend.
"They've had a scan. I believe it's more muscular than tendon-based and it's going to be four weeks at this stage," Waratahs attack coach Chris Malone said.
The Waratahs will be hoping that Folau will be able to return before a daunting stretch during May that sees the Sydneysiders face four New Zealand teams in a row.
Folau made his international debut in 2013, after just 14 games in Super Rugby, against the British & Irish Lions at Suncorp Stadium, scoring the opening try.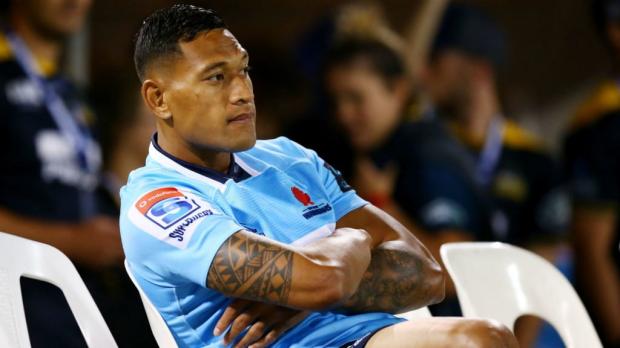 Folau headlines a number of high profile Waratahs players coming off contract in 2018, along with Wallabies captain Michael Hooper and Bernard Foley. The 28-year-old fullback has been one of Australia's best players – at both international and Super Rugby levels – over the last few years.
He will be one of the most sought-after signatures in 2018, with a return to rugby league a very real possibility.
Comments
Join free and tell us what you really think!
Join Free