Six Nations 2019 a bruising experience where only 32 of 169 players started five matches
Six Nations has always thrived on its unpredictability and 2019's edition was no different as few would have predicted before the start that Wales would finish the campaign on top of the pile as Grand Slam champions.
But what does the tournament's outcome mean six months out from the eagerly awaited World Cup? Of the 169 players capped by the half-dozen countries, just 32 were chosen to start in all five of their team's matches and just five of those ever-present players – Ireland's Peter O'Mahony, England's Elliot Daly, Italy's Jayden Hayward and Wales duo Jonathan Davies and Josh Adams – played all 400 minutes.
Here, RugbyPass sifts through the evidence and gauges which countries are primed to star on the global stage and who has got much work ahead of them in the months to come with the countdown definitely on towards Japan.
WALES 31 players used (27 as starters + 4 as sub)
3 Looseheads – Evans 4, Smith 1+3, W Jones +2;
3 Hookers – Owens 4, Dee 1+4, Elias +1;
3 Tightheads – Francis 4, Lee 1+1, Dillon Lewis +4;
4 Second rows – AW Jones 4+1, Beard 4+1, Ball 1+2, Hill 1+1;
5 Back rows – Navidi 5, Moriarty 4+1, Tipuric 4, Wainwright 1+4, Young 1;
3 Scrum-halves – G Davies 3+2, A Davies 1+3, T Williams 1;
2 Out-halves – Anscombe 4+1, Biggar 1+4;
3 Centres – J Davies 5, Parkes 4, Watkin 1+4;
5 Back threes – Adams 5, L Williams 5, North 4, Holmes 1, Amos +1.
OUTLOOK FOR JAPAN
Warren Gatland played his cards to a tee in flying in under the radar to clinch the title. He's is very much the coach who walks away from this Six Nations believing he has made the most progress for the finals in the Far East.
(Continue reading below…)

He used exactly 31 players, the same number he will be permitted to take with him to Japan, and he astutely approached the campaign as if it were a World Cup pool dry-run.
Look at how the starting jerseys were shared around. Just four players started all five matches, with a total of 27 players given starts. That is the sort of squad-building tactic that added to the harmony that built towards the crescendo of the title-clinching rout of Ireland.
With Japan set to be a minimum six-week trip, Gatland cannily turned the Six Nations into a mini-tour away from home comforts. Instead of returning to Wales after the win in Paris, they headed to Nice for a pit-stop before going on to Rome.
You'll remember where you were on March 16th, 2019 ? #GrandSlam pic.twitter.com/QtV0MSxUNu

— Welsh Rugby Union ? (@WelshRugbyUnion) March 17, 2019
That was again a great example of the long-term picture he adopted and he reaped the one-for-all/all-for-one rewards. For instance, instead of being a disgruntled old soul after losing the No10 jersey to Gareth Anscombe, Dan Biggar made sure he contributed an important role in the triumph off the bench.
They also had an unsung hero in try-scoring Cory Hill, one of the much ridiculed Geography Six from the 2017 Lions, and few would have put money on the unknown Adams featuring in every single minute of the 400.
Wales will now prepare battle-hardened for Japan, their confidence steeled by the manner of their comeback wins over France and England.
They don't aim to entertain – their haul of 10 tries scored was the joint lowest alongside Italy, but they got so many of the basics rights that there is an established template for them to succeed. With Anscombe also having emerged as a reliable goal-kicker, the absent Leigh Halfpenny now has a battle on his hands to demonstrate he is still worthy of World Cup inclusion.
ENGLAND 30 players used (23 as starters + 7 as sub)
3 Looseheads – Moon 2+2, M Vunipola 2, Genge 1+3;
2 Hookers – George 5, Cowan-Dickie +4 & 1 unused;
3 Tightheads – Sinckler 5, Cole +3, Williams +2;
4 Second rows – Kruis 5, Launchbury 2+2, Lawes 2+1, Itoje 1;
5 Back rows – B Vunipola 5, Curry 5, Wilson 4+1, Shields 1+2, Hughes +4;
3 Scrum-halves – Youngs 5, Robson +2 & 2 unused, Spencer +1;
2 Out-halves – Farrell 5, Ford +4 & 1 unused;
3 Centres – Tuilagi 5, Slade 4+1, Te'o 1+1;
5 Back threes – Daly 5, May 5, Nowell 3+1, Cokanasiga 1+1, Ashton 1+1.
This was a campaign where England left it all behind them. They were heavily backed to lift the trophy once they overcame Ireland in that opening weekend bruiser in Dublin, their power in the collisions and their smart execution of a tactical kicking blueprint leaving many feeling they were the champions-elect.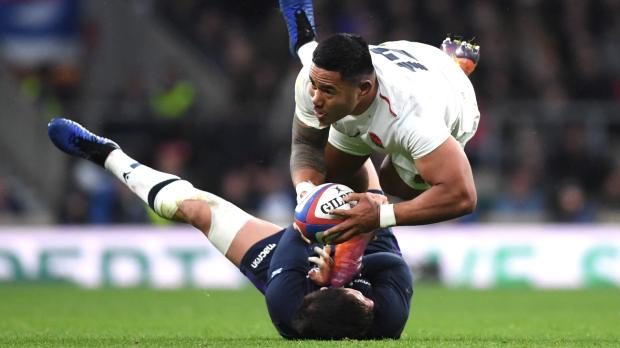 However, they finished their schedule with more questions than answers surrounding them. Their second-half performances versus Wales and Scotland suggest there is a mental fragility in their heads and this will maroon their World Cup ambitions if they don't better learn to cope when the pressure comes on.
It left accusations levelled at Eddie Jones that his side can't transition from one plan to another during a match as it evolves.
It's a curious situation. England used the least amount of players during the Six Nations and they also had the best selection consistency as nine – Jamie George, Kyle Sinckler, George Kruis, Billy Vunipola, Ben Youngs, Owen Farrell, Jonny May, Manu Tuilagi and Daly – started all five matches.
"It's a re-occurring theme for us."

Eddie Jones promises to solve 'mental problem' that allowed a 31-point lead slip at Twickenham: https://t.co/K9lVXJ8ETn pic.twitter.com/Kmudzyc2f6

— England Rugby (@EnglandRugby) March 16, 2019
That familiarity should have laid the foundation for a linear level of performance. Instead, they were up and down when it really mattered and their so-called finishers didn't appear to be fully trusted by their coach.
Fair play, though, to George Ford. He paid the heaviest price for England's troubled 2018 Six Nations, losing his spot at out-half with Farrell switching in from centre. He wasn't turned to early enough at a critical stage versus Wales, but he rode out the crisis that was Scotland's incredible comeback by coming up with the game-drawing try.
Ford's bit-part ranking was solidified by the long-awaited return of injury-prone Tuilagi. His run of games should be invaluable to him and there was a glimpse of what a midfield partnership with the similarly bruising Ben Te'o might achieve.
England scored tries for fun. Their tally of 24 was 10 better than the next best and they collected four try bonus points. But despite that potency, the bottom line was this England squad didn't regain the invincibility swagger that was the calling card of the early Jones era. That leaves the jury out on their hopes of making it big in Japan.
IRELAND 36 players used (27 starters + 9 as sub)
3 Looseheads – Healy 4, Kilcoyne 1+4, McGrath +1;
3 Hookers – Best 4, Cronin 1+2, Scannell +3;
3 Tightheads – Furlong 5, Porter +3, Jn Ryan +2;
6 Second rows – Js Ryan 4, Roux 2+2, Dillane 1+2, Henderson 1+1, Beirne 1, Toner 1;
6 Back rows – O'Mahony 5, Stander 3, O'Brien 3+1, van der Flier 2+2, Conan 1+2, Murphy 1;
3 Scrum-halves – Murray 5, Cooney +4, Marmion +1;
3 Out-halves – Sexton 5, Carbery +2, Carty +3;
3 centres – Aki 5, Ringrose 3, Farrell 2;
6 Back threes – Stockdale 5, Earls 5, Kearney 3, Larmour 2+2, Henshaw 1, Conway +2.
The impression during the championship was that injuries were hitting Ireland hard as they wound up using 36 players.
However, despite this casualty list, the defending 2018 champions still retained a strong spine as seven of their players – Tadhg Furlong, O'Mahony, Conor Murray, Johnny Sexton, Bundee Aki, Jacob Stockdale and Keith Earls – started in all five matches.
The problem was the likes of Sexton and Murray were critically off-form, a label equally applicable to others such as Sean O'Brien who looked a shadow of the world-class player he used to be.
There were also a few selection curveballs that were very unlike Joe Schmidt who is an operator who very much likes his selection consistency.
Starting Robbie Henshaw against England at full-back, a position he hadn't filled internationally since a 2013 June tour debut, invited the tactical kicking bombardment that helped swing momentum.
Then there was the scare in Rome, the resting of veteran Rory Best offering Sean Cronin a rare start and he blew the opportunity.
These were risks the normally assured Schmidt would never have contemplated in previous Six Nations and you wonder has the dynamic of his reign suddenly changed now that he has said he will be quitting after the World Cup?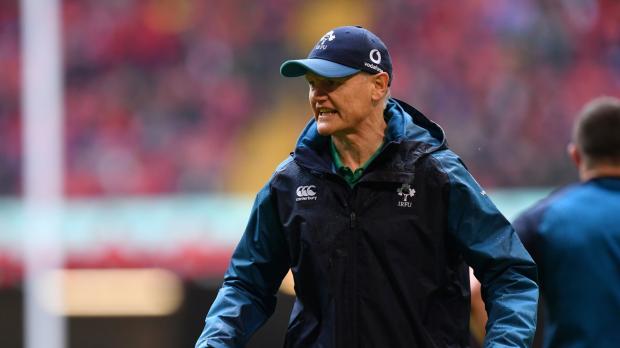 For Ireland to deliver just a single acceptable performance in five outings was un-Schmidt like and it will generate fears that the World Cup might now be a bridge too far for a team that invincibly swaggered its way through 2018.
They need their star players back at the top of their game and can't afford to have a pack schooled as it was by Wales in Cardiff. The balance of the back row requires special investigation and getting Dan Leavy available would be a help.
James Ryan was the one stand-out exception to the drudgery. Losing matches and being in a struggling team will prove a useful experience long-term for a youngster who seldom lost a match in the early part of his career.
? Head Coach Gregor Townsend talks to the media after remarkable Test match against England.#AsOne pic.twitter.com/cQttLrw4p7

— Scottish Rugby (@Scotlandteam) March 17, 2019
SCOTLAND 37 players used (26 as starters + 11 as sub)
4 Looseheads – Dell 5, Bhatti +2, Reid +1 & 1 unused, Allan +1;
3 Hookers – McInally 5, Brown +4, Kerr +1;
4 Tightheads – Nel 3, Berghan 2+3, Fagerson +1, Rae +1;
3 Second rows – Gilchrist 5, Gray, Toolis 2+2 & 1 unused;
8 Back rows – Ritchie 4, Strauss 3+2, Bradbury 3, Wilson 2, Skinner 2, Watson 1+1, G Graham +2, Harley +1;
2 Scrum-halves – Laidlaw 3+2, Price 2+3;
3 Out-halves – Russell 4, Horne 2+1, Hastings +4;
4 Centres – Johnson 4, Grigg 3, Jones 2, Harris +2;
6 Back threes – Seymour 4, Kinghorn 3+1, Maitland 3, D Graham 2+1, Hogg 2, McGuigan 1+1.
When it came to injuries to key players, Scotland were the team most decimated throughout the championship. Their use of eight different back rows told the tale of their constantly changing selection.
The toll, which resulted in just three players – Allan Dell, Stuart McInally and Grant Gilchrist – starting all five matches, provided a ready-made excuse for a campaign that produced just a single win, but they departed the stage with some reasons to be cheerful.
Their second-half resistance against Wales and England was a big improvement on their no-show versus Ireland, but the danger is potentially reading too much into their extraordinary try avalanche against the English.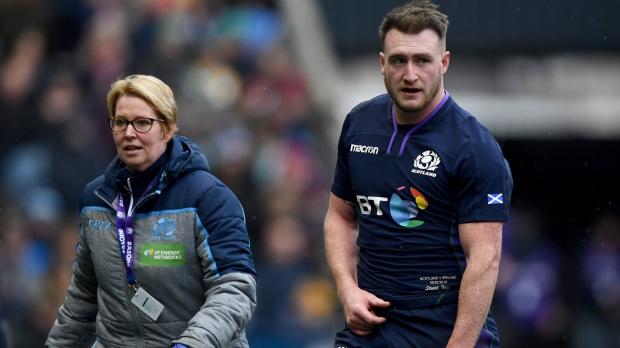 Behind by 31 points, they were forced to throw caution the wind and toss aside a Gregor Townsend game plan that had been shredded in an excruciating first half at Twickenham. That response places a question mark against the coach's capability as the onus was on him to have the Scots prepared for 80 minutes, not simply playing it off the cuff after they found themselves in dire straits.
What the stunning period of rugby can do is make Townsend realise that there is talent at his disposal that he isn't making the best use of.
Look at the difference Ali Price brought to their intensity when he finally got ahead of skipper Greig Laidlaw in the selection pecking order. That chip kick and successful chase in London was something the more reserved Laidlaw would never attempt.
The coach needs to take off the shackles and allow his players more freedom to express themselves.
What didn't help Scotland's cause was having so many players head back to their non-Scottish clubs to play on fallow Six Nations weekends.
That situation cost them the availability of Finn Russell against France, but at least Townsend will get a freer run at preparing for a World Cup where so much hinges on that opening match versus Ireland.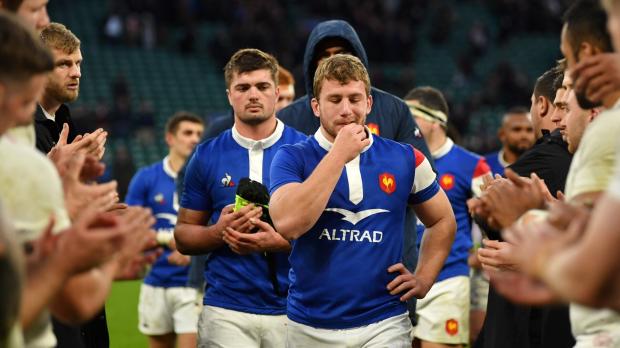 FRANCE 33 players used (25 as starters + 8 as sub)
3 Looseheads – Poirot 4, Priso +3 (41), Falgoux 1+2;
4 Hookers – Guirado 5, Chat +3, Marchand +1, Bourgarit +1;
3 Tightheads – Bamba 4+1, Atonio 1, Aldegheri +4;
4 Second rows – Lambey 4+1, Vahaamahina 4, Willemse 2+3, Gabrillagues +1;
5 Back rows – Picamoles 5, Iturria 4+1, Lauret 3, Camara 2, Alldritt 1+4;
3 Scrum-halves – Dupont 3+1, Parra 2, Serin +4;
3 Out-halves – Ntamack 4+1, Lopez 2 + 1 unused, Belleau +2;
4 Centres – Bastareaud 4, Fickou 3+1, Doumayrou 2+1, Fofana 1; 
4 Back three – Penaud 5, Huget 5, Medard 2+2, Ramos 2+2.
The pantomime French provided light relief all through the tournament as their ability to generate new lows knew no bounds.
You would have thought after a year in the role that coach Jacques Brunel would have a decent grip on what he is supposedly trying to achieve, but it appears there is no long term plan here, only a muddled week-to-week existence.
Some gaffes, such as Sebastian Vahaamahina learning from the referee he was on-field captain against Wales, were extraordinary.
Brunel's positional switches also caused bemusement, although it must be admitted that Romain Ntamack did look decent for a time at out-half versus Scotland.
Just four players – under-fire skipper Guilhem Guirado, Louis Picamoles, impressive Damian Penaud and Yoann Huget – started all five matches and there is every chance France's World Cup could descend into farce before they even leave for Japan.
Their all-round demise is sad for rugby, but an improvement is highly unlikely in the short-term.
ITALY 32 players used (25 as starters + 7 as sub)
3 Looseheads – Lovotti 4, Quaglio 1, Traore +5;
2 Hookers – Ghiraldini 4+1, Bigi 1+3 & 1  unused;
2 Tightheads – Ferrari 4+1, Pasquali 1+4;
3 Second rows – Budd 4, Sisi 3+2, Ruzza 3+2; 
8 Back rows – Steyn 5, Parisse 4, Negri 4, Tuivaiti 1+1, Polledri 1+1, Mbanda 1, Zanni +2, Barbini +1; 
4 Scrum-halves – Tebaldi 3, Palazzani 2+1 & 2 unused, Benvenuti +1 & 1 unused, Gori +1;
2 Out-halves – Allan 5, McKinley +4 & 1 unused;
4 Centres – Morisi 5, Padovani 4+1, Castello 1+2, Zanon 1;
4 Back threes – Hayward 5, Esposito 5, Campagnaro 4, Sperandio +1.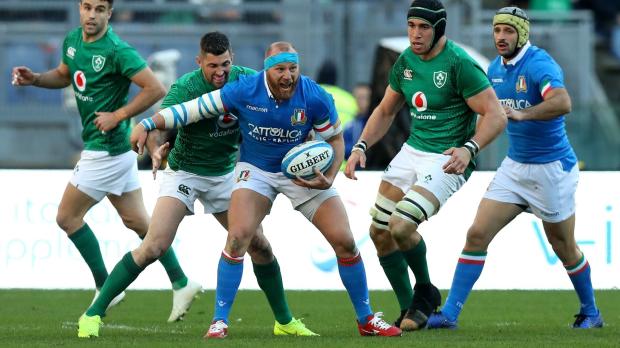 Coaching Italy has been an unforgiving experience for Conor O'Shea. Results have been cruel and while there is undoubtedly some excellent work being done at grassroots level, it's very hard for people who only go on Test match scores to give any credit to that work.
Italy's moment of truth was that closing 15 minutes versus the nerve-wracked French and how the debut-making Marco Zanon botched his try showcased the level of technical difficulty that exists in coaching a team short on confidence and limited in talent.
If Zanon had been coached properly when coming through the ranks as a teen, he would not have had the bad habit that was carrying the ball in the hand vulnerable to an attacker charging at him. The ball should have been tucked into his other arm so he could have protected it and used his free arm to fend off his French tackler. That one moment encapsulated the depth of challenge that O'Shea has been dealing with since he took over in 2016.
Did anyone get their weekend predictions right!?

A reminder of that #GuinnessSixNations table!

Full table: https://t.co/1jxHTYoT2B pic.twitter.com/xUiW33bl5C

— Guinness Six Nations (@SixNationsRugby) March 17, 2019
There were glimmers of hope for the World Cup. Their back row didn't look too shabby at times, particular against Ireland. Braam Steyn, one of five players to start all five matches, led the charge there, while the resurgent form of scrum-half Tito Tebaldi was a good example of how old players can be taught new tricks.
These were only consolation developments, though, heading into a World Cup that brings the daunting prospect of matches versus New Zealand and South Africa.
Comments
Join free and tell us what you really think!
Join Free