'Manu is always picked when fit but I'm not sure that helps'
Mike Tindall formed a World Cup-winning centre pairing for England with Will Greenwood by combining their different talents to create a variety of headaches for the opposition – a success which only serves to highlight the recurring problem Eddie Jones is encountering in this year's Guinness Six Nations championship.
With Manu Tuilagi ruled out with injury in the build-up to the round three win over Wales, England were robbed of their only world-class ball-carrying threat outside the pack and they reverted to a combination of Henry Slade and Elliot Daly. 
As a result, England lacked the ability to get over the gain line early which makes the need to get Tuilagi fit to face Ireland on March 12 at Twickenham absolutely vital given the looming threat of the Irish midfield that will likely feature Garry Ringrose starting with Bundee Aki, his partner versus Wales and France, or Robbie Henshaw, who started last Sunday's rout of Italy.
Tindall told RugbyPass: "The Irish team looks very good at the moment and they have quality all the way through the 23. I see the footprint of Andy Farrell and Mike Catt with high tempo football, not just one-out runners trying to get a penalty. There is more variety to their game and you are seeing their wings getting more ball and England haven't really hit the ground at all. I still believe England can beat Ireland with a big performance but the Irish will go in as favourites."
Tindall, who won 75 caps in his career, accepts that England are overly-reliant on Tuilagi, whose recurring injury setbacks are a constant worry. He believes that Jones must persist with the Sale player to establish an effective centre partnership heading into the 2023 World Cup in France but isn't a fan of the coach's tactic of picking X-factor players at the expense of creating combinations who compliment each other.
"We are obsessed about getting the X-factor players (in the team) who can break up a game and I don't think that always works. If you look at me and Will with our individual skill sets, would we have been as successful as we were? We understood each other and how to make us better. Gael Fickou and Jonathan Danty know their roles for France and each other's games inside out.
"After Will retired, myself and Jamie Noon went through a hailstorm of people saying it wasn't the right combination and it is not an easy fix. We have good enough players but I'm not sure we are using them in the right way.
"Against Wales, we had so much ball in the first half but we didn't carve them open in the way we should have with the quick ball. Manu is always the guy who will get picked when fit. Does that help the situation? I'm not sure but someone has to take the bull by the horns.  
"There isn't a quick fix and I do believe centres need time to establish a partnership and that doesn't seem to be given in modern-day rugby. It seems whoever is on form goes in. Rather than partnerships or balance in your backline, it is about getting the best players on the pitch and that doesn't necessarily work either.  
"Everyone is always waiting for Manu and most people who haven't played the game will say it is always nice to have that direct guy who is a physical threat and can cause problems. Manu has more strings to his bow and I'm sure Dan Biggar was happy he wasn't playing at Twickenham.
"We have no one in between and I thought Ollie Lawrence (Worcester) could come in but he has sort of disappeared. I like it when you have a ball carrier who is designated for that role but if you look at the current team, Henry Slade can do it but it's not a strength of his game, Elliot Daly is more on the drift and uses his speed while Joe Marchant is the more direct. 
"You can play Slade and Daly if you have bigger guys in the back three but at the moment, apart from Freddie Steward, you don't have that. On the wing, Jack Nowell will get through work mainly around No9, not running lines off ten and that's something we don't look at enough. 
"In an ideal world with everyone on form you would be looking at a Slade/Manu and it would be outstanding. I also think that (Owen) Farrell and Manu could do something. The Slade/Manu looks like a very good relationship to build on but it still needs time and the problem is that at the moment we don't seem to be able to get that consistency."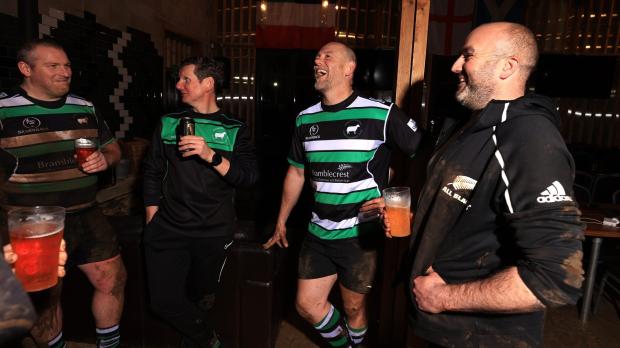 Now 43, Tindall still plays for Minchinhampton, which is based near his Gatcombe Park home and their U8s mini team features his daughter Mia. Married to Princess Anne's daughter Zara, Tindall joined Minchinhampton after ending his professional career with Gloucester and is currently supporting England Rugby's Back in the Game campaign following the negative impact of pandemic lockdowns.
The aim is to encourage more social players to get back on the pitch at their local rugby clubs and to help them remember the fun and camaraderie created by being part of a club. Tindall explained: "When I finished at Gloucester I wasn't sure I wanted to play and so I went down to Minchinhampton to play some touch and it is a great social club and it is great to have some fun. 
"The two years affected by the pandemic meant players could have drifted away and the social and community aspect is so important. It is what we missed and that is why Back in the Game is so important.
"When you do get back into grassroots rugby you see that the camaraderie and the social aspect is still so important. I missed rugby a lot during the two years and you try and fill time playing touch rugby with the kids. Work means I haven't played for the club this season although I managed four games for different teams and I am getting a bit of stick in training but I will be out there soon.
"We get out firsts and seconds and occasionally a thirds team and I have even had David Flatman, Iain Balshaw and Andy Beattie playing in an inter-house game down the club because they love being out there. Our minis and the firsts and seconds are strong which means we haven't struggled as much for players and we raised some money to develop the club and extended the changing rooms during the lockdown. Sundays are so vibrant at the club with 300-plus playing minis and it is getting bigger every week which is really encouraging."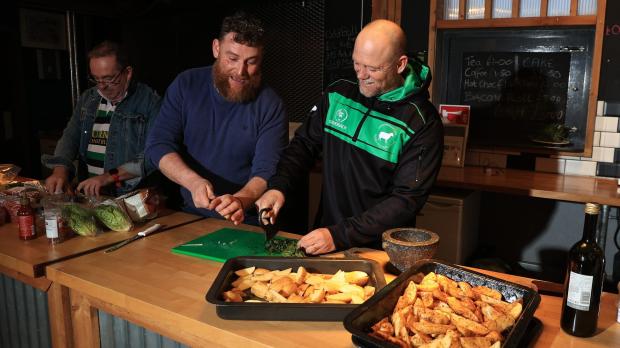 During the lockdown periods, Tindall and two friends set up The Rugby Wine Club which helps raise funds for clubs that sell the product. A percentage of each bottle sold is kept by the club and around 40 have already signed up to be part of a scheme that is aimed at grassroots rugby that has become such a significant part of his life since ending his professional career. 
"If with every bottle of wine you drink you can give money to your rugby club for grassroots rugby then it is another way to help clubs who were hit so hard by the pandemic. With electricity and other bills still having to be paid we had the idea of creating the chance for people to buy the wine when they are at the rugby club with their kids or playing, with 50p from every bottle going to the club.
"We have just launched a subscription model with 75p from each bottle going back to your local rugby club and we have charities getting on board as well. We have around 40 clubs signed up and we hope to make it bigger and bigger."
Tindall's daughter Mia played against Gloucester head coach George Skivington's son in a recent U8s tag match. Tindall added: "We have three children and Mia is eight and was playing tag rugby on Sunday and once they are there it is impossible to get them back. 
"She enjoys it and while they don't have positions at the moment she wants the ball all the time and while it is early days I can see her as a back-rower more than a wing. George Skivington was at the club on Sunday and (Gloucester attack coach) Alex King's boy plays for Minch. George's boy plays for Painswick and went head to head with Mia's team."
Comments
Join free and tell us what you really think!
Join Free