Six Nations: Charlie Ewels pays the ultimate price to set-up classic encounter
The Six Nations never fails to disappoint. With every game there are heated discussions, nuanced debates about rugby's complex law book and wonder at the feats of athletic endurance by the protagonists involved. Round 4 of the tournament was no different and Twickenham served up a rip-roaring fixture between England and Ireland. Wales and France had served up an hors d'oeuvres under the lights in Cardiff and Italy, while Scotland tore into each other with gusto in Rome. Rugby fans were spoiled and there is much to tuck into…
Replacements for the red-carded is a dangerous idea
Today's rugby players operate within microscopically fine margins, where an inch can be the difference between a superb hit and a three-week ban, where a couple of centimetres might separate a momentum-changing collision and a traumatic brain injury.
Charlie Ewels did not mean to clatter James Ryan's cheek 82 seconds into a ferociously attritional Test match. He got his angles wrong, misjudged his height, was perhaps unsighted by the whirling kaleidoscope of green and white flooding his field of vision. It was an unfortunate, gruesome accident. So early in the game, you might be inclined to show leniency to a player warming his shoulders, tuning in his radar, but by that flawed logic, in which minute should we start applying the laws?
Indeed, you can have sympathy for Ewels, and England, as terrific as they were with 14 men, without arguing his hit was anything but a nailed-on, stonewall red card. While 'Rugby Twitter' can be something of an asylum for the hard of thinking on player welfare, the prevailing opinion seems to favour Mathieu Raynal's decision.
Instead, Ewels' tackle has bolstered a new, and precarious, idea: that while such a fractional miscalculation should end the perpetrator's participation in the game, their team should be allowed to replace them.
Ostensibly, it is claimed, this is to preserve the 'spectacle' on show. Although any rugby fan – indeed anybody at all who watched that howitzer of an international – perturbed by a lack of entertainment is beyond help. As for anyone who ranks 'spectacle' above 'brain health' or 'player welfare', well…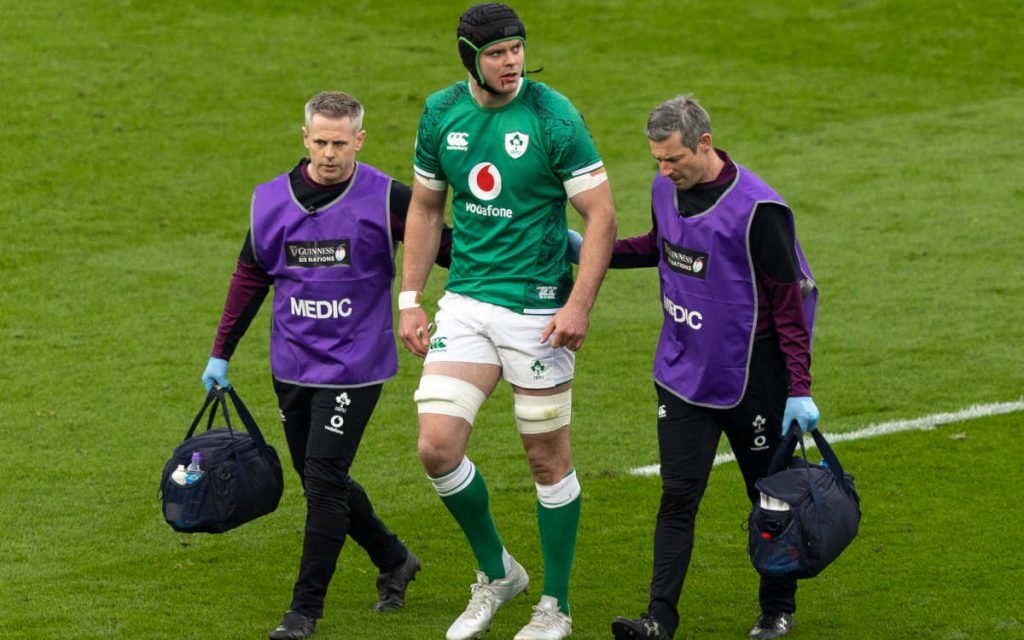 The game is more physically perilous than ever. Brain injury protocols have improved, but look at poor Tomas Francis, staggering around stupefied under his own posts a few weeks ago, allowed to return to the trenches when showing clear signs of concussion. There is an early-onset dementia train coming down the tracks and we don't yet know how many former – or, for that matter, current – players are going to be riding it.
How dangerous, then, to begin loosening sanctions on foul play. No matter how harsh it may seem on well-intentioned players who make innocent errors, the laws exist to protect them and their brains.
If we leave the potential legal ramifications to those who will argue on behalf of dementia-ridden ex-professionals, and those who will defend the governing bodies, in courtrooms down the line, there are any number of reasons such a move would be fraught with risk.
If you disincentivise safe tackling by allowing a red-carded player to be replaced, do you think players will be so concerned about their technique in contact? Do you think coaches will spend more or less time drilling this stuff if they know a red-carded player can be substituted for another behemoth? Will we see more or fewer dangerous tackles as a result? And is it going to help the brain injury culture shift good people in the game are working hard to create?
Rugby, too, is a team sport. The actions of the individual always determine the success of the group. If you kick out on the full, miss a tackle, or drop a pass, your team suffers. So it should be with foul play. The prospect of leaving your mates up a certain creak sans paddle is a pretty strong incentive not to get sent off.
Remove the pure safety element and return to the spectacle for a moment. Consider what sort of spectacle rugby would serve up if it allowed a player who has just committed an act of foul play worthy of a red card, who in Ewels' case injured his opponent so severely he could not continue, to be replaced so as not to handicap his team. Picture the message that would send to potential fans, and particularly to parents, at a time when the grassroots game is toiling in so many areas.
That is not the sort of spectacle rugby should embrace.
Twickenham roused as England take up role of the underdog
Twickenham is not known for being the most partisan, inhospitable stadium for opposing teams. The Principality Stadium can, they say, gift the home team 10 points given its suffocating closeness to the pitch and acoustics that give the stadium an intimidating, menacing air, yet on Saturday, 'HQ', as its known by the gentrified masses who descend on TW2, was whipped up into a fervour by England competing against the odds for over 70-minutes.
At times, when Johnny Sexton, kicked from the tee, they let themselves down. The masses were doing anything but 'respecting the kicker' as catcalls rained down on the Irish out-half. Their incandescence over Charlie Ewels' sending off was misplaced, even though it would be a sensible idea for the decision to be explained to the paying attendees. However, for the rest of the game, they were England's 16th man. The players were visibly lifted by their fervour and every tackle, scrum-penalty and half-break was roared on as if the contest was a World Cup final.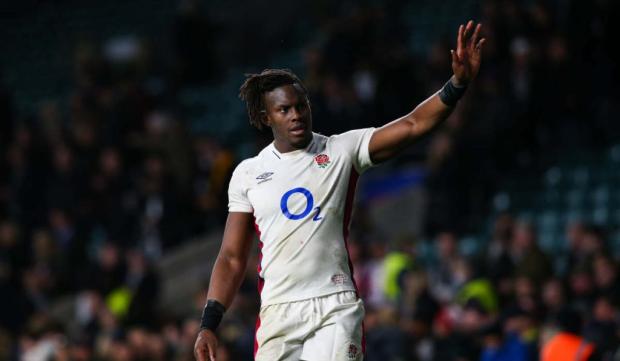 The home of English rugby can be a tad restrained during internationals. There is an expectancy of an English victory. The red card changed everything. England are rarely underdogs but the players may wish the crowd could get behind the team in a similar fashion every home fixture. The likes of Jamie George, Maro Itoje and Ellis Genge were visibly lifted and registered remarkable performances against an intelligent, organised Ireland side who struggled to repress England's emotional wave for 71-minutes.
It is a game that will not be forgotten, despite the scoreline and Eddie Jones was quick to applaud the rearguard spirit shown by Courtney Lawes' team. For many, they took the moral victory, while Ireland took the points. A remarkable day.
Wales rue lack of cutting edge but foundations are being laid
The expectancy going into the Wales' Round 4 game was muted, at best. French fans travelled in their thousands to Cardiff, buoyed by watching a side who were darlings of the rugby world after their devil-may-care win over the All Blacks. They were backed to cut a swathe through a home side who had been labelled mediocre, and much worse. Only that didn't happen. Wales played with intelligence and resolve. They kicked smartly with Dan Biggar a beacon of excellence when facing rockstars, Romain Ntamack and Antoine Dupont.
Despite an early score by Anthony Jelonch, that could have, and maybe should have been chalked off given Tomos Williams was staggering round after a heavy blow to the head, the French juggernaut was halted. By the second half, with just four points between the sides, it was Fabien Galthie and Raphael Ibanez who were mired in anxiety, as Wales pound French defenders. Indeed, were it not for Jonathan Davies getting butter-fingers with the line begging, it could so easily have been a tale of Grand Slam woe for his squad.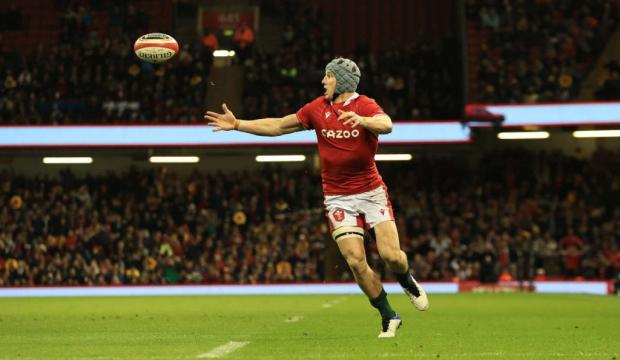 As the post-mortem was discussed in the bowels of the Principality Stadium and engery drinks replenished aching bodies, Biggar's pride in his side was replaced by a collective disappointment that they couldn't finish the job. Wales are expected to put the Italian's to the sword on the final weekend, and when they take stock in the post-tournament shakedown, they can take solace in the growth of the squad without the collective might of Alun Wyn Jones – who is expected to make a cameo against Italy – Ken Owens, George North and Justin Tipuric.
Will Rowlands and Adam Beard have gallantly kept the engine room warm for Jones. Ryan Elias has grown in confidence, with an able deputy in Dewi Lake better for the experience and at the other age of the age spectrum, Alex Cuthbert's recall has proved inspired, not only in rejuvenating the 51-cap Osprey but in giving Louis Rees-Zammit some competition that will improve the young superstar.
In midfield, Nick Tompkins has proved he is very much part of the assault on the World Cup in France. Despite the pain of three losses, this writer would argue that the side is in a better position than if their multiple but ageing Lions had been fit.
Flawed win – but can Ireland learn from it?
A record win in Twickenham, a step closer to just their 12th Triple Crown from 139 attempts, their first significant away scalp since Sydney four years ago, and yet, and yet, and yet, there has probably never been a victory in Ireland's long history that was as flawed as it was brilliant.
We're not sitting on the fence here; rather we're hopping from one side of it to the next.
It was that sort of day, a day when Ireland were both sporadically awful and momentarily magnificent.
We got to see a vision of the future, like when they set the tone from the first whistle, whipping the ball away from England's heavier, more powerful players, denying them the energy and joy they get from emphasising their physicality in the tackle.
James Lowe's early try; Caelan Doris's disallowed one, showcased the new Ireland at their best, where the slickness of their passing was matched by the intricacy of their movement. When two of your most skilful distributors are wearing numbers two and three on their backs, you know you're onto a good thing.
It's worth mentioning too that when you are able to bring four British and Irish Lions off the bench – for context, Ireland only had four Lions on the '97 South African tour – that the squad is building nicely.
And yet only the blind-eyed patriots could ignore what happened from minutes 20 to 70, the loss of control, the humiliating spectre of penalty after penalty going against them, the evidence of panic when England levelled the game, the inability of players to make cold decisions in a red-hot atmosphere.
It was only when the much-maligned Conor Murray arrived in the final quarter that things changed. Joined by fellow Lions from last summer, Jack Conan and Robbie Henshaw, the deal got closed when Ireland handed the contract across to those who knew how to get it signed.
On the plus side, the psychological energy Ireland can take from winning a game like that, in such an intimidating setting, against a team on a mission, is immeasurable, evoking memories of the Johnny Sexton drop goal day in Paris and Brian O'Driscoll's coming-of-age hat-trick against France in 2000.
It's worth remembering that those seminal Irish wins were also strewn with error, Saturday's victory placed firmly in that category. If Andy Farrell and co can correct those issues, then they really have a team that can go places. Otherwise, the next time a side like England manage to keep 15 men on the pitch, Ireland will lose to them.
Saracens pick up steam
Saracens had not lost against Newcastle for 13 years, had not succumbed to the Falcons in 21 matches, nor lost at Kingston Park on their past nine visits. Little wonder, then, that they made it ten from ten on Saturday afternoon.
But what struck you about a Saracens side missing Owen Farrell and Jamie George, Mako Vunipola and Nick Tompkins, Elliot Daley, Max Malins and Maro Itoje was their ruthless efficiency.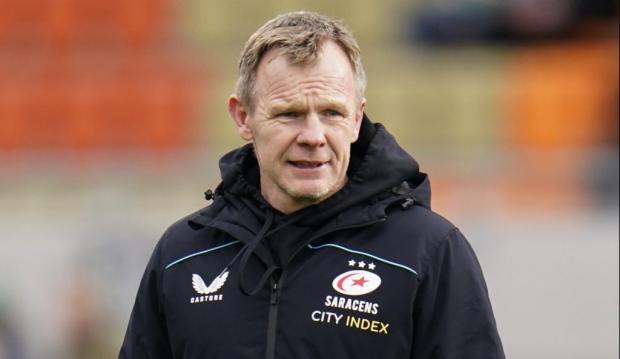 Without playing anywhere near their peak, they squeezed errors from a Falcons side sorely lacking accuracy if not competitiveness, their clinical final 10 minutes earning a bonus-point victory.
Mark McCall wants greater consistency from his team as the business end of the season looms. Saracens are poised neatly in second place having yet to really hit their straps. With that glut of talent to return, a title on their first season back at the top table is a very realistic possibility.
Saving Vice-Captain Ryan
Think of the 2019 World Cup and you won't immediately think of Luke Jacobson. Why should you, given how the New Zealander didn't even make it to Japan? Yet we could not stop thinking of Jacobson's maturity on Saturday as James Ryan was helped to his feet and led from the pitch for a HIA.
Three years ago, Jacobson had his own concussion issues. He remembers feeling light-headed and dizzy after a training session in the lead-up to New Zealand's tournament opener against South Africa. "I feel 98 per cent okay," he said then, "but I know I am not quite right. I've got to think about the rest of my career."
So, now, does Ryan. So, too, does everyone else. The lock is an undoubted star on this Ireland side, its vice-captain, identified by Andy Farrell as Johnny Sexton's long-term successor. But if there is to be a long-term, Ireland need to get things right in the short-term. That blow Ryan took on Saturday from Charlie Ewels was horrific looking. The man needs rest, not just this Saturday, but potentially for a good bit longer, possibly even the remainder of this season. For sure, Ireland and Leinster would suffer in his absence.
But when it comes to head injuries, we all need to use our brains. You hope everyone plays this one safe.