Progress of Ollie Lawrence sees England's overreliance on Manu Tuilagi dwindle
The Six Nations turned the corner over the weekend, with the 'middle round' navigated, and all eyes will turn to two harem-scarem weekends of high-adrenalin rugby, where four sides could still win the Championship. England, while not ripping up trees, are slowly improving but a test of their progress will be seen against the world's top two teams, France and Ireland, while Wales will travel to Rome desperate not to pick up a Wooden Spoon as off-the-field matters spiral out of control.
Here's what RugbyPass+ made of the action…
Emergence of Ollie Lawrence hastens Manu Tuilagi's England farewell
Life can come at you fast. Just ask Ollie Lawrence. Two years on from being dropped, after receiving no ball against Italy and being largely ignored in another Eddie Jones tactical headscratcher, Lawrence is back in vogue. If you had asked him back in October whether he'd have been scoring a crucial try in front of 74,000 fans in Cardiff back in October, you'd have got short shrift because Lawrence was seeking gainful employment  due to the collapse of his beloved Worcester Warriors. As the build-up to the French game starts, you could rightfully ask whether the powerful inside-centre has finally put to bed England's decade-long over-reliance on Manu Tuilagi.
Still only 23, Lawrence was Bromsgrove-educated and a gifted sportsman in his youth who had trials for Aston Villa and Birmingham City, while turning out for Warwickshire as a handy cricketer. Indeed had he been offered a T20 contract, he says he may have gone with a small round ball, rather than an oval one. Thankfully for Steve Borthwick and England, he chose union.
Now at Bath, he is giving shape to this England backline as a 'proper 12'. Direct and explosive, he offers England precious gainline and straightens up their backline. Against Wales, he built on his promising performance against Italy, by shining on both sides of the ball. His kick-chase was on point and many winced as he clattered Leigh Halfpenny as the battle for the skies continued. Late on, he got his just reward. After Henry Slade was hauled down metres from the line, a quick recycling of the ball saw Alex Mitchell and Freddie Steward whip the ball out to the centre to dot down with some panache and set off unabashed celebrations.
If Elliot Daly hadn't been injured on the advent of the tournament, Lawrence, the form centre in the Premiership, may not have even been in the England reckoning and been left kicking his heels at Farleigh House but fate has been kind to him, to the point he has to be in line for a World Cup squad place. Borthwick's new England is taking shape with Lawrence  an increasingly key cog.
Closing the deal: Irish fitness freaks
Ten minutes from time in Saturday's absorbing Test in Rome, Conor Murray eyed a gap, on phase 18 of Ireland's attack and fed Mack Hansen to score, and put the game beyond an impressive Italy side. It's the sort of thing he used to be noted for before a 2018 neck injury reduced his considerable powers as the world's leading scrum-half.
These days he's more often seen as a sub than a starter at international level, yet that's no bad thing if you are Andy Farrell. "Finishers," Eddie Jones used to call his replacements. These days Ireland's finishers are often as good as their starters.
You only have to look at the evidence to support that assertion. Three games into this year's Six Nations, a familiar pattern has emerged, Ireland scoring a converted try in the last 10 minutes of all three games against Wales, France and Italy. More to the point, they held their opponents scoreless in this timeframe.
A statistical quirk or a growing trend? Well, let's look at the evidence. Since losing in Paris 12 months ago, Ireland have played 12 Tests, winning 11. Each time Ireland have closed the deal. The Springboks may have won the last 10 minutes of November's titanic test but Ireland still overcame a half-time deficit to win that game and while the final 16 minutes of their decisive test against New Zealand in Wellington was scoreless, it was still Ireland who nabbed the final try of that absorbing test.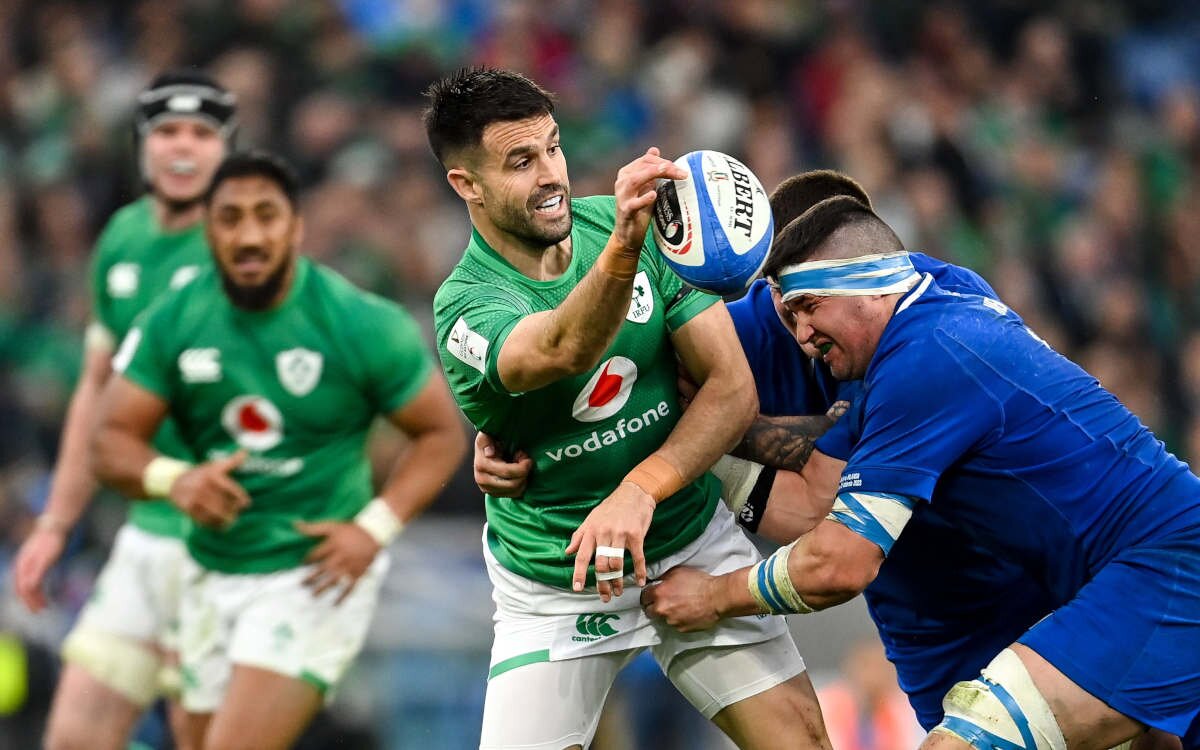 Why stop there?
In a three-point win over Australia in November, Ireland outscored their visitors 10-7 in the final 12 minutes; at Twickenham last year, it was 14-0 to Ireland in the closing 10, Murray again instrumental, as he was a week later when he scored the final try of Ireland's 26-5 win over Scotland.
All told, Ireland have scored 72 points and their opponents just 24 in their last 12 Tests. There are a number of reasons why they are the No1 side in the world but their superior fitness and work rate is a big one.
Huw Jones' 'breakthrough' game
These past few years have been tough on Huw Jones. The deadly Scotland centre has been tarred by false perceptions, about his attitude and his defence, endured a fractious relationship with Dave Rennie, the former Glasgow coach, and seen two big transfer moves scuppered. He was due to go to Bayonne in the summer of 2021 but the club were relegated from the Top 14. He found a brilliant new home at Harlequins and shone at The Stoop, but salary cap pressures meant the Premiership heavyweights could not keep him. It was back to Glasgow, and soon enough, a third Scotstoun head coach.
Throughout much of this period, Jones languished in the international doldrums. The Scottish midfield is fiendishly competitive and Chris Harris owned the 13 jersey. A defensive genius whose game is built on intelligence and industry, the Gloucester man became a Gregor Townsend favourite. Townsend knew he could hang his hat on Harris, and that what he didn't get in eye-catching line-breaks, he got ten times over in exceptional reads and tackle efforts. As Jones became a Harlequin, Harris became a Lion.
For all that Jones shimmered in England, Townsend never seemed quite convinced. He went two years without a cap, from March 2021 to February 2023. He could not usurp Harris, with all his prowess and all his credit in the Test bank.
But to look at Jones now, the swaggering, searing menace who has set Scotland's Six Nations ablaze, you wonder why on earth a place in the squad wasn't found for him sooner.
Jones was the stand-out Scot in the Stade de France, as Scotland came within a few bungled chances and crucial errors from scaling rugby's Everest. He picked a sensational line off Finn Russell to score the visitors' first, and bustled over for their second in typically dynamic fashion. The angles Jones runs are devastating. He made close to 140m from 12 carries and broke six French tackles. It was a brilliant display, into the teeth of the mighty Shaun Edwards blitz. Townsend called it "outstanding", and "a breakthrough game".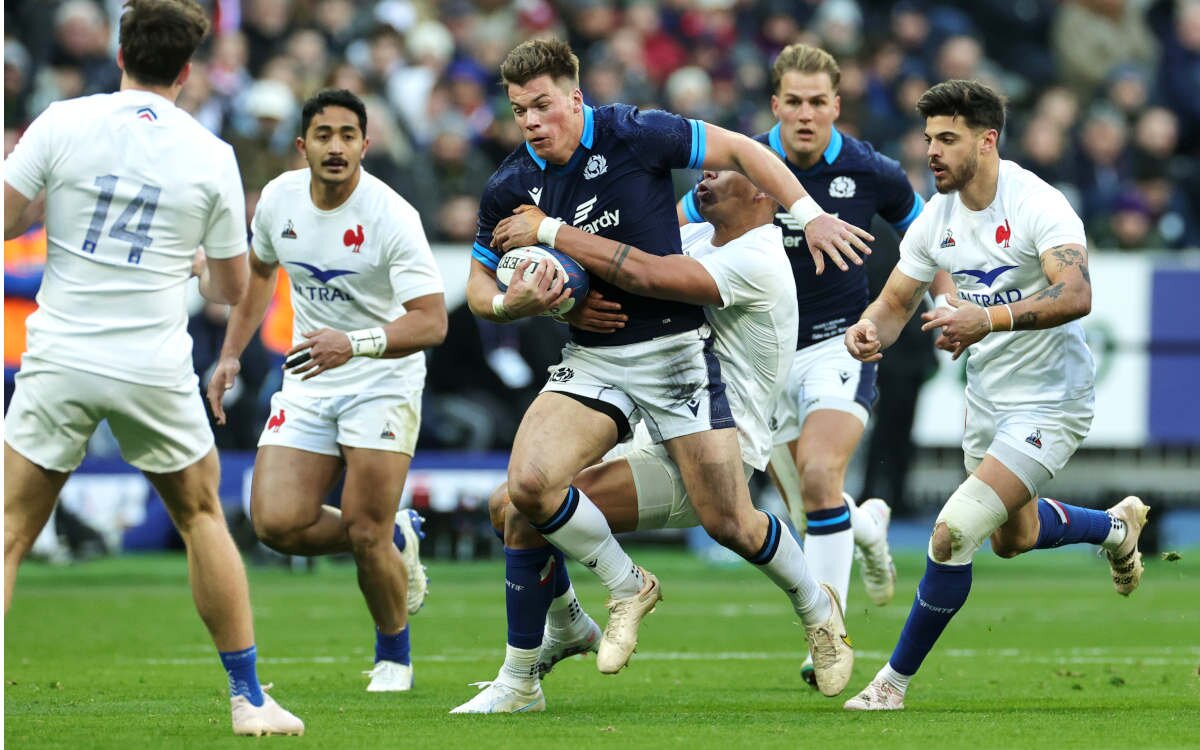 It also shunts Jones to joint-top try-scorer in the championship with three in two games. He is in the top 10 for defenders beaten and metres made, and his defence has been compelling, particularly as Wales were vanquished in round two.
And for a centre who has been in and out of the international fold, Jones' overall strike rate is exceptional. His Parisian double took his tally to 15 tries in 34 caps. On a minutes-played basis, it's a try every 135 minutes of international rugby. That's lethal.
His record against England reads played five, scored five. Against France, it's played four, scored three; for Australia, played two, scored three; it's one in one against New Zealand and a try in five outings against Ireland, not bad given the Irish dominance of that particular fixture. Serious numbers from a serious player in a seriously dangerous unit.
For there's a wonderful cohesion in the Scottish midfield now, connectivity that every rugby team on the planet strives to generate. Sione Tuipulotu is the perfect foil for Jones, a bruising specimen with supreme footballing skill. And when Jones runs those dynamite lines, Finn Russell is like a child waking up on Christmas morning to a room full of presents. There's nobody better and making space, nailing passes and conducting that traffic than the Scotland pivot.
There will be no further international exile for Huw Jones. There will be no international defence immune to his excellence.
Gatland looking all at sea as Welsh rugby implodes
So Wales limp onto Rome, with their Six Nations hopes a distant memory. Let's park the off-the-field meltdown for a second and concentrate on playing matters, where familiar failings continue to trip them up. Yet again, they could not impose themselves on the gainline, where the defensive organisation of Kevin Sinfield was to the fore. Welsh ball-carriers were repeatedly thrust backwards by the likes of Maro Itoje, Ellis Genge and Kyle Sinckler who attacked men in red with zeal. The stats were alarming. Eighteen dominant tackles to two, with Alun Wyn Jones and Leigh Halfpenny's old bones rattled on several occasions. At the other end of the pitch,when Wales did make it in into the red-zone – three occasions in the first half – they lacked the innovation and composure to be able to prise open the obdurate English defence. Three tries is three Tests is woeful.
Afterwards, Warren Gatland talked about accuracy and beating themselves but it's time this lack of a cutting-edge was fixed. With Rob Howley vetoed by the board, Alex King has taken over from Stephen Jones and seems unable to choreograph enterprise out wide. Wales were just too predictable and ponderous and patience is wearing thin. A case-in-point was the tactic of repeatedly box-kicking to retain possession was foolhardy with Freddie Steward ruling the skies with an imperious performance that saw him picking up the Man of the Match award. Wales flickered at the start of the second-half started with a wrapped gift by Max Malins for Louis Rees-Zammit, who sprinted 50 metres to score under the posts but Wales' lead was to last less than two minutes as they shot themselves in both feet with Kyle Sinckler burrowing over after six phases of pressure. Indeed, it was exactly the sort of position Wales had repeatedly failed to score from.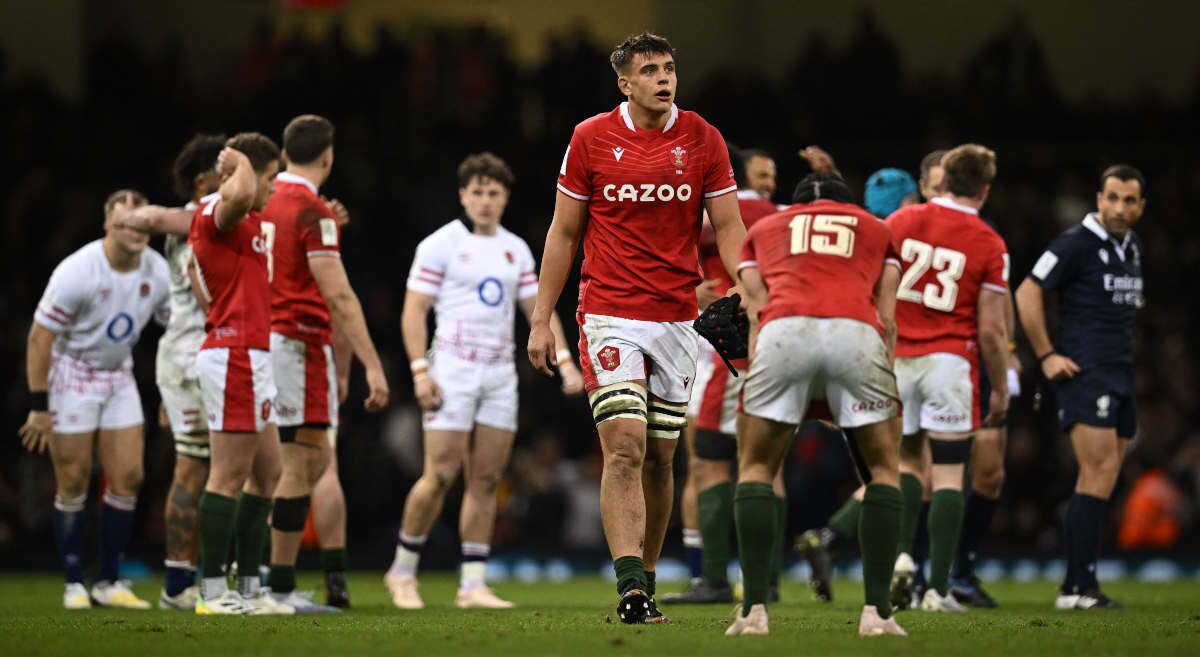 While he was wasteful off the tee, Owen Farrell toyed with the Wales back-three ball-in-hand, with Rees-Zammit and Leigh Halfpenny bamboozled and spilling balls due to his wicked spiral bombs to heap pressure on the limited Welsh defence, which has now shipped 12 tries in three Tests.
After a horrendous few weeks internecine fighting, credit to the Welsh players for turning up and giving their all but they are still far from the finished article and look lost and in need of leadership. Warren Gatland is paid a handsome wage by the WRU and he has to find a solution. With five games left to a date with Fiji in Bordeaux, the spectre of 2007 and an early flight home looms. The pressure is on.
Italy are no flash in the pan
There has always been some scepticism around Italy and the green shoots beginning to penetrate on Kieran Crowley's watch.
Sure, they beat Wales, but it was a poor Wales, at the end of a poor championship, making errors and spurning a winning position with help from Ange Capuozzo and his bewitching dart.
They lost to Georgia in July. Not great. Then they saw off Samoa in the autumn. Big deal. They beat Australia, but an Australia team besieged by injuries, fluctuating in form and fielding a vastly rotated XV under a coach who was soon emptied brutally from office.
How would they go in the trench warfare of the Six Nations? Could they replicate, and build on, what was achieved in 2022? There have been plenty doubters, people who point to the sheer ruthlessness of the championship and the Italian propensity for flash-in-the-pan performances.
We can't say that about Italy any longer. They are the real deal. A young team at the start of its journey together, a journey with giddying possibilities.
They ought to have beaten France in round one. What a prospect that was. Throwing in to a lineout a few metres from the French line, with the clock red, should have resulted in a try. They were credible at Twickenham in round two, particularly with their multi-phase attack shape, and made Ireland work all the way to prevail in Rome on Saturday afternoon.
There are no gimmes anymore, when once teams would look at the Azzurri and see five perfunctory table points to be had. Talk of tossing them from the competition has fallen silent. We may never again hear that tiresome trope. Not with the age profile of this Italian squad and its enticing potential for growth. We are not anguished by a championship with one team significantly weaker than the rest.
Indeed, this Six Nations has been joyous. The quality of rugby mesmeric, the intensity through the roof, the narratives growing and snaking by the week. The tournament's competitiveness makes it. And Italy's transformation is its greatest triumph.
Gael Force keeps getting better
We tend to forget Gael Fickou is 28, that he first burst onto the scene in 2012, that he has 77 caps, that he was French rugby's future before the future belatedly arrived in 2019.
With so much credit allocated elsewhere, mainly towards Antoine Dupont, but also in Romain Ntamack's direction, we sometimes overlook their brilliant centre. The Scots made that mistake yesterday and paid the price.
To date, Fickou has paid the price for being born at the wrong time, and for leaving Toulouse at the wrong time. He probably should not have even ended up there, given that he was born within kicking distance of Toulon, that he was a football protege, a trialist with Souchaux and Monaco before he was snapped up by Toulon.
With traffic heavy in their midfield, Toulouse pounced. Yet this was a period of recession in Toulouse Rugby and also the lost decade of the French national team. Fickou made his club debut in 2012, his international bow a year later, and yet it took until last year until he finally won some silverware. The burden of carrying a nation's hopes clearly affected his performances.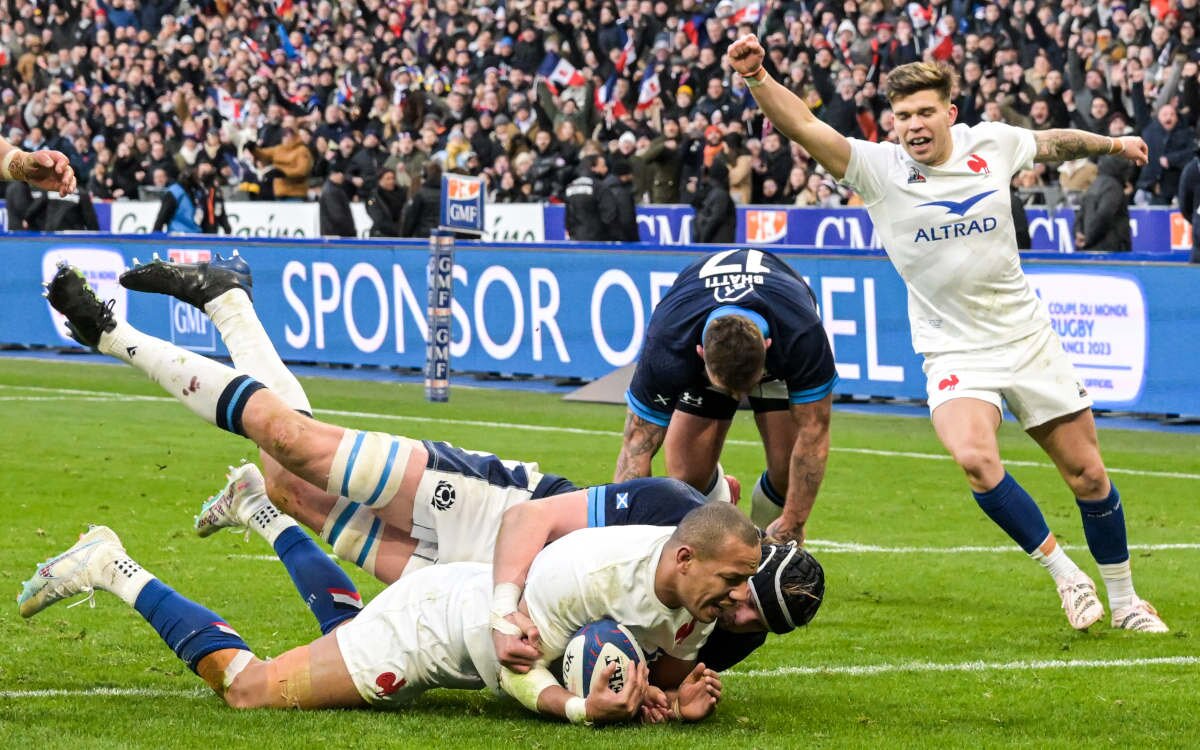 If leaving Toulouse in 2018 was clearly a mistake, then staying patient as the FFR finally got their act together was worthwhile. These days France's concern isn't getting to the top of the world, it's learning how to stay there. And it is their younger players who are struggling with the pressure of staying consistent and their older, experienced soldier, who remembers the grimness of the 2013 to 2019 seasons, when France finished in the bottom half of the Six Nations in all bar one year, who appear to be appreciating what they have finally got.
Sunday was when we saw Fickou deliver at his best. That speed of thought, those sharp movements and balletic brilliance, it reminded you of the kid who scored such a wonderful try against Leicester on his Heineken Cup debut in 2012. He was called the future then. Just over a decade later, he still has a huge future, especially this autumn when France rugby's 36-year thirst for a World Cup reaches a conclusion.
Their wait can end; Fickou's weight of expectation has already lifted.