England left with more questions than answers
The Autumn Series is well underway, bringing with it, lashings of drama, thrills, spills and intrigue, plus plenty of incredible tries. Rassie was back to his old tricks after a narrow loss to high-rollers Ireland, Eddie Jones was left befuddled at a one-point loss for his side, while Gregor Townsend has sent out an SOS to Finn Russell to breathe life into their campaign, while Wayne Pivac was yet again left searching for positives after a sobering loss to New Zealand. There's plenty to discuss…
Pumas loss sees Eddie Jones fighting to prove England are on track for RWC
Eddie Jones will have said countless times in his seven-year England tenure that Test rugby is a results business, and by that metric, he's had better years. The stark fact is that England have lost more games this calendar year than they've won. The ledger tells you there were losses to Scotland, Ireland, France, Australia and now Argentina. You don't need to be a genius to figure out that's not World Cup winning form and certainly not the ambition of Bill Sweeney's RFU.
The loss to Argentina, their first against Los Pumas since 2006, that incidentally saw Andy Robinson losing his job, was a topsy-turvy affair, with the lead changing hands on countless occasions, but Emiliano Boffelli's 25 points ensured Michael Cheika gained his first win over Eddie Jones in seven attempts and meant he left HQ with a smile permanently attached. The former Wallaby coach knows that the victory will underpin their preparation for the World Cup and the tantalising opening encounter in Marseille on September 9 next year.
As for Jones, he can bemoan, decry or neglect the critics all he wants, but he will surely privately admit there is still much to do. England are nowhere near the finished product, some 29 Tests after England trudged off the field in Yokahama, pledging to avenge their World Cup final defeat against the Springboks. In the short term, a fixture against Japan takes on more significance, and wins over South Africa and New Zealand are now sliding into 'must-win' territory to attack 2023 with any optimism.
Like all coaches, injury has deprived Jones of experienced old heads like Courtney Lawes, Jamie George and George Ford, plus bright young things Tommy Freeman, Alex Dombrandt and Ollie Chessum, but his selection strategy has been difficult to understand. Owen Slot in The Times, said that 190 players have been called up over Jones' 77-Test tenure, with over 120 capped and 70+ players with 10 or less caps to their name. It is different to build a tight-knit team environment with so much chopping and changing. Jones often loves picking players out of position, as we saw with Maro Itoje pick at No 6, and the fact Jack van Poortvliet added impetus and scored a fine individual try on his fourth Test appearance, left you wondering when he'd next get the chance to build on his experience with Ben Youngs, at 33, still entrusted with the No 9 shirt even though his performance levels are in decline.
Compare that to Ireland, the World's No 1 side, coached by former England assistance coach, Andy Farrell, who have only used 65 players in the same timeframe. They look after their players, don't have the constant tug-of-war with their clubs and are reaping the benefits of a super-slick pathway emanating from their best-in-class private school system.
There are head scratchers all over the pitch, and whether England can successfully integrate Marcus Smith and Owen Farrell, both 10s, on the pitch could be the Steven Gerrard-Frank Lampard conundrum for England that dominates the pre-World Cup narrative. Jones has much to ponder, for the pressure is building.
Ireland are the real deal – believe in them this time
We have been here before with Ireland. In 2002, a year out from the World Cup, they beat then world champion Wallabies in Lansdowne Road, their first win over Australia in 23 years.
Four years on, another November, and another milestone. This time it was an Australian/South African double in the autumn series, a trick they repeated in 2014. By November 2018, they were running out of new things to do so when they notched up a first-ever win over the All Blacks on Irish soil they had every reason to believe the hype ahead of the Japan World Cup.
You may be sensing a pattern here. November, wrote that famed rugby scribe, Morrissey, spawned a monster. Each time, in 2002, 2006, 2014 and 2018, expectations rose. Each time, Ireland failed to match them, shipping heavy defeats in the 2003, 2015 and 2019 World Cup quarter-finals, unable to even get out of their pool in 2007.
In this context surely it's best to avoid talking the team up again? Haven't us Irish finally learned our lesson?
The answer is no.
The difference between the class of 2022 versus earlier Irish teams is that Andy Farrell has a squad whereas his predecessors, Eddie O'Sullivan, Declan Kidney and Joe Schmidt, had a team.
While the depth pool doesn't match South Africa, England, France or, in particular, New Zealand – who sent out a XV that humiliated Ireland A in Dublin on Friday – the reality is that if Ireland manage to keep key players fit in certain positions then 2023 could finally be their year.
The evidence is there. It is one thing winning a Test series in New Zealand, another backing it up against the world champions. No matter what type of opponent they've faced, one that tries to beat you with flair, another that likes to do with fight, Ireland have come up with the answers.
Their scrum has been chastened for its weaknesses. Saturday saw them win scrum penalties against the best pack in the business, even after Tadhg Furlong, their world class prop, went off with injury. As Finlay Bealham, Furlong's replacement, came of age, thoughts turned to Plan C. Even here, Ireland have discovered an answer, delving into their past to come with a future solution.
Marty Moore last played for Ireland in 2015, when he won his second successive Six Nations championship. Exile followed, partly because Moore left the Irish system for a while, partly because Andy Farrell prefers his front-rowers to be all-court players, as comfortable with ball in hand as they are wrestling in a set-piece.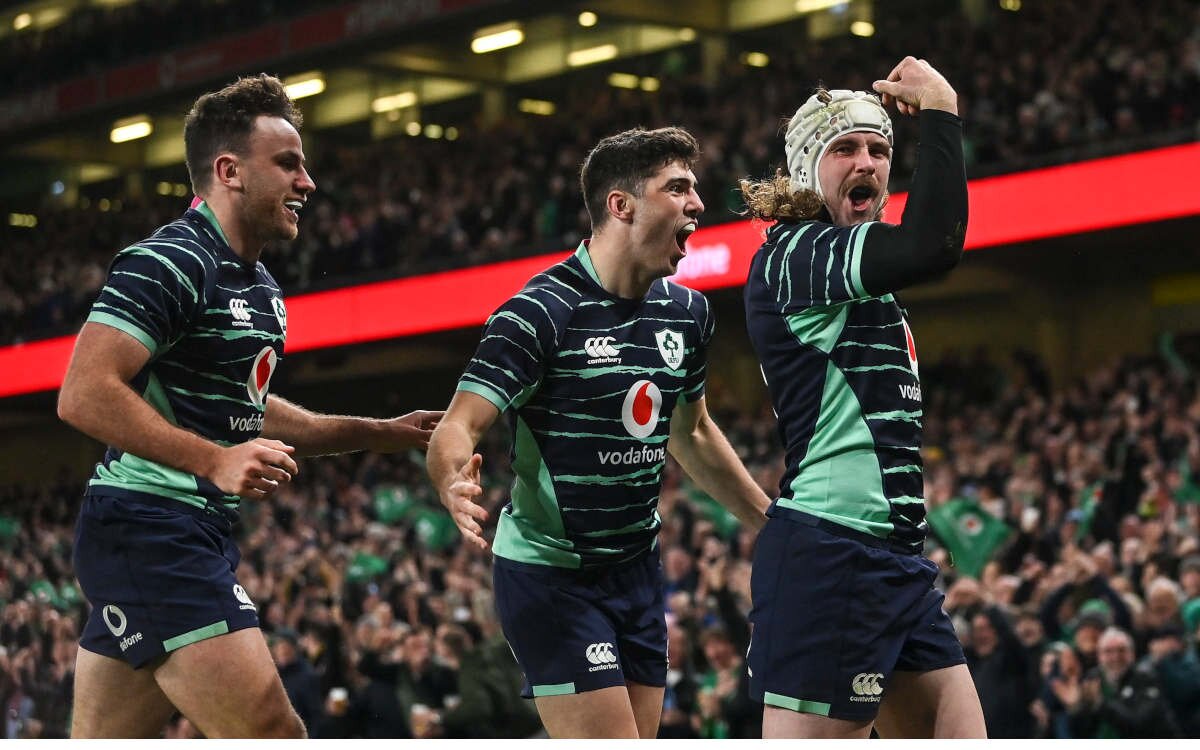 Well, Moore has shown he can do both. Friday's A international saw him wear an Irish shirt again for the first time in seven years and in a sense that moment was as significant to this team's evolution as the events that occurred in the Aviva Stadium 24 hours later.
Without a decent scrum, Ireland haven't a hope of going anywhere in France next year. Saturday's success, coupled with Moore's re-emergence, suggests they are on track.
And why stop there?
For years we've listened to the noise surrounding Ireland's inability to cope with physically bigger teams, principally England, France and the Springboks. Well, it's two wins from two against England; two narrow defeats to France and a victory over South Africa across the last 18 months.
They're nerveless, these boys of Farrell. In the summer, their tour got off to a horrific start, injuries and flight delays leaving them reliant on a semi-retired loosehead to come off a Taranaki farm to answer Ireland's call, and yet they were able to integrate Michael Bent back into their system and overturn a two-game losing start to the tour by winning their final three matches.
"Expect the unexpected," is the Farrell mantra. "Don't look for excuses; deal with the issues thrown at you."
They'd plenty of those on Saturday. By half-time they'd lost three players – Furlong, scrum-half Conor Murray and Stuart McCloskey – to injury. With Bundee Aki suspended and Robbie Henshaw injured, the enforced relocation of Garry Ringrose meant Ireland were using their fourth choice No12 from half-an-hour on.
More to the point, they had to send for debutant Jimmy O'Brien, nominally a winger, to do a shift as a makeshift centre. It was O'Brien's pass combined with replacement scrum-half, Jamison Gibson-Park's break that led to Mack Hansen's winning try – a move that also involved Bealham.
We could go on. For half an hour, South Africa dictated the terms and conditions of the game; turning down early shots at goal to kick penalties into the corner, their way of saying to the Irish pack, 'we don't respect you'.
Perhaps they do now. Ireland stopped their maul; checked their momentum; held their line defensively and held their nerve in attack, tweaking their strategy to find pockets of space, waiting until the third quarter before they got their two tries. This victory showed they can tame Mike Tyson having proved earlier this summer they can outbox Muhammad Ali.
And yet, and yet, and yet, they've 'no trophies won yet' as Johnny Sexton reminded us afterwards. That'll change. This side is more than capable of winning a Six Nations championship and finally, 35 years after the first World Cup, reaching a semi-final. Believe the hype and believe in them because unlike previous Irish sides, this one is about to peak at the right time.
It's the Autumn so welcome to Welsh Groundhog Day
Welsh rugby is on an annual merry-go-round. As soon as the national side were thumped 55-23, shipping eight tries to a non-vintage All Blacks side, the blame game started. The fans blamed the coaches, Wayne Pivac, and by association Stephen Jones, Gethin Jenkins and Jonathan Humphreys for poor selection and a lack tactical awareness. Those defending the WRU blamed the regions. They argued that the coaching team could not turn Wales into a team of world-beaters in a week or so when the playing level at the regions was so mediocre. Ah no, Geraint from Abercwmboi said on Twitter, it's because the community game is starved of revenue and the pathway to international rugby is not fit for purpose, before adding that's the reason so many talented young Welsh players are being educated over the Bridge in the Hartpury's and Millfield's of this world, and sidestepping the Welsh Premiership.
Any time Wales lose, these arguments are repeated ad nauseum, and like Groundhog Day, it never changes.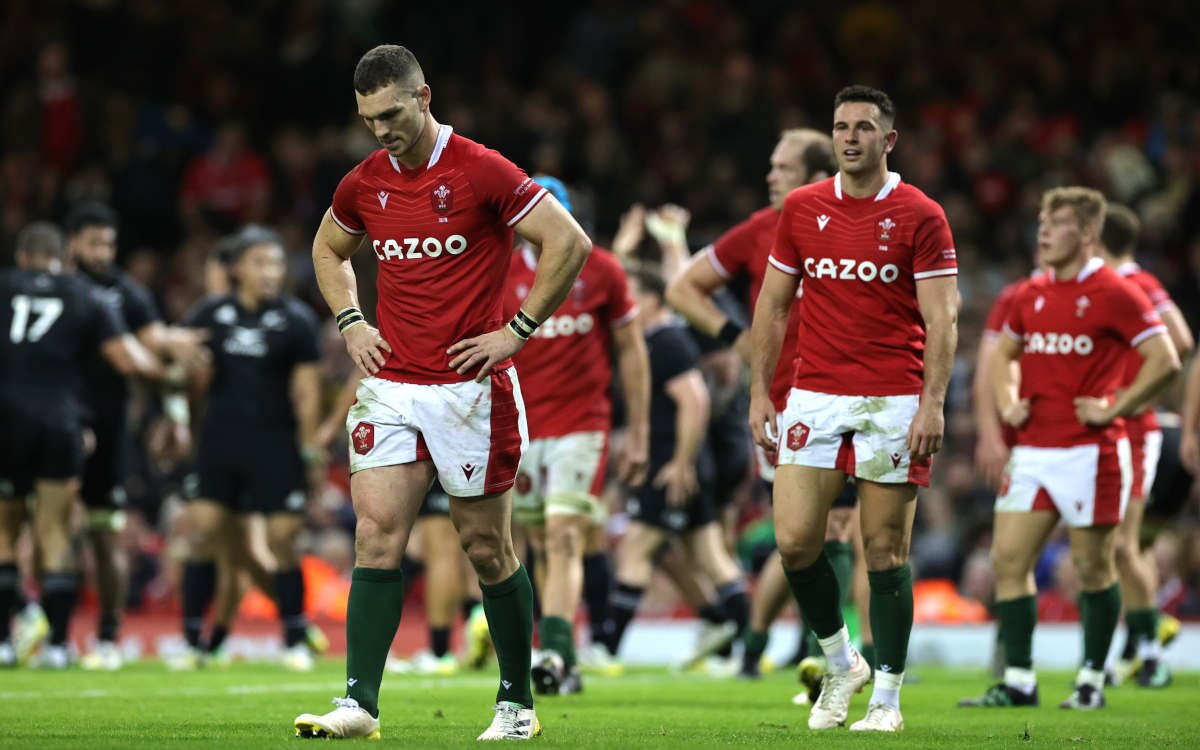 So when on earth does Welsh rugby start to pull together, as they cast envious glances over at the smooth functioning Irish system? Well judging by the 'no' vote at the recent EGM, called by the departing Rob Butcher to install an independent chairman to help steer a near £100m company, nowhere fast. There is endemic negativity coursing through the game that is contagious, and the narrative has to strike a more optimistic tone because it's not helping. There are far too many in Welsh rugby eager to point the blame without offering up credible solutions. The seemingly interminable impasse between the Union and the regions over the funds used to secure players contracts is a running joke, with Ken Owens, the players voice at the WRPA only recently saying he was far from impressed at the lack of clarity.
On the field of play, New Zealand were too strong, too streetwise and too damn smart for Wales. This is the same All Blacks side that has lost to Argentina, South Africa and Ireland, twice. A lightweight backrow was unable to halt the irrepressible Ardie Savea and sidekicks Dalton Papali'I and Ethan de Groot's muscular rumbles, and Aaron Smith outshone his opposite number Tomos Williams with two tries. It's small wonder Smith has called it his favourite stadium ever given his record there.
It doesn't get any easier for Wales, with England's conquerors, Argentina heading for Cardiff in ominous form. If Wales get turned over, expect the same wailing and navel-gazing next Saturday evening for these are dark days.
Townsend swats aside reservations as SOS to Russell is answered
Behind the scenes, it had been made clear that Scotland would not select Finn Russell this autumn, that the Racing 92 fly-half would remain exiled in Paris based on the "form and consistency" Gregor Townsend referenced when sensationally leaving Russell out of his autumn squad.
One mighty hit from Ratu Leone Rotuisolia has forced Townsend into a serious change of tack. In levelling Adam Hastings and ending the pivot's involvement in Saturday's win, the giant Fijian paved the way for Russell's return. Suffering from concussion (as well as some very tender ribs), Hastings has gone back to Gloucester and Russell has come in from the cold.
It was always a spectacular stretch to say Russell was not one of Scotland's top three fly-halves based on form, consistency, or indeed anything else. With Hastings invalided out, the coach was left with Blair Kinghorn and Ross Thompson as his recognised fly-halves. Kinghorn is a good operator at Test level, no doubt, growing by the week, but Thompson is a callow 23-year-old who has played only 55 minutes of international rugby and just 21 minutes of rugby full stop this season owing to injury.
To omit Russell again, in such strained circumstances, would have sparked more rancour, more controversy and more public confusion. It would have been tantamount to Townsend loading up a gun and emptying both barrels into his foot.
While Scotland snatched defeat from the jaws of victory against Australia, and laboured past a dangerous Fiji side, Russell has been motoring along in the Top 14. The very embodiment of form and consistency. Eighteen points against Montpellier plus three try assists; twenty-three more points against Brive, including some vital late kicks from the tee; another sixteen points on Saturday as Perpignan were seen off. Racing sent for Russell, given a break from the starting jersey, at half-time as they toiled to subdue the Catalans. Forty minutes, a try, three conversions and a penalty later, and the Scot had stood the game on its head.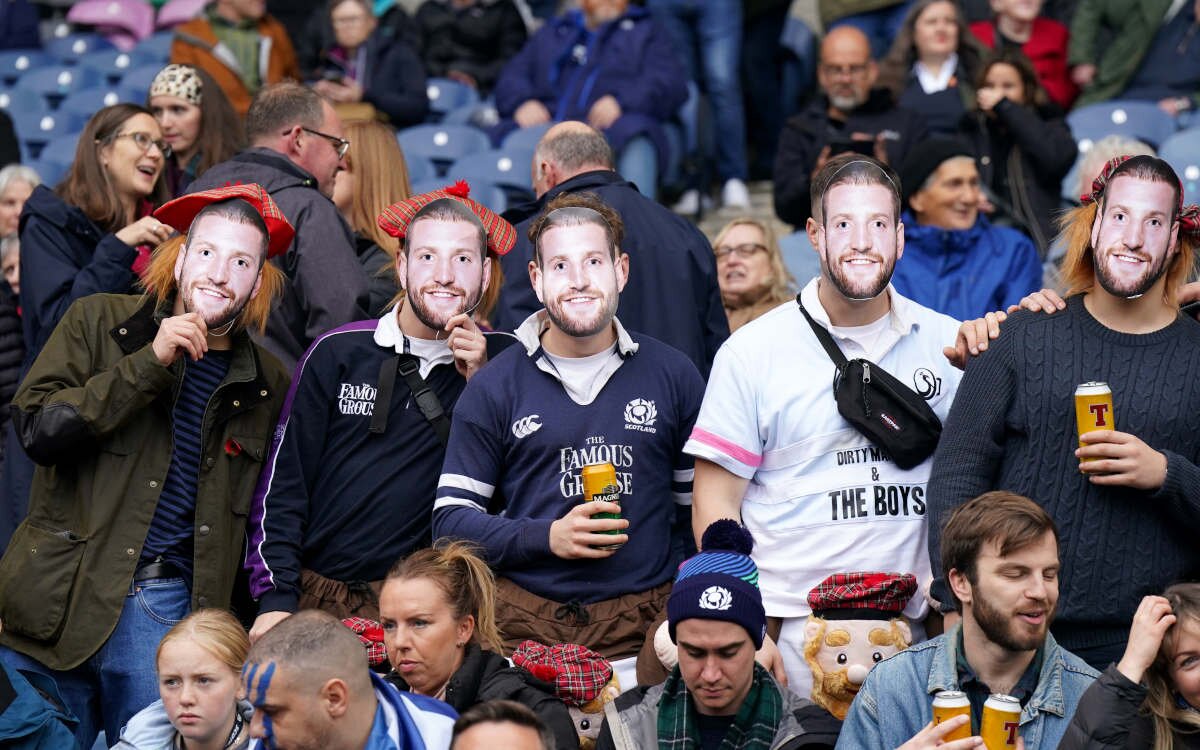 Russell began the swaggering counterattack that put Maxime Baudonne under the sticks a minute into the new half. He dummied and bounced over for a try soon after. His slick handling allowed Christian Wade to skate home and wrap things up late on. His goalkicking remains excellent, statistically one of the best in France.
We still don't know the gory details of the Townsend-Russell dynamic. For the past few weeks, it has felt like an impasse. Townsend must know how harmful it is to have his greatest asset across the Channel. He may feel, too, that he has tried and tried and tried with his play-maker and is willing to try no more. But the best man-managers find a way of getting a tune from their generation talents.
At least we know the two are willing to work together again. At least Russell has not refused the call. Some questions have been answered, but with Russell's dramatic entrance, a whole new set have cropped up. What does Townsend do now that he has his man back in the squad? Kinghorn played well against Australia, and was unfairly savaged for his late, match-deciding penalty miss. If he is benched for the returning hero, how damaging might that be?
This is good news for Scotland, though. The mood music in Saturday's post-match press conference was bleak. A little terse at times, too. Townsend's brief responses about the prospect of Russell heading north were no ringing endorsement of the Racing swashbuckler. They certainly didn't point towards an impending comeback.
Townsend made a monumental selection call and the cold realities of professional rugby have forced him to reverse. They have forced coach and fly-half together. They have forced Townsend and Russell into the national environment once more. The great, overriding hope is that they can deliver what each is capable of.
Fiji offer glimmers of a bright future
With a centre playing fly-half, another centre playing flanker, three debutants in their squad and only three starters with more than 25 caps, you might have figured Fiji would be a disorganised bunch in Edinburgh.
Vilimoni Botitu had never started a professional game at 10, but had to since Teti Tela lost his passport somewhere in France and only made it to Scotland two nights before the match. Levani Botia has played a bit of back-row for La Rochelle, but never for his country. Kalaveti Ravouvou and Vinaya Habosi starred in Super Rugby, but are newbies on the Test stage.
When we talk about Fiji, we talk a lot about individual brilliance. We talk about the "unstructured" nature of their play, and how they thrive in chaos. This may be true, but what struck you about Fiji's first-half performance at Murrayfield, and how they pieced together two fine tries, was how cleverly constructed it all was.
Sure, there were flashes of solo excellence from Botia, and from Setareki Tuicuvu, who battered in for the first. But the tries were well executed, strategically smart, and ruthlessly finished off. Scotland conceded three offside penalties in a row trying to shoot off the line and cut down the heavies before they got going. Stuart Hogg went to the bin as Rotuisolia scored, and Fiji had a spell of sustained, palpitation-inducing pressure in the Scottish 22 thereafter when a try would have pushed them 19-7 ahead before the break.
Eventually, they lost their way. Their set-piece was obliterated. Their discipline frayed. Still, Scotland only mustered two second-half tries to make the game safe.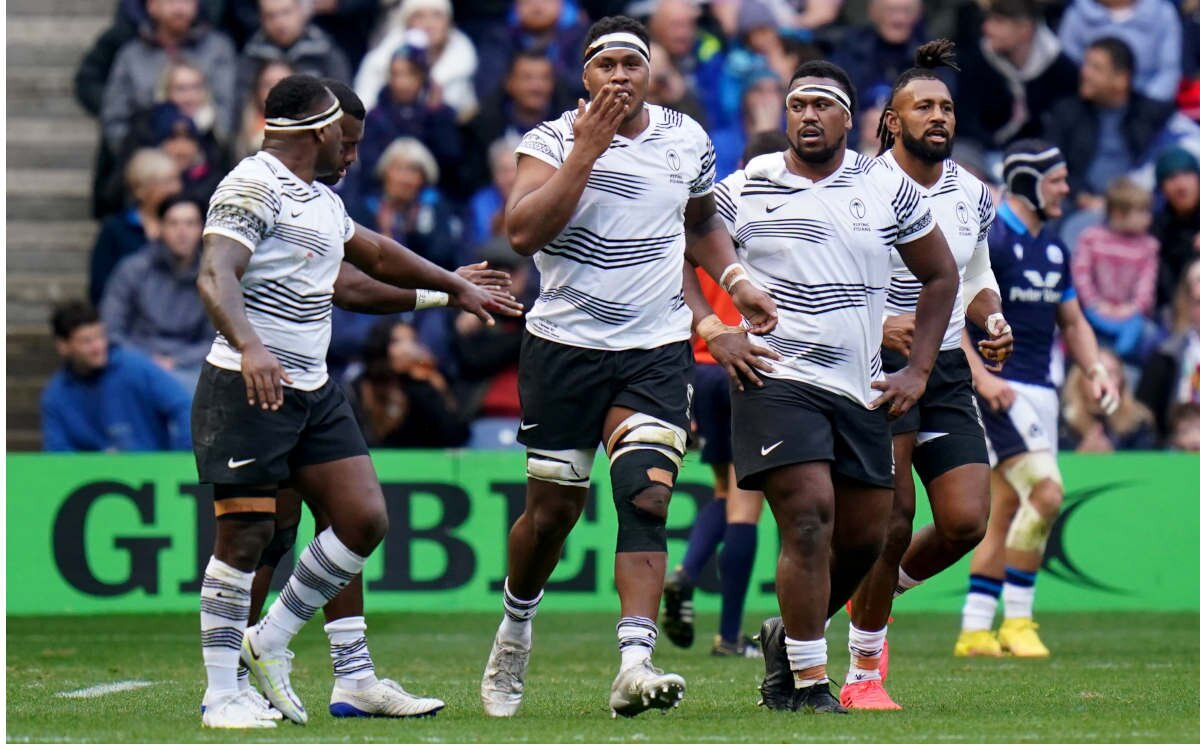 This will have been a deeply heartening return to Murrayfield for Vern Cotter. His side had not played together since July, and a pretty underwhelming Pacific Nations Cup campaign featuring losses to Samoa and Australia A. Cotter has deliberately left out some of his biggest hitters – Nemani Nadolo, Josua Tuisova, Ben Volavola, Seta Tamanivalu – and is without a clutch more – Semi Radradra, Peceli Yato, Meli Derenalagi – through injury. Filter those back in, plus a veteran Leone Nakarawa, and what weaponry they will be toting come the World Cup.
Fiji are still short of a top-class fly-half and tight-five depth. Volavola has long been the go-to man but behind him, there isn't a plethora of options.
Cotter has spoken again and again about the importance of scrum and line-out. Eroni Mawi is a terrific scrummager improving by the week at Saracens. Sam Matavesi, the Northampton Saint, is one of the Premiership's top hookers. He has locks playing in France and in England but he needs more cohesion from them, and more ballast from the bench. In that final quarter, Fiji's line-out went to rags and their scrum disintegrated.
They go to Dublin this weekend, the most unforgiving of venues right now, particularly for a team with set-piece frailties. Then it's the French Barbarians, a fixture Cotter will target as his side's best chance of a November win.
Fiji should not be judged too harshly right now. Fabulous work is being done in the islands to foster a high-performance pathway, to keep and nurture and contract local talent. A great swathe of the November squad are current or former Drua men. All this is vital and hugely positive.
Give Fiji more time together, and unfettered access to all their players, and watch how they flourish. Their time will come.