Will Skelton's dramatic weight loss was a major talking point today
Will Skelton's size has been both a blessing and curse for the giant Australian secondrow.
It was Skelton's size that first caught the Australian media's eye back in 2010. The then 6'8, 135kg 18-year-old schoolboy was pictured in the Courier Mail towering above then Wallaby No.8, 6'4, 122kg Wycliff Palu. According to the report, he had to import size 17 boots from the United States.
He now wears size 19.
After entering the Waratahs academy in 2011, Michael Cheika, the then head coach of the franchise, signed him to the Super Rugby side's extended player squad ahead of the 2013 campaign. The lock – of Samoan heritage – made his senior debut later that year against the Stormers and before facing the British and Irish Lions.
By the time he rose through the Waratahs ranks to a place in the first team (and tipping the scales at over 140kg) it had become a task beyond most commentators to mention the Auckland born lock without reference to his enormous proportions.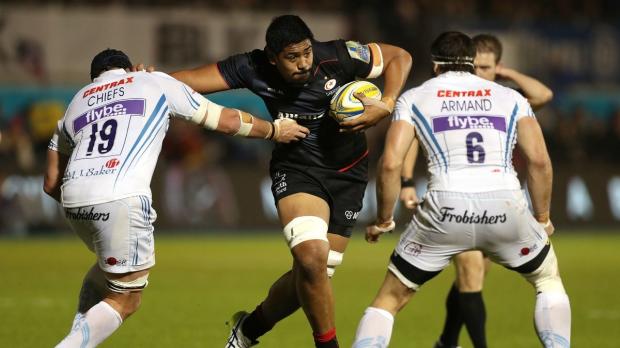 Like many a big man, questions around his fitness levels began to be asked. Despite making 18 appearances for the Wallabies between 2014 and 2016, persistent criticism of both his form and fitness levels saw him dropped from the national team by Cheika.
He headed North. After a short-term deal with Saracens, he signed a two years contract in 2017 and but once again his weight is the topic of conversation.
A slimmed down Skelton 2.0 was on display at Kingston Park in Saracens opening match of the season.
According to Nick Mullins, Skelton has dropped 12kg over the summer, bringing to 21 the total numbers of kilos lost by the lock since his arrival at the London club.
Skelton at his heaviest was somewhere in the mid 140kgs, so that puts him approximately between 120kg and 130kg presently.
And his weight cut appears to be paying dividends. Indeed his remarkable workrate with ball-in-hand and at the breakdown had commentators' tongue wagging and he duly picked up the man of the match award against the Falcons.
In an post-match interview with BT, forwards coach Alex Sanderson even commented that Skelton's torso was noticeably different, with his pectoral muscles now distinct from his tummy and not 'one big mass'.
Mark McCall once described him as the 'biggest human' he had ever seen and frighteningly, he's the smallest of three brothers. Brothers Cameron and Logan are both taller and heavier than him, with Logan said to be pushing 7 feet.
The conversation around Skelton may always be about his size, but at least now it appears to a be positive one.
Comments
Join free and tell us what you really think!
Join Free