'In the moment, I didn't even know the hit was illegal... the physio and medic said just to stay down'
Twenty-year-old Andre Esterhuizen sat in Jake White's office as the world champion coach peered over his spectacles and delivered a stern ultimatum.
At nearly 6ft 5ins and 115KG, Esterhuizen was already a midfield juggernaut. Andre the Giant, as he would soon be christened. Yet even in South Africa, where brawn reigns, even under White, famed for the brutality of his rugby, it was not merely enough to be a broadsword in the Sharks backline.
White didn't rate him as a footballer. His handling wasn't crisp enough; his understanding of space too poor. The options were stark: join the back-row, or leave the franchise.
"Moving to flanker was Jake White's great idea… yeah, obviously I'm not a massive fan," Esterhuizen tells RugbyPass. "He actually gave me my first shot against Saracens here in London. But as we went on, he called me in and said he didn't think I would make it as a back, I must try playing flanker or he didn't see a future for me at the Sharks.
"I wasn't very keen on it but I gave it a shot to see if it would help. I played a few games at flanker and it just wasn't for me. Two or three weeks later, they announced that Jake was leaving, and the week after, I played senior Currie Cup at centre. From there, it started off."
A small-town boy from the North West Province, Esterhuizen never had the glitz and resource of the heavyweight schools. It took serious minerals to challenge a figure as wizened, opinionated and successful as White, but the exchange lit a fire inside him that still burns fiercely. Perhaps, on the coach's part, it was a shrewd psychological ploy.
"It is tough for any young guy going up against someone like that, he has got all the experience in the world," Esterhuizen says. "But it just shows you as well, they don't always know everything.
"You are going to have doubts in yourself – is he right? Is he right? Am I doing the right thing here or not? After that, it's just about working for what you want. It was a massive drive to prove him wrong, but also to prove to myself that I could do it.
"Where I played, you don't get the coaching exposure that you would at bigger schools. The guy who teaches you math coaches your rugby team. Coming into a structure, you only know one thing – take the ball, carry hard and tackle hard. My distribution wasn't bad but it wasn't on par with what was needed in professional rugby.
"For the first two years I stuck to my style, just to get through the ranks, and then I got more coaching, Sean Everitt at the Sharks worked with me on those skills."
Gradually, he added guile to his muscle. Esterhuizen became so much more than a bludgeon. He learned how to play-make and round his game, welding craft to ballast.
A season in Japan with Sannix Blues opened Esterhuizen's eyes to a whole new rugby world, a league where he could cast off the shackles, take risks and make mistakes. He transformed himself and Springbok honours followed.
"We had coaches like Carlos Spencer in Japan, and the way they play is a lot of running rugby, very skilful rugby – that just changed my whole game," he says. "I came back to the Sharks feeling like a different player.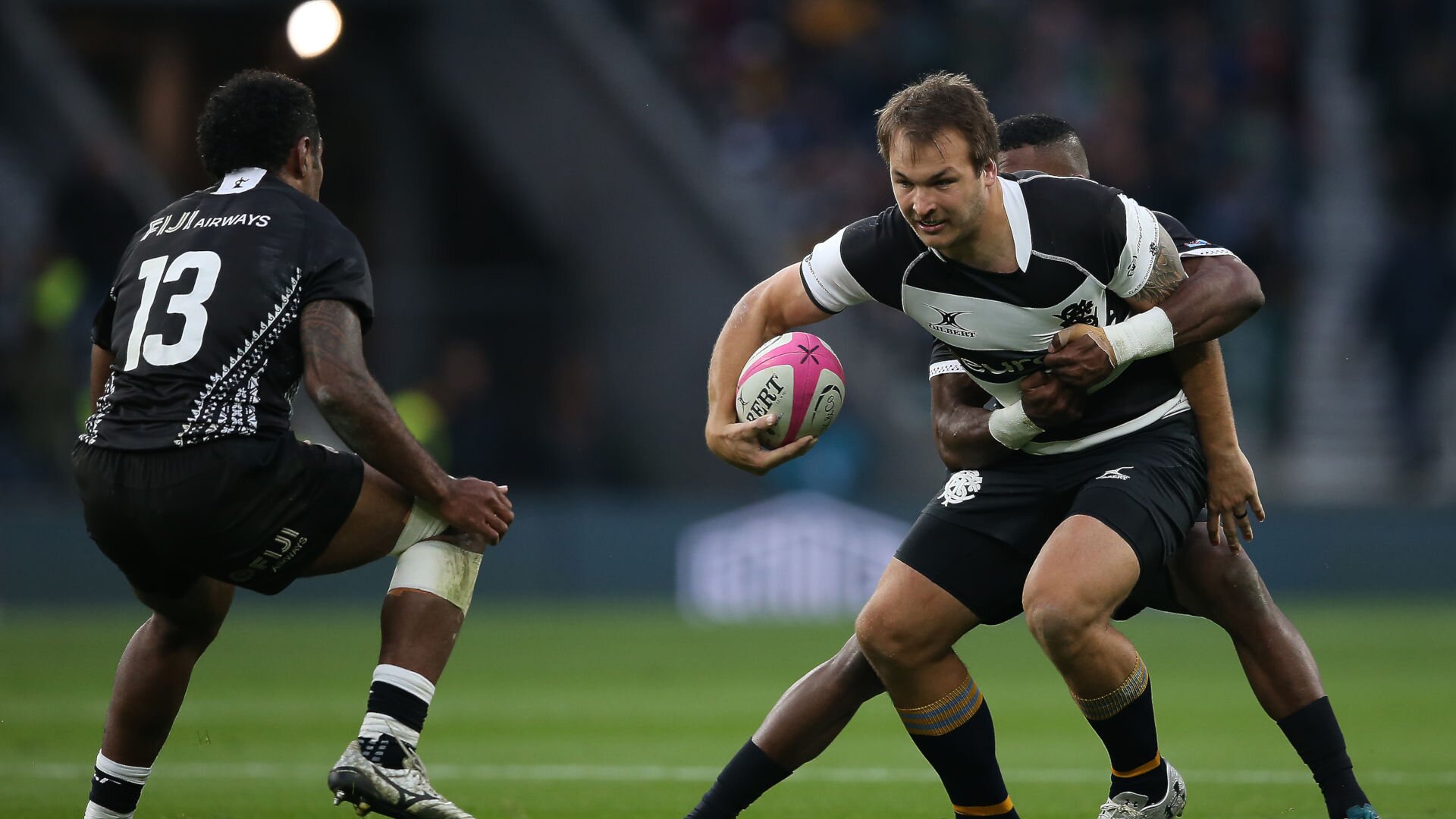 "You can play in Japan without any fear or any pressure. If you want to off-load out the back, throw it through your legs, you can literally do what you want and they won't say anything if it doesn't come off. You had a lot of freedom to do what you wanted. Whereas in Super Rugby, you are not going to try all this stuff and you will never know if it will work in a game. The more you do it, the more comfortable you will be."
Of course, his Test career will forever be linked to Owen Farrell's shoulder. With the clock red, South Africa trailed by a point at Twickenham two years ago, when Esterhuizen charged at the England captain. He was met by a meaty set of deltoids and a distinct lack of arm-wrappage.
The two collided like rutting stags; a great, percussive hit. Angus Gardner reviewed the tackle, and decreed it legal. The referee later admitted that he should have awarded a penalty which would have given the Boks a chance to snatch the game.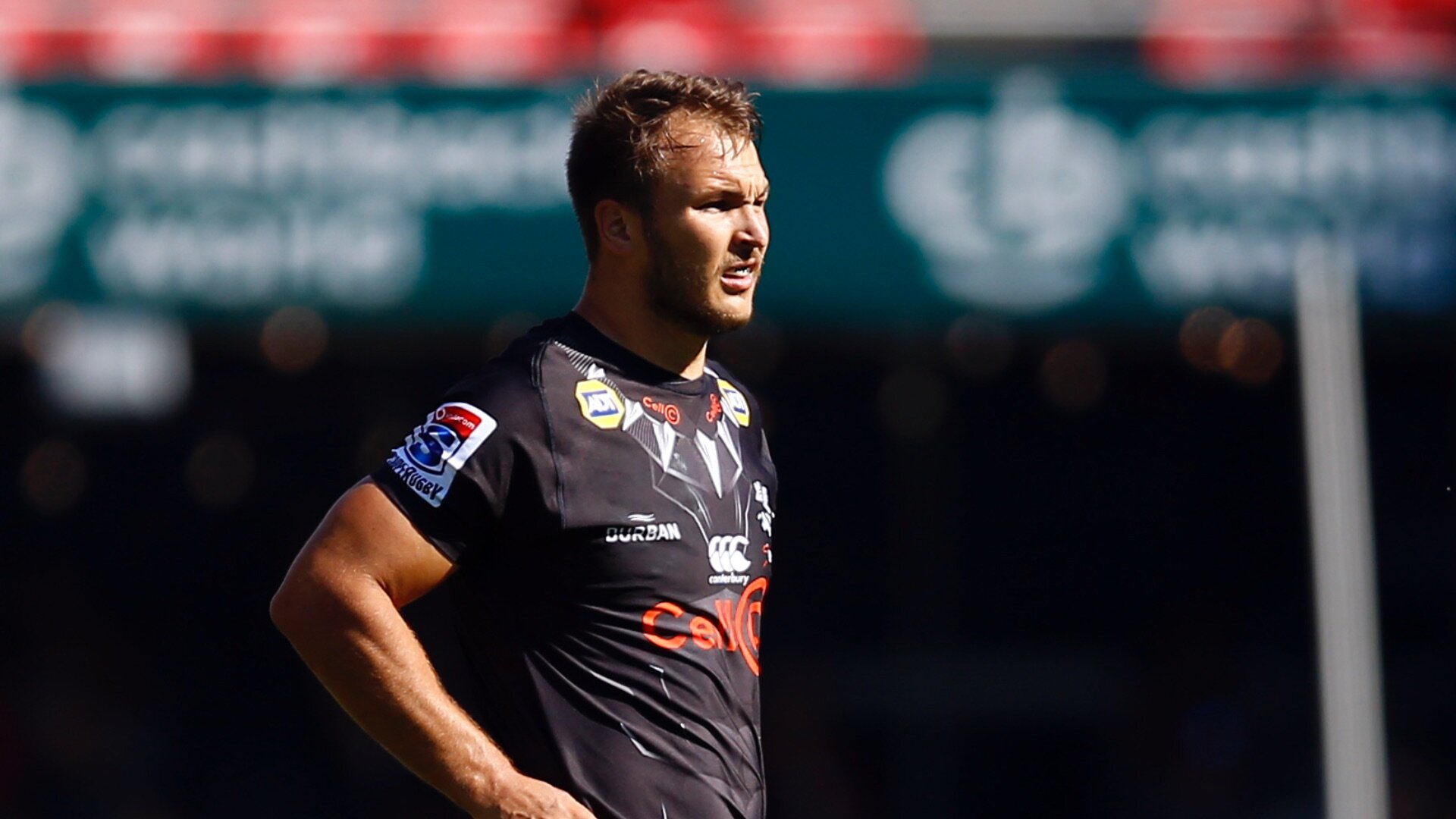 In the days that followed, Rassie Erasmus, ever the mischief-maker, was very deliberately filmed overseeing a slapstick training drill where he encouraged Esterhuizen to torpedo a tackle bag without using his arms.
"In the moment, I didn't even know the hit was illegal," the centre says. "It happened so quickly. I wanted to get up, but the physio and medic said just to stay down, we are waiting for a decision, to milk it a bit as well. I just waited on my knees and yeah, nothing happened!
"Ach, it was bad to lose like that, but it's rugby. I've made stupid tackles and stupid mistakes in my life as well and received red cards. It's just in the heat of the moment.
"The tackle bag was supposed to be a bit of fun but Rassie knew the cameras were going to be on it. It was just a bit of joking around to lighten the mood."
Esterhuizen's own mood fell into shadow last year. The World Cup – in Japan, of all places, where he came of age as a player – was a wounding experience. He was right on the very cusp of selection but missed the cut for the final squad.
He felt crushing anguish that only worsened when Jesse Kriel was injured in the pool stage and South Africa sent for fly-half-cum-full-back Damian Willemse rather than a like-for-like midfield replacement. But he felt too the searing joy that engulfed the nation as the Boks thundered to victory.
"If I'd been out of it for the whole season, it would have been easier," he says. "But I was in the squad the whole season and part of the final 34, but only 31 got to go. It's such a great achievement, but it was tough not to be a part of it.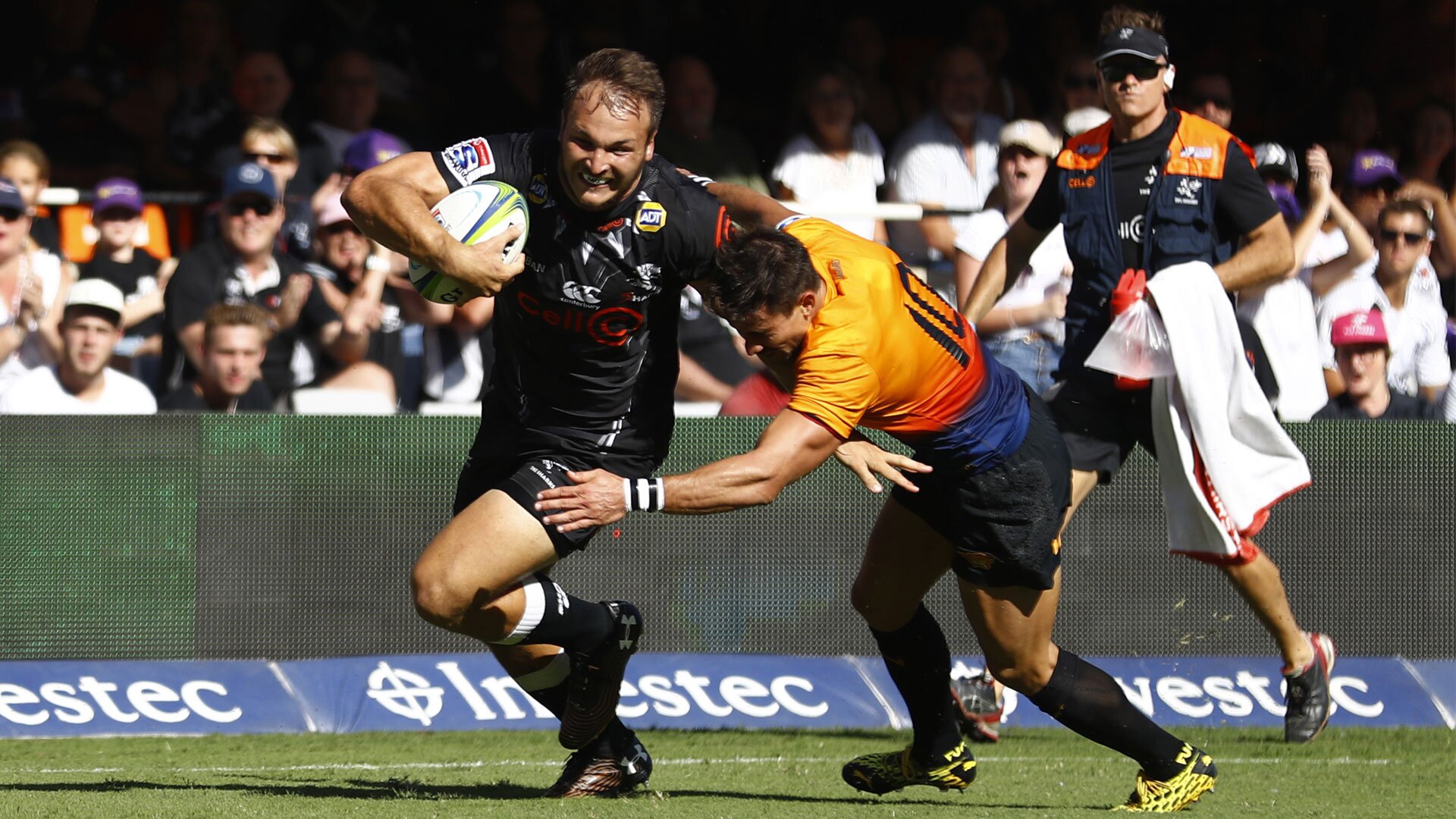 "I got over it pretty quickly, but it was quite a bummer when Jesse got injured and I didn't get called up. I don't want to go into depth about it, because the guy that got called up had been injured and didn't play any rugby, he wasn't part of those structures the whole year.
"If it was another centre, I would have been fine with it, but it was quite tough when they did something like that. But it's rugby, it's part of life, eh? If you don't move on, and you hold on to that the whole time… I've got a lot of other things to be grateful for."
After eight years as a Shark, Esterhuizen felt his sizeable head had struck a ceiling. Paul Gustard, the Harlequins coach, met him for coffee while in London with the Barbarians and the two clicked, their values and visions aligning. It helped too that Esterhuizen's best mate from home, Stephan Lewies, was at The Stoop already. Lewies has just been anointed captain for the new season.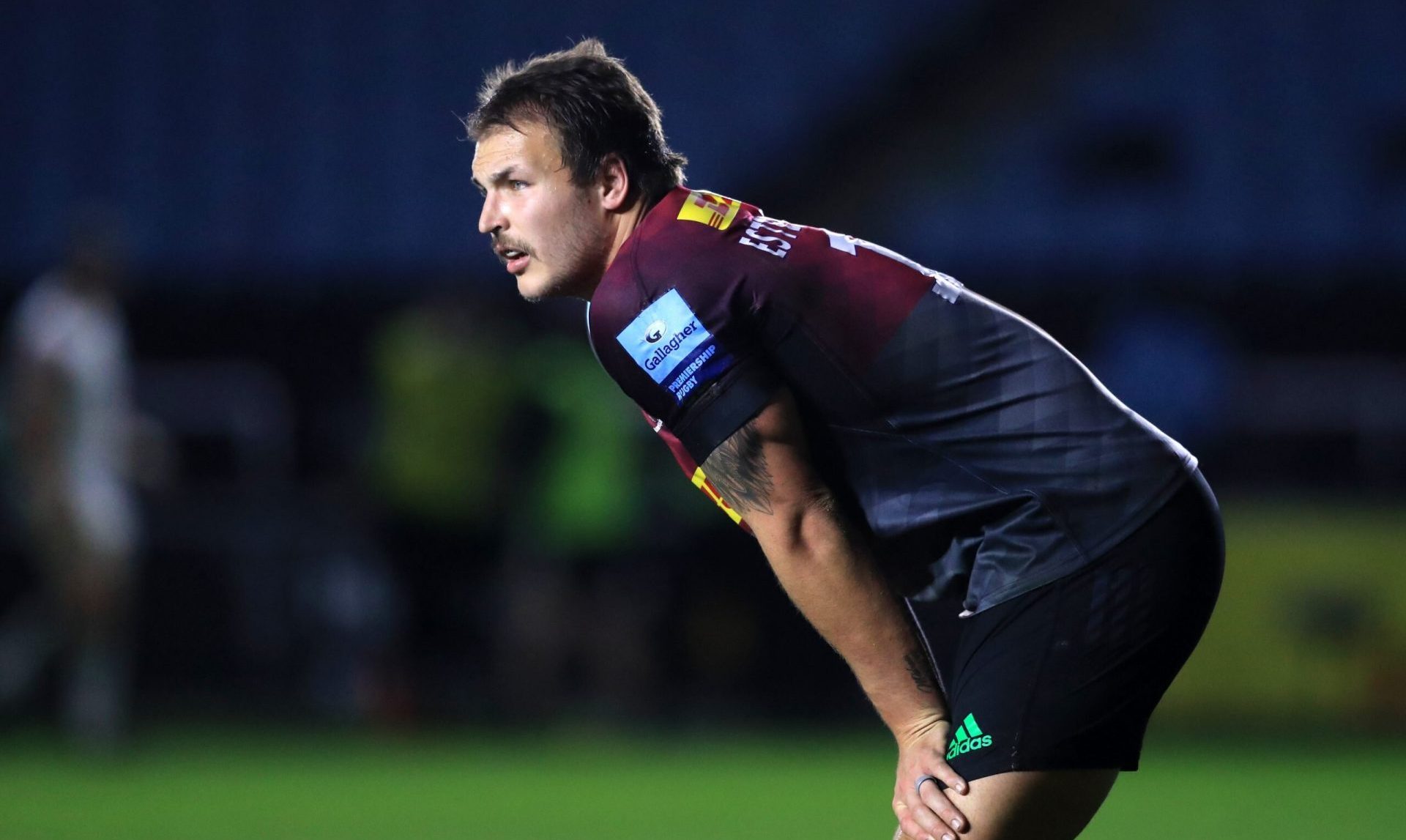 Esterhuizen is, in every sense, a gargantuan signing for Quins. Stick him outside the snake-charming little wizard that is Marcus Smith and the line breaks will flow and opportunities cascade. He is deeply driven, not just to succeed in England, but to assuage his ache to wear the green and gold once more, and to face the British and Irish Lions next year.
For too long, though, his storied club team have tracked a maddening path. Quins have the brilliance to carve you asunder, and the propensity to point the gun at their foot and empty the barrel. Their last play-off appearance came in 2014; their most recent title two years earlier.
"There has been a lot of inconsistency," Esterhuizen says. "This team, on paper, can beat any team on any given day, it is just how and when we pitch up. Consistency is key. We are a young squad, still building, and we need that consistency and drive behind all the players.
"Everyone is chasing something, to be part of something special, but going through the steps each week and not just looking at the end picture, getting better every game as a team, and we will reach what we set out to achieve."
Comments
Join RugbyPass+ now and be apart of the conversation with all-new commenting!
Join Now