Rivals to tread Care-fully around the dangerous Quins
The Women's Six Nations rolls on with France and England looking good for an explosive encounter while the business end of the domestic season looms into view, with Harlequins, Leinster and the resurgent South African sides finishing strong, while the Welsh regions continue to falter.
That and much more is covered by RugbyPass+'s weekend review…
Spring in the step of the danger Quins
Spring is in the air and from their recent seven-try evisceration of an adventurous London Irish side, spring is in the step of Harlequins, who if we cast our minds back 12 months, achieved something rather magical in winning the Gallagher Premiership in the most thrilling of circumstances.
If you're looking at odds for this year's winner, you will still find Leicester Tigers and Saracens as favourites. Steve Borthwick's men have been imperious all season, while their old sparring partners, Saracens, have shaken off their season in the Championship with customary doggedness and appear well-placed to reach Twickenham.
However, to watch Harlequins entertaining the masses in South-West London derby, it was hard not to be enchanted by their free-running, sense of freedom they brought to proceedings. Danny Care provides the tempo, Marcus Smith the creative chutzpah to make things happen – his 20m whipped pass off his left hand to Cadan Murley brought back memories of Danny Cipriani in his pomp – and Andre Esterhuizen the muscle, in a perfect 9-10-12 axis. You would be wrong if you thought all the plaudits should go to that attacking trident, without mentioning that Joe Marchant was full of industry and brimming with confidence from his elevation to the England set-up.
In the tight five, the likes of Jack Walker, Wilco Louw, Joe Marler and the excellent Hugh Tizard, gave the backline a platform to perform, and as Irish tired, so space was found for Huw Jones and Cadan Murley to slide over unopposed in the corners, as Quins exposed the edge of the Irish defence. The transformation from inconsistent, flaky mid-table team to imperious title contenders in just over 15 months has been revelatory. Quins still have to circumnavigate Leicester, Gloucester, Northampton and Exeter before the end of the regular season, but they are well-placed for the last four.
Quitely spoken and cerebral, Tabai Matson will be happy to ride in the slipstream of the duo above him in the table, he knows his squad will be a match for anyone in knockout rugby.
Ring of Fire
It is only when you notice the seats emptying, when you then look at the stadium clock directly across from you, when you see a stream of fans walking to the exits while there are still four minutes to play, that you appreciate how far off the pace Munster are.
They're still a good(ish) team, possibly good enough to knock Exeter out of Europe over the next two weekends, but there's a big difference between good and great. And Saturday night proved that.
When you bear in mind who Leinster were missing – James Ryan, Andrew Porter and this bloke called Johnny Sexton – and when you bear in mind they had the comfort of leaving Tadhg Furlong on the bench, you get an idea of their strength in depth.
But it's not just that. Each team had 15 players on the park but Leinster had Stuart Lancaster in the coach's box. His imprint was all over this display, the rat-a-tat-tat nature of their passing, the patient phase-building nature of their attack, the slavish adherence to Lancaster's philosophy to stretch teams wide.
Hey, never mind being too good for Munster; that Leinster team would be good enough to beat a host of international sides.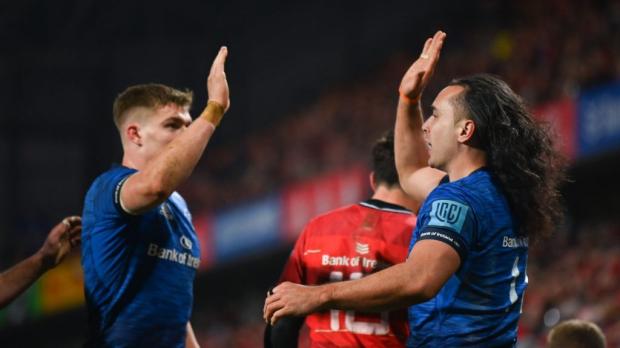 In fact, they already have. Think back to the Ireland starting XV who defeated the All Blacks in November. Twelve of that starting team were Leinster players.
Eight of those were back in Thomond Park on Saturday, where their brilliance in attack was matched by their resilience in defence.
Chief tormentors were Garry Ringrose and Caelan Doris, a pair of superstars even if they do tend to fly under the radar in terms of profile. From Ringrose came the softest of hands; from Doris the hardest of carries. Add in the unsung heroes you may know little about, loosehead, Ed Byrne, and winger, Jimmy O'Brien, and you can see what Leinster are building. As a team they are always in a state of constant evolution. Sexton has played only 52 games for them over the last six seasons (compared to the 51 he was chalked up for Ireland and the Lions in that same timeframe) which showcases how they have future-proofed their captaincy and playmaking issues.
It was Ringrose who fulfilled those twin duties on Saturday, his performance nothing short of world class. Player of the match went to Leinster's blindside flanker but even if officially it was Doris' day, in reality it was the team's. They're way better than anyone else in the URC and on this form, better than anyone in Europe, too.
Hogg shows his class
Scottish rugby is still furiously bickering over the farcical end to the Six Nations, the infamous, apparently unsanctioned nightclub visit, and petulance of the post-match press conference involving Stuart Hogg and Gregor Townsend after another perfunctory Dublin loss.
The facts remain shrouded in mystery. Some leap to Hogg's defence, indicating he is about to be cast as scapegoat for the whole episode. Others have condemned the captain for his lack of discipline. Nobody seems willing to set the record straight.
The indisputable truth is that this was not a happy Scotland camp. Townsend's meticulousness is renowned and while it is a major reason for his coaching success, it is perhaps not conducive to an easy, invigorated team environment. More than one person has commented privately on the 'stifling' nature of the camp.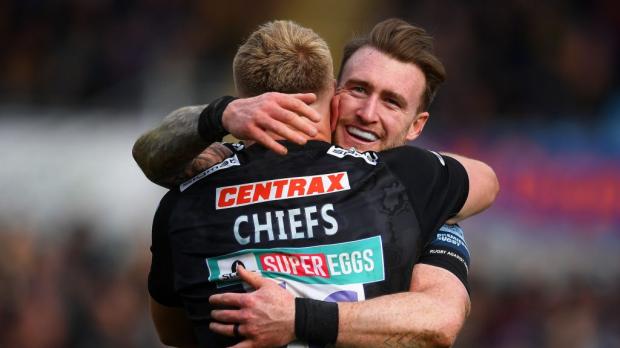 On Saturday, we saw Hogg in his element, at a place where he is loved and cherished and does not feel the weight of a country on his shoulders, nor the crushing pressure to pluck rabbits from hats. We saw Hogg at ease with himself and his surroundings. We saw a masterful performance from a world-class operator.
In Exeter's smiting of Bath, Hogg was tremendous, his fingerprints all over the attacking play and superb tries that seized the game. The arcing support line to blast on to Olly Woodburn's off-load; the vision and beautiful weight on his kick to the rampaging Patrick Schickerling. The work rate to clear the ruck that followed, from which Dave Ewers plunged over.
This was vintage, contented Hogg. Scotland, and Townsend, must find a way of rediscovering it.
Welsh regions hammered in SA
While the Wales Women can bask in a glorious two weeks, after defeating Ireland and Scotland late on, in the men's game, storm clouds have thickened. If you are the mathematical type and you want ascertain how the Welsh regions fared in South Africa, in their eight fixtures the Dragons, Scarlets, Ospreys and Cardiff the abacus stopped at 108, before pushing on, and on to 351 points accrued by their hosts, the Stormers, Sharks, Lions and Bulls. That's a 44-14 average, and by any metric, a drubbing.
Of course, the Welsh regions were deprived of their internationals for six of those eight games and it should come as no surprise that South African provinces are more powerful than their Welsh counterparts. Wales have never beaten the Springboks on their home soil, but that doesn't mean there should be a shrug of the shoulders and an acceptance of 'second-tier' standing. And it's not just the Rainbow Nation the regions were chastened. Take Europe; if you look at the Champions Cup, the three Welsh regions participating played 12 games, winning just one game.
This makes for grim reading. You almost get the feeling that the regions are sending an SOS to the Welsh public to put the pressure on the WRU to act. Dai Young and Dean Ryan, both hugely experienced coaches, have said they are waiting for the game's governing body to act and throw them a bone, something to cling onto, but no words of reassurance have been forthcoming. For beleaguered fans, they can only hope more action is taking place behind closed doors with an announcement due about how they can arrest the decline in the Welsh game.
The game in Wales needs a clear vision. One that is shared far and wide, from Carmarthen to Caernarfon, and Crickhowell back to Cardiff. The WRU has a higher annual revenue than the IRFU, yet they are eons away from matching their Celtic cousins. The increasing trickle of youngsters head over the Bridge is becoming a torrent. Ioan and Jac Lloyd were educated at Clifton College. Louis Rees-Zammit, among many at Hartpury, while Carwyn Tuipulotu and Sila Filise (son of Ta'o) were ferried up to Sedbergh. The list goes on. The infrastructure in Wales doesn't lend to excellence and advisers and parents are buying one-way tickets out of Wales.
In their late teens and early twenties, gifted Academy players are not getting enough high-quality, competitive rugby, and the BUCs league, with Swansea University, Cardiff University and Cardiff Met is increasingly an option for those in their formative years. At present, the game in Wales resembles 'Whack the rat'. As soon as you think one problem is solved, another one rears its head. It's a bugger's muddle and leadership is required. To do nothing would be a dereliction of duty. The clock is ticking.
Super Rugby's dangerous red-card fiasco
The folly of the 20-minute red card is being brutally exposed in Super Rugby, where players have been sent off in six of the past seven matches.
As rugby gasps beneath the weight of its brain-injury crisis, former players reveal early-onset dementia diagnoses and a huge lawsuit looms, why anybody thought disincentivising safe tackling a worthy trial is staggering. What did they think would happen when the punishment for dangerous play fell off a cliff?
Leave aside the grave player welfare concerns for a moment and consider this: in all but one of those six Super Rugby matches, the team who lost a player went on to win. Where is the deterrent?
Granted, a couple of those red cards came too late to make a difference, or when the victor was already in an unassailable position, but just because you have a handsome lead does not mean your technique can become sloppy.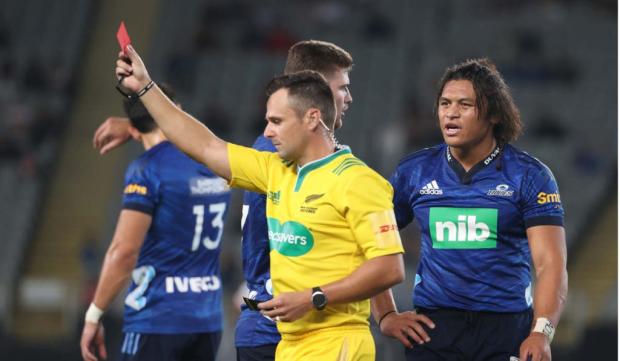 A professional team can survive for 20 minutes with 14 men. Much longer, in fact – look at England's courage and organisation against Ireland or, in the Premiership, how Newcastle came a hair's breadth from sinking Exeter having lost Callum Chick 25 minutes in.
Red cards do not ruin games. Dangerous play ruins games. Rugby is a team sport and if a player egregiously offends, their team should suffer. This is a powerful psychological tool to tackle and clean-out legally, a major encouragement to coach as such. If a misguided idea to maintain the 'spectacle' of a rugby match ranks above safety in your estimations, you'd want to take a serious look at your priorities.
The Northern Hemisphere went through this culture change some time ago, when harsher sanctions for foul play were introduced and cards were brandished like confetti. The game there is better for it.
For lawmakers to actively reducing the deterrent while rugby grapples with a concussion problem that will only grow larger and more nebulous is bonkers. We did not need another reason to boot out the 20-minute red card but Super Rugby has given us an armful anyway.
URC is taking off
This isn't a joke by the way. The following comment isn't filled with sarcasm. The URC has turned into a very watchable league; the game of the weekend taking place between a side in 10th place prior to kick-off and one in 14th.
Yet you couldn't take your eyes off it, not for any of the 85 minutes and 37 seconds it lasted; Connacht storming into an early lead, Connacht undergoing their usual mid-game crisis; Connacht pulling it out of the fire to go ahead with three minutes remaining and then self-destructing again, gifting possession and territory away in the concluding 20 seconds of regulation time.
Nearly six minutes of non-stop defending followed; the kind you don't do unless you have something big to play for.
And Connacht did. Their season was on the line, as was Treviso's. That's what you get you come up with a format that offers eight teams something meaningful to play for. They all want to be in the play-offs. As of now, 13 of the 16 teams have legitimate reasons for believing they can get there.
Connacht are among that number even if they do still need three more wins, plus a favour or two from elsewhere. Ridiculed for having naff teams in it – to be fair it still has a couple of those – and no relegation, the URC now has something it didn't possess before, a reason for the lowly positioned sides to get up in the morning. With eight knockout places available, only a few have nothing left to play for.
Twenty-one years after the league was first thought of, we finally feel it is taking off.
And finally…O'Gara to England – don't make me laugh
It is one thing paying a compliment, another to engage in marriage. On Sunday, Ronan O'Gara told BT Sport that the England job would be a 'cracking' one to get. And it's true, it would. They're a brilliant team, packed with good players, a passionate support-base; a rich tradition.
They also had a tradition of losing to a man called Ronan O'Gara from 2004 to 2010 – with a one-year break in the middle of that run. The idea of O'Gara transferring his considerable coaching skills from the club to international scene is not a preposterous one, but for any Irish fan, seeing him – of all people – wear a red rose on his lapel, is unimaginable. There's a vacancy in Thomond Park that needs filling, Rog. You are needed there more than Twickenham.