Premiership play-off draw adds spice to the sparkle
This never-ending season, that started in late August, continues for the gladiators in both domestic leagues, as they look, nay crave silverware to sate their fans and bolster their trophy cabinets. In the Gallagher Premiership, the ties are mouthwatering; Saracens v Harlequins resume their London rivalry, and the East Midland's derby between Leicester Tigers and Northampton Saints sees Chris Boyd and Steve Borthwick searching for bragging rights to carry them through to Twickenham.
Here's what RugbyPass+ made of the action.
Semi-finals bring grudge and spectacle
What a pair of semi-finals the Premiership has served up next weekend. Local enemies, stylistic opposites, grudge and niggle and intrigue by the shedload.
Leicester Tigers, an oil tanker bound for the rocks until Steve Borthwick assumed the wheelhouse, host Northampton Saints, a team who lurch between the magnificent and the maddening.
Saracens, thirsting for glory after their year in the second tier, and Harlequins, their London foes who were among the most vocal detractors as details of the salary-cap scandal emerged.
There will be mighty rivalries renewed, rugby ideologies pitted against one another. Tigers and Saracens play with imposing snarl and canny pragmatism. It works. Leicester are the first Premiership team to complete an unbeaten regular season at home. Saracens, fuelled in part by the delight others took in their downfall, have roared straight back into the top two.
Northampton and Harlequins could scarcely be more different. Their DNA is so diametrically, violently opposed to the bludgeon and brutality coming their way this weekend. Both weave beautiful rugby tapestries. Both have mercurial playmakers and free-wheeling forwards. Quins' elan is underpinned by a hugely effective set-piece, overlooked in their incredible ascent to the title last term. Saints are flakier, but almost as deadly on the hoof.
And so the stage is set. The artistes against the pugilists; the bohemians versus the bruisers. The upshot will be spectacular.
Saints desperate to leave Boyd with a parting gift
A year ago, Harlequins made it into the play-offs in fourth-place, after an upturn in fortune saw them finish the season strongly, this after Paul Gustard had abruptly departed in the February.
Granted, there has been no such upheaval at Franklin's Gardens. Chris Boyd is stability personified. If the side are being pumped or winning at a canter, the sanguine 63-year-old, wears the same measured expression, however, who would bet against the Saints, 'doing a Quins' this year? Ably abetted by coaches Sam Vesty, Phil Dowson and Matt Ferguson they have a perilous engagement with rivals Leicester Tigers next weekend, but whisper it, and they do boast the all-court game to unsettle their structured hosts.
Boyd announced he would be heading back to New Zealand in January, and it is a measure of the esteem that he's held, that their results stabilised and in recent weeks, they've taken an upturn, with six wins in their last seven. The squad want to leave him with silverware to accompany his Super Rugby title with the Hurricanes.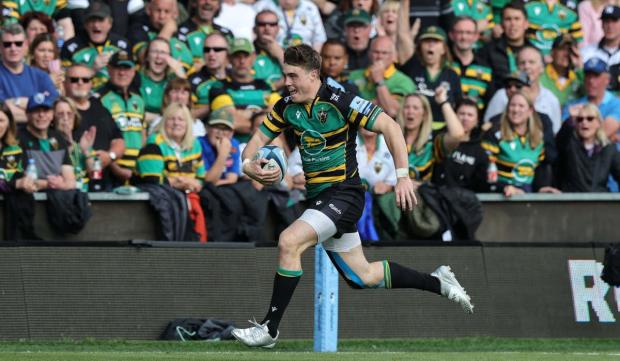 What excites the Franklin's Gardens masses is the potential of the squad, as seen in their entertaining eight-try 63-26 drubbing of Newcastle Falcons at the weekend. Indeed, this is not a side of ageing warriors, it is ripe with youthful exuberence. There is a spine of this season of 25 and under, who can propel the side to silverware; George Furbank, Fraser Dingwall, Alex Mitchell, Tommy Freeman and James Grayson are players to quicken the pulse.
For now, with Tom Wood close to retirement, Courtney Lawes, Dan Biggar and Ethan Waller are the old heads who can set the tone this week as they embark on an unlikely first Premiership Final win since 2014, but stranger things have happened in sport. They are dark horses who can unpick the most miserly of defences.
Reduce URC play-off numbers – you can't reward mediocrity
Anyone who has kept a close eye on this year's URC – more to the point anyone who has suffered through the tournament's previous incarnations – will not be shy about pointing out how, finally, it is an easy sell.
There is quality at the top end – three good South African sides, three decent Irish ones – and then depth provided by another seven or eight clubs who are capable of beating anyone on their day.
Look at Glasgow. They were too good for Munster and Exeter earlier this season; indeed they ran La Rochelle close not just in Scotstoun but also on the Atlantic coast.
And then Leinster ran in 12 tries and 76 points against them on Saturday to completely contradict the point we've made in the sentence above.
Herein lies the URC's problem. A fully-loaded Glasgow, indeed a fully-loaded Cardiff, Connacht, Ospreys, Scarlets, Edinburgh, can give anyone a game. But as soon as injuries pile up – and Glasgow had nine of those on Saturday – disaster looms. It is no longer enough to build a team; you need a squad.
Rugby really has become a numbers game. The reason Leinster do consistently well is because they have the deepest talent pool. Glasgow most certainly don't.
They couldn't call on Sebastian Canelliere, Scott Cummings, Rory Darge, Matt Fagerson, Ally Miller, Kyle Steyn or Duncan Weir at the RDS. Suddenly those four defeats from their final five games of the regular season looked a lot more significant than their nine wins from their opening 13 games.
It meant they limped – literally as well as metaphorically – into the URC play-offs. Sympathetic lot that they are, Leinster mercilessly added to their misery.
So, Glasgow lost. But so did the URC. The competition needs to constantly work on its image. One way is to avoid scorelines like this in the quarter-finals. No team finishing as low as eighth merits inclusion in them. Cut the play-offs numbers from eight to six for next season; leave the top two alone until the semi-finals, reward quality not mediocrity.
Gloucester fall short yet optimism abounds
Twelve months ago, George Skivington could have surveyed the Premiership table with a furrowed brow. Sitting 11th with 45 points, Gloucester were anchored looking upwards, with an aggregate of -65 points difference.
Looking at this season's table, they ended on 73 points, with a points difference of +160. This is a 240 point swing, or 10 points a game if you're mathematically minded. One serious upturn.
So, while Saturday's dismantling of a Saracens second-string would have offered some solace as they missed out to Northampton Saints for a fourth-placed, play-off finish, when the time comes for a season review, there should be enough green shoots to approach pre-season with a spring in the step.
Much of their improvement has come up front, where Skivington's nous around the set-piece has turned the scrum from a middling-pack, to one that brings some snarl, especially with the driving maul. Val Rapava Ruskin and Freddie Clarke have put in career-best seasons, while the hard-running Ruan Ackermann has done enough at the base of the scrum to be mentioned in England dispatches, and Jordy Reid, has offset the continued absence of Jake Polledri. The side has been brilliantly led by Lewis Ludlow.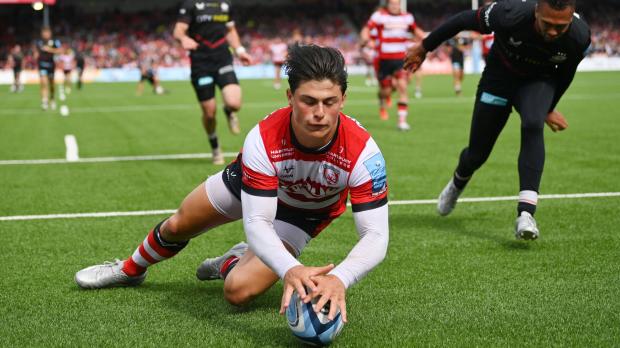 In the backline, Adam Hastings has overcome some early-season wobbles to settle in a backline that is brimming with confidence. Mark Atkinson and Chris Harris strike a perfect balance in midfield, while the back three trio of Louis Rees-Zammit, Ollie Thorley and Santiago Carreras boast match-winning verve. Rees-Zammit, in particular, has reacted positively to his first career blip by scoring seven tries in his last nine games for Glaws after being dropped by Wales during the Six Nations.
For next year, Albert Tuisue, will bring added ballast to a backrow as Ben Morgan's limbs creak after a decade of service, and Skivington can enjoy building on a season where the Cherry & Whites will hope to make the Play-Offs.
Van Graan can hold head high – despite play-off failure
There is a statue of Bob Stokoe outside the Stadium of Light, Sunderland FC's home. It wasn't erected because his team finished the 1972/72 season in sixth position, rather because that was the year Stokoe brought the FA Cup back to England's north-east.
Trophies count. It is what connects fans with teams; the thing that creates legacies and memories. Munster fans know this better than most. They had the best of times between 2000 and 2011, when a galaxy of stars helped them batter the best of Europe and trouble the All Blacks when they toured in 2008.
That's what counted against Johann van Graan whose final game in charge came with a defeat on Friday in Belfast. His overall statistics – a 67 per cent win ratio with Munster – was good; his results in knock-out rugby, round of 16 games, quarter-finals, semi-finals and a solitary final, were not. Just four wins came from those 14 games. That's why the criticism has been so harsh; the fact there wasn't a parade around Limerick; a fresh entry to the trophy cabinet at Thomond Park.
Yet Dan McFarland made a sensible point on Saturday. Leinster have dominated the URC/PRO14 for five years, the precise time van Graan has been in situ. They have had the best squad, the highest budget. In four of van Graan's five years, it was Leinster who ended Munster's season. It is one thing competing with history but trying to look good against the next door neighbour with a manicured lawn is asking a lot.
So even though van Graan's record isn't good when compared to Leinster's, that doesn't mean he didn't do a reasonable job at Munster. The squad was rebuilt, the team stayed competitive. They had big wins over Saracens, Racing, Clermont, Exeter, Toulon and Leicester during his time at Thomond Park. He can walk away with his head high.
Dark clouds gather for Wilson and Glasgow
It says a lot that on a Saturday when Rassie Erasmus' Twitter account shared a pornographic video, Glasgow's Danny Wilson was still the most under-fire coach of the weekend.
The non-performance his team excreted in Dublin was certainly x-rated. As mortifications go, this was their heaviest defeat since 1997. It was their worst-ever loss in the league; the most points shipped by any team in URC history.
Let that last one settle for a moment. None of the tournament's perennial whipping boys – Zebre Parma, Dragons, the weaker iterations of Benetton, the departed Southern Kings or the long-since vanished Caerphilly – copped a worse beating in all those years of professional competition. Rugby stats doyen Russ Petty noted the 76-7 evisceration surpassed the 75 points conceded by Benetton in 2014.
Nobody expected Glasgow to go to the RDS and do a job on the reigning champions, a side imbued with rage and vengeance after the Champions Cup was snatched from them seven days earlier. We've seen and heard enough about the sheer excellence of Leinster, whatever team they put out and however many of their totemic internationals are sat in the stands.
But this was no scratch Glasgow team. Wilson fielded a starting side with a dozen internationals and three Lions and watched them surrender catastrophically. If the players want rid of Wilson – and there have been no whisperings behind the scenes to that effect – then they sure went about it the right way.
We can run the gamut of stats and figures, we can talk about Glasgow's relentlessly poor discipline, their tame attack and sloppy defence, their failure to turn up on the road, their even graver failure to live with the physicality of the league's bigger beasts. Every number, every detail underlines how heinous a display this was for a well-resourced professional team.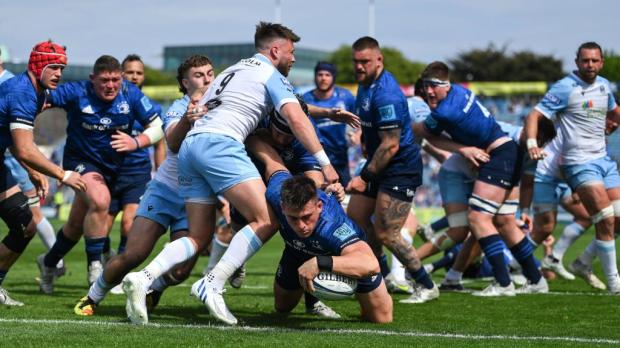 But there's a bigger issue here. Glasgow were already fighting a battle to win back the supporters soured by what they've seen recently. A shellacking only entrenches their delicate and unpleasant position.
Warriors built their rise from Pro12 also-rans to 2015 champions, play-off contenders and Champions Cup knockout competitors on a brand of super-charged, edge-of-the-seat rugby. They could offer people flair in spades and world-class showmen. They carved out an oval-shaped niche in a city in thrall to football by putting on a show on Friday nights, away from competing sports and amateur club rugby. Those Scotstoun evenings under the floodlights were raucous and special and energised the whole of Scottish rugby.
Glasgow finished this season with six away games and lost five of them. Their Friday night slots have been stripped away almost entirely by the vagaries of scheduling, for all the Glasgow hierarchy fought to keep them. Their season ticket prices are rising and the entertainment value is going in the opposite direction. And they are led by a coach who has yet to convince a swathe of supporters he is the right man for the job.
Wilson looked like a shell-shocked war veteran when camera and microphone were thrust before him in the aftermath. "No," he replied, when asked if he was considering his position. "I'm responsible for this more than anyone but as a group we're in the wins and losses together. We need to front this result." He has another year left on his deal and it is unlikely Mark Dodson, Scottish Rugby's chief executive, will wield the axe.
But Glasgow have to sell tickets on the back of this humiliation. The greatest danger is that fans feel the club is abandoning its identity and in the process, its fans.
They do, at least, have deeper pockets than usual, thanks to the falling Premiership salary cap. Word is, Glasgow are on the hunt for a big-carrying back-row and are willing to spend big to get their man. How the club could do with the feelgood of a blockbuster addition.
Signing Pieter-Steph du Toit or Gregory Alldritt would not salve the hurt of Dublin, though. That loss will haunt Glasgow for a while yet. Their players, their fans and their coach will carry the hurt with them over the long summer months, the lasting memory of the season's ghoulish endgame.
Centre of excellence – New Zealand await for Hume and McCloskey
A three-test tour, coupled with two unofficial tests against the New Zealand Maoris, Ireland's summer schedule is close to resembling a British and Irish Lions year.
Considering its timing at the end of a long, hard season, it has the potential to be ugly. And yet there is something that draws us toward those midweek games, and essentially it is the chance to see whether Ulster's centre pairing, Stuart McCloskey and James Hume, can make the step to the next level.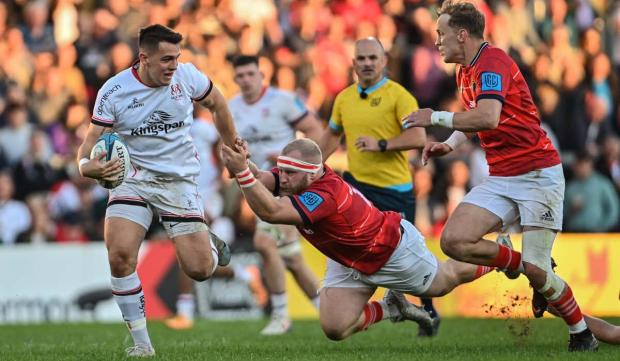 On Friday's evidence, they can. Hume was player of the match, scorer of one try against Munster, creator of another two. But McCloskey, the senior member in the partnership, helps him look good, not just because his power often gets him over the gainline, but also because the threat of it keeps defences honest, freeing up space for Hume to exploit with his sharp footwork.
"World class," said Ulster coach Dan McFarland of the 23-year-old's defensive work. "And I don't use that term too often."
You can see why he used it on Friday, though. Ulster have been polishing a rough diamond for a couple of years now. We'll see if it shines in the dark of a New Zealand winter.