13 academy prospects to watch in the Premiership in 2018/19
Every year, excitement levels begin to spike in July and August, as fans up and down the country look forward to the new season kicking off.
Typically, that excitement centres around new signings and this season will be no exception, with the likes of Charles Piutau, Lima Sopoaga, Jaco Kriel and Chris Ashton all heading to the Gallagher Premiership. That said, it is often the budding stars stepping up from a club's junior academy that can elicit a real cause for optimism for a club's future prospects.
We have rounded up 12 of the top talents making the transition to the professional game this summer, all of whom will be worth keeping an eye on in the Premiership Cup and Shield competitions this season, as well as, for a handful, the Premiership itself.
Harry Barlow, Harlequins, utility back
The term 'utility back' is one that is often treated negatively by the media, with players tagged as such considered jack of all trades and masters of none. Nothing could be further from the truth with Barlow.
Adept at outside centre, both wing spots and full-back, Barlow isn't just a guy who can cover the majority of the back line, he's a player that can excel in any one of those spots if he continues to develop and he and the club commit to significant playing time in a chosen position.
He is quick, deceptively strong, has a good eye for a gap and, as is the hallmark of the Harlequins academy, seems to read the game excellently, both in attack and defence. Working out where he features in the senior side will be one of the more enjoyable challenges of Paul Gustard's stewardship at Quins.
With Marcus Smith, Gabriel Ibitoye and Joe Marchant all in place, Max Coyle and Cadan Murley on board and Lennox Anyanwu (inside centre) and Louis Lynagh (full-back) to likely receive professional contracts next summer, Barlow's versatility could be particularly valuable at the Stoop, where a homegrown back line of considerable potential is being forged.
Tom Williams, Academy Transition Coach at Harlequins (via www.quins.co.uk):
"Harry, affectionately known as Gary obviously, is one of two lads we have from Cranleigh. He is the only back we are bringing in this time around. He is a centre but can cover wing as well."
"He likes to run intelligent lines off ball players like Marcus. He is explosive, brings a good bit of direction but is also under appreciated in terms of his distribution. His abilities were highly regarded in the England U18 squad last season."
Continue reading below…
Will Capon, Bristol Bears, hooker
Capon is no stranger to RugbyPass, with the emerging forward having been profiled extensively during his final year of school and is a player who has been on a number of people's radars for some time now. Check out our profile here, if you want to know more about the front-rower.
In short, he is the prototype for the modern-day hooker, not only technically skilled at the set-piece and capable of helping provide his team with a solid foundation at the scrum and the lineout, but also a confident ball-handler in open play. He's dangerous in the wider channels and whilst he is a long way from being compared to Dane Coles in terms of quality, there are visible similarities in style of play.
The front-row are probably the toughest positions to successfully and quickly transition to when going from the junior to the senior game, but Capon has a leg-up on the competition, having featured in both the British and Irish Cup and Greene King IPA Championship in his final year at Bristol Grammar School.
Pat Lam likely won't throw him in the deep end of Premiership rugby unnecessarily, especially with Harry Thacker one of his summer recruits, but Capon is the kind of player that will make the Premiership Cup and Shield competitions worth going along to this season.
Mike Hall, Academy Manager at Bristol:
"When Will came into the academy at 13, it was clear to see he was very talented. He had the skill set of a fly-half and the body of a prop, he even pulled off a cross-field kick for a winger in one of our academy games. He captained England U16s as a tighthead and then transitioned to hooker as an U17, a move that is not easy to make."
"He's a driven kid and a good leader. He learns quickly and he's already picked up a lot of our senior lineout, not to mention being a very talented ball-player."
Alex Coles, Northampton Saints, lock
Unfortunately, Coles' 2017/18 season was largely wiped out with injury and it denied him a shot at following in the footsteps of Jack Walker, Ollie Lawrence and Cam Redpath of pushing for England U20 selection a year early.
As an U17 in the U18 Premiership and England U18s, Coles impressed with his all-round game, very much one of the modern breed of second-rows who is capable of impacting the game in all areas and doesn't subscribe to the old school stereotypes of locks as either enforcers or lineout operators.
As the game moves on from specialists in the pack and embraces players who can make significant contributions across the board, technically and physically gifted locks like Coles are already becoming worth their weight in gold.
With Christian Day having hung up his boots this summer, Jordan Onojaife leaving for Ealing Trailfinders and Courtney Lawes still very much a part of Eddie Jones' plans moving forward, there should be opportunities for Coles this season, although expectations should be tempered, coming off a significant injury and playing in his first year out of school.
Simon Sinclair, Academy Manager at Northampton:
"Alex has enjoyed his first two weeks of preseason at the club. After a long stint out of the game, and certainly someone we missed in our U18 campaign, due to some back issues, Alex has come into the professional environment chomping at the bit. Although he missed out on a few England U18s games, which he was disappointed with, it was a good opportunity for him to get his head in the books and revise for his A Levels. He's a pretty intelligent lad who had Oxbridge interviews."
"He was involved in two A League games last season and performed really well, making a good impression on and off the field with the coaches. He's now got a huge opportunity to impress Phil Dowson and Mark Hopley over the coming months. He's certainly got the leadership credentials, carries well and has an excellent work rate. He's an exciting prospect who will be looking to learn as much as he can from the senior players."
Tom de Glanville, Bath, fly-half
For de Glanville, he is forging his own path in his rugby career, despite his surname being instantly recognisable with his dad Phil, who played for Bath for over 10 years.
Comfortable also at full-back, de Glanville looks at his best at fly-half and has already shown that he's equipped for a bright future in the game. The Premiership Cup and Shield competitions are going to be a good testing ground for the youngster this season and his ability to play multiple positions should only help him in the search for playing time.
As with many of the recent fly-halves to come out of the English age-grade and academy pathway, de Glanville plays with his head up, has the vision to spot gaps and the speed to exploit them, as well as constantly keeping his head on a swivel once he has made the break. In terms of a running fly-half with ball in hand, he is as talented as any player coming out of the U18s this season.
Andy Rock, Academy Manager at Bath:
"Tom's a young player we are all excited about working with here at Bath. His potential has been clear for us to see for quite some time and we believe we have an environment here to help him develop to fulfil that potential over the coming years."
"There's a long journey ahead for these young men like Tom, who are just progressing from our U18s, and if we are to really see the best of them over the next 12-plus years in a Bath shirt, we need to help to push them every day, as well as being patient with them."
Henri Lavin, Leicester Tigers, flanker
Lavin feels like a very Leicester Tigers type of flanker and there are few better compliments you can pay him coming out of the U18s than that.
There's some Martin Corry dog in him, a sprinkling of athleticism that is reminiscent of Lewis Moody and a dash of Dean Richards' uncompromising nature. He's raw and a work in progress, but you can see him fitting in well in those Leicester packs of old.
Tigers have brought in Dave Denton and Guy Thompson over the summer, so their back-row has been bolstered at the senior level, but they have also shown that they aren't afraid to throw in younger players if they are ready. Both Ben White and Sam Lewis have had roles with the senior squad when they were fresh out of the junior academy in recent years, whilst Lavin himself made his senior debut as a schoolboy back in February, when he came off the bench against Wasps in the Anglo-Welsh Cup.
Ged Glynn, Head of Rugby Operations at Leicester:
"Henri is an understated, underestimated and unsung Tiger of the future. His strengths are his robust, uncompromising defence, his direct ball carrying and his strong inspiration of followship."
"He is quietly confrontational and definitely somebody you would prefer to play with and not against."
Ollie Lawrence, Worcester Warriors, centre
Plenty of people will be familiar with Lawrence, with the centre having featured heavily in Worcester's Anglo-Welsh Cup campaign last season, as well as turning out for the England U20s and being called into a senior England training camp ahead of the game with the Barbarians in May.
Quick and powerful, Lawrence shot to prominence early because of some dazzling highlights videos, but what is most impressive about the youngster is how well those skills have translated to the senior setting, especially at such an early age. Couple that with his agile footwork and you have a versatile centre who is capable of fulfilling multiple roles in the Worcester midfield.
He is no slouch technically, either, with a strong passing and offloading game, not to mention an ability to pick lines that defenders struggle to deal with. If Worcester see him as a 13 long-term, a season of learning how to defend that channel from Francois Venter, and the decision-making process that goes along with it, is a nice situation to be in.
He is one of the handful of players in this article who could genuinely be pushing for senior Premiership appearances in the second half of the season, although that could well be dependent on Worcester's position in the table.
For more information on Lawrence, take a look at our profile from last season.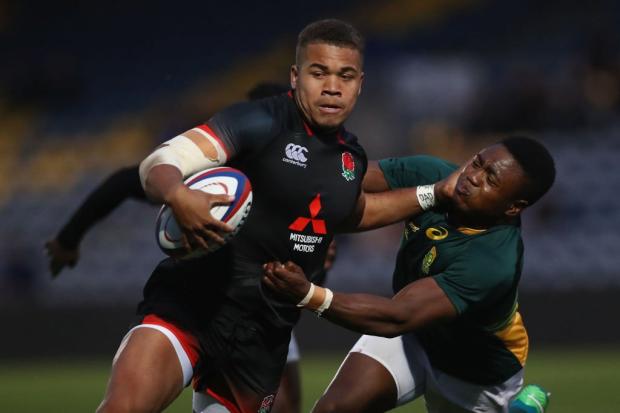 Cam Redpath, teammate in England U18s:
"Ollie and I are very good mates and we stay in touch off the field as well as on the field, and I enjoy playing and training alongside him. He's a very talented player in my eyes and is one of the most powerful players I've played alongside, despite his young age. As well as being powerful and talented, he's also very skilful and learns quickly."
"The thing that stands out most for me about Ollie is how competitive he gets. He and I can often have small arguments after training because one of us has had the better of the other but that helps us both get better as players. I wish he was at Sale so I could play alongside him!"
Cameron Nordli Kelemeti, Newcastle Falcons, scrum-half
Like Lawrence, this is another really good learning situation for a player, with Nordli Kelemeti joining a squad already boasting Sonatane Takulua, Mickey Young and Sam Stuart. Between Takulua's dynamism with ball in hand on the pitch, Young's 10 years of experience in the Premiership and Stuart's sevens knowledge, there isn't much the youngster can't learn from this group.
Newcastle's high-tempo keep the ball in hand approach and philosophy to the game suits Nordli Kelemeti down to the ground and if Dean Richards is looking to develop a like-for-like replacement for Takulua or Young, he has all the ingredients he could want in the 18-year-old. The scrum-half is unafraid of testing the fringes and exploiting any gaps defences give him and it is certainly the strongest area of his game at present.
He is not a one-trick pony, though, and can distribute well from the base and exploit space with his kicking game. His strengths are as a runner at the moment and that will hopefully pave the way to playing time in the Premiership Cup and Shield, but he is well on his way to becoming the kind of all-round scrum-half that every team craves.
Mark Laycock, Academy Manager and Skills Coach at Newcastle:
"We have an exciting group of players joining the senior academy this summer, of which Cam is one. He is a genuine threat with the ball in hand and has exceptional awareness and anticipation skills for his age, which we are already seeing in preseason training."
"We are looking forward to his development under the guidance of Tane Takulua, Michael Young and fellow countryman Niki Goneva. He certainly has the makings of a fantastic player if he continues to work hard to hone his game at the professional level."
Ollie Lawrence, teammate in England U18s:
"Off the field, Cam is great craic, a very light-hearted bloke and tends to get on with everyone in the team. He is very attentive in meetings and is always trying to learn."
"His skill set is very good, his feet are something else and his overall work rate is class. He will do well over the next few years and I'm sure he'll kick on at Falcons."
Jack Reeves, Gloucester, inside centre
An integral part of the Gloucester U18 side that razzle dazzled its way to the Premiership U18 final last season, Reeves is a type of player that many teams, including the England senior side, are crying out for.
Powerful and quick, with good footwork and a low centre of gravity, Reeves can give his side go forward when he straightens the line. He's not a sledgehammer, though, and he will actively look for the space between defenders and can keep phases alive with his awareness and offloading.
With Owen Williams having increased responsibilities at fly-half this season following the departure of Billy Burns, there could be some opportunities for Reeves to show what he has to offer, although as with many of the players in this article, those opportunities are initially going to come in the Cup and Shield competitions.
Given Danny Cipriani's talent with the ball in hand and desire for multiple involvements in the same phase, Reeves is just the kind of player who could dovetail nicely with him, pulling defenders in and allowing Cipriani to prosper in the space outside.
Richard Whiffin, Academy Manager at Gloucester:
"Jack has shown tremendous commitment and endeavour throughout his time in the Gloucester academy, which will serve him well in his step up to professional rugby."
"A strong, elusive centre, we expect him to highlight his physicality with strong carries and dominant tackles, whilst continually improving his game understanding."
Will Simonds, Wasps, back-three
Simonds is still raw as a prospect, but he is also the prototype for what teams are looking for in a modern back-three player.
Tall, quick and boasting deceptive power, Simonds is the kind of rangy player that can eat up ground, compete in the air and cover defensively at full-back or wing, whilst also being able to utilise those physical skills in counter-attacking and set-piece attacking situations.
He needs to work on his kicking game and should become more composed after making a break as he builds up experience, but the tools are there to be a very impressive senior player. With the right commitment from him and the prospect of playing opportunities in the senior team, he should develop well as a full-back or wing.
Injuries last season gave opportunities to the Willis brothers and saw them put down markers, something which will hopefully encourage Dai Young to give more chances the club's cadre of talented youngsters. With both Elliot Daly and Willie le Roux likely lost to England and South Africa during international windows, the club could do worse than get Simonds up to speed in the Cup and Shield competitions this season.
Russell Earnshaw, former England U18s coach:
"Will is a player who can and has played multiple positions in the back line, something which has helped with his development. He thrives off being involved in the game as much as possible and could play 13, as well as in the back three."
"He's good aerially and has worked hard with Andrea Masi on his defensive awareness – a reasonable person to be helping with your defence! At his best, he's a real threat on the ball and staying fit for a period of time will allow him to continue to become more consistent."
Rus Tuima, Exeter Chiefs, number eight
Exeter's U18 side were a rare omission from Finals Day last season but that shouldn't detract from a talented group of youngsters that were given professional contracts this summer, a group which is spearheaded by Tuima.
The younger brother of England women's centre Lagi Tuima, Rus is very much following in her footsteps by being a dominant physical force in age-grade rugby. Lagi backed that up excellently by taking that dominance to the senior level with very few hiccups, but it'll be difficult for Rus to replicate that immediately, given that he is operating in the pack and not the back line, and that in the men's game he will be exclusively going up against professional athletes who are paid to be in the gym every day.
He is a rare talent, though, and one that can have a thriving senior career. He won't be able to rely on that physical dominance translating immediately to the senior game, so he will need to adjust the way he carries into contact, his decision-making around when and when not to offload and also his conditioning.
This seems overly critical, but that is only because Tuima has such a bright future ahead of him if he continues to develop. The coaches are in place to make sure that happens, he just needs the opportunity to play and learn in that environment.
Ricky Pellow, Assistant Academy Manager and Skills Coach at Exeter:
"Rus offers a different dimension to our back-row in the fact that he has the ability to win the contact area like our senior players, but has the special awareness, soft touch and dexterity on the ball to open up defences with his offloading game."
"He has a great base to work with and in time will add a real physical edge to his game, not just in his carrying, but also the tackle area and clear-out. He has a great frame to develop into a real power player with Exeter Chiefs."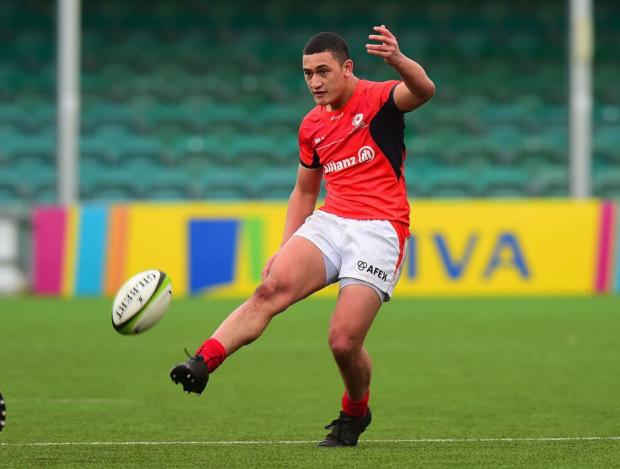 Manu Vunipola, Saracens, fly-half
Combine the word 'Vunipola' with the word 'fly-half' and you have a recipe for excitement.
As mentioned with de Glanville earlier – and Kieran Wilkinson imminently – Vunipola is another of the new generation of fly-halves coming through in English rugby, with the trio – for now – riding in the wake created by Marcus Smith last season.
A cousin of Mako and Billy, Manu followed in Billy's footsteps by attending Harrow and by continuing his rugby education in north London with Saracens, where he shone as an U18 last season, taking his side to Finals Day at Allianz Park.
Again, like de Glanville and Wilkinson, Vunipola is a fly-half who at his core is comfortable with the ball in his hand. Drawing defenders, playing on the gain-line and operating as a runner are among his key strengths, but you can also see the Owen Farrell influence in there, with the youngster more than capable of manoeuvring his team around the pitch with a good kicking game.
Mike Hynard, Academy Manager at Saracens:
"Manu is a very skilful player and his catch and pass work is particularly good. He kicks well and is becoming the all-round player he needs to be. After three weeks of preseason, he's adapting well to professional rugby."
"The key for Manu is for him to become more consistent and confident. He was part of a very successful Harrow side but coming from that environment to professional rugby is going from being a big fish in a small pond, to a small fish in a big pond. As a confidence player, the goal is now to get him to put it all together every time he's on the pitch."
Kieran Wilkinson, Sale Sharks, fly-half
Obviously, Cam Redpath headlines the class of Sale U18s entering professional rugby this summer but with the centre having unfortunately gone down with an ACL injury at the end of last season, much of his 2018/19 season will be a write-off. This opens the door for Wilkinson.
In a group that doesn't boast Redpath, Wilkinson would be getting a lot more media attention, but you suspect both he and his coaches at Sale are happy to avoid him being overhyped and overexposed at an early age.
He is another member of the fly-half revolution going on in the Premiership at the moment and a position which English rugby once struggled to find talent at and successfully develop, is now burgeoning with prospects up and down the country. With the explosion of comfortable ball-handlers coming through at first receiver in the Premiership, there is no reason why Wilkinson can't be one of the players spearheading that movement over the next few years.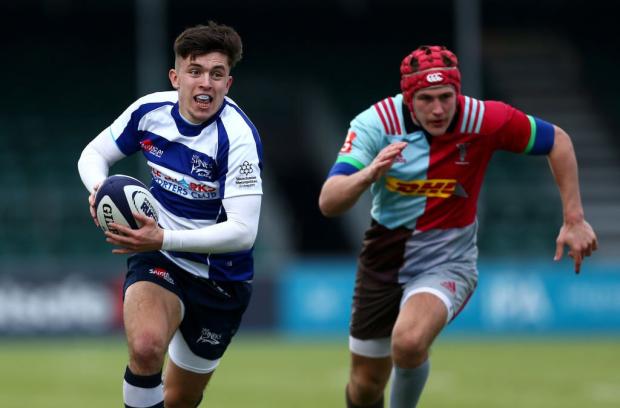 The silver lining to Redpath's injury for Wilkinson is that it may well present more opportunities for the fly-half, with the club likely to be reluctant to put them both in at 10 and 12 due to a lack of experience. Any extra playing time that comes Wilkinson's way as a result should help springboard him to future success.
Brendan Thomas, Academy Manager at Sale:
"Kieran is a naturally-gifted decision-maker on the gain-line and in the face of the defence. He's had three full seasons in our U18 side and is one of the best runners with ball in hand that we have had in the academy."
"As a player, he thrives on that opportunity to step up to the next level and raise his game. He recognises that he needs to work on his defence and kicking game and it's that awareness which drives him on to be better."
Comments
Join free and tell us what you really think!
Join Free