Ignore the blarney and a heck of an Ireland tour awaits
Cut from the same tell-them-little-or-nothing cloth as his old Saracens mentor Mark McCall, it's rare that Ireland boss Andy Farrell opens up to publicly share a nugget of information that stops people in their tracks and makes them think. June 14, though, was one of those moments. There he was in the aftermath of announcing the 40-strong squad he has since taken with him to New Zealand when he put the Everest of this tour into bold context.
With Ireland having not toured the home of the All Blacks since 2012, they were heading off long haul with a selection consisting of so many players that have essentially lived a sheltered Dublin 4 existence. "It's different over there and that is why touring for these lads is so important," explained Farrell with insightful fluency not normally his terrain when it comes to media engagement.
"We have missed it. We have lads on 20-plus caps who have never toured. Walking around Auckland or Wellington or Dunedin, it's not like walking down Ballsbridge (the area of Dublin which is home to the Aviva Stadium) and people winding the window down and saying how good you are.
"This is completely different; this is proper international rugby that doesn't get any better and it's exactly what we want at this moment in time. We are so excited about taking this squad to probably the hardest place in world rugby to go to and finding out about ourselves. This is the ultimate, isn't it? We're talking about building towards a World Cup and what you want to do in those types of circumstances is test yourself against the best."
Just five survivors have travelled from the 0-3 Blackwash of a decade ago, the 30-something quintet comprising Cian Healy, Peter O'Mahony, Keith Earls, Conor Murray and Johnny Sexton. Three others – Tadhg Furlong, Iain Henderson and Robbie Henshaw – toured with the 2017 Lions along with Murray/Sexton. Kiwi natives Bundee Aki, Jamison Gibson-Park and James Lowe, of course, also know the lie of the New Zealand land. They grew up and played adult rugby there before finding their respective ways to Ireland, but that's it in terms of the players that have travelled with Farrell knowing what to expect.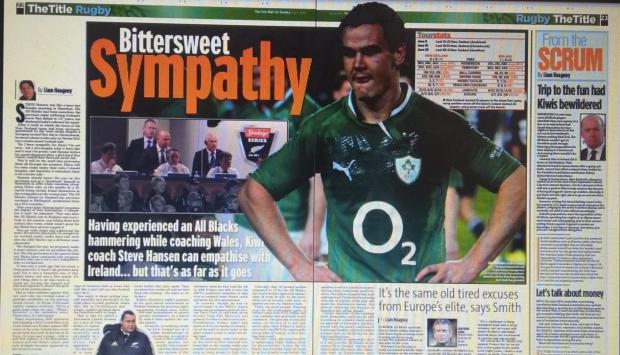 It will be quite the telling adventure if previous excursions are a gauge. This correspondent was with Ireland for the entirety of their 2002, 2006 and 2012 tours (as well as the 2005 and 2017 Lions) and the relentlessness of the grind can be wearying. This is no World Cup, as it was in 2011 when Ireland for a time became every Kiwi's second favourite team after they suckered the Wallabies at Eden Park.
This is a near four-week ordeal where every twitch will be assessed and analysed by prying eyes looking for weaknesses to expose and to get under collars to help ensure the visitors don't leave with a single Test win, never mind clinch a series. So ridiculously forensic can the damning constant judgement be that Jamie Heaslip at one stage ten years ago was admonished in print for having the temerity to chomp an apple while joshing post-game with some local hacks. So buckle up and get your tin hat on, this is going one heck of an intense Ireland tour:
Make your tackles count
There are some nightmares you never want to be reminded of but that is the trouble when you have Timehop and a picture randomly pops up on the phone transporting you to times past. So it was this past week when a snap of three touring Irish journalists re-emerged of them dressed in wetsuits and sitting in inflatable rings about to get into the water and scour the Waitomo Caves for the glow worms the day before Ireland's 2012 tour ended in a record 0-60 humiliation in Hamilton.
It might be all of ten years ago but if the mantra of 'you're only as good as your last game' has any element of truth, then the last Test match played by Ireland in New Zealand has current relevance when what horribly went wrong that winter's evening is recalled. The first rule of rugby when touring the home of the All Blacks is to make your tackles count and Ireland pathetically didn't that night, missing a whopping 32 over the course of the nine-try trouncing.
Only Murray – of the entire starting XV – didn't miss a tackle. Emergency midfield call-up Paddy Wallace, who had been summoned from his beach holiday in Portugal to start, missed four, was hooked on 54 minutes with the scoreline reading 0-41 and was never capped again.
Curiously, 32 was the number of tackles missed when Ireland were blitzed again at the 2019 World Cup quarter-finals in Japan, re-emphasising how rearguard flakiness is meat and drink to the All Blacks. Keep that number low over the coming Saturdays and the chances of securing that unprecedented first win away in New Zealand against the Kiwis hugely increases.
Tighten up the scrum
Ireland lost seven of their 20 scrums across the three-Test series in 2012 and history flipped on a late-game decision by referee Nigel Owens to penalise Mike Ross at an attacking Irish scrum in Christchurch when momentum was with them and they were chasing down a winning second Test score that instead materialised down the other end of the field with Dan Carter pegging over a dead duck of a game-winning drop goal.
Ten years on, Ireland are in New Zealand with their scrum again a major focus. They may have finished second to France in the recent Guinness Six Nations, but the post-tournament statistics showed they conceded 13 penalties across the four-and-a-bit matches when the scrum was part of the game (remember, it quickly went to uncontested versus Italy). Their 13 was seven more than champions France.
The key dates and times to pencil into your calendar! ???#TeamOfUs | #NZTour2022

— Irish Rugby (@IrishRugby) June 22, 2022
Granted, a major chunk of that concession rate was attributed to what unfolded against England in round four with a French referee in charge, and Ireland suggested in the build-up to the tournament-ending match versus Scotland the following week that World Rugby had apparently fed back the news that a number of those decisions against the perplexed Furlong were incorrect.
But with no further explanation given as to what exactly happened at Twickenham, and with Furlong's Leinster's front row finishing their season trophyless following defeats to La Rochelle and the Bulls, the All Blacks will feel the scrum is an area they can have a dominant say – although looking at their own squad selection, the inclusion of the France-bound Karl Tu'inukuafe surely raises concerns about the depth of their propping stocks.
Ireland will encounter two English referees with the generally inconsistent Karl Dickson and the seasoned Wayne Barnes on the whistle for games one and three in Auckland and Wellington, but it is in Dunedin where there could be fireworks as Jaco Peyper, the referee who bottled red card decisions against Malakai Fekitoa and Sam Cane in 2016 in Dublin, has been appointed.
Mix it up intelligently
Last time in New Zealand, Ireland brought a half-dozen uncapped players along as part of their initial 30. Three were capped – Simon Zebo, Declan Fitzpatrick and Ronan Loughney – with Mike Sherry and Paul Marshall having to wait until the following year to get that honour while going on tour was the closest Brett Wilkinson ever got to it. Of the six, only Zebo really cracked it at international level and it will be interesting to see what will now transpire with Farrell bringing five uncapped players in his 40.
The two midweek matches versus the Maori All Blacks sound like an excellent bridging post to get Leinster trio Ciaran Frawley, Joe McCarthy and Jimmy O'Brien some exposure alongside Munster's Jeremy Loughman and Connacht's Cian Prendergast. Playing games rather than holding tackle bags the whole tour should be invaluable, but it's what Farrell does with his Test-ready resources that will naturally hog the limelight.
In 2012, Kidney started just 20 players across the three matches, sticking by ten players to start all three games. This was a tactic that embarrassingly imploded, Ireland dead on their feet by game three in Hamilton and shipping 60. With so many more choices at Farrell's disposal, it will be imperative for him to mix up the selection more than Kidney did so that lethargy at the end of a long northern hemisphere season isn't a problem.
Starting the likes of Furlong, Sexton and Keenan in all three Tests would be a waste as the depths of the cover in the tighthead, out-half and full-back positions – in particular – need exploration and there is nowhere better to do that than in New Zealand a little over a year out from the World Cup in France.
We were delighted to meet up with @MunsterRugby legend Rua Tipoki in Auckland on Friday night!

Rua spoke to the Ireland squad about what it means to play for the M?ori @AllBlacks ahead of our match in Hamilton next week.#TeamOfUs | #NZTour2022 pic.twitter.com/LKvb3Fr7wL

— Irish Rugby (@IrishRugby) June 25, 2022
Clearing the head
Ireland got it badly wrong on their 2012 New Zealand tour, basing themselves for four nights in Queenstown in the final week of the trip before arriving in Hamilton late on Thursday. It was brutally poor prep. Ireland had gone to New Zealand's adventure capital prior to the start of the 2011 World Cup the previous September, and that was a decent decision.
The fun element of that visit was a perfect fillip on that occasion to help exorcise the demons of losing all of that August's warm-up matches, putting them into the right place to go on and win their World Cup pool. However, visiting the famed holiday resort in the last week of a 51-week, 17-Test season was thoroughly ill-advised as the players were mentally not with it in Hamilton and performed as if still on the Queenstown piste.
Ireland's travel plans on this occasion are very business-like with nearly all of the opening fortnight on the ground in New Zealand being spent in Auckland apart from the short spin down State Highway 1 for next Wednesday's tour-opening game versus the Maori. They only fly to Dunedin on July 6, spending four nights there before flying into Wellington on July 10 where the week in the capital will then be taken up by the second Maori match and the third All Blacks Test.
The hope is that door stops will be applied to the workload along the way, allowing players to properly clock off and clear the head at the end of another long European season that kicked off the weekend of September 25, 39 weeks ago. Add in how seven of the tour players were with the Lions until last August in South Africa and it's clear the importance of getting energy levels right. The inconsistency in form that Jack Conan, a Lions series starter, has endured this term is the warning light here.
Welcome @IrishRugby! Are you here to play footy or find a new loosie? pic.twitter.com/fdAL2s3vBh

— TAB Sport (@TAB_Sport) June 23, 2022
Ignore the blarney
It was last November in Dublin when All Blacks boss Ian Foster shrugged aside interest in Ireland naming a team that included Aki, Lowe and Gibson-Park, three players born and raised in New Zealand – the latter two even representing NZ Maori – before trying their luck in the northern hemisphere where they qualified for the Irish under the old 36-month residency rule.
Add in that Joe Carbery was also born in New Zealand and lived there until his early teens and it brings the headcount of Kiwis in the Ireland squad to four. This has already garnered attention with Farrell and co now on the ground in Auckland and bussing it across the bridge from their downtown hotel to train at North Harbour.
A sports betting agency has billboards strategically placed in all the cities hosting Ireland matches and one reads: "4 Kiwis in the team. That might help your odds a little." Others state: "0 wins in NZ" and "Think the flight was long? Try a 28-year unbeaten streak at Eden Park."
Thing is, this type of blarney from the hosts is nothing new. This writer remembers, for instance, how then-team manager Brian O'Brien complained to a local newspaper in Dunedin in 2002 when it printed antiquated Paddy Irishman jokes.
Tour angst, though, isn't confined to the locals as there were also fallings out on the 2006 and 2012 trips with the travelling Ireland media. A mass walkout materialised 16 years ago when a journalist was asked to leave a briefing and there was further awkwardness six years later when another player took umbrage with comments just days after Kidney had curiously held an off-the-record meeting to clear the air regarding some other matters.
The bottom line is that the Ireland class of 2022 just needs to ignore all the outside noise and get on with it. They know they are capable of going close to winning one of the opening two Tests – Dunedin 2002, Hamilton 2006, Wellington 2008 and Christchurch 2012 are evidence from past visits of excellent tour performances – and taking this series to its third-game decider on July 16. Here goes…
Comments
Join free and tell us what you really think!
Join Free