Rugby shows vision to widen its congregation
It's time to forget Partygate, pandemics and such like and prepare to bask in a feast of rugby over the next seven weeks with the Six Nations front, middle and centre of our viewing pleasure. The Gallagher Premiership started the ball rolling by returning to terrestrial TV on ITV, and the URC piqued the interest of the beleaguered Welsh fans with huge wins from Cardiff and the Ospreys. The was much to savour…
Increasing the congregation
Rugby has banged on about reaching new audiences for decades, with marketers announcing joyously that rugby had gone global and was big in Timbuktu, yet in its rugby heartlands, less and less rugby could be found on terrestrial TV. Indeed, the bread and butter of the domestic calendar URC, Gallagher Premiership, Super Rugby was almost exclusively on pay-per-view, through the likes of BT Sport and Premier Sport, with Sky Sports having completely pulled out of the rugby market. When well-l0ved commentators David Flatman and Mark Durden-Smith had to tell their legion of fans that the Channel 5 highlights show was to be culled at the start of the season, there was uproar in the 'Shires.
To be clear, the domestic market is still modest and for decades rugby's greatest minds have tried and largely failed to figure out where the Six Nations audiences of 8-9 million people go for 45 weeks of the year. For context, an average of 240,000 people tune it to the Gallagher Premiership match. It is considerably less for the United Rugby Championship, who choose not to release figures. Now however there is positive news with ITV screening a smattering of live matches (five this season) and seven until 2023-24, plus a highlights package with Flatman and Topsy Ojo taking care of matters.
The first broadcast didn't disappoint. The league leaders Leicester, cantered to a 16-point lead before the home side, Sale Sharks scored three tries in 16 minutes to rein in Steve Borthwick's men before a gleeful Tom Roebuck scampered sixty metres to make the result safe. True it would have helped the view of the likes of England internationals George Ford, Tom Curry, Ben Youngs, Ellis Genge and Raffi Quirke had been on the pitch, but it was a hugely encouraging start.
Early viewership figures have been encouraging, with nearly a million people tuning in over ITV and BT Sport and online searches for Sale Sharks sky-rocketing. The longer-term reach these games will have will be incalculable but terrestrial TV's mantra of being accessible to all may just light a fire behind a young person who has never thought to give rugby a try when participation levels have dropped considerable during a ruinous pandemic.
Simon Massey-Taylor, the former RFU Chief Commercial Officer and new Premiership Chief Executive deserves real praise for his vision.
Barnstorming Bath
A brilliant photo sums up the tumult at The Rec on Friday night. It depicts Will Muir, his face contorted in a mixture of ecstasy and pain, in the milliseconds after scoring the try that sank Harlequins.
Muir – nicknamed Horse – is, if you'll pardon the pun, a thoroughbred winger. Superb in the air; better on the ground. Quick, strong, elusive. He was fabulous on Friday, as Bath won back-to-back Premiership matches for the first time in nearly a year.
The club's torment is well documented. The wretchedness of their start to the campaign has been picked over and over as vultures strip a carcass clean. The desperate thrashings and the rudderless displays by a squad festooned incongruously with fine players. Not to mention the wide-ranging, deep-searching investigation which yielded the stunning revelation that hiring a specialist defence coach might be a wise move.
Through all this suffering and all this mortification, Bath's support have stood firm. Sure, they have gnashed their teeth and voiced their frustrations, but they have never voted with their feet. Through pastings and heartache, they have flocked to The Rec in their thousands. When Leinster fetched up last weekend and stuck 64 points on the home side, they stayed with the team and emptied their lungs until the bitter end.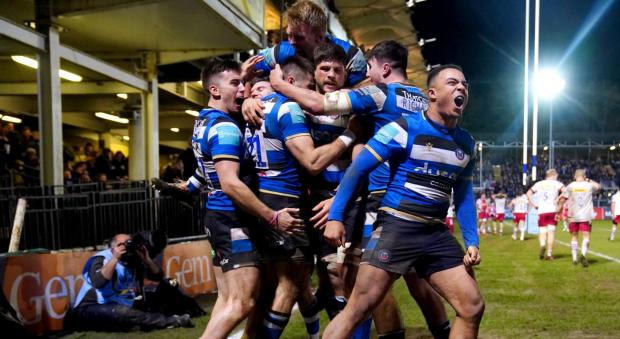 Supporters can forgive losses, so long as the fight remains. And don't Bath have that in spades. Friday night was a captivating reward for their perseverance, and the faith of those roaring from the stands.
Bath forced Harlequins to make nearly 200 tackles, concede 15 penalties and a yellow card, while restricting them to just over a third of the possession share and a solitary offload.
Their shiny new toy, the juggernaut Nathan Hughes, was a barnstorming debutant at number eight. His haul of 13 carries outstripped any forward on the pitch and he was one of four in the home pack to hit double figures with ball in hand. The play-making duo of Max Ojomoh, who had played precisely no senior rugby at fly-half before Friday, and Cam Redpath, the fit-again Scotland centre, is immensely exciting.
For too long, this grand old giant of English rugby has languished meek and trophy-less. Friday offered a colourful little glimpse of what they can be.
Wales – the men they couldn't hang
Remember this time last year? Ireland were due to play Wales on the opening weekend of the championship and all the pre-match talk was about how the Welsh were over the hill, cursed by injury and by a coach who was supposedly unsuited for the role.
They won the game, then the championship.
That's Wales. Every time the hangman lowers the rope, they get their necks loose. Outplayed by France in the 2019 World Cup quarter-final, they found a way to win. Third favourites for the 2019 Six Nations, they ended up with the grand slam. You could go back further, to 2013 when Warren Gatland was on a Lions sabbatical. They lost their opening game of the championship but won the title. Or how about 2011, when Ireland were hotly tipped to stuff them in the World Cup quarter final?
Beat the drums slowly, play the pipes lowly, it was like a funeral march heading into Wellington. Wales won. Easily.
So to this week. Alun Wyn Jones, Ken Owens, Justin Tipuric, Josh Navidi, Taulupe Faletau, George North, Leigh Halfpenny, Dan Lydiate, Jonny Williams (all injured), Cory Hill – now in Japan – and Jake Ball – now in Australia – it's a lengthy missing-in-action list. In contrast, Ireland have a full deck, more or less. Plus they had a great autumn, Wales an average one.
Everyone is tipping a slaughter in Dublin, not just because Ireland look like a good team but Wales are a patched-up one. The verdict? It's a simple one. Wales will win.
Welsh regions bask in temporary feel good factor
It would be stretching the truth to say the bunting was being rolled out in Wales after 'Super Saturday', but after weeks of soul-searching about where the game was going after some chastening results, the Ospreys and the Blues reminded maudlin fans that joy wasn't exclusive to Irish, and of late, Scottish supporters.
At the Liberty when Toby Booth's men when 14-0 down, there must have been resignation, and a 'here we go again' but they fought back magnificently through the boot of Stephen Myler and the quick feet of Mat Protheroe and power of Sam Parry. They held on for a 23-19 win over the league leaders.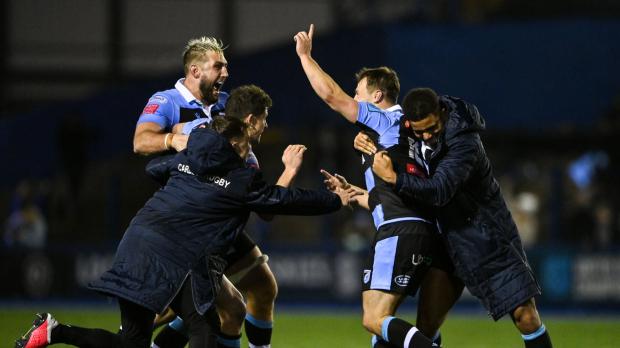 Better was to come hours later. Cardiff hosted Leinster, a team they had not beaten in the Celtic League for 11 years. They didn't have to mount a sizeable numerical comeback but when Leinster edge themselves out in front after 60 minutes, most naysayers would have felt a familiar despondency. One 74 minutes, when Ross Byrne retook the lead to 26-27, another gutsy Cardiff loss looked likely but on 80 minutes, after a high-tackle from Allan Allatoa, up stepped Jarrod Evans from 50, wide-left to arrow a penalty through the uprights and inject delirium into players and fans.
A little bit of success on the field does wonders for a nations morale, and while familiar problems will resurface it is a reminder that the default negativity needn't be permanent.
Injury crisis? Don't make me laugh
It looks like a crisis. Owen Farrell is out, so too Manu Tualagi. Henry Slade didn't train last week. Jonny May won't be in Edinburgh nor Anthony Watson. Joe Marchant has covid. Remove six backs from any team and they'll feel the pain.
But hold on a minute. Slade is likely to be fit. May has been out of form recently and probably wouldn't be the asset he used to be. Look closely again at those missing and those available. The backs England used – from the eighth minute on – against the Springboks in November, are here again, bar the out-of-sorts May and stricken Marchant.
Think again about that game. The Springboks bossed England in the scrum; England's backs saved the day. The same cast is available for Murrayfield. Marcus Smith is class; Slade underrated. They'll have to play a different brand of rugby with this lot but that isn't a bad thing. This certainly isn't a bad backline. When Eddie Jones starts piping up about something, it's always safer to trust your eyes than your ears. England are genuine contenders for this tournament.