Opportunity knocks for England's shining stars
Though still disrupted by the ravages of the pandemic, the Champions and Challenge Cup served up enough drama to allow rugby fans to enter Six Nations squad announcements with a spring in their step. There were heroics from Wasps and Leicester, walkovers for Leinster, while Glasgow and the Scarlets succumbed to heavy shellackings which will displease their respective fan-bases. It's all covered in The XV's round-up…
England squad players audition for Six Nations berth
If you thought Simon Cowell had a forensic eye when it came to spotting talent, you haven't met Eddie Jones. Meticulous, obsessive and with the steely look that could curdle milk from 100 yards when he's displeased, the Gallagher Premiership's English players would have known that their Six Nations hopes could live or die by their performances.
While second-guessing Jones is a fool's errand, you would have thought Harry Randall, the diminutive Bristol Bears scrum-half did himself no harm against Stade Francais. He may lack size, but like a wasp, you have to be quick to swat him, and the cumbersome Parisiens could barely lay a glove on him as he tormented their backline with his broken-field running.
Marcus Smith is another player whom opposition players wish they could pressgang into a straitjacket, such is his propensity for causing mayhem, and his game-defining interventions against Cardiff, should put him squarely in pole for a No 10 berth. His giant buddy, Alex Dombrandt did himself little harm either. His game has moved beyond being purely an offensive threat and his anticipation at the breakdown, and workrate in defence should see him 'recoupling' with his precocious fly-half.
Another player who could fill the Pacific Island berth for raw power is the bulldozer from Banbury; Alfie Barbeary. At 6ft 1in and a few bags of sugar over 18st, the hooker-turned-backrow, is simply a force of nature with the ball-in-hand and he should be tested at international level, after Toulouse failed to quell his volcanic power.
As for others who may have caught the eye, Will Collier of Harlequins may not be fashionable, but he is a mighty scrummager and along with Joe Marler, has turned the South-West Londoners into a formidable set-piece unit. It may well be a toss-up between the Harlequin and Dan Cole for a tighthead berth with an enlarged squad, but as ever Jones' biggest task is narrowing down a lean squad when he has such an abundance of players to call from. Tune in tomorrow where all will be revealed.
Are you not entertained?
An ill-fated football manager once declared, 'if you want entertainment, go to the cinema'. Too often, rugby matches have disintegrated into a quagmire of reset scrums, caterpillar rucks, cagey play and endless pick-and-jams which do little to attract new eyeballs. Box kicks are seldom-box office.
Rugby, like every elite sport, is a business and to its teams, results will always carry greater currency than aesthetics. But in nearly 30 years of professionalism, it is a business which has consistently failed to make itself profitable. Take England, the richest rugby nation of all, where most Premiership clubs haemorrhaged money at a frightening rate before the pandemic, and are frantically clawing back those losses while operating under a significantly reduced salary cap.
Moreover, what does beauty even mean in a rugby context? Is a 90m tapestry of passes, angles and support lines culminating in a jaw-dropping score? Is it a devilishly executed scrum or driven maul? Is it the pinpoint parabola that skips into touch just before the corner flag?
It is all of these things, and plenty more besides. You can take your pick from the many ways to win, many styles to adopt and many types of player to put them into effect.
But if you want to be captivated – if you took a complete rugby alien and could choose only one team to hook them as hopelessly to this sport as the rest of us, you'd buy them a season ticket at The Stoop. For Harlequins' propensity for the devastating and the dramatic continues unabated.
The Premiership champions trailed Cardiff, barely back in the saddle after the mass covid disruption of December, by 14 points in the final quarter. It took all of their swashbuckling and no little bludgeon to haul the game from the fire. It is what Quins do now.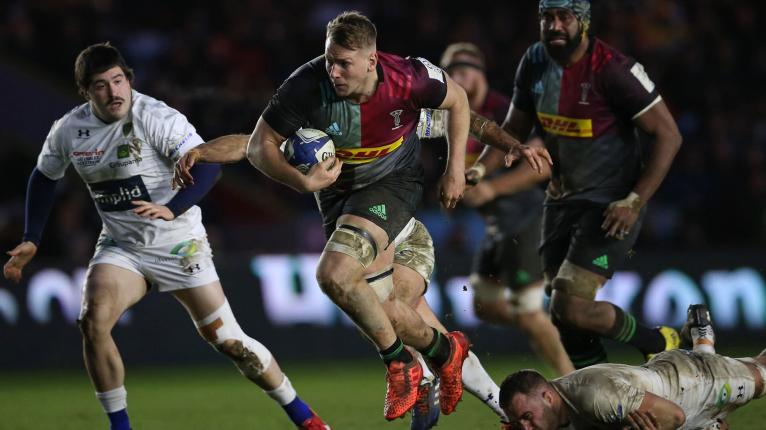 Much has been written about the brilliance of their go-to men. The cunning of Danny Care and all-court magnificence of Alex Dombrandt. The artistry of Marcus Smith and brutal efficiency of Andre Esterhuizen. The deadly finishing prowess of Tyrone Green, Cadan Murley, Louis Lynagh and Joe Marchant.
A little less praise has been flung towards their tight-five, and an excellent set-piece underpinned by Joe Marler and Will Collier. Those two brutes did a number on the Cardiff scrum.
In the end, it was Smith who nailed the decisive penalty in the dying embers. Just as he had slotted the last-gasp conversion that sunk Exeter the previous week. Smith's influence and confidence seems to swell with each passing contest, a pivot on a blistering rise to who knows how high.
Sure, there are cracks on Harlequins' game. They concede a heap of points, for one. Cardiff alone have put 50 on them across two games, and the region were heinously depleted in the first of those matches. That's part of the fun with Quins, though. Indeed, isn't allure so beguiling precisely because of their wont to ship tries, and yet find a way to score a couple more in riposte? If this side doesn't do it for you, then I fear even Spielberg can't help.
Leicester perform an escape act
Often the most notable dramas occur away from centre stage. That was Saturday in Galway. Trailing 28-10, denied a try by a Cian Prendergast turnover on the opposition line, it looked momentarily as though Leicester were all played out. The clock was ticking down, the crowd were singing loud, Ben Youngs, Dan Cole and George Ford were all back at base.
And then it happened. Something small, or so it seemed. From our vantage point in the Clan Stand, we were privileged to not just have the perfect view but to also be within ear shot of some of the on-field chat. A momentary lull had come over the crowd, long enough for us to hear Ellis Genge, the Leicester captain, roar at his players as they regrouped for the drop out. "C'mon," he screamed, "this isn't gone."
He was right. A couple of minutes later Leicester had their third try of the game, their first score in 46 minutes. By the 80th minute they had two more, enough to clinch the win. All sorts of factors explain it, their superior scrum, their physical advantages – especially on the left wing where three tries stemmed from this source – and also Connacht's propensity to panic a little down the stretch.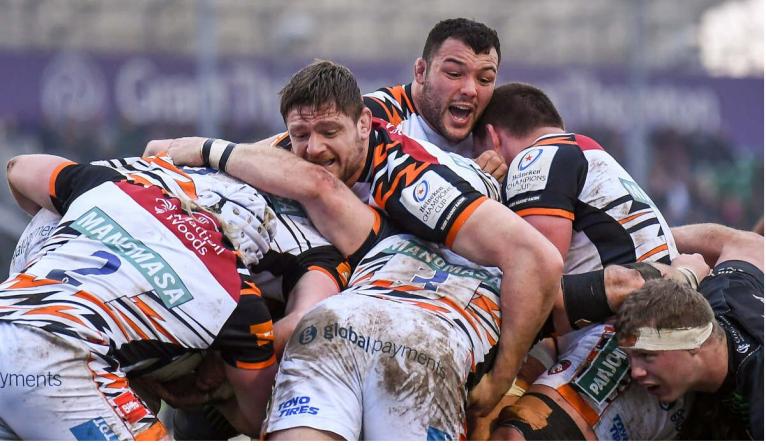 But there's another factor. You can't give this one to the techy operator in the graphic's department and ask for them to freeze frame it on a screen; you can't rumble through the post-match stats to find a percentage figure to support your argument. No, this reason is entirely human. It's called old fashioned togetherness.
We heard it in Genge's voice, we saw it in the Leicester players' faces during the game and then after it, as they gathered on the pitch to listen to their captain and coach speak. "Even if we hadn't have won, I'd still have been proud of the lads for never giving in, for fighting back," said Steve Borthwick, their head coach. "This is a hard place to come."
It is. Munster, Bulls and Stade Francais have all been humbled here this season. No one gets out of Galway unhurt. Leicester's bruises, however, were physical rather than psychological. Borthwick is building something special in the east Midlands.
French whine about a classic 89
That was shameful, nothing less. When you consider how much whinging the Top14 clubs did about the old Heineken Cup format – six groups of four, only eight sides progressing to the knock-outs – you really have to wonder why the other five unions give up so much, so easily to accommodate teams like this.
It isn't that Montpellier lack talent. It's just they left it all at home. For sure, Covid contributed significantly to their list of absentees – 18 players ruled out for this reason by their coach, Philippe Saint André. But still, for any side to concede 89 points in a game is just embarrassing. "It was like a basketball score," said Saint André.
Sickeningly, they remain in the competition, and may reach the round of 16 if they beat Exeter this weekend, the awarding of a 28-0 victory against Leinster in round two gifting them the chance to progress. They don't deserve it. Any side who plays twice and coughs up 131 points over the course of 160 minutes should be out the door. However, the rules dictate that Montpellier still have an opening. You have Exeter closes it for good.
Welsh rugby has the blues
How you define Welsh rugby right now depends whether you're a glass half full or empty kind of fan. Those with a sunny disposition will point out that they produce gifted players despite modest budgets, made all the tighter with pandemic woes. They will argue that the regional game has still produced a glut of talent that has won Wales four Grand Slams and six Six Nations Championships since its formation – more than any other nation in that timeframe. This success has undoubtedly bolstered the WRU coffers so that their accounts fare favourable in comparison with the IRFU and SRU.
If you're looking for a stick with which to beat them, however, you could say that are not fit for purpose after a chastening few weekends in which they have not won a solitary game. In the Champions Cup especially, the regions are no longer seen as credible contenders. The Ospreys haven't figured in the knockout stages since 2010, the Cardiff Blues since 2012, and the Scarlets since 2018. Dwayne Peel's men headed for France having played only played one game since October, were blown away against Bordeaux-Begles, in a manner which will concern Waye Pivac given the Scarlets had 10 full internationals in the starting line-up.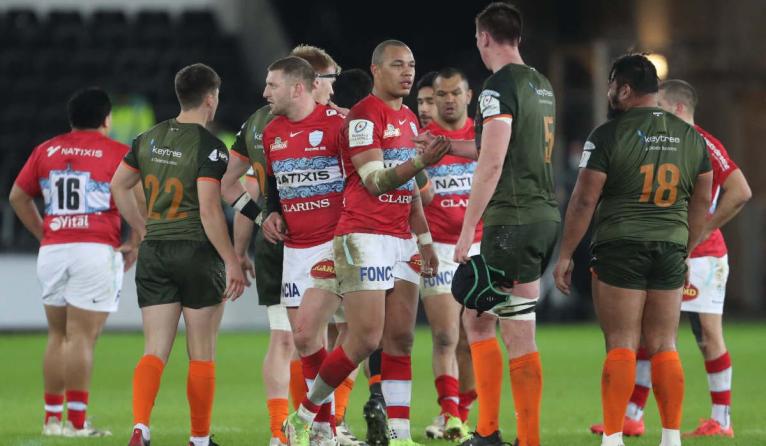 While that was dispiriting, on Friday night, Cardiff, were minutes from a famous victory over English champions Harlequins before Marcus Smith broke hearts and the Ospreys lived with Racing 92 for 60 minutes before being overwhelmed. Again, upsides and downsides when peering through the looking glass at the game's health in Wales.
What is without doubt is that the Welsh game has been hit hard by the ruinous pandemic – the WRU estimated that they are more than £30m out of pocket – and the regions feel like the handouts, in the form of loans given by the WRU, are insufficient to remain competitive, even before you take into account interest payments that could cripple them.
There are slithers of positivity – the player contracts given out in the women's game are a significant boon – but fixing the regional game now needs to be given urgent attention because fans are growing apathetic and dwindling in numbers. If Wayne Pivac endures a disappointing Six Nations campaign, there will be call for a root and branch upheaval for the game and much disquiet for a sport which cannot seem to find a happy equilibrium between delirium and disaster.
Ulster's new kids on the block
Identity is such a big thing in Irish rugby, especially in Belfast, where Ulster – for many fans – became a de facto national team for Northern Irish people during the '80s and '90s. Time moves on, of course. Professionalism leads to diversity and when you get a no-nonsense high-performance director directing policy in Irish rugby circles, fringe players at Leinster end up getting real estate brochures for Belfast's sunnier streets.
That was how
John Cooney
,
Jordi Murphy
,
Marty Moore
, Alan O'Connor and
Nick Timoney
ended up north of the border. At one stage, a few years ago, there were so many Dubliners at Ravenhill that they were nicknamed the Leinster B side.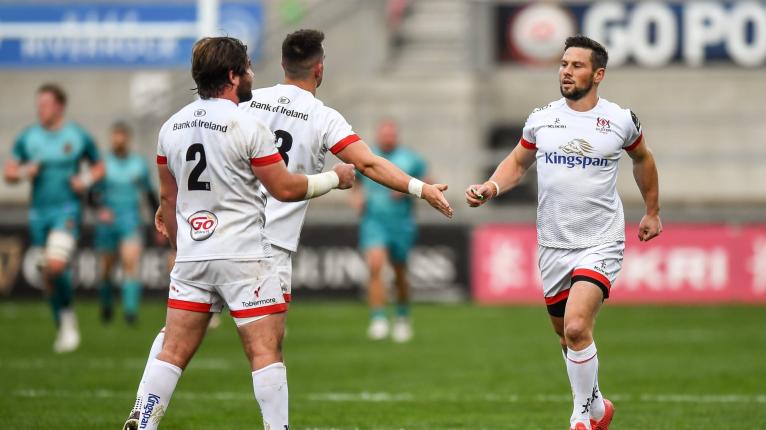 Not yesterday. Ulster's backline contained six home-grown stars, average age 22.89 years. Better again, they showed they could play,
Michael Lowry
scoring two tries,
Robert Baloucoune
and
Nathan Doak
one apiece as
Ulster
defeated
Northampton
to advance to the round of 16. It is only three years since Lowry and the precocious centre,
James Hume
, were on the same school side. Yesterday the scholars outsmarted the Saints.