Back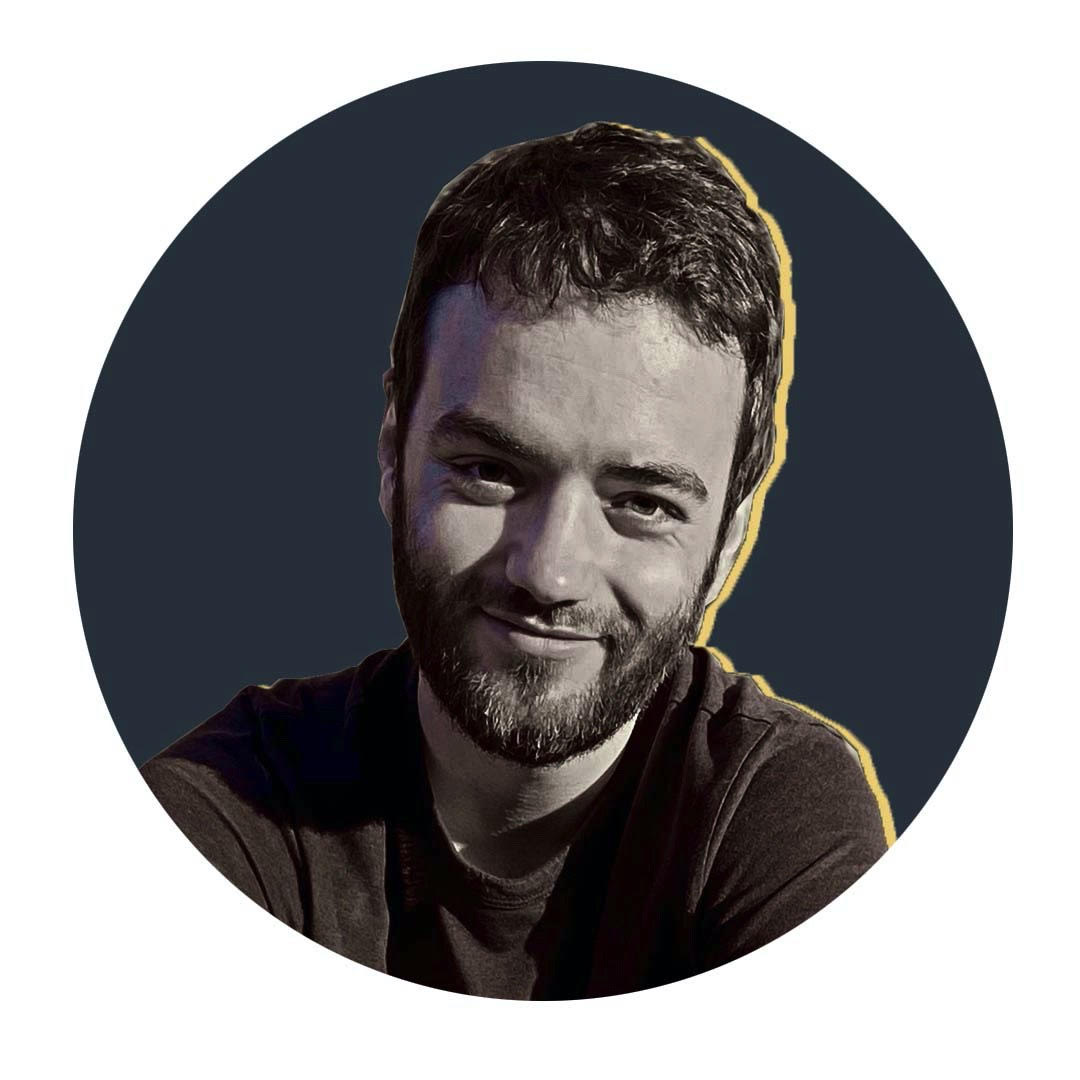 By Will Owen
Gaining an edge
In a Lions squad full to the brim with unexpected selections, one of the first names on everyone's team sheets is Munster and Ireland's back-five forward Tadhg Beirne. No eyebrows were raised when Jason Leonard read out his name but what was less expected was exactly who his second-row and back-row colleagues will be.
Few predicted the selection of Leinster's Jack Conan, many doubted Exeter's Sam Simmonds would make the cut and the exclusion of James Ryan in favour of Jonny Hill was a shock.
Most surprising of all was head coach Warren Gatland's choice not to include a specialist blindside flanker at all, which raises several questions – has the game evolved beyond the need for an adept No6? Is the current consensus that a lock or openside could fill in and do just as good a job in attack? Or does Gatland genuinely consider the likes of Beirne, Conan and Tom Curry to be genuine specialised options in the No6 jersey? Whoever takes the mantle is tasked with battling the 6ft 7in Springbok monster Pieter-Steph du Toit, which is no easy feat.
So what is Beirne's attacking role going to be in Gatland's side? One of the form players in the 2021 Six Nations, Beirne started twice as a blindside flanker for Ireland in the Championship, as well as playing the remaining three games in the second row. Typically, a lock would be expected to play in the middle of the field: clearing out rucks, making tight carries and taking pressure off their fly-half. That said, Andy Farrell's side didn't confine the former Scarlet to that role, they also experimented with him in the wider channels.
Let's have a look at the Lions' options, followed by an analysis of how Beirne plays each position.
If the Munster mammoth is to occupy a slot in the boiler room, the favourite to take the blindside mantle would probably be either Curry or Justin Tipuric – both of whom are experienced 'edge forwards' who are equally adept playing in the middle of the field.
The first advantage of playing Beirne in the back row is that he provides Gatland's men with an extra lineout option.
If Beirne plays No6, however, one would assume Maro Itoje will partner skipper Alun Wyn Jones in the second row. It is entirely likely that, much like Geoff Parling on the 2013 tour, Iain Henderson will play a part at some point for his lineout prowess. However, the Saracens lock has often shone in huge European and international encounters, so he is an early contender for the Test team.
The first advantage of playing Beirne in the back row is that he provides Gatland's men with an extra lineout option. He is adept at jumping anywhere in the line, and is familiar with lifters such as Ireland's Tadhg Furlong and Andrew Porter, as well as the Scarlets' Wyn Jones.
Gatland will likely adopt either a 1-3-2-2 forward structure (which Wales and England both regularly utilise) or a simpler 1-3-3-1 (Ireland, Scotland and England flip between this structure and various others, depending on field position). Let's now analyse how Beirne would work in these structures, with a primary focus on 1-3-2-2.
In Ireland's Six Nations win over England, Beirne was primarily used as a central forward, meaning he is usually involved in a group of three. His primary roles are to carry hard, ruck over fellow forwards and supply good ball to Johnny Sexton.
On the below example, Beirne is given a flat ball by Sexton and is lined up by England's Mark Wilson and Owen Farrell.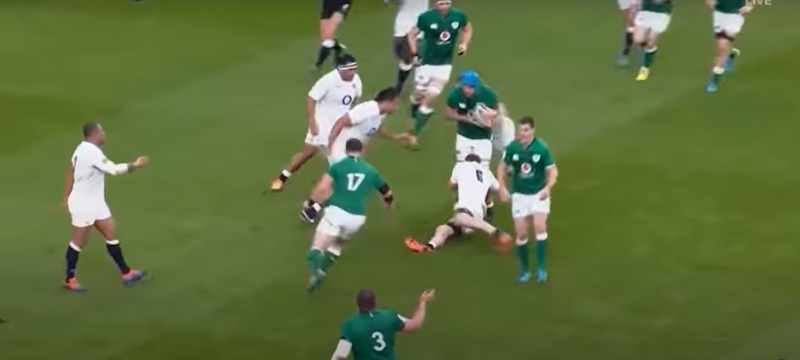 Beirne acknowledges the threat of getting held up by the incoming, high-positioned Billy Vunipola and therefore angles his body to keep the ball away from the Saracen. He quickly goes to ground, allowing Dave Kilcoyne and Henderson a fast cleanout on Vunipola.
A couple of phases later, Ireland rapidly move closer to the England goal-line, eventually deciding to bring their big carriers on to the ball at pace. Below, Josh van der Flier carries, supported by Henderson, Beirne and Rob Herring.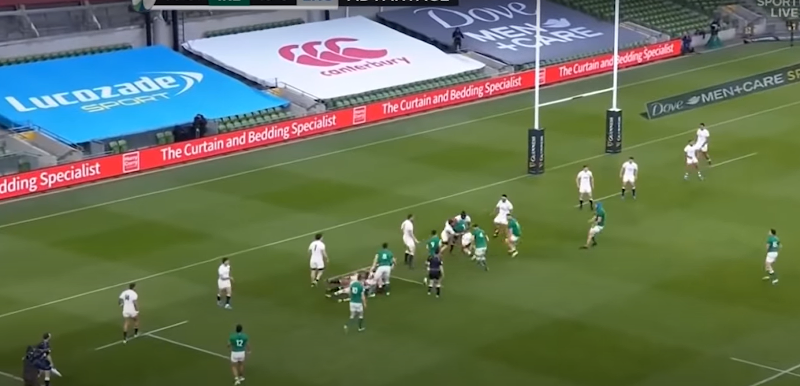 Beirne contemplates providing Van der Flier with an extra, wider tip-on option, with the idea of hitting a gap outside Mako Vunipola. As soon as Van der Flier shapes to carry, Beirne back-pedals, knowing he would be a wasted body in that ruck. Instead, he offers scrum-half Conor Murray an option for the next phase on the right-hand side.
With England poised to tackle the threatening pair of Tadhgs – Furlong and Beirne – they stack the open side with defenders. Murray subsequently opts to use Sexton on the left-hand side, resulting in a try for Conan on the following phase.
As a midfield forward, Beirne would be an effective carrier, rucker and distributor… A second row who is willing to work extra hard to provide more options is any half-back's dream.
Additionally, the original break on this attacking set began with Beirne providing Sexton with a quality pass to put Furlong into space. Within the phases of this try alone, you can see all of Beirne's qualities in the middle of the park.
As a midfield forward, Beirne would be an effective carrier, rucker and distributor. He also works efficiently and can think phases in advance. A second row who is willing to work extra hard to provide more options is any half-back's dream.
Now, let's examine the variety he brings to Ireland as an 'edge forward'.
On the next example, Beirne is running perfectly straight, providing Ireland an option to make some yards and potentially attack a big open side on the next phase.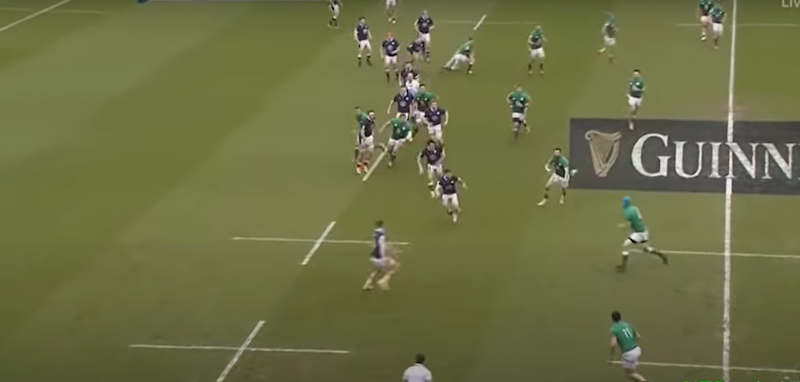 After Robbie Henshaw delivers his pass, Scotland's Sean Maitland rushes up to take the flanker man-and-ball.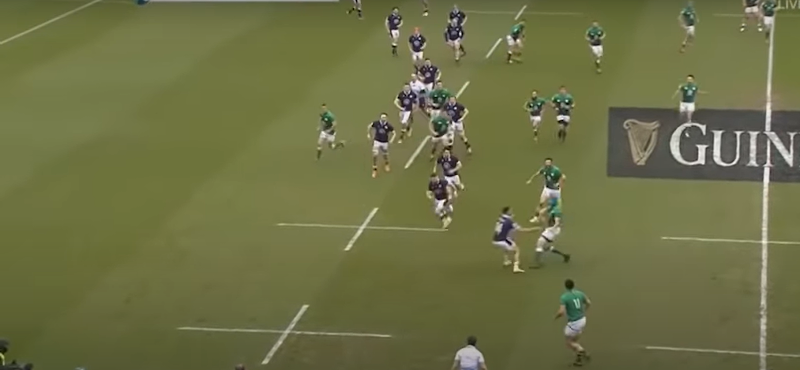 Beirne eradicates this by quickly adjusting his feet, holding his depth and delivering a quick pass to James Lowe. Whilst many back rowers would have accepted a gainline success on this phase, the Munsterman transforms it into a two-v-one opportunity.
Lowe then has a run down the wing and is tackled, resulting in Beirne clearing out the Scottish jackal threats. Ireland work infield for one phase, then back to Lowe on the blind side.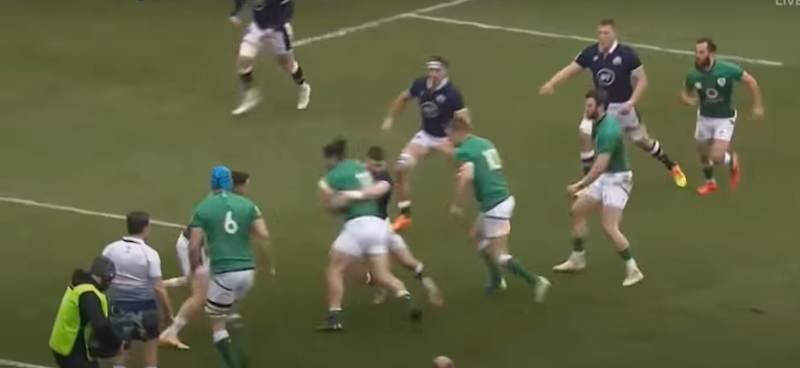 Lowe gets a dominant carry against Ali Price near the touchline, but the bruising Jamie Ritchie is lingering. Stood on the wing, Beirne's job here is to ensure the Scottish flanker sees no opportunity to push Lowe towards the touchline. If Lowe didn't get such a strong carry, Beirne would have been in the perfect position to tackle his own man to the deck and prevent a potential turnover.
Once again, Ireland play infield for just one phase before working back to the left-hand side.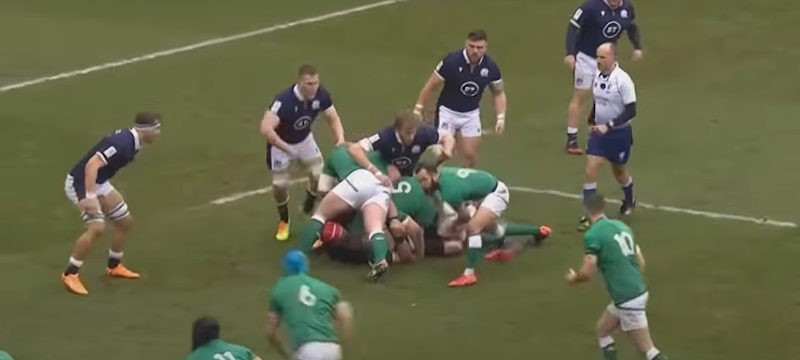 This time, the flanker carries himself after he spots Ritchie facing toward the ruck. He attacks the space between Ritchie, a man who isn't looking at him, and Price, an 80kg half-back.
He sprints on to the ball in advance to give Ritchie as little time as possible to turn his head and react to the raging 113kg Munster man that's headed his way. This, once again, gets Ireland over the gainline and closer to the Scottish in-goal area.
Within a couple of phases, this passage results in an Irish penalty in front of the posts, which Sexton successfully converts.
This evidence would argue that the most effective use of Beirne in a Lions context would be to play him in the No6 jersey, as the '1' n a 1-3-2-2 system. This would free up the likes of Itoje and Furlong to carry in midfield and loose-forwards Taulupe Faletau and Tipuric (or Alun Wyn Jones, should Gatland opt for Hamish Watson instead) as a twosome on the other touchline. Beirne is a world-class midfield worker, but his talents would almost be wasted if someone else were to man the touchline.
If the Lions play a 1-3-3-1 system, Beirne would still work out wide, with one of the Welsh back-five trio playing on the opposite side.
The Irishman's hits may not be as brutal as the Springbok's, but he is equally as smart when it comes to holding up players and winning turnovers.
And now, the obvious follow-up question: how would this help combat Du Toit? The short answer is that it would give the Lions an equally effective utility forward who is valuable for similar reasons.
The Irishman's hits may not be as brutal as the Springbok's, but he is equally as smart when it comes to holding up players and winning turnovers. Any Munster or Scarlets fan will know his ability in the breakdown is exemplary and his left boot is not to be underestimated. It would also mean both teams have a top-class lineout jumper in the back row.
Because Du Toit typically plays in midfield as part of a three, Beirne will hardly be man-marking him (or vice-versa). This does, however, create an opportunity for Beirne to attack some of the weaker tacklers in the Springbok ranks.
It's too big an ask for any player to cancel out the titanic Du Toit altogether, but the brains and prowess of Beirne will provide the Springboks with their own brute to worry about.
More stories from Will Owen
If you've enjoyed this article, please share it with friends or on social media. We rely solely on new subscribers to fund high-quality journalism and appreciate you sharing this so we can continue to grow, produce more quality content and support our writers.