Dupont is surging towards greatness
It was a European weekend in the Northern Hemisphere that brought a clean-sweep of wins for Irish provinces, sendings off, Covid-chaos and a mercurial performance from the world's greatest player. All is and more is covered by The XV in their weekend round-up…
Antoine Dupont standing on the shoulders of giants
Over 10,000 fans packed into the Arms Park for a feast of festive rugby. Or given the circumstances, Dai versus Goliath, as a depleted Cardiff Rugby, missing 42 players through their hellish South African trip, recruited teachers and students to face the might of the six-time European champions. The hosts put up a fight in a raucous, partisan fixture that was a throwback to yesteryear in many ways. What none of the home fans may have openly admitted is that they were there not just to cheer on their boys, but to gaze in wonder at the opposition's No 9.
You see Antoine Dupont, the recently crowned World Player of the Year, has reached such heights that lovers of this great game can only sit back and admire the genius he brings to proceedings. As Sam Warburton gushed, 'he has absolutely everything, he is the full-package'. Dupont is a poster-boy for rugby's mantra that it is a game for all shapes and sizes. At 5ft 8in and little over 13st, his ability to bust tackles and fend players twice his size is Marvel-esque. It defies the laws of probability.
He covers the ground as fast as most wings and runs support-lines the best midfielders would aspire to. As a broken-field runner he is deadly and a possesses a sidestep to bamboozle the most sure-footed defender, as we saw with his 70m carry for Anthony Jelonch's try. His box-kicking is exemplary, and he showed with his 40m crossfield kick to wing Arthur Bonneval, that he possesses the footballing ability of another diminutive conductor based in Paris, Lionel Messi. In fact, Tomos Williams, a hugely talented No 9 with 29 caps for Wales, was left to look ordinary by comparison. His lavishly gifted half-back partner Romain Ntamack said he was just glad he was able to develop alongside the best player in the world.
Standing in the crowd throughout, was a silver-haired elder gentleman, who stroked his chin.
While Gareth Edwards would not have been celebrating his patched-together club side being torn apart by this magician, he would have taken a moment to revel in his successor's brilliance. Whisper it, but he is the closest in comparison to the great man.
Russell magic
Come the end of Racing 92's glorious dismantling of Northampton Saints, you were tempted to frisk Finn Russell, just to make sure he didn't have a magic wand tucked up his sleeve alongside his gumshield and tape.
The Scot has been benched for several Top 14 games this term, in a Racing side muddling along near the middle of the league table. He had revealed his penchant for Five Guys burgers when asked about pre-match nutrition. How Racing – and Russell – reminded us what they are all about on Friday night.
The bohemian Parisians ran in five tries at Franklins Gardens, and Russell's fingerprints were plastered all over four of them. His effortless exchange with Kurtley Beale to send Wenceslas Lauret galloping home. His fizzing inside ball to the whitewash-bound Juan Imhoff. His beautiful, swooping parabola of a pass which allowed Beale to give Imhoff another run-in. And of course, his ghosting, swaggering kick-receipt and outrageous off-load to put Lauret in again, a clip peppering social media long before Saints were finally put out of their misery.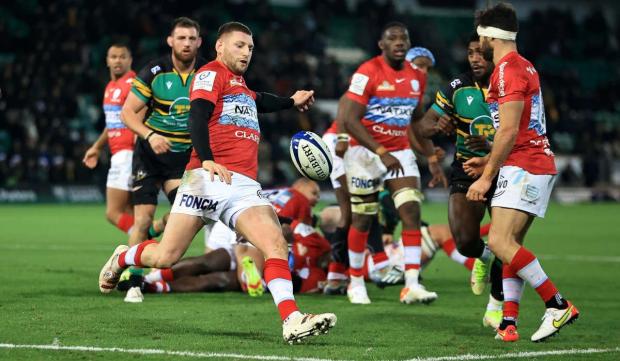 Russell is a special player. Imperfect, yes, but capable of such effortless, jaw-dropping sorcery. Never flustered, never hurried, always willing to back his skill and his mettle.
The game needs Finn Russells, as it grapples for eyeballs and clicks in this congested sporting market. It needs his brilliance on the field, but it needs his playful relatability off it too. Perhaps it even needs his physique – Russell is athletic, no doubt, but he does not fit the prototype of the muscle-bound, granite-cast elite player of today.
No magic wand, then – maybe just a Five Guys wrapper.
Ireland's greatest ever European weekend? Nearly but not quite
If you were to look at it with the cold eye of an historian, there wouldn't even be an argument. This weekend, they'd claim, was the best one ever from an Irish perspective. Think of the scorelines. Think of the fact all four Irish sides delivered, not just one. Think of the heritage and tradition of their vanquished opponents.
The aggregate score, Ireland 145-66 Bath/Wasps/Stade/Clermont, suggests there is a story behind the headline. And there is but before we get to it, some context. Leinster did not trounce the Bath of Barnes and Guscott that won six Premiership titles between 1989 and 1996 or even the Jon Callard inspired version that took the 1998 European Cup. This is a side that have lost nine out of nine in this year's Premiership.
They aren't the only fallen giant. Think of Clermont and you are inclined to think of the side that got to three European finals in the last decade rather than the current lot who are four points off the Top 14 relegation zone. Wasps have their name engraved on the Heineken Cup. But that was a long, long time and yesterday you weren't looking at names like Lawrence Dallaglio and Rob Howley but at a Covid-hit squad who have now lost six on the bounce.
Stade Francais' status is also on the slide. Fourteen times they've been French champions; these days they are miles off even being the best team in Paris and yesterday, they were 27-points off being the best team in Galway.
Now for the prosecution's case. The moment Munster – shy 34, yes 34 – of their first-team squad won yesterday's game against Wasps wasn't when Keith Earls crossed for their opening try, nor when the Wasps captain Brad Shields was unluckily sent off, it was when academy coach, Ian Costello, held a meeting in their Limerick training base, two weeks ago.
For context, at that stage it seemed possible that Munster wouldn't even be able to field a team. Their coaching staff and squad had left for South Africa minus their nine senior internationals before being caught in a Covid-storm. Remove 34 players from any squad and you're going to run into trouble. Then remove their coaching staff and you double that trouble.
Costello is a calm man, though. The players he spoke to – among them Damian DeAllende, Keith Earls, Peter O'Mahony and Conor Murray – are some of the best pros in the business. "You nine have to become coaches for the next two weeks."
That day in training, the famous nine, were paired up with kids from the academy, most of whom you won't have heard of until yesterday. The pace got to them, balls being frequently dropped, mistakes repeatedly made. There was no panic. O'Mahony led from day one. "We'll get there," was the message.
Yesterday they did all that and more. We'd all heard the whispers about the excellent throwing technique of Scott Buckley, their 21-year-old hooker, but until you see it at European level, you just don't know if he'll handle the nerves. He did. So did Patrick Campbell, the tryscoring teenage full back, likewise John Hodnett, the 22-year-old flanker who hadn't played in 13 months.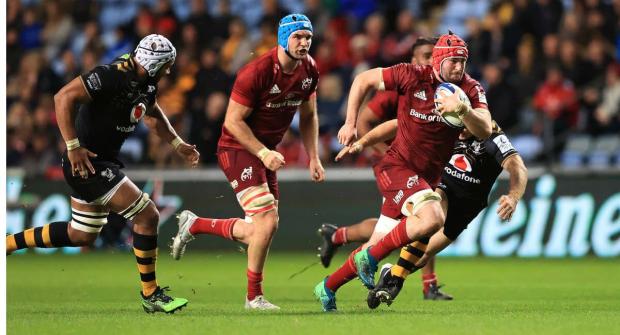 Hodnett was immense, as was Daniel Okeke, the No8 who – of them all – looks the surest bet to return to this stage sooner rather than later. They wouldn't have shone, though, if they didn't have the parental-type guardians looking out for them, O'Mahony reinforcing his reputation as one of the club's greatest ever captains, Earls, Murray, De Allende and Tadhg Beirne all excelling in a chaotic game.
If that was the sole Irish success story from the weekend, it would be enough. Yet there was Leinster's 25-point win. Connacht's victory margin was even greater. Better again, they did it without 10 first-choice players, Bundee Aki, Finlay Bealham and the mercurial Mack Hansen among the absentees.
A pair of new locks, Oisin Dowling and Niall Murray, announced themselves, Hansen's replacement, John Porch, was outstanding and the most pleasing bit about it, from their coach, Andy Friend's perspective, was that they didn't play anywhere near their best. "It was a different way of winning to the way we have won previously this year," said Friend. "Europe does that to you. The opposition pack tends to be bigger."
Yet Connacht coped, not just with Stade's strength but with their own supposed weakness. A lack of depth is repeatedly served up as a stick to beat them with, likewise Ulster, who went to Clermont without Iain Henderson, Jacob Stockdale, Jordi Murphy, Will Addison – but won.
A year ago, they wouldn't have. But times have changed. Yes, Bath, Clermont, Stade and Wasps are shadows of their former selves, but when you consider the 56 players (including Lions Sexton, Henshaw, Aki, Henderson) missing from Ireland's four teams at the weekend, and you look at the scorelines their teams racked up, you're seeing for yourself their system is working. Your greatest weekend in Europe can never be one from round one. Still, that was impressive.
Statement win for Edinburgh
A lot has been made of Edinburgh's start to the season, and their remarkable transformation under Mike Blair. Seldom can a team have changed its style and identity so rapidly and with such aplomb.
Lauded for their new attacking blueprint, and the way they dispatched almost all in their path en route to five wins, one draw, and a single defeat by a last-gasp drop-goal, Edinburgh sat pretty near the league summit as Europe beckoned.
The thing is, for all the plaudits, richly merited though they were, Edinburgh hadn't actually played anyone of note yet. The fixture list has been kind to them. They'd put away two Welsh regions, two Italian sides and a South African outfit yet to acclimatise to their new tournament or their surroundings.
They hadn't gone toe-to-toe with any of Ireland's provinces, the true heavyweights of the URC. They hadn't conquered anybody who routinely makes a splash in Europe. They hadn't claimed a scalp big enough to make others across the URC, let alone the continent, sit up and take notice.
None of that is their fault. All of it changed on Saturday. Edinburgh went to Saracens on Challenge Cup business, and sank Mark McCall's juggernaut with a fabulous away performance.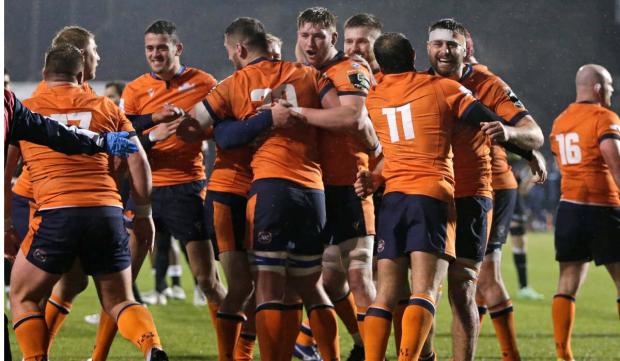 This was no scratch Saracens team either. Eager to make a stirring return to Europe after the salary cap scandal, even in the Challenge Cup, McCall put out Maro Itoje, Elliot Daly, Max Malins, Alex Lozowski, Ben Earl, and Mako and Billy Vunipola.
Edinburgh's pack was outstanding, Luke Crosbie leading the charge in the back-row. Emiliano Boffelli continues to look a tremendous acquisition at full-back. Shorn of Blair Kinghorn and Jaco van der Walt, rookie pivot Charlie Savala was thrown and my, how he impressed. Australia-born Savala is just 21, but his deft kick for Ramiro Moyano's try and all-round play was hugely compelling on what was his fifth outing for the club.
We wondered how Edinburgh would go when their first major examination came. We considered how the revolution might fare against the teeth and snarl of a real powerhouse. Early days still, but now we know. And no more can Edinburgh be labelled flat-track bullies.
Leinster, Toulouse or Racing – the racing certainties
Twenty-four runners went to post; only three are worth looking at. We can be exceedingly polite about all this or we can cut to the chase. The best equipped English side to win this year's Champions Cup aren't in it. The next best, Exeter, have to regain our trust they can compete on two fronts. As for Leicester, Harlequins, let's see how you battle on two fronts throughout a long season.
Since Northampton lost the plot in the second-half of the 2011 final, only two Premiership clubs, Saracens and Exeter, have made it to a Champions Cup final, the intensity of a fixture schedule catching up with the rest. Yes, the Top 14 is hardly easy in comparison but the difference is the budgets of the French heavyweights. They can go deeper into the pocket to bulk up their squad. In Europe, that counts.
Leinster have a habit of making it count in Europe, too. They've gone semi-final, winners, finalists, quarter-finalists, semi-finalists over the last five years. You know they'll be at the top end of things again this year, not on the back of what they did to Bath at the weekend, rather what they did to New Zealand in November.
Twelve of the Ireland starters that day were Leinster-men. It would have been 13 had Robbie Henshaw not been injured while Cian Healy was among the replacements. Of the two areas they missed out on – lock and right wing – they have two Ireland internationals, Ryan Baird and Jordan Larmour, ready to step in.
Quality counts although it is noticeable that Leinster's quality and intensity dips when Johnny Sexton is missing. Keep him fit and they could be the side to beat in Marsielle although you could make the same statement about Finn Russell after what he did for Racing on Friday or Toulouse's Antoine Dupont. Of the rest, Bordeaux, possibly Munster, could go deep. But win it? Only three teams can.
A new era for women's rugby
The evolution of women's rugby is moving faster than Jess Breach with acres of turf ahead of her. The Premier 15s is now firmly established in the rugby calendar as the foremost professional league in women's rugby but it's not perfect. Far from it. With any domestic competition's maturation, comes issues and the need for a duty of care for its players. With that in mind, Nolli Waterman, the 82-cap former England full-back, has grouped together with Polly Barnes, wife of Wayne, Holly Hammill and advertising supremo Emma Lax to form the new Women's Rugby Association (WRA), as a separate entity to the current RPA (Rugby Player's Association).
Its stated aim is to provide medical and welfare provision, contractual advice and mental health support to players who are looking to a governing body to guide them through the vagaries of a burgeoning professional sport.
Waterman, who is now an established media pundit, after retiring in 2020, said she wanted players to have a governing body who could answer the questions the players needed and be able to focus solely on improving their rugby. As trailblazers in the women's game, they can only be applauded.