First player to score 9pt try highlights White fears for South African rugby
London Irish utility back Benhard Janse van Rensburg has a special place in rugby history and is exactly the kind of player Jake White believes should be blocked from leaving South Africa.
Veteran coach White, now in charge of the Pretoria based Bulls, wants South African rugby chiefs to help stem the drain of players to Europe and Japan by re-introducing test eligibility rules for those playing their rugby abroad. South Africa scrapped their 30-cap eligibility rules for overseas-based players before the 2019 Rugby World Cup which they won in Japan.
Van Rensburg, who turns 25 on Friday, arrived at Irish on a three-year deal this season via the Green Rockets in Japan ,where England and Saracens back Alex Goode was a teammate, after he decided to challenge himself away from South African domestic rugby competitions.
He made that decision after 34 appearances in the PRO14 with the Cheetahs having also represented the Southern Kings, Natal Sharks, Sharks and the Leopards which gave him an insight into what his rugby life would be like if he stayed in South Africa where he became the first rugby player to score a nine-point try. Van Rensburg's unique achievement came when he took part in the 2016 Varsity Cup which adopted a points system whereby tries that originate within a team's own half were worth nine points.
Playing for the Potchefstroom based North-West University against University of Pretoria he scored the first nine-point try in the competition after just nine minutes. He scored a second try in a 38–15 victory for NWU Pukke and was included in the South African U20 training squad and played against Argentina in that year's Junior World Cup. "That was some time ago but it is good memory," van Rensburg told RugbyPass.
"It was the first Varsity Match game and so the first nine-point try and we said before the match we were going to play from our half because it would be worth more and I didn't realise it had happened until after the game. My family and everyone was saying 'congratulations you have scored the first nine point try ever'. That is a nice memory."
Saracens were the first Premiership club to base their team on Springboks and now Sale and Leicester lead the list of Premiership clubs happy to bring in South African players who are highly prized in Italy, France, Japan and the other Home Union countries. This has prompted White to tell SA Rugby Mag: "South Africa are world champions and SA Rugby did something that has worked because, in 2018 when Rassie Erasmus was appointed, the current cycle of Springbok players were all overseas. But we can't allow that with the next cycle of players.
"South African franchises have basically become academies for overseas clubs. Because the top senior talent is overseas, we play juniors from school who wouldn't otherwise have been involved in senior rugby, and then when those youngsters are 21 or 22, they've got experience under the belt and the overseas clubs sign them and have them for the peak of their careers."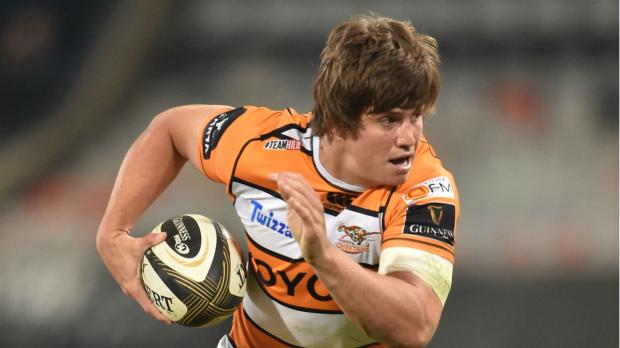 So, what does van Rensburg, who takes on Edinburgh in the European Challenge Cup, think about White's bid to restrict the choices of his contemporaries? "For me, while I am still young I want to play competitive rugby and I think staying in South Africa you are just going to be playing against four teams and will get used to them. The competitiveness will never be like it is here in England with 13 teams. Here the 13th team has a chance of beating the No1.
"For a youngster if you want to play competitive rugby that is why you come to the UK. Every week you are challenged over here and the more you are in this kind of situation the better you become as a player and this week we are playing Edinburgh and are No1 in their league. Going to play teams in France is a new and different challenge as well."
Irish have put together a squad featuring Australians, Argentinians and South Africans which has made it easier for van Rensburg to fit into his new club which has taken time to blend all of the different styles of rugby into a winning formula. Irish score plenty of tries but make life difficult for themselves by allowing the opposition to cross their try line too regularly. "We play an exciting brand of rugby here at Irish and score four tries but also have to stop the opposition scoring four tries," admitted van Rensburg.
"In Japan I spoke to Alex(Goode) about the Premiership when I decided to come to the UK and he said it was a great competition and that made me more excited to come. The Irish play almost the same type of rugby as the Cheetahs and also Corniel van Zyl had joined the Irish and had been the Cheetahs coach and he was excited about me joining him again. I think he was also happy to have a golf partner and someone who can talk Afrikaans with him!
"The competition has lived up to my expectation and because there are so many nationalities at the club it makes it easier to get along with everyone. As an outsider they know what it takes to feel comfortable here in the UK.
"When I was at the Sharks I was playing outside half and Andre Esterhuizen was in the centre and he is a pretty big guy. When we played against Harlequins I looked forward to the challenge and I was thankful we won that game.
"He has been amazing for Harlequins in his last three games with the go-forward he gives the team. Curtis (Rona) and Paddy (Jackson) with the experience they have make it easy for me to do my thing at Irish and in some games where I don't feel comfortable they will calm me down.
"I haven't had the experience of playing rugby in snow yet and I don't know if I need to look forward to that."
Comments
Join free and tell us what you really think!
Join Free