Back
By Jamie Lyall
Strength through pain
Now the Lions squad has been announced, there is the business end of the Gallagher Premiership and Guinness Pro14 Rainbow Cup to adhere to. For many discarded Lions, take Jack Nowell, Danny Care and Jonathan Davies, it was a chance to put down a marker that they're fit and ready to tour if called upon, while for some newly-selected Lions, like Louis Rees-Zammit and Sam Simmonds, it was time to show just why Warren Gatland inked their name into the squad. There is still much to play for as The XV brings you its key talking points…
Sinckler shows the way
For every joyous clip of an anointed Lion drowning in the euphoria of his team-mates, there is an unseen, unfilmed moment of desolation for those not selected. Few of the heavyweight omissions were as stunning as Kyle Sinckler. Few people would have the courage and capability to respond as he did.
The colossal Bristol Bear tore into Saturday's Premiership derby, a ferocious performance in the smiting of Bath that underlined his significant credentials. More impressive than anything Sinckler delivered on the field – and there was plenty about which to be impressed – was how he handled himself off it.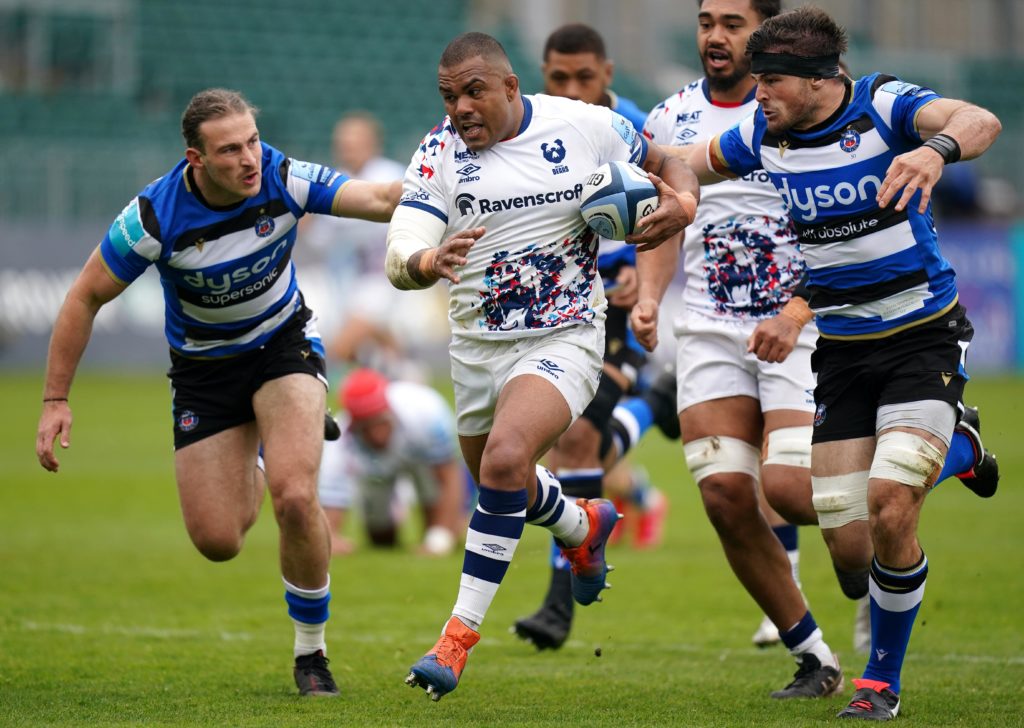 His man-of-the-match interview was deeply moving; the honesty disarming and the vulnerability so important. In laying bare his emotions and discussing his sorrow, Sinckler showed us that rugby players are not bulletproof. That these behemoths who seemingly fear nothing and play this most viscerally combative of sports hurt and cry and struggle as we do. That if a hulking England prop can talk openly about his feelings, then we can too.
Glasgow show their claws – at last
Glasgow and Danny Wilson took an unholy pasting two weeks ago, in the wake of their dismantling by Benetton in Treviso. Ramshackle, ill-disciplined, flat-lining as an attacking force.
Somewhat lost in the noise have been the dreadful handicaps inflicted upon Wilson this season. It is little surprise that, with his Scotland players finally available to him for more than a couple of sessions, that with something resembling his top team on the paddock and with a full training week behind them, Glasgow were an entirely different beast on Friday night.
In putting Edinburgh to the sword, and winning back the 1872 Cup, they played with a venom and cohesion seldom witnessed this term. Cole Forbes, New Zealand-reared but Scottish-qualified, looks an astute addition at full-back. Kyle Steyn, recently back from a huge injury lay-off, reminded us what a fine player he is. Ross Thompson, the 22-year-old fly-half, and Fotu Lokotui, an inexpensive stopgap signing at flanker, continue to impress.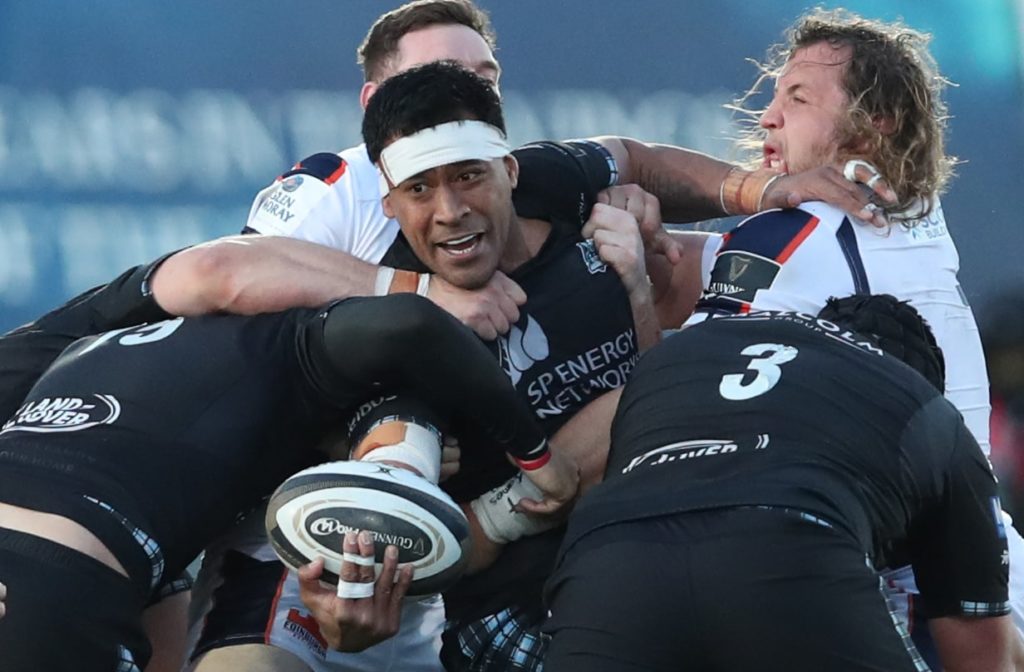 This season, through grim circumstance as much as anything, Glasgow have been reduced to a pale shadow of yesteryear. Even on Friday, their discipline was at times chronically bad. But that performance offered a glimpse of what they can do when they have access to more than a couple of their big hitters for longer than the blink of an eye. The Warriors have some meaty signings arriving from the southern hemisphere for the new campaign. Those men will need to adapt and thrive quickly, but their pedigree indicates that should not be a problem. Perhaps, after all, Wilson knows what he is doing.
Murray shines on his Lions audition
Remember Conor Murray? You'd be forgiven if you hadn't. It isn't that he has gone away – but his form certainly did. The scourge of the All Blacks in Ireland's inaugural win over New Zealand in 2016, Murray reappeared a year later to trouble Steve Hansen's side on the Lions tour.
It kept getting better for him; he kept getting better for Ireland. Would there have been a Grand Slam in 2018 for Joe Schmidt's side with anyone else holding the controls? Would they have pulled off a come-from-behind series win in Australia had Schmidt opted to rest him?
By November that year, the question of whether Schmidt should use an undercooked Murray, who was recovering from surgery, in the reunion with the All Blacks at the Aviva Stadium dominated the build-up to that Test. He was to Ireland then what Antoine Dupont is now to France.
But time moves on. Time is no one's friend, least of all a rugby player's. The Murray of 2016-18 hasn't been visible in the past three years to the extent that the irreplaceable label that was tagged to his collar was replaced by something a lot less generous a year ago. Repeatedly, there were calls for him to be dropped. Andy Farrell, Schmidt's replacement as Ireland coach, was deaf to the noise.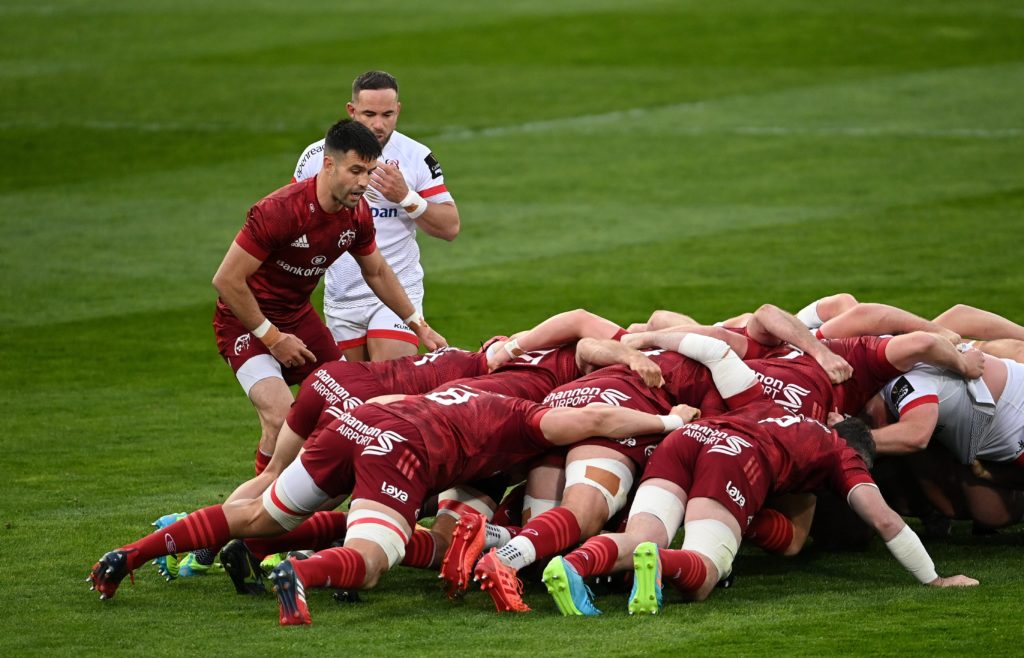 So Murray stayed in the No9 shirt but, as he aged, everyone yearned for the old Murray, the one who threatened around the edges, whose physicality provided Ireland and Munster with an additional back row, whose box-kicking was hard on the eye but even harder on the opposition. We waited and we waited and then we began to wonder if we'd ever see that player again.
Well on Friday in Limerick we did. He was immense, scorer of an opportunist try, a pick-and-go from close range that a front rower would have been proud of; a dictator of the game's terms and conditions; a threat whenever he had the ball, a volunteer referee whenever the officials were deliberating over 50/50 decisions. Ulster, Munster's outplayed opponents, replaced Alby Mathewson, their scrum-half, at half-time. "He's world class," said Murray's coach Johann van Graan afterwards. "It's like he has been around forever."
In fact it is just a decade – but enough time for the 32-year-old to pack in two Lions series before he completes his hat-trick of tours this summer. Considering he also excelled for Ireland in their surprise win over England earlier this season, the scrum-half's timing couldn't be better. The No9 jersey is one of those that is there for any of the three men picked by Gatland to seize this summer. No one candidate has stood out – until Friday that is. That was when Murray jumped to the top of the queue.
Scarlet fever
The timing was questionable, 10.16pm on a Saturday night, but the statement that Glenn Delaney was to leave his position as head coach of the Scarlets wasn't a total surprise.
The affable New Zealander was always accessible with the press and leaves the region with no hard feelings, but there were a number of defeats for Wales' best-resourced region that will have raised eyebrows in the boardroom, headed by chief executive Simon Muderack.
The 52-25 drubbing handed out by European royalty Leinster was quickly forgotten on January 30 but the 57-14 high-profile shellacking handed out by Sale Sharks in the Champions Cup quarter-finals less so. It was an embarrassment that will have shaken all at Parc Y Scarlets. Sure there were mitigating factors, but with 11 internationals on the pitch, it was unacceptable. Weeks later, the 52-32 loss to the Dragons in the Rainbow Cup was another humiliating loss that showed a disconnect between the management and the players.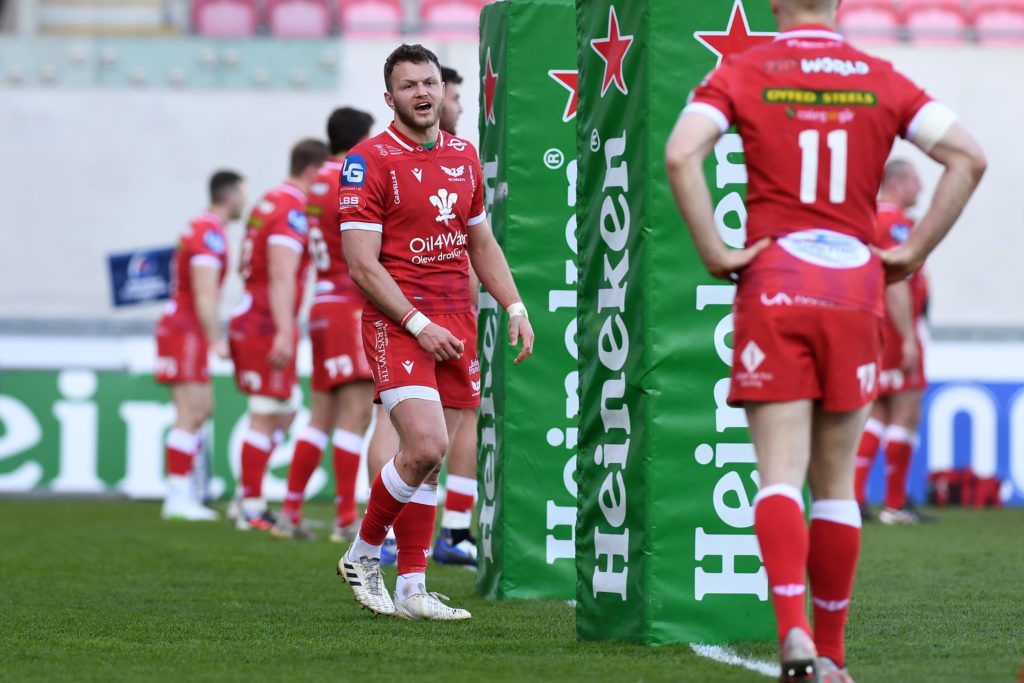 In the background, the Scarlets had been involved in an increasingly public tug-of-war with the Cardiff Blues over Dwayne Peel. The Tumble-born former Wales No9 had his head turned when advances were made by his hometown region after signing a contract with the Blues, and when it was announced he would indeed be returning to Llanelli, you would imagine conversations had started over his coaching team. Only 10 days ago, it was announced that Delaney would be 'going upstairs' as Director of Rugby but the mood changed and he was relieved of his duties. The region simply has too much talent to misfire so badly, but only time will tell whether the highly-rated Peel is the man to kick-start a renaissance.
Simmonds shows his poacher's instinct
Perhaps understandably, much is made of Sam Simmonds' electrifying pace in broken-field play – take the 50m scorched-earth try against Harlequins earlier this season as your Exhibit A. It's YouTube-friendly, but it skews the views of rugby fans that he is maybe less effective in the tight exchanges. Perhaps that a turn of pace and less-than-hulking proportions make him less effective than a Billy Vunipola or CJ Stander, who are your more traditional power-carriers in the tight. Look at the figures, however, and a different picture emerges.
According to the OPTA boffins, Simmonds has scored a remarkable 28 tries since the start of 2020 – the majority of which have come from less than 10m out. Indeed, Simmonds is a key part of Exeter's rolling maul, driving lineout or going it alone from the base of the scrum. Low-slung with a powerful leg-drive, when he gets the giant frames of Dave Ewers, Jonny Gray or Jacques Vermeulen attached, he is almost impossible to stop from close range. You can imagine the Lions employing similar tactics with heavy-duty forwards like Iain Henderson, Maro Itoje and someone who knows him all too well, Jonny Hill.
The Exeter Chief is now tied with Neil Back and Thomas Waldrom with 16 tries in a Premiership season with four games to go. Can he surpass Christian Wade and reach an all-time record of 18 tries? Few would best against him…
Keenan told not to switch off either his phone or his form
Given that one of them died in 1984 and the other wasn't born until 1996, it's hardly likely that Hugo Keenan knows too much about Tommy Cooper. Both men knew a thing or two about hat tricks, though.
Cooper was a master of them, teasing audiences with humour and mayhem before, with a click of his fingers, a rabbit would appear of his fez.
It felt like we were also watching some sort of conjurer's act in Galway on Saturday. Connacht – confident Connacht – burst out of the traps, racing to a 16-0 lead after 14 minutes and there and then you wondered if Leinster's European hangover was going to plague them for the night.
Then, from their next attack, the four-time European champions moved the ball through their backline and, seemingly from nowhere, Keenan arrived to collect Ciaran Frawley's pass and score. The Connacht defence didn't see him coming; he'd arrived in a puff of smoke, just like Cooper on a different kind of stage, just like that.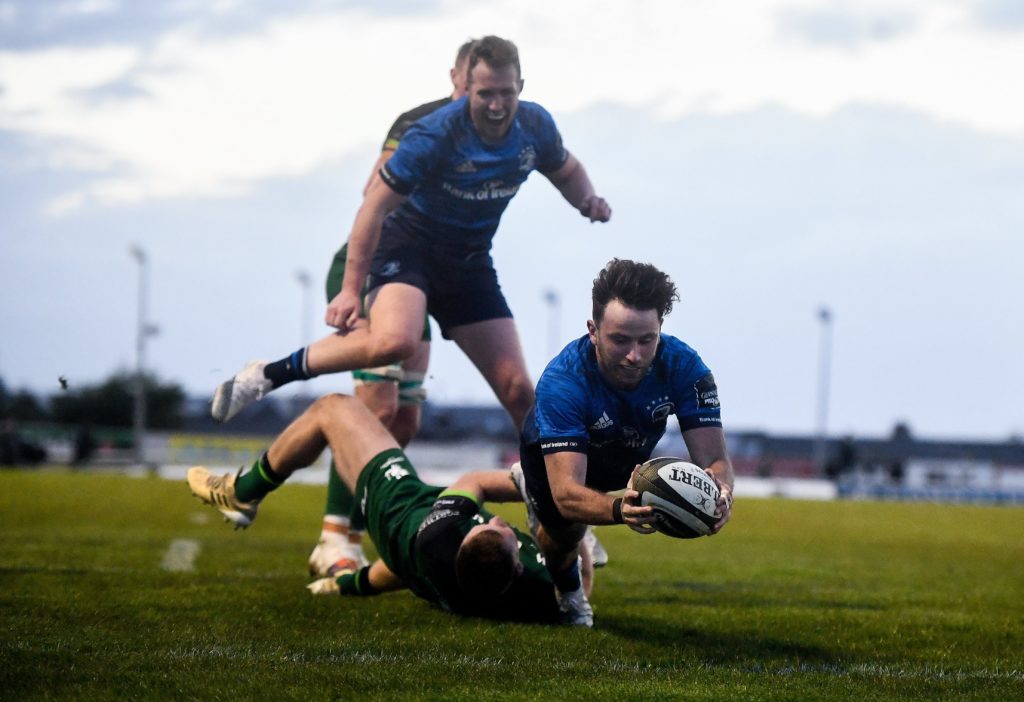 Leading 16-0 on 14 minutes, Connacht went behind on 22, were 19 points down at half-time, 29 points in arrears by the final whistle. Keenan was their tormentor, scorer of three tries. "Hugo, like a lot of our players, is in a situation where he has just missed out on (Lions) selection, so he just has to keep playing well," said Leo Cullen, the Leinster coach.
"They need to be in a situation where if a full-back goes down, the question is, 'Right who is next up on the roster?' And a conversation takes place, 'OK what did Hugo Keenan do last week? He scored a hat-trick of tries!'"
In other words, don't switch off your form, Hugo. And while you're at it, don't switch off your phone, either.
If you've enjoyed this article, please share it with friends or on social media. We rely solely on new subscribers to fund high-quality journalism and appreciate you sharing this so we can continue to grow, produce more quality content and support our writers.