Steward takes charge as England momentum is restored
England are consistent only in their inconsistency in 2022, with a 50-50 win loss scorecard after ten Tests, but seven tries got the Twickenham masses off their seats in a performance to restore some cheer. Down in Cardiff, backs against the wall, as ever, Wales bounced back from a powder-puff performance against New Zealand, with a creditable win over Argentina, while Ireland made light work of Fiji and Scotland succumbed to a heartbreaking loss to the All Blacks in a game they could, and maybe should have won. There was plenty to debate…
Steward's stock continues to rise
Henry Arundell is one of the most exciting rugby players on the planet. Ask him where his favourite position is and he'd likely trot out the usual platitudes about want to to play, 'anywhere, as long as I'm on the field', but you suspect, if pressed, he would admit full-back position is his position of choice – a shirt he has filled with distinction for London Irish and at England age-grade level, however, such is Freddie Steward's grip on the England No 15 jersey, you suspect the 19-year-old will have to settle for skinning defenders on the flanks. Steward turns 22 next month, but he is already part of the furniture in Eddie Jones' side, and seems immune from selection bingo taking place for other shirts.
The Leicester Tiger has played 15 times for England in the 16 months since his debut, yet it often feels like he has the maturity of a 50-capper. At 6ft 5ins, his composure under the high ball gives England fans few jitters in the backfield, and while he doesn't quite have Arundell's fast-twitch fibres, he is improving as a running threat, as witnessed by his 50m break that led to Marcus Smith's score against Japan, and he was central to four other tries scored at Twickenham on the weekend. His near 16st heft also makes him difficult to stop from close-quarters, as we saw against Australia in the second Test in the summer, as he powered over like a back-row.
As a young man, he is humble and engaging, and shows no traces of believing his own hype. Even Owen Farrell, who does not deal in hyperbole, has spoken of his work ethic, and desire to improve. Indeed, his hard graft kicking from hand has seen his siege-gun boot push England up the field in the kick-tennis that we see on the Test stage currently. Unflashy but invaluable.
Such is his worth to club and country that the only risk is over-playing him and his 33 games last season, was right on the edge of what is deemed satisfactory with player-welfare such a critical talking point.
As an economics graduate at Loughborough University, the Dereham-born full-back, could quite easily evaluate that his net worth is on an upward trajectory in the coming years, and such is his value, that England can't contemplate leaving for France in 10 months without him.
Did Rassie learn anything on his Erasmus year?
When Rassie Erasmus first made the transition from player to coach, his voice was fresh and engaging. The Cheetahs hadn't won a Currie Cup since 1976; Erasmus brought the trophy home in successive years. From there he went to the Stormers, guiding them to a Super 14 final.
His thinking was original, his passion evident; his impact obvious. Munster called in 2016 when they were at a low ebb results wise – and then, after Anthony Foley's sudden passing in October that year – at rock bottom emotionally. It was Erasmus who navigated their path back.
That's before we even talk about the Springboks who were an absolute mess when he took over in 2017, losing by 57 points to the All Blacks, by 35 to Ireland. Two years later, they were champions of the world.
Here was a voice we yearned to hear more of, his message one we could all learn from.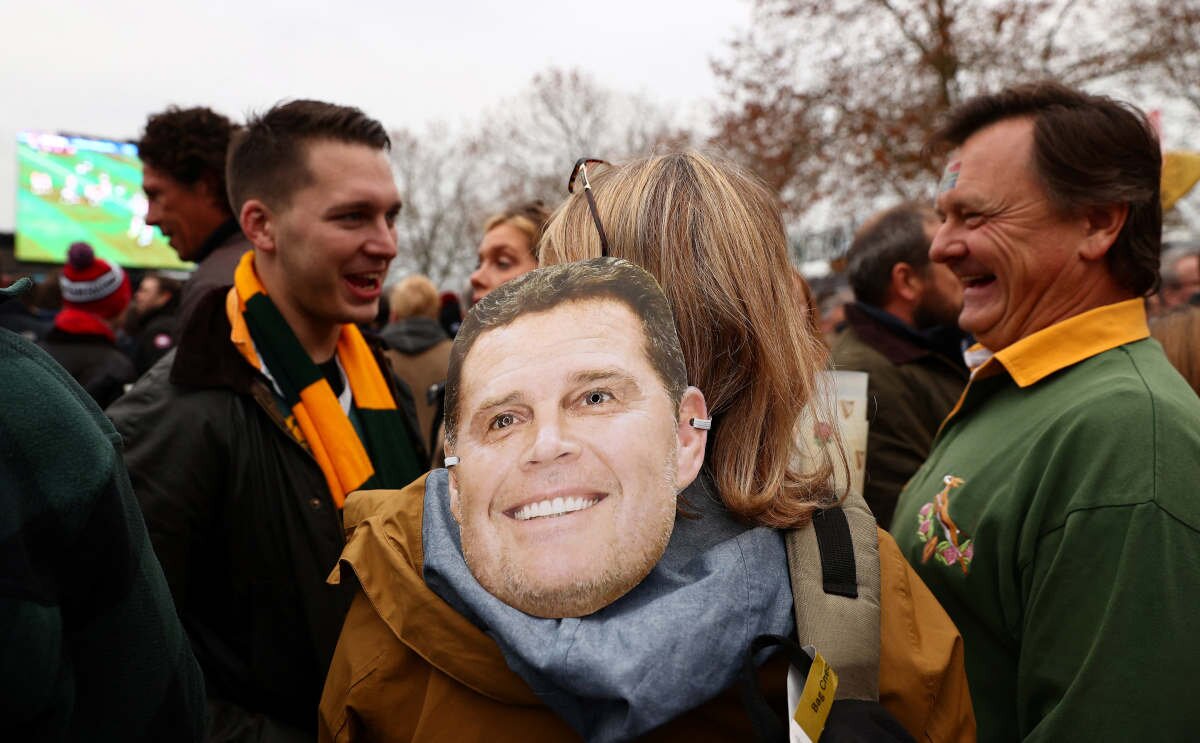 Or so we thought.
Now, three years later, we've grown tired of his rants. First there was the hour-long tirade against Australian ref, Nic Berry, in the aftermath of the opening Test defeat to the Lions. That landed him a 12-month ban from attending South Africa's test matches.
Upon his return, Ireland defeated his Springboks side and Erasmus reacted by pointing out refereeing errors. Next to Saturday, a seismic clash between two of the best three sides in the world, teams who seem destined to meet in next year's World Cup final.
France edged it. Cue Erasmus, taking to Twitter, to point out a couple of decisions that had gone France's way, posting sarcastic comments to accompany the videos.
Then yesterday, further videos, again having a pop at referee, Wayne Barnes, who sent off a player from each side and then sinbinned Deon Fourie down the stretch. That decision, a correct call by Barnes, prompted Erasmus to tweet: "Deon copping a lot of flack for this yellow card, to be honest I also thought the Blue 16 detached and maul over. We just have to work harder and make sure we understand the rules correctly! Very costly. We deserve all the criticism!!"
Actually, only one South African deserves criticism and it's their figurehead, their brilliant but controversial director of rugby, who has been one of the game's most original thinkers but whose anger and passion is now misdirected to the point where he has become his own karaoke singer.
A year's ban should have taught him the virtue of silence. If anything he has become noisier. The world will soon stop listening.
Wales' Jekyll and Hyde performances continue
Wales trumped the Pumas in a deserved victory to serve Wayne Pivac with only his third victory in 10 Tests this year. There were shades of the gritty Scotland Six Nations win back in February after a thrashing by Ireland in Dublin, and there was an air of resolve from the Welsh defence, which saw them with a 92 per cent tackle completion rate to bring a rare smile to Gethin Jenkins' face. It was the same in the summer in South Africa, after their first ever loss to Italy in Cardiff, they put in two highly-creditable performances, beating the Boks for the first time in the Second Test against a heavily changed team.
In truth, Michael Cheika's team were off-colour, created little and the suspicion was that their headline with over England at Twickenham had softened their hard edge. Still Wales can build on a performance that saw Dan Lydiate depart the field in the 28th minute and Will Rowlands late on, with the fear that the sizeable duo would be missing for the rest of the Autumn Series. There were success stories on the field, with Louis Rees-Zammit, still only 21, showing he has the room to grow into a decent full-back, with the defensive positioning, composure under the high-ball and increased relish for contact seeing him carry down the middle for 86m, becoming an option when Leigh Halfpenny and Liam Williams, both in their thirties, depart the Test scene.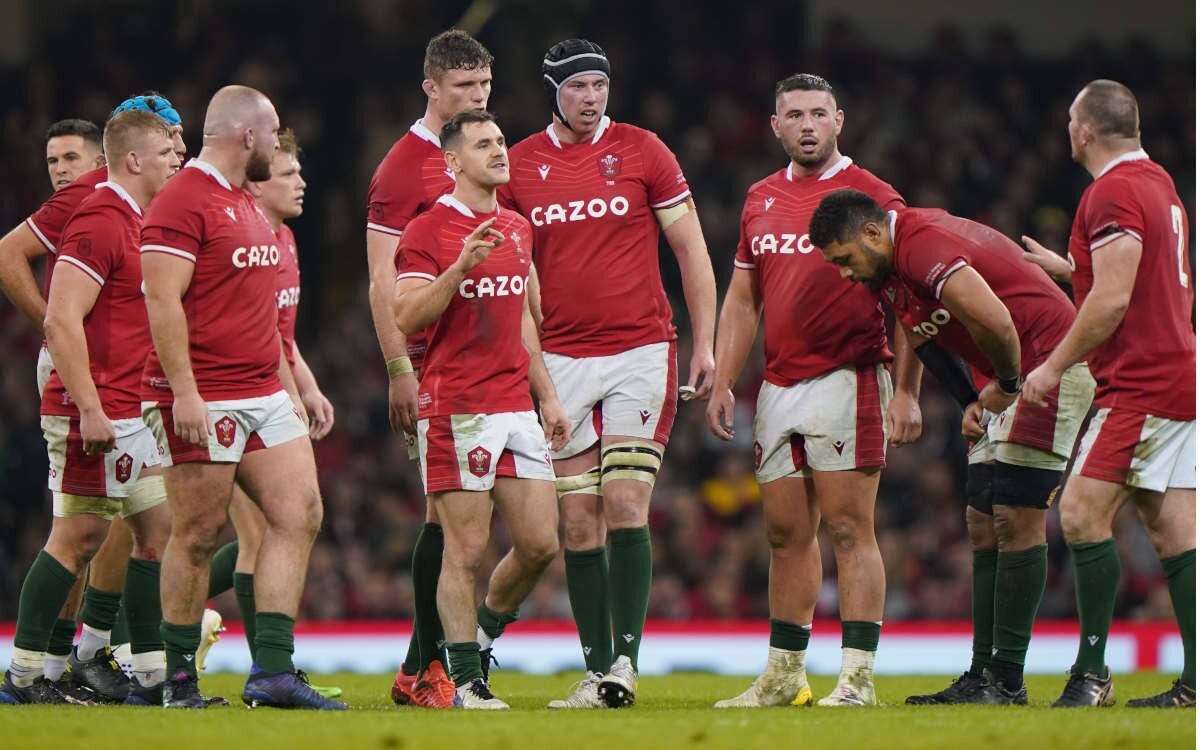 Another notable performance came from 22-year-old Jac Morgan. The Ospreys openside put in 17 tackles in 52 minutes but it wasn't the quantity that caught the eye, it was the venom with which he thrust prime Argentinian rumps backwards. With a low-slung gait and powerful leg-drive, he tackling was of a ferocity that made Pumas carriers wary. While the vogue is for tall No 6s – see Pieter Steph du Toit, Courtney Lawes, Jamie Ritchie, Marcos Kremer, Charles Ollivon – Morgan as a 6-7 hybrid is built more like David Pocock or Josh Navidi, and he has shown he belongs at the top table.
A player to advance his claims for a regular starting spot was Tomos Williams, who put in the type of all-action performance that makes you wonder why he can't replicate it on a regular basis. The Treorchy-born player has rare gifts, but consistency has been his Achilles heel, and you hope he kicks on weeks shy of his 28th birthday. The challenge for Pivac is to build momentum with Georgia eminently beatable in Cardiff and Australia low on confidence. Work to do then.
Ireland need a succession plan
In all likelihood, Ireland versus Fiji was down your list of priorities over the weekend, unless you are from either country. Put it this way, you didn't miss much. Fiji have class but lack indiscipline; Ireland have a defined gameplan but lack leaders.
"It's not just Johnny Sexton (who was missing)," said their coach, Andy Farrell afterwards. "Look at all the experience that is out of the side. Not just the injured lads, it's Bundee [Aki], Iain Henderson, Keith Earls not being here. When you're missing so many, other people know they need to try to fill that vacuum but they need the experience of doing that."
Trouble is, Ireland don't have just a year to find that experience. The truth is that while their starting XV and list of replacements is top class, underneath that, serious doubts remain about whether Ireland can go all the way in a World Cup. The only way they can is if they somehow manage to keep Johnny Sexton, Andrew Porter, Tadhg Furlong, Caelan Doris and Hugo Keenan free from injury. Their replacements are good but you need to be better than good to flourish in tournament rugby.
Scotland blow golden chance
In the 32 matches and 117 years since the All Blacks Originals fetched up an Inverleith and won 12-7, Scotland have never had a better chance to beat New Zealand than the one they carved out on Sunday afternoon.
The faces told the story at the full-time. The warriors in pink, sporting looks of dejection. Gregor Townsend, in his press conference, wearing a rueful expression. Rueful because Scotland had this game by the scruff – in so far as you can ever have a game against New Zealand by the scruff – and let it slip. For 50 minutes, they owned the ball, the territory, the momentum and the scoreboard. They could not put the All Blacks to bed.
At 14-0 down with eight on the clock, you feared for Scotland. Two blisteringly ruthless tries hinted heavily at a long and chastening day. Instead, Scotland roused themselves. They have become far better at dealing with adversity, at battling back from wounding concessions. Their resilience is growing. Seven minutes later, the scores were level. Finn Russell booted over penalties either side of half-time. Scotland scored 23 unanswered points in that period and the only reason they lost is that they did not score more.
And there were more out there for them, no doubt. Darcy Graham, who scored an outrageous interception try, almost bagged another with a stunning aerial finish. Scotland pounded away in the New Zealand 22; again and again, they failed to land a killer blow. A mistake here, a holding-on penalty there.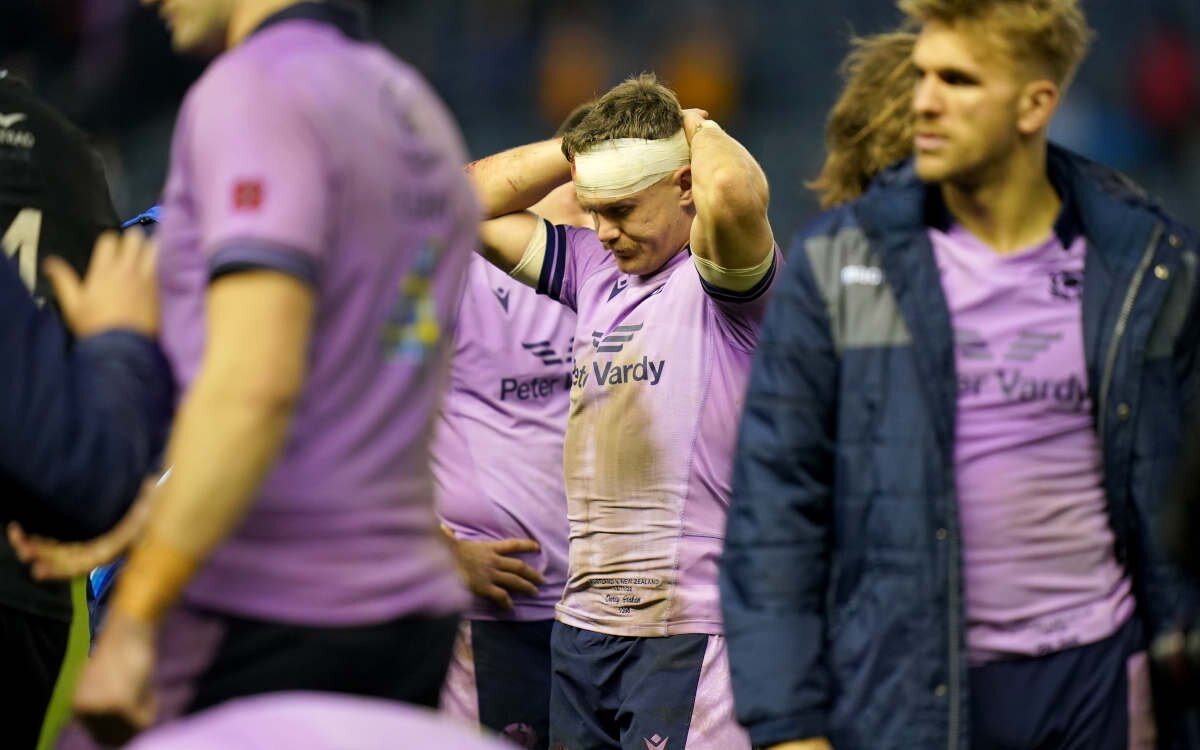 In rugby terms, New Zealand are a bit like the final boss villain in a video game. Their health bar scarcely flickers as your character rails away. They take all your best shots and keep coming back, indomitable. They are ferociously tough and emotionally exhausting to slay. To cleave their head from their shoulders, you have to take your chances. You have to capitalise when the going is good and the pendulum swings your way because you know damned well New Zealand will do likewise when it is their turn to strike. Ireland, in Chicago, then in Dublin, then in New Zealand itself, have shown how.
Scotland didn't take their opportunities and they paid for it. Ian Foster sent for TJ Perenara and Rieko Ioane off the bench; Perenara in particular was a terrific, game-changing substitution. New Zealand began winning collisions again. Jack Dempsey went to the bin. Scotland buckled. A nine-point lead became an eight-point deficit, a brutal, 14-minute swing.
Scotland have known near misses and coulda-woulda-shouldas against the All Blacks. Their history is littered with them. Stuart Hogg and Beauden Barrett in 2017. Greig Laidlaw's missed penalty in 2014. A World Cup quarter-final in 1999, a third-placed play-off in 1991, a tour match in 1990. Peter Dods' agonising conversion miss from the touchline when they teams drew in 1983.
That same history is also littered with one-sided eviscerations. This was not one of them. Scotland had a golden opportunity to banish the long white cloud that has smothered them for over a century. Who knows when they will get another.
Marseille magic a tantalising precursor
Stade Velodrome stands proudly over southern Marseille like an other-wordly contraption transplanted from another era. Its sleek curves and shimmering veneer rise up above the terracotta rooves, hotels and apartment blocks that hem it.
The place is a new-age amphitheatre. Its stands tight to the action, sloping sharply into the Mediterranean air. Giant screens suspended from the roof, tilted down from opposite corners like those displaying flight departures in an airport lounge.
International rugby seldom visits the Velodrome, home instead to Olympique Marseille, perhaps Ligue 1's most storied football club. But the south of France is rugbyland. To the east of Marseille sits Toulon and Felix Mayol. To the west, Montpellier, Beziers, Narbonne and Perpignan. Mighty Toulouse is a few miles further inland. Trace the southern French border towards the Bay of Biscay, and you hit Pau, Biarritz and Bayonne, before arcing north towards Bordeaux and, eventually, La Rochelle, domain of the European champions. Marseille is perched on the fringes of staunch rugby country.
On Saturday night, as the Springboks came to town, the Velodrome became a shuddering kaleidoscope of fervour and noise and colour. There was not a seat to be had, nor a quiet voice in the crowd. The light show strobed furiously; fireworks fizzled and spat; smoke belched the blue, white and red of le tricolore as the players strode from the tunnel. Jaw-dropping pageantry before a truly primal contest.
What struck you most, though, was the volume. The chorus of La Marseillaise, roared acapella. The satisfying Spartan-like cry when a French carrier clattered into a Springbok, bone on bone. The outrage when footage of Pieter-Steph du Toit's grim clear-out on Jonathan Danty was beamed on to the screens. The furious Gallic whistles when Wayne Barnes ruled Sekou Makalou had been held as he rose to continue a barnstorming carry. This deafening indignance sounded like a million dial-up modems connecting at once. Then the explosion of joy at Sipili Falatea's late try, Thomas Ramos' even later penalty, and Mathieu Jalibert blasting the ball out to end the game. On the commentary gantry, our audio panel was rendered utterly useless, cranked to the max though it was.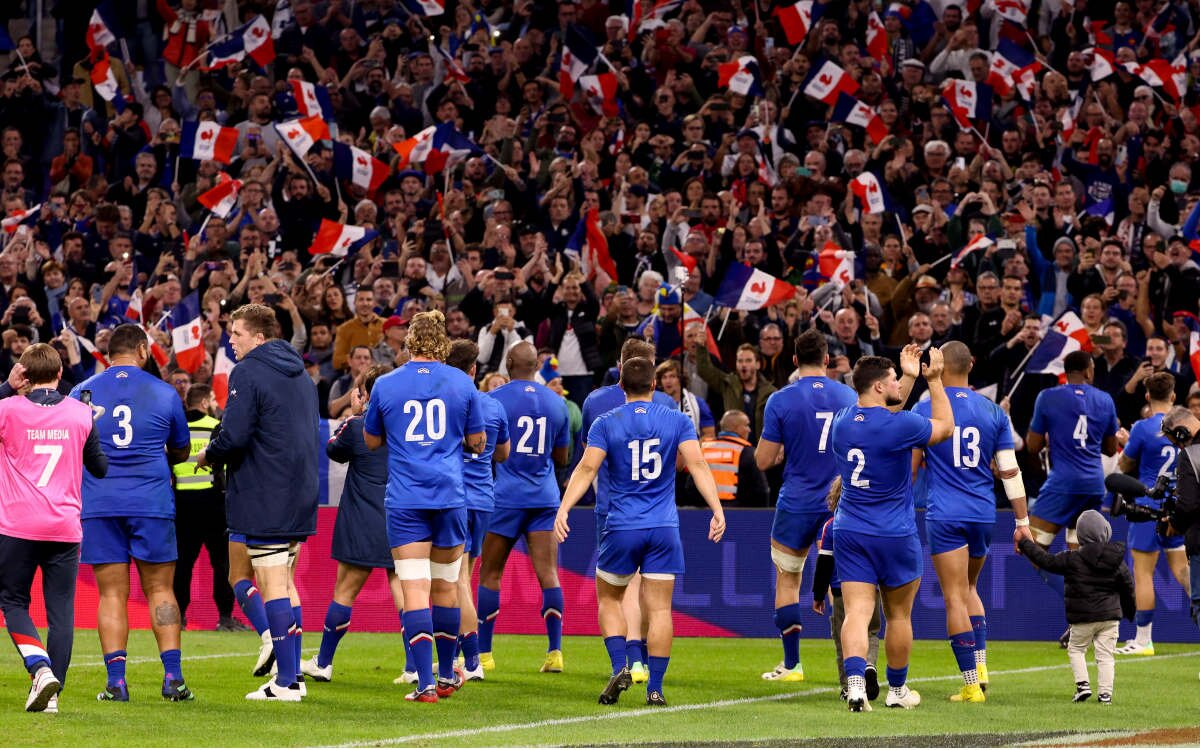 The whole cocktail was so beautifully, viscerally French. Over the past three years, Fabien Galthie has transformed the national team, harnessing its astonishing array of talent, uniting players and supporters in a shared purpose. His greatest skill has not been to get a tune out of his already brilliant assets – Antoine Dupont, Damian Penaud, Romain Ntamack and a hundred others – nor to make fabulous appointments – a certain Shaun Edwards, and Thibault Giroud, the transformative strength and conditioning guru – nor even to spot raw excellence lurking on the fringes – Gabin Villiere, Anthony Bouthier, even Charles Ollivon – but to get everybody pulling in the same direction.
For far too long, France were a broken machine. Cogs jammed instead of whirring in sync, parts fell off and it never seemed to last long enough to get the work done. France were flaky, unfit and at times mutinous.
No longer. Saturday's heavyweight triumph was their twelfth in a row, their greatest ever winning run. Not since the 1930s have they managed more than ten on the bounce. Nobody has beaten them since the Wallabies on a July tour last year. All of the world's rugby powers have taken on France, and each has fallen before Galthie's irrepressible revolution.
Most tellingly of all, the folk of France are captivated by the game again. Their embarrassment at past failings has turned to feverish enthusiasm at what they are seeing and what they are still to see. The World Cup comes to France in less than a year and the thunderous Velodrome will host a spree of matches.
What a force this French public can be. How they revelled in their team's graft and how they gave the team every ounce of themselves too. As a standalone experience, Saturday night was balm for the rugby soul. As a precursor of what's to come, it was positively tantalising. A sleeping giant roused from its slumber and laying waste to all in its path. A match played with World-Cup intensity, won by the team best able to cope. Most of all, a people united.