England quicken the pulse but Eddie Jones will not rest on his laurels
It was a day where fans fell back in love with rugby. France, ran amok against the All Blacks, England edged a titanic battle with the Boks and Ireland put a cricket score on the sorry Pumas. Even Wales and Scotland, who had more mixed fortunes overcame their Southern Hemisphere rivals to set up a tantalising World Cup in 2023. Here's what The XV thought of the weekend…
England point to a brave new world
There was no doubt England played well against South Africa. Any win over the World Champions should rightly be celebrated. They penetrated a notoriously difficult defensive line on three occasions, with Manu Tuilagi gaining merit points for his balletic dive for the line before injuring himself, Freddie Steward powering over from close range like a blindside flanker and Raffi Quirke running an Antoine Dupont-like support line to receive an inside ball from Marcus Smith. That is not to say, Eddie Jones will not be looking for improvements.
Of course, Jones will have gained immense satisfaction from the victory after the pummelling he endured in Yokahama, but as he scrutinises the post-match VT, he will know he cannot leave fortune to chance if his England pack face the Springboks in France in 2023. England, traditionally a very useful pack, were bullied up front in the second-half and the physical dominance of their visitors saw the penalty count slide arrestingly in favour of Jacques Nienaber's men, 18-8, with England somewhat fortunate not to see another yellow card pulled from Andrew Brace's pocket as they wilted. They also lost three scrums. Indeed, had two of Handre Pollard's misfiring kicks found their target, the headlines would be congratulating a supercharged Springbok comeback.
There were mitigating factors in a callow England front-five; both Ellis Genge and Joe Marler had Covid, with the latter only cleared to play hours before kick-off, and Jamie George was ruled out through injury, this after Luke Cowan-Dickie missed the Autumn, but Jones must consider whether he has the weaponry to challenge South Africa's 'Bomb Squad' in knockout rugby.
Jonny Hill and Maro Itoje look like his first-choice locks in the engine room, but England are a little lightweight compared to Eben Etzebeth (6ft 8ins) and Lood de Jager (6ft 9ins). When his stocks are replenished, Jones may need to take stock and consider Joe Launchbury's heft and potentially the return of George Kruis, still only 31, to stop the England pack retreating. While others will bask in the game's thrilling denouement, Jones, not one to rest on his laurels, will already be plotting.
French renaissance
If you could choose one moment, one where daring adventure triumphs over dull pragmatism, you don't have to think too long or hard for it. New Zealand were on the charge, an 18-point deficit reduced to two. Questions were being asked of France, as they so often are. Were they about to crack which they kind of did on two of their Australian Tests last summer, which they certainly did the last couple of times they faced Scotland?
No, instead, with the ball bouncing in their end-goal area, Romain Ntamack did the sort of thing only a French player would. His run began near his own posts; the move nearly ended in French legend. Certainly it changed the game, a move that eventually led to Ardie Savea getting yellow carded, to Melvyn Jaminet holding his nerve, as he did all night, to score a crucial penalty. A minute later Damian Penaud scored the decisive try. And that was that, a statement win over New Zealand, their first in Paris since 1973, their first anywhere in 12 years.
You could downplay it, point to All Black fatigue at the end of a long season, remind yourself that no trophy is ever handed out in November, and you'd have a point. Here is another one. Only four countries have ever won a World Cup in its 34-year history. If four is to become five, the three-time finalists will be the one to effect that change.
They have so much going for them; youth, unity, discipline (for once), home advantage at the 2023 tournament and a half-back in Antoine Dupont whose excellence is consistently applied. If you are a Scot, Springbok or Irish fan, ask yourself a question. After what we saw on Saturday, who would you rather face in the 2023 World Cup quarter-final, the All Blacks or a resurgent France backed by a raucous home support?
Wales can't count on red cards in 2022
In any end-of-year audit, there would usually be a clause for exceptional circumstances, events that are unlikely to be repeated on a regular basis.
The asterisk under Wales' 2021 report is six red cards given to opposing teams in 12 Tests. That is somewhat remarkable, and counts for each of their noteworthy wins. Indeed, from 12 Tests, in the ledger, seven were marked with a W next to them, and five were losses. The pulse-dipping drubbing Canada was an anomaly to their season.
To be clear, this was not Wales' fault. If you saw Adam Beard's bloodied boat race on Saturday, you had to acknowledge that there was no way Rob Valetini could have stayed on the field within the current directives. Peter O'Mahony and Zander Ferguson's supporters will still rage at their dismissals, but again, the laws are no different for any side, however Wales cannot expect the opposition to be so generous in 2022, and even with a man advantage, Wayne Pivac's men made heavy work of pulling themselves over the finish line.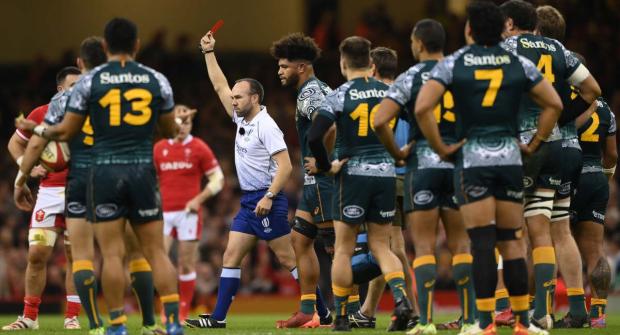 It makes their year hard to pigeon-hole. A Six Nations Championship and the 'big-three' scalp of Australia, is certainly enough to make Pivac not fear for his continued employment at the WRU, but two years into his role, there are still murmurs that improvements are fitful and there has been regression in several areas from the Gatland era, with the scrum and defence – which has subsequently been shored up by Gethin Jenkins – particular areas of scrutiny.
Of perhaps more concern, is Wales' backline which has lacked fluency. Pivac's hand has been forced through injury, but he's still played four scrum-halves, five fly-halves and eight individuals with a 12 or 13 on their back – even if you don't include Scott Williams, who was called up and Josh Adams who was picked to play at 13 against South Africa – in just 20 Tests.
Now he has cast his eye over so many players, the task will be to filter those numbers and start improving the rapport between his first-choice combinations.
Catt bounce
When February came and Ireland slipped to a record of six wins and five defeats under Andy Farrell, the suggestion was a Catt could become a sacrificial lamb. You could see where the critics were heading. Ireland's attack was floundering, Ireland's attack coach the obvious person to blame.
Two games later, little had changed. They put 48 points on Italy but that was Italy. Scotland were defeated in Murrayfield but the manner of Ireland's performance left more questions than answers. If there was a pundit or former player left in Ireland supportive of Mike Catt then they must have taken a vow of silence. The Englishman was under pressure.
And now? Look at what Ireland have done in November, passing the half-century mark against Japan and Argentina, scoring 30 points against New Zealand, beating teams with craft rather than graft.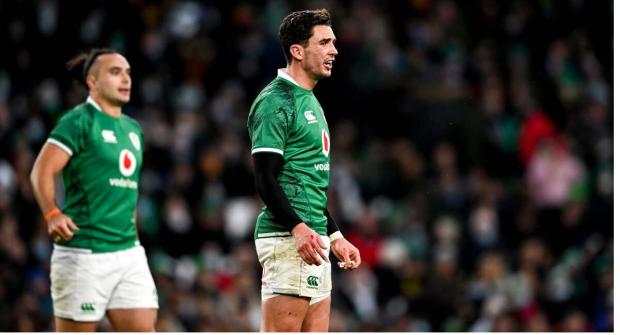 The obvious people to praise for this are the players, Farrell, their head coach, or his most recent backroom appointments, Paul O'Connell and Gary Keegan. The less obvious thing to do is praise the much-maligned Catt, whose patience under pressure has brought its reward. What you get from Ireland now is variety; locks and even props appearing occasionally as first receivers, thereby easing the playmaking pressure on Johnny Sexton. More than that, there is a cleverly thought out pattern of play, where Ireland are relying as heavily on decoy runners as they are on the slick handling skills of their backs.
It's winning rugby, winning in terms of results and also in capturing hearts and minds. It's rare in Irish rugby history to see the national team appear so easy on the eye while also being so hard on the opposition. Since their last defeat in February, Ireland have won eight in a row, scoring 30 or more points against England, New Zealand, Italy, Japan (twice) and Argentina. You don't do that unless you've a decent attack, or indeed, a decent attack coach.
Succession Plan
What will happen when Johnny Sexton goes? For five years, we were told the answer was Joey Carbery, ever since he followed up his 21st birthday with a stunning substitute appearance in Chicago, scene of Ireland's 2016 victory over the All Blacks.
Since then it hasn't quite happened for Carbery, injury being a factor, former club Leinster's use of him as a full-back another distraction. And now? After this month it is clear he has the hands to be the perfect ten and the footwork to be a 15. Andy Farrell, the Ireland coach, is even considering using him as an inside centre, a prospect that would make Ireland look even smarter in attack.
Yesterday, in Ireland's 53-7 victory over Argentina, Carbery played 50 minutes at fly-half, 30 at full-back. He was equally brilliant in each posting. All of a sudden things are looking fairly exciting for Ireland right now, not just because of Caelan Doris, Ronan Kelleher, Dan Sheehan, Hugo Keenan's emergence, but also because of Carbery's re-emergence.
Hogg's moment of history
As Ian 'The Flying Scotsman' Smith was hanging up his boots in the early 1930s, the Great Depression seized America, Willie Nelson was born and construction began on the Golden Gate Bridge.
For the better part of a century, no Scottish man had surpassed Smith's haul of 24 international tries. Tony Stanger, immortalised as a 1990 Grand Slam hero, matched it some sixty years on. Chris Paterson, then Tommy Seymour, came close in the decades that followed.
But in galloping over the Japanese try line on Saturday, Stuart Hogg etched his name into the Scottish rugby record books. The captain now stands proudly alone as his country's greatest try-scorer.
The evolution of Hogg from blistering Borders tyro to streetwise leader has been fascinating. On your next coffee break, look up the try he scored for Scotland A against their English counterparts back in 2012, a mesmeric, slaloming scorcher that bamboozled half a team and catapulted him into the full side. Scottish rugby folk couldn't get enough of their new poster boy, all the more so while their team laboured to create and score.
Hogg was a gallus boy. He had the streak of devilment infused in so many of the greats. And by his own admission, he got too big for his boots as he soared to prominence, weaved his magic, became a Lion and drew huge adulation. He fell out with Gregor Townsend, who was coaching him at Glasgow, eyed a move to Ulster and was left out of the starting XV for Warriors' first Pro12 final in 2014. There was a grim sending off in Cardiff that precipitated a heinous thrashing for Scotland at the hands of Wales.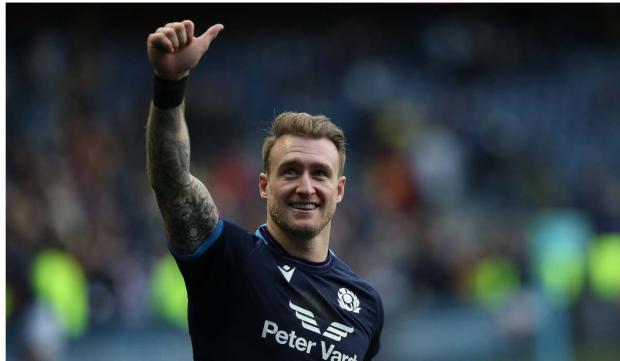 Though his excellence on the field seldom wavered, Hogg has done a fair bit of growing up since then. He got himself back in the Glasgow side and won the title with them in 2015. He speaks impressively now about the game, but also about his trauma and vulnerabilities, from the death of a childhood friend in a car crash to his frustrations at how Glasgow and Scotland had faltered.
Exeter Chiefs changed him too. They made him think differently about rugby and how to play it. And they won things, a glorious double in his first season. After the 2019 World Cup, Hogg returned ready and hungry to lead. He asked Townsend for the Scotland captaincy early last year, and has skippered Scotland to historic, hoodoo-smashing wins over Wales, England and France on the road, as well as a third-straight victory against the Wallabies.
Watch Hogg, the grin that spreads across his face as the anthem peals out, the sheer joy with which he plays, and the visceral outpouring of elation as he cantered clear on Saturday, and you realise his love for representing Scotland is immeasurable. An icon, a leader, and now a richly deserved record-breaker.