Back
By Owain Jones
Alex Mitchell: 'We've got it in us to win the Premiership for the first time since 2014'
Here's a poser for you. If Premiership Rugby was your Mastermind subject, could you answer the following? Who lies third for passes, fourth for offloads, fifth for tries scored (12), seventh for clean breaks and tenth for defenders beaten this season?
To put you out of your misery, RugbyPass+ can reveal that player is Alex Mitchell, Northampton's jack-in-the-box scrum-half, who has had a sublime season in the green, black and gold.
His electric form has seen him viewed as the coming man by many in the quest for the England No 9 shirt, where he must jostle with Ben Youngs – his opponent on Saturday's seismic East Midland's derby – and Harry Randall for an England spot ahead of this summer's tour to Australia.
Mitchell turned 25 a matter of weeks ago, and despite being at Saints since 2017, this has been seen as his first true breakthrough season. To illustrate the point, he has made more starts this time out (28), than he had in his previous four seasons (26).
Mitchell had mostly played as understudy to the explosive Cobus Reinach but rewards have come his way after showing patience and no little maturity while warming the pine.
Taking a pew, looking over the Franklin's Gardens turf bathed in sunshine, while lawnmowers purr away in the distance, with a sense of understatement, a tanned and relaxed Mitchell, stated the bleedin' obvious, that "this season has been pretty good for me individually," before letting out a self-conscious chuckle. "Being behind Cobus (Reinach) was tough because he's such an awesome player, so it's been good to have a crack at it. I've really loved this year, especially now we've made the top 4. I've never been one for individual goals, but I had to back myself. That said, I'm still some way off the perfect game."
The fact that Mitchell says his best is yet to come will thrill the Premiership title contenders, because he is in career-best form, which one feels, comes with regularly starting. "Before this season, I'd played 32 games and come off the bench for 28 of them. On the plus side, it helped me deal with pressure situations because often when I came on when the scores were tight, but it didn't help with my fitness. I'd have a Burger King and a few beers after the game with the boys, but by the end of the season, I had a little derby (belly). It meant I had to overcompensate in the week to top up."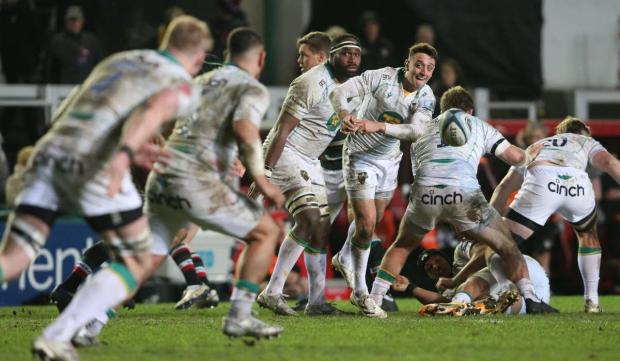 For three of those four seasons it was 18-cap Springbok, Reinach, eight year's Mitchell's senior, who he had to study and he saw certain characteristics required with a No 9 on your back. "He was the loudest and energetic bloke around the club and that's what you have to be as a 9. He was always on the ball, always lively around the base. People knew him for his breakaway interceptions, but some of his cover tackles were game-changing."
From an early age, Mitchell seemed predestined for a life in sport. Despite his lilting Northern brogue he was born in Maidstone, where he still has family, but raised in Lancashire after his parents split up at a young age.
His upbringing, he says, was settled, and dominated by ball games. "My dad was head of sport at a school, so me and James would hang around for hours playing with any ball whether it was football, cricket or tennis."
What I like about our coaches is they're all really positive. They never say, 'oh you did this wrong'. They say, 'you did this well, and this is what you can do to do it even better
Gifted enough to have trials with West Ham, Manchester United and Manchester City at youth level, his real love, however, was rugby. His talent was noticed at Lymm High School, alumni of David Strettle, where like Strettle, he caught the attention of Sale Sharks. "I was at the Sale Academy and they actually offered me a contract but as a full-back, a bit like Fodes (Ben Foden). I spoke to John Fletcher, the former England age-grade coach and he said, 'I think you'll make it further as scrum-half'. I backed his opinion and that's when Saints offered me a contract as a 9. My brother James was a 9 at Sale and I didn't want to be driving in with him as third and fourth choice scrum-halves."
After packing his bags and travelling the 125 miles South, Mitchell still believes it was probably the decision he's ever made. After hanging round long enough to move up the pecking order, he is now indisputably first-choice.
As for his style of play, Mitchell says the messaging from the coaching staff is to keep it simple. "Sam (Vesty) talks about speed of ball. We try to get it away in under three seconds. Against Quins last month, in the first-half, we averaged 2.1secs and scored 26 points, but in the second-half it was nearer five seconds and the scoreline reflected that [Saints won 32-31]. As for Boydy, he's more concerned with your all-round game. Keeping the game ticking over. What I like about our coaches is they're all really positive. They never say, 'oh you did this wrong'. They say, 'you did this well, and this is what you can do to do it even better.'"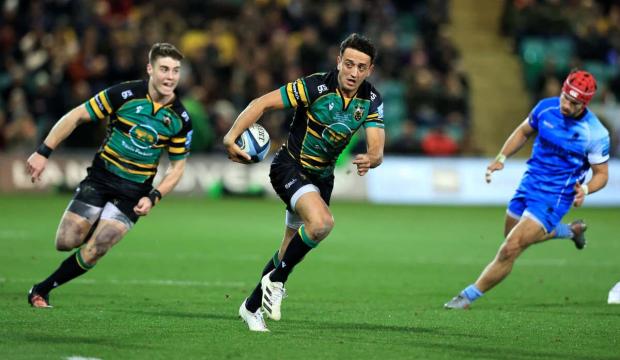 In rugby's desperation to nail the one percenters and leave nothing to chance, Mitchell says there is a risk of instruction overload and he's glad the Saints management team are shining a light for independence of thought and a dash of derring-do when the game breaks up. "Often players are overcoached. Boydy is very good at not overdoing it. If you've reached this level, everyone's a good player. That's what I liked about that Henry Arundell's wonder try a few weeks ago. He went on instinct. As you get older, the onus in on being pragmatic and maybe kicking it to safety. Boydy will get into you if there's a lack of effort or application, but if it's a skill-error, he gives you leeway."
Mitchell says despite the plaudits coming his way, much should be deflected to his pack, who have given him a platform to perform. "As a scrum-half, if the scrum is going backwards or you're struggling at set-piece, it can be a tough day at the office. If the pack is playing well and you're coming off the back of quick ball, you can make breaks. Look at Gibson-Park for Leinster and Ireland, he's been class. When the likes of Lewis (Ludlam), Courtney (Lawes) and Dave Ribbans are firing, it makes my life so much easier."
In game, he'll be shouting 'f**king hell Mitch' and I'll think, 'Christ, what have I done now?' but he's so, so good and he's made me a better player. He keeps such exacting standards.

Mitchell on playing with Dan Biggar
While he is looking likely to be going toe-to-toe with Nic White this summer in Australia, like most 9s, he is in thrall to Antoine Dupont, who is redefining the role. "Man, that bloke is so strong, it's ridiculous. He's also a brilliant kicker – he can do everything. Right now, you have to admit he's a level above everyone else. Mind you, we have some brilliant 9s in the Premiership. We'll miss Faf de Klerk because he is very sharp, especially defensively, but I swear to God his hits look better because of his long hair. In slo-mo they look amazing."
Outside Mitchell has been a verbose Test centurion in Dan Biggar, a player not exactly known for holding back if he's not getting the service he wants. The scrum-half smiles. "I love playing with Biggs even though you can get it in the neck a lot of the time. In game, he'll be shouting 'f**king hell Mitch' and I'll think, 'Christ, what have I done now?' but he's so, so good and he's made me a better player. He keeps such exacting standards. He's aggressive and full-on on the pitch but he's so nice off it. That's why he gets on with refs, because of his off pitch geniality."
Mitchell is one of a clutch of young, gifted backs at the club with George Furbank and Tommy Freeman recognised by England, and Mitchell pays special credit to Fraser Dingwall who has been called up to some England camps in recent months after his classy outings at 12. "We get annoyed with Dingers because he's good at everything. He was head boy at school. He's smart, intelligent, good-looking, has good manners and he's been awesome as a captain when Lewis has been away."
As for his own England aspirations, the common thinking is he's nestled just behind Harry Randall and the evergreen Ben Youngs in the England pecking order, but the man dare not get ahead of himself. "You never know. You can get hyped up and not get picked, but I was thrilled to be selected for the England camp. There are such a lot of good scrum-halves out there."
I love being in and around the best players in the world because ultimately you're trying to be better than them.

Mitchell on being in England camp
After representing England at age-grade level, he made his full England debut against the Barbarians in 2020, where Mitchell says the standards set are sky-high. "It's so good to be around the likes of Ben Youngs and get their take on how they approach the game and see their different perspectives. I love being in and around the best players in the world because ultimately you're trying to be better than them. There's a fear element in camp so you can't relax in case you get a tap on the shoulder. In a high-performance environment you should never feel comfortable."
As he comes into his prime years, Mitchell will enter the 2022-23 season as a marked man around the fringes, so what improvements can he make to his game? "Do you want a list? I want my pass to be slicker, I want to improve my kicking game. Seriously, for me, it's all about consistency, you know, backing up a good 40 minutes with another, week after week. I need to keep working on my leadership, upping my voice on and off the pitch. You have to admire Ben and Danny Care because they've been doing it for so long."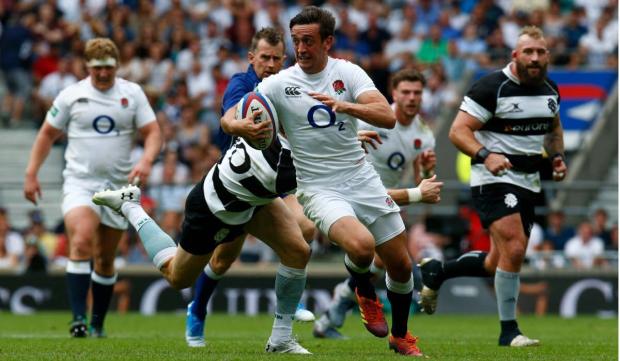 After a stunning run of six wins in their last seven matches, Saints have muscled their way through the pack and have a punchers' chance against top of the table Leicester Tigers, a side who play a far more structured game.
Mitchell says, that while underdogs, the Saints can cause an upset. "We've got it in us to win the Premiership for the first time since 2014. Leicester, Saracens and Quins have been the most consistent teams this season but we've had good performances against all of them. We have momentum on our side and this could be the last game for Boydy who has been class for the last four or five years. One of his big ambitions was to win Super Rugby and the Premiership and it would be a really nice leaving present for him. The fans will come out in huge numbers on Saturday, and they've stuck with us through thick and thin. We owe them a big performance."
Mitchell's numbers have set him apart this season and if there a whiff of a gap, Tigers defenders could yet be watching his vapour trails as he careers towards the line. 'Catch me if you can' is his mantra and he is no longer an understudy, he is now the leading man.