The verdict on Farrell's first year as Ireland boss: 42 players, nine games, three bad defeats and an IRFU vote of confidence
A penny for the thoughts of ex-Ireland boss Joe Schmidt who started a new job this week for World Rugby, the governing body whose HQ is less than a two-kilometre walk from his old Lansdowne Road stomping ground where Andy Farrell is now the boss. It's 14 months since Schmidt was shunted out the door, World Cup quarter-final elimination penning the last line of an epitaph that had been in the works since the 2018 November announcement that he would step away post the finals in Japan. 
That agreement was the beginning of the end of his stellar success with Ireland, his vice-like grip quickly loosening and his team becoming a pale shadow of the force it was when beating the All Blacks to round out an incredible calendar year that included the Six Nations Grand Slam and tour series victory in Australia. 
That's a consistency Ireland can only dream of now and no one can say they weren't warned about the state of flux that has emerged, the decline in Schmidt's final year accelerated by the very mixed fortunes of the new Farrell era. It was November 29, 2018, amid the hoopla of Schmidt confirming his intention to leave and the IRFU quickly agreeing on the eventual promotion of Farrell from assistant to the boss, that RugbyPass set out its stall on the cosy changing of the guard.
In a feature headlined 'The inherent risk of Andy Farrell', reasons as to why the promotion from within in Ireland might not be a success were outlined long before the recent lengthy queue formed to question Farrell's capabilities as a head coach. The Englishman has been boxing clever all 2020, talking constantly about how his team are at the start of a journey surrounded by a newness as to what they are up to. Except the truth is there is not much new at all. 
Farrell has been involved with Ireland since 2016 so he knew the lie of the land unlike what would have been the situation had an outside coach got the job. So far he has essentially replaced Schmidt with Mike Catt, whose years coaching the Italy attack haven't lived in the memory and have carried over into the misfiring Ireland set-up. 
??Make no mistake, the IRFU are diving into the unknown with Farrell…

– writes @heagneyl ?? https://t.co/VaT0P3uzV3

— RugbyPass (@RugbyPass) November 29, 2018
The rate of change on the pitch hasn't been as massive as it has been portrayed either. While the numbers show that 42 players were used in Ireland's nine matches this year, 32 as starters and nine new caps, nine of the starters on the teamsheet for this weekend's face-saving Nations Cup win over Scotland started 15 months ago when the Scots were beaten in Yokohama in Schmidt's last stand at the World Cup. 
With injuries accounting for three of those missing on Saturday (Jordan Larmour, Garry Ringrose and Tadhg Furlong), along with one retirement (Rory Best), it meant that Andrew Conway and the benched Josh van der Flier were the only two selections different under Farrell from the hand Schmidt played.  
It's a slow evolution then and it's here where things now get tricky. Farrell does have a deal through to World Cup 2023 but that agreement could quickly melt if results and performances in the 2021 Six Nations don't measure up after what was described as an "average year" by high performance boss David Nucifora.  
The Australian figurehead of the IRFU gave Farrell a vote of confidence last Monday, stating that he is still the right man for a position no one else was considered for, but that support has only heaped the pressure on. In a climate where 50 per cent of the players employed by the union across the four Irish provinces fall out of contract next summer (including the centrally contracted Johnny Sexton, Iain Henderson, CJ Stander, Peter O'Mahony, Furlong, Keith Earls), the cost-cutting IRFU simply can't afford an underwhelming Six Nations. 
Prize money from that tournament always mattered hugely to the union's bottom line, but it's even more important at a time when the pandemic has hammered revenue streams to such an extent that no player contract negotiations have even been entered into yet, a terrible state of affairs.
Farrell's potentially defining campaign starts in just nine weeks away to Wales on February 7. Here is some of the food for thought he should be chewing on over the winter, a section-by-section review of the 42 players he called on in a first-year that ended with six home wins, some of them shaky, and three deflatingly bad away losses. 
BACK THREE (7 players used)
Stockdale 7 starts + 1 as sub (2T), Conway 6 (1T), Keenan 6 (3T), Larmour 3 (1T), Earls 3+3 (2T), Lowe 2 (1T), Daly 0+1
Jordan Larmour flanked by Andrew Conway and Jacob Stockdale was how this sector began last spring, that trio starting all three matches, but the injury to Larmour, the eligibility of Kiwi James Lowe, the sumptuous return to form of 33-year-old Keith Earls and the emergence of rookie Hugo Keenan – one of just three players to start all six recent matches – has seen different combinations trialled. 
Ten tries were scored by players in this sector, suggesting Ireland under Farrell do have the ability to get the ball wide and be clinical. They just need to do it way more.  The overall standout wings would be Keenan and Earls but neither Larmour nor more recently Stockdale fully convinced they can bring a Rob Kearney-like aura to the full-back spot. 
Why Stockdale, who scored consolation beauties in Paris and London, simply didn't dive on that loose first-half ball in France is still a mystery, his failure resulting in a penalty try, the sin-binning of Caelan Doris and the goodbye to Six Nations title hopes. 
Two top teams in pursuit of the #GuinnessSixNations title on the final day

Don't miss the #FRAvIRE highlights! pic.twitter.com/EShiV23SAL

— Guinness Six Nations (@SixNationsRugby) October 31, 2020
MIDFIELD (5)
Aki 7 (1T), Henshaw 5+2 (2T), Farrell 3+2, Ringrose 2, McCloskey 1
Ever since becoming eligible under Schmidt in November, the midfield has always been a case of Bundee Aki plus one other, usually which one of Garry Ringrose or Robbie Henshaw has been fit as one of them tends to nearly always be absent through injury at Test window time. 
It's been no different under Farrell, Ringrose getting injured in his Ireland starts in the February and October openers. Aki's halo slipped in Paris, was further blemished in London and must surely have the coach scratching his head about how the centres situation can evolve down the track.  
The last time Henshaw and Ringrose brought their provincial partnership to the Test stage was the forgettable World Cup elimination loss to the All Blacks. Is that an option that will be reprised in 2021 to see can it work better under Farrell and put pressure on Aki to take his game on further? 
It needs to happen as the options below that are somewhat restricted. Chris Farrell is limited at Test level, his try-conceding missed tackle on Jonny May last month and lack of creativity holding him back, while McCloskey walked into a Georgian ambush in his first Test start in two years. 
OUT-HALF (3)
Sexton 7 (2T), R Byrne 1+8, Burns 1+2 (1T)
This is going to be a tricky situation in 2021 for Ireland boss Farrell. Sexton's show of spite in France suggests the 35-year-old shouldn't have the captaincy long-term, that the baton should be passed elsewhere to allow the veteran to be the best version of himself without the distraction of the skipper responsibilities. 
But there lies the conundrum: if Sexton's form is good, he will play but that would be to the detriment of developing dependable alternatives. This was the rock that the World Cups of 2015 and 2019 crashed onto, Ian Madigan and Jack Carty respectively not up to scratch when Sexton was lame for key matches versus Argentina and Japan. 
Farrell needs to drill experience into alternatives while keeping Sexton onside. Ross Byrne suggested again at Twickenham last month he is a long way off being a dependable starter as he is so ensconced in the ten-minutes-off-the-bench role, while much more needs to be seen of Billy Burns whose body keeps leaving him down. 
Both only got their chance last month when Sexton was injured. How about one of them getting picked at No10 next year with Sexton the No22-wearing replacement? 
Sounds like Rassie Erasmus was on to something when he labelled the Irish "softies" #AutumnNationsCup #IREvSCOhttps://t.co/l1ZUFJFRZo

— RugbyPass (@RugbyPass) December 3, 2020
SCRUM-HALF (4)
Murray 7+2, Gibson-Park 2+3, Cooney 0+3, Marmion 0+1
While it needed an injury for Farrell to look beyond established 10 Sexton, he was more courageous when benching Murray, the other half of Ireland's long-serving half-back pair, in the first two Nations Cup games.
Few would have rated Jamison Gibson-Park, a career sub at Leinster and before that at the Blues and Hurricanes, ahead of the likes of John Cooney, Luke McGrath or even Kieran Marmion, who was treated shabbily by Schmidt last year. 
Gibson-Park got his chance but didn't raise the bar over at Twickenham, leaving Ireland going back to Murray and handing Farrell a new year puzzle to solve – to persevere with giving the Kiwi opportunity to become a credible alternative or go cap-in-hand to the others he jettisoned, namely Cooney who went from being a sub in the three spring games to exclusion in the autumn.   
LOOSEHEAD (4)
Healy 8+1 (2T), Kilcoyne 0+3, E Byrne 0+3, O'Sullivan 0+1
The lack of competition in this spot was worryingly crystal in 2020. While Healy went on to become a Test centurion in Paris, something not thought possible when nearly forced to retire with injury in 2015, Jack McGrath, who had his number for a time, has fallen off the radar completely while Kilcoyne, the spring back-up, was unavailable this autumn with an injury. 
Newly capped Ed Byrne has plenty to do to tidy up his game at this level, but he has a big provincial gap to close first on Healy, while Eric O'Sullivan's cameo versus Scotland was a footnote only noteworthy because he made a debut. 
The threadbare Test cupboard was exemplified by how Finlay Bealham, who had been providing autumn cover at tighthead to Andrew Porter, started at loosehead versus Georgia and got worryingly filled in.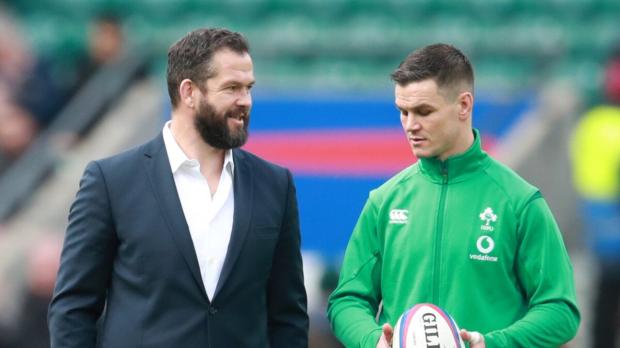 HOOKER (3)
Herring 7+1, Kelleher 2+4, Heffernan 0+4 (1T)
Neither Herring nor Kelleher convinced they will become the long-term successor to the retired Rory Best, who for so long made this position his own. If 30-year-old Herring was the real deal at this level, then surely he would have been involved much more under Schmidt rather than winning just eight caps in six years. 
He has now earned that same number of caps again in just one calendar year under Farrell but that generous exposure hasn't seen him emerge as the standout Ireland No2 for the foreseeable future. His powder-puff tackle on Duhan van der Merwe while standing pillar at the ruck on Saturday was a terrible, try-conceding error.
Errors also exposed Kelleher, his throwing at Twickenham badly wounding Ireland, while his body has been less durable this term than in his excellent breakthrough season at Leinster where he scored tries for fun. He needs to take a deep breath and get on with Test learning at a quicker pace. Dave Heffernan doesn't like making the step-up from fleeting sub into a more credible contender.      
TIGHTHEAD (4)
Porter 6+3 (1T), Furlong 3 (1T), Bealham 1+4, Jn Ryan (0+2)
Farrell can feel blessed with Porter's increasing Ireland durability. The world-class Furlong was naturally the spring starter but a long-term injury sidelined him for the restart, leaving Ireland dependant on Porter whose starting of all six matches across the seven weekends highlight the lack of depth below him. 
With Bealham fluffing his lines on both sides of the scrum and John Ryan continuing to be only a bit-part option, the pressure was on Porter to deliver. He had made a hame of the set-piece in Leinster's lost European quarter-final in September but he is a resilient operator and his energy was such that we saw a modern-day novelty at Twickenham, a tighthead playing the full 80. 
When Furlong returns, there should be a discussion on whether Porter should start practising his old U20s loosehead role so that he can be the first-choice back up to both Healy and Furlong on either side of the scrum.   
It was good to be back! @IrishRugby claimed a bonus point win in Dublin and here were the all the best bits ?#GuinnessSixNations | #IREvITA pic.twitter.com/SiN1k9w1oj

— Guinness Six Nations (@SixNationsRugby) October 24, 2020
LOCK (6)
Ryan 9, Henderson 4+1, Beirne 3+1, Roux 2+2 (1T), Toner 1+2, Dillane 0+3
Second-row selection is along the lines of the Aki+1 midfield situation. It has become James Ryan+1 as injury and fluctuating form continue to hold Iain Henderson back from making that the clear go-to partnership. When Henderson is on his game he is the perfect foil for Ryan but he has a cumbersome streak in him, Saturday's knee injury the latest setback.
The ever-improving Ryan should be returning for duty in 2021 as the anointed long-term skipper after having a go at the responsibility last month against England and Georgia, but there are no certainties on the identity of Ryan's +1 beneath Henderson. 
Tadhg Beirne had two of this three autumn starts at lock (the other at blindside) but wasn't dominant and he gave way to Quinn Roux, the bit-part player under Schmidt who performed with a freedom not seen before from him at this level, putting his physicality about in an abrasive, confrontational way which Ireland need more of.   
2020 marked the likely end of Devin Toner's Test career, Farrell offering him the opportunity of redemption for World Cup omission only to come unstuck in a frightful February first half at Twickenham. Dillane, meanwhile, continues to be like John Ryan at this level, a bit-part player who only surfaces every now and again from the bench. 
BACK ROW (6)
Stander 8 (1T), Doris 6+1, O'Mahony 5+4, van der Flier 4+1 (1T), Connors 3+2 (1T), Deegan 0+1
This was the area where Ireland could feel most enthused despite hitting the wall repeatedly with a thud in Paris and London. Concussion meant last spring was a false start for Doris but he showed in the autumn block that he is the real deal while fellow newcomer Will Connors also showed encouraging glimpses to add genuine depth to the back row.
Ireland have been in need of a fire-up in the back row, the Peter O'Mahony, Josh van der Flier, CJ Stander combination lacking balance and robustness on difficult days like Twickenham last February, something that had earlier been exposed at the World Cup. 
There was a damaging over-dependence on Stander to carry in the final year of the Schmidt era and the emergence of Doris, along with the transformation of O'Mahony in a player who wants to be on the ball, has taken the heat off him to a certain extent. That balance worked on Saturday against Scotland but misfired two weeks earlier in London, so it remains a huge work in progress. 
Van der Flier was the biggest loser in this sense. He started all three February games but got just one start in six in the autumn.
Caelan Doris was the toast of the Ireland dressing room after the win over Scotland#AutumnNationsCup #IREvSCOhttps://t.co/5L5929xLZ3

— RugbyPass (@RugbyPass) December 5, 2020
Comments
Join free and tell us what you really think!
Join Free