The truth about coaching turnover in the rugby union
Job security as a professional rugby head coach in Europe isn't quite as fragile as an English Premier League soccer manager.
A record 15 top league soccer bosses (75 percent) fell by the wayside last term, and Jose Mourinho's axing by Manchester United on Tuesday means the figure for this season now stands at three heading towards Christmas.
The rugby scene isn't as volatile, but it isn't short of managerial upheaval either. A Rugby Pass survey of the 66 European clubs operating in the PRO14, Top 14, Premiership, Championship and Pro D2 leagues has found that 20 clubs changed their main man during 2018.
This 30.3 percent turnover lends credence to last week's brusque claim by new Northampton boss Chris Boyd that the European scene isn't for the faint-hearted.
He has a point. Back in his native New Zealand, you recently had the curious situation of axed Blues boss Tana Umaga, rather than being shown the Eden Park door, given an assistant's role to soften the blow after three years of failure as head of the organisation.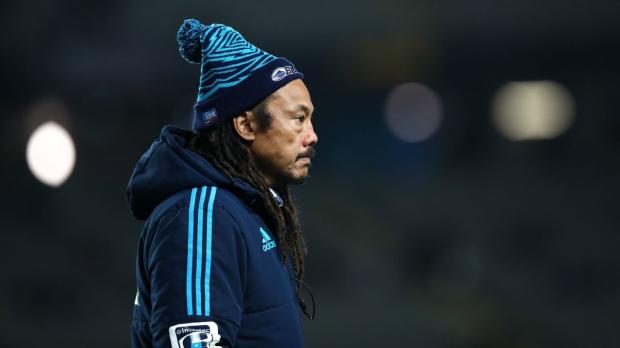 'It [European rugby] is a ruthless place,' said Boyd in a recent interview. 'If you get it right it's great, and if you don't then you go and that's how it is.
'I 100 percent agree with it – that's the nature of the beast. There's a demand here for performance… if you want security you'd never be a rugby coach.'
Boyd's comments were perhaps realisation of his own difficult teething situation following his summer arrival from the Super Rugby-winning Hurricanes franchise.
Northampton don't have a track record as a sacking club. Jim Mallinder held the Franklin's Gardens reins for 10 years before he was cut last December.
However, the Saints head back into Premiership action this Friday at Worcester occupying 10th spot after just three wins in nine outings. That leaves them just two points clear of bottom side Newcastle and very much in the thick of a relegation battle where just four points separate seven clubs.
Boyd might be feeling nervous, but rugby doesn't quite yet mirror the trigger-happy English soccer scene. Rob Baxter is in his 10th season as Exeter boss, Mark McCall his ninth at Saracens, Dai Young his eighth at Wasps while Steve Diamond and Dean Richards are each into their seventh season in charge respectively at Sale and Newcastle.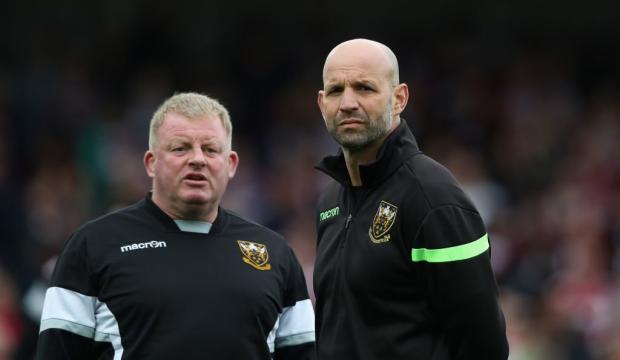 If rugby was soccer, interim Leicester boss Geordan Murphy would have been the recipient of very different news on Tuesday 105 days after he agreed to fill-in in September for the ousted Matt O'Connor.
They don't hang about chopping and changing in the round ball game. Nik Daws had just 91 days in charge at Scunthorpe, Michael Collins 77 at Bradford City and Harry Kewell just 74 before the plug was pulled at Notts County.
But rather than Murphy suffering a similar fate for his underachievement, Tigers instead opted to permanently hand him the reins even though the Welford Road club is currently under the storm cloud of a deflating eight-match losing run, something not experienced since the dim and distant amateur era days of 1975.
This vote of confidence in their rookie head coach is a better reflection on an organisation that unceremoniously axed O'Connor, who arrived in March 2017, just a single game into this season.
One September match was also all James Buckland had as Ealing head coach. However, because he was working under director of rugby Ben Ward, the rate of expendability in the Championship for 2018 is similar to the Premiership's 25 percent turnover.
Continue reading below…
London Irish, Nottingham and Yorkshire have rung changes at the top, but with contrasting fortunes.
While Declan Kidney, Nick Kennedy's successor, has Irish on track for a swift Premiership return, Yorkshire newcomer Chris Stirling, who worked with Boyd at the Hurricanes, will be feeling edgy that things are not working out in Leeds.
His team are bottom of the division after just one win in nine, they suffered a 67-point drubbing at Irish while average attendances of just 1,500 further highlights how weak the club's ambitions are of a return to the Premiership. A drop to National League is more likely without sharp improvement.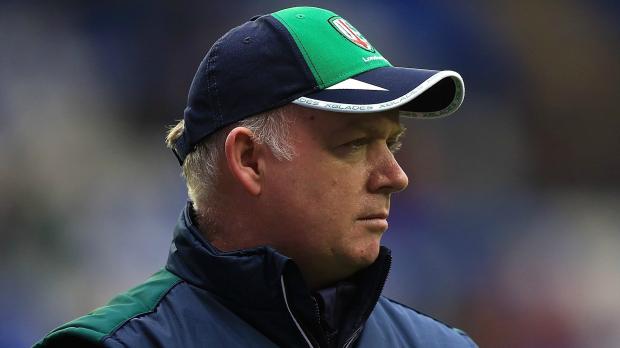 Just six changes across England's 24 clubs sounds restrained compared to some goings-on elsewhere. Three of the four Welsh regions changed their men at the helm in 2018.
Bernard Jackman's exit from Dragons last week was the latest alteration following Ospreys' January sacking of Steve Tandy and the decision of Cardiff's Danny Wilson to take up an assistant's role at Wasps.
It will become a clean sweep next May when Wales-coach-in-waiting Wayne Pivac bids adieu to Scarlets.
Celtic neighbours Ireland are regularly lauded for their top-down, IRFU-run model, but even their union in Dublin don't take bad provincial results lightly.
Les Kiss and Kieran Keane found this out to their cost at Ulster and Connacht respectively, Keane ousted from Galway just a year into his proposed three-year relationship. Meanwhile, Munster has too long been a merry-go-round, the club having five different coaches in charge since they last lifted a trophy in 2011.
This demand for success is currently at its most cut-throat in the second tier French league as five of the 16 PRO D2 clubs switched main men in 2018.
Colomiers were the latest to blink, a dressing room player vote of no confidence last week resulting in the ousting of Olivier Baragnon after just a season and a half at the helm.
That was the same 18-month length of tenure afforded to Jackman in Newport. Ten defeats in 14 matches and the prospect of relegation to the Fédérale cost Baragnon.
The curious thing about this evolving PRO D2 landscape is how four of the five clubs who made changes – Bayonne along with European Cup final trio Biarritz, Brive and Colomiers – feel capable of being Top 14 teams. It seems ambitions to get back up to the first tier are influencing snap decisions.
This upheaval at these lower division clubs with a European pedigree is in stark contrast to Vannes' build-it-slowly approach. Jean-Noel Spitzer is enjoying his 14th straight season in charge to make him and Bedford's Mike Rayer the longest serving bosses anywhere on the European circuit.
Patient faith in the men in charge is a common denominator at clubs enjoying stability and regularly competing for trophies. Racing 92 are a good example, joint bosses Lauren Labit and Laurent Travers midway through their sixth season in charge in Paris.
But Leinster and Toulouse best illustrate the importance of clubs standing by their chosen ones. Leo Cullen was exposed by inexperience during his first season at the helm in Dublin, Leinster eliminated from Europe after just four pool rounds. Ugo Mola also struggled, Toulouse finishing a desultory 12th in the Top 14 in his second season.
Now both bosses are in their fourth seasons, their teams are playing exemplary attacking rugby and they are due to clash at the RDS on January 12 in the tie of Champions Cup round five.
Defending champions against pretenders to the throne. It's a fixture that will highlight why offering job security to rugby bosses building for the long term can pay off handsomely in a climate where it's becoming more frequent to rip it up and start again.
THE RATE OF 2018 CHANGE
PREMIERSHIP – Three changes (25%)
Paul Gustard for John Kingston (Harlequins)
Geordan Murphy for Matt O'Connor (Leicester)
Chris Boyd for Jim Mallinder (Northampton)
TOP14 – Four changes (28.5%)
Joe Worsley as interim for Rory Teague (Bordeaux)
Jono Gibbes for Patrice Colazzo (La Rochelle)
Heyneke Meyer for Greg Cooper (Stade Francais)
Patrice Colazzo for Fabien Galthie (Toulon)
PRO D2 – Five changes (31.2%)
Yannick Bru for Pierre Berbizier (Bayonne)
Jack Isaac for Gonzalo Quesada (Biarritz)
Jeremy Davidson for Nicolas Godignon (Brive)
Julien Sarraute for Olivier Baragnon (Colomiers)
Jamie Cudmore (new general manager position at Provence)
CHAMPIONSHIP – Three changes (25%)
Declan Kidney for Nick Kennedy (London Irish)
Neil Fowkes for Ian Costello (Nottingham)
Chris Stirling for James Lowes (Yorkshire)
WALES – Three changes (75%)
Allen Clarke for Steve Tandy (Ospreys)
John Mulvihill for Danny Wilson (Cardiff)
No one yet for Bernard Jackman (Dragons)
(A fourth switch is arranged for May 2018 as Wayne Pivac will leave Scarlets for Wales to be replaced by Brad Mooar)
IRELAND Two changes (50%)
Dan McFarland for Les Kiss/Jono Gibbes (Ulster)
Andy Friend for Kieran Keane (Connacht)
(It rises to three changes if you include Johann van Grann's arrival at Munster in November 2017 for Rassie Erasmus)
SCOTLAND No changes
ITALY No changes
Comments
Join free and tell us what you really think!
Join Free