'I was sold the dream by Venter, he could sell anything to anyone'
Charlie Hodgson has never forgotten the first impression Brendan Venter made when courting him to sign for Saracens. The seasoned out-half had just ended his two-year spell in the England wilderness, forcing his way back into Martin Johnson's plans at the age of 30, when he helped Sale to defeat the Londoners in the Premiership in January 2011. A week later, a three-year deal was announced.
Of course, this wasn't a sudden shaking of hands conducted purely on the basis of what Hodgson had done in fashioning Sale a 28-3 opening half-hour half lead in a match they eventually won by six points in Stockport.
Talks had taken place in the background prior to that and the net result was a beautiful five-year spell at the club, culminating at Twickenham with the Premiership/Champions Cup double being clinched.
"Officially you are not allowed to speak to people, of course you're not, before January but yeah, it is fairly obvious when you sign a week later then something has been happening," said Hodgson to RugbyPass, casting his mind back to when he took the plunge to quit Manchester for London.
"Saracens was an opportunity to try something else. I had spent eleven years at Sale and for me, there was always that question of what if. I could have stayed and (eventually) retired there but at that time it just wasn't working out. There was quite a big changeover in the coaching and playing group at the time, it didn't feel steady and so at that time, I felt if I am going to do it it was the right time to do it now.
"So I was sold the dream by Brendan Venter. I sat down with Brendan, listened to him speak about what he wanted and how he was going to do it. I mean, Brendan could sell anything to anybody and certainly his passion was one of the reasons why I joined Saracens, what he wanted to achieve and his long-term goal. He had started on that path and they ended up winning (the Premiership) that year and then I joined the following year where we got beaten in the semis. I could see there was something developing and it was just helped by Brendan's passion really."
It was 2011 when Hodgson enlisted and although six years retired from playing and now working outside the game in the world of medical device sales at Smith & Nephew – 'I'm doing a job that I enjoy at the moment. It's not rugby but it pays the bills' – he tries to keep abreast of what is going on, not only at Saracens but also at Sale, the other club of his life.
Thing is, the 2005 Lions tourist is similar to most retired players in the 40s with a rake of kids – their weekends are consumed by family adventures, not with getting along every week to watch some Premiership rugby. He will be at Twickenham on Saturday, though, roaring on Saracens against a Leicester side coached by his old teammate Steve Borthwick.
"I don't tend to get to as many games as I would like to or even my oldest boys would like to, so I haven't been back for a while but I am going this weekend with my family. I'm looking forward to being immersed in it again and to catch up with a few old faces. It will be nice.
"I coach the oldest's team locally. I still keep my hand in that way and I do amateur stuff which is amazing, I love doing it, but nothing from a professional standpoint. I did a little bit of that in 2017/18 (kicking coach for London Irish and Wigan) and went over to Munster for a couple of days just to get some experience over there, but the only thing I do is some individual kicking with a young lad now who is 17, but that is it really."
Living in the St Albans area means a Saracens catch-up is never too far away, however. "It's more some of the coaches because they are my age. So Dan Vickers, the kicking coach, he lives on my road so I catch up every now and then. Joe Shaw, we're the same age and our kids go to the same school and the same class, so I see Joe a little bit.
"So I kind of keep my eye in a little bit on what is going on, through them really more than the players, and I keep in touch with the old boys that were around in my era. Not a huge amount of contact with the current playing staff, things move on, don't they? I moved on. I don't really want to be 'hey, I'm the old guy' that has come in again, so I kind of walk away from it.
"I have two clubs now, Sale and Saracens, and I follow from a distance, I don't get emotionally involved, I don't get emotionally attached to it. Obviously, when I watch them I want to see them win but that is as far as it goes really. When they play each other it's a little bit awkward, but I still have my dislikes of other teams and I certainly want those teams to lose when I watch them play. I won't mention any details about who they are, but I still enjoy watching the boys from both teams really."
Thank you @lionsofficial. This is very cool! To say I am proud is an understatement! pic.twitter.com/nLZFdEH7k0

— Charlie Hodgson (@CHodgson10) May 14, 2018
The Saracens rebound has most fascinated Hodgson, as he claims the initial November 2019 points deduction – followed by the Janaury 2020 confirmation of automation relegation – would have tested the squad culture like never before. "The question when they did go down was always how strong their culture really was," he mused.
"Even when I was there we always talked about how strong the culture was and the question therefore when they got relegated was, 'Let's see how strong this culture really is and whether it is going to help?' The proof was in the pudding. Even before they got relegated, when the (points deduction) news came out and they went away to Gloucester, one one of the worst, hardest places to play, they ended up winning.
"You can see from that moment they were kind of destined to go down, come back up and almost hit the ground running and it's quite amazing to watch really. As I say, it's this whole idea that it is not just the stars that you see playing these big games, the semi-finals and finals.
"It's the boys that are doing the work on the training field that perhaps don't get noticed or the boys playing the games that perhaps people don't see in the news as much, but yet they are still winning and are still grinding out those results. It's is just a huge team/squad effort which they have always played on. They have always talked about how important that is. It continues to be and you can see it."
The emergence of unheralded talents such as Theo McFarland, who only started his first Premiership game in January and is now a mainstay of the side, keeps Hodgson intrigued. "They seem to unearth players like that who slot in seamlessly and it goes back to the culture where it is really important that someone like that has been able to slot in seamlessly.
"They welcomed him with open arms, as they do with everybody, and they are enabling Theo to flourish and to do everything he is very good at. It is brilliant to watch and of course, he is not going to be away internationally through those Six Nations periods when they will lose Owen (Farrell), Maro (Itoje) and those guys.
"You also look at the likes of Max Malins and Ben Earl, they went away (on loan to Bristol) and have come back and experienced a different place, a different way of playing. They are all constantly learning."
Mention of Farrell and Itoje, players Hodgson would have shared the Saracens dressing room with during his five-year stay, what has it been like watching them become world stars who are still heavily invested in their club? "I'm not surprised by their trajectory and by how they have gone. Both of them were always destined to do great things from a very young age, they were doing them when I was there so it was obvious that they were going to continue.
"Just because the fact they are so competitive they want to do well, they want to achieve both individually and collectively and are very much motivated to get better all the time which is something that Owen talks about all the time. He puts pressure on himself to perform each week, to get better each day, and Maro is the same.
"When you surround yourself and are around people like that it is very easy to get swept in that sort of emotion of, 'They are doing it, I'll be part of that journey as well'. If they are not, they kind of get spat out quite quickly. That environment that they have there (at Saracens), it seems to be driven very much by a motivated and competitive group of players."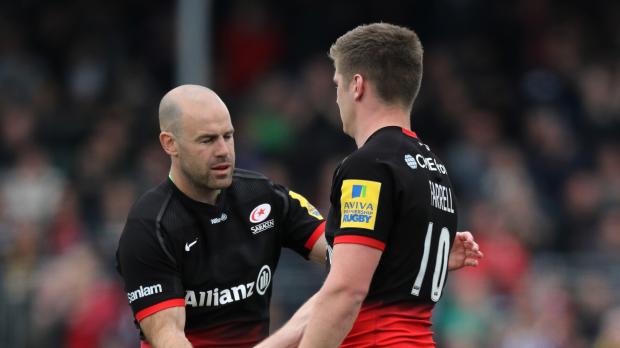 Tell us more about Farrell, the No10 Hodgson would have mentored as a fellow out-half. "He was what 19, 20 when I joined and I could just sense that he already had a really mature head on him at that stage and understandably so because he had been immersed in it from a young age, he had been around it at Wigan with his dad and then when his dad was playing and coaching (rugby union).
"He had always been in that professional rugby environment and it was just the way that he spoke, the way that he understood the game – he understood what he wanted and what he wanted to get out of other people. I wouldn't say it shocked me but it was enlightening to watch because you don't see many 19-year-olds come into a professional group like that, speaking their mind and saying how it is to people.
"It can be a little bit prickly at times but it is always done with the best intentions because he is uber-competitive and wants to get the most out of himself and out of other people. That was a big thing for me, seeing that at 19, and it has steadily developed over the years."
So too have the bonds amongst the long-serving coaching staff, a Mark McCall-led group that welcomed Venter back into the fold by having him watch last weekend's semi-final win over Harlequins from the Saracens coaches box at the StoneX. "That is the beauty of it, the strength is they keep reinventing themselves each year, they keep pushing themselves to improve.
"They have got a coaching group led by Mark, Mark is pushing the coaches, Mark is pushing the players, the players are pushing each other, the players are pushing the coaches to get better, the coaches are pushing the players to get better. There is all these moving parts and they are all willing to succeed. One of the reasons why it works and why it continues to work is because of the longevity of being able to keep hold of people whether that is the playing group, whether that is the coaching group.
"It's no secret when you are together for that long you understand people in a much stronger way, you have stronger relationships, you understand what makes them tick. People are like a family I suppose, you can say things and it is water off a duck's back whereas if it's a little bit tetchy and you don't know people too well it's how do they take a response or a reaction or a comment?
"These guys have been together for so long they are like a family, they know each other incredibly well and that ability for honesty is paramount in anything really to not take offence to something if it might be construed as being negative, so the beauty of having that team together for longer is huge for them."
Hodgson expects Saracens to win on Saturday even though there is a familiar face in Borthwick looking to upset them. "Saracens will win because of the journey they have been on and because of the experience they have in big games. They have experienced a hell of a lot together and they will be too strong for Leicester.
"I have known Steve since I was a kid, we played a little bit of representative stuff against each other at schoolboy level and then professionally. I was really impressed with Steve as a captain when I joined Saracens. His ability to speak the right thing at the right time with the right tone, all of these things were so, so impressive with him.
"And from a coaching point of view, he has just gone off and learned from different people, different influences, Eddie (Jones) being one of them and the Saracens model being another. He has obviously taken the best bits from both, what works well, and has looked at Leicester and what has always been their strength. He has brought back or certainly instilled an idealogy, a culture, a way of being that is Leicester Tigers, that people have known them for, that people know them now and they want to get that whole city behind them."
Great hit Courtney! ?. https://t.co/6hp7fbsSQE

— Charlie Hodgson (@CHodgson10) February 23, 2021
When Hodgson quit playing in 2016, he exited by claiming the sport was completely different from the one he first played professionally 16 years before. Six years into his retirement, what are the differences between now and 2016 when he left? "The physicality of the game has gone up a notch again. Even when I was playing you recognised it was going up each time. The emphasis on playing now is more attack-focused.
"It went through a stage definitely of being defensively heavy and it still is, defences have got to be strong, but there is a good emphasis on playing good rugby and creating opportunities. That is not just the way Sarries play. You look at the way Quins play, the way Bristol have played.
"Marcus Smith, these guys are encouraged to create opportunities because they have the talent to do that. That is the nice thing watching from afar, that you are seeing a game that is built on som really good foundations but now people are starting to express themselves a little bit more. It's good to see."
Comments
Join free and tell us what you really think!
Join Free