Back
By Owain Jones
Will Collier: 'The front row at scrum time is the best place in the world'
There was a moment earlier this season that brought a look of disgust to every paid-up member of the front row union. Harlequins were going through the gears of their usual Houdini act against Bristol Bears, when Charles Piutau spilt the ball out of contact. The spun out into no man's land. The nearest player was Will Collier, the erstwhile anchor of the Harlequins scrum. Instinctively, he picked it up. To his left he saw Joe Marler raising his hand. To his right he saw Joe Marchant. In a moment of madness, he thought, 'bugger it, I'm going it alone'. Shaping to pass to Marchant, he threw an audacious dummy, before dropping the throttle, and pinning back his cauliflower ears to pound the turf and propel his near 19st frame over the line with Fitz Harding in hot pursuit. It was derring-do befitting a player with double-digits on his back and the try brought the house down at The Stoop before he was engulfed by his team-mates.
The try, if nothing else, showed the affection felt by Quins for one of their own. Only months later, the tighthead was trundling out for his 200thappearance in the Quarters, following only Joe Marler, Ceri Jones, Mark Lambert and Tani Fuga in doing so as a prop.
Speaking to Collier at the Guildford Sports Ground, it's clear the affection displayed over all those years is reciprocated. "There's no place I'd rather be than playing rugby for Quins. I still absolutely love it. I remember playing with Ben Taps (Tapui). He used to bounce onto the training field and say tongue-in-cheek, 'best job in the world lads, best job in the world'. Of course there are tough times as a pro player. Long term injuries put you in a dark place, and then there's the wind and rain during the depths of winter, but I wouldn't change it for the world."
For Collier, who recently celebrated his 31st birthday, sporting milestones are there to be celebrated, especially when you look around and see empty pegs where you used to see your best mates. "The boys I still go out for beers with aren't playing anymore; George Lowe, hip, Rob Buchanan, neck, Lambie, old age and Sam Twomey no longer have lockers. Then you have the boys I came through the Academy with like Ollie Lindsay-Hague, Ross Chisholm and Luke Wallace. We're holding on but we're an endangered species."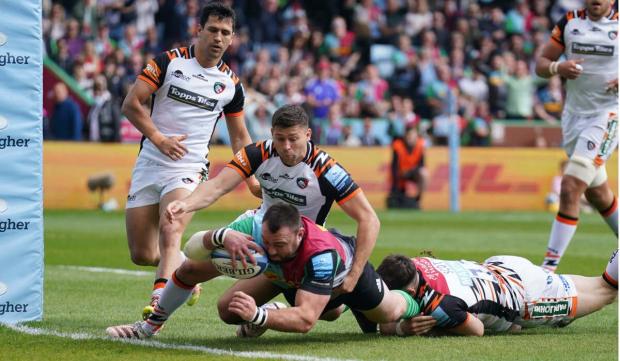 Collier is not especially prone to sentimentality but on his 200th, a speech by Tabai Matson got the tear ducts welling up. "Tabs played the family card – I think he was trying to make me cry – and when you look around, I knowing I was the 12th or 13th pro player to cross the 200 mark, is some achievement. When you become a dad, it's the most special thing in the world to be out there with your son. I want Charlie to see me play."
Like any top club, the burly tighthead has had to jostle for the No 3 shirt, with Kyle Sinckler and currently Wilco Louw, vying for the No 3 shirt, but this season has been Collier's hit a rich vein of form, with praise ringing in his ears from the likes of TV pundit, David Flatman for his destructive scrummaging displays.
So what is behind the form that has seen him mentioned in dispatches for an England call-up? "If I was to say one word, it would be belief. I had a long layoff last year but when I came back, I was playing some of my best rugby. I'd be coming off the bench and making an impact, mostly at scrum time. I've been lucky to get a string of starts this year and deep down, I know what I can do."
The front row at scrum time is the most amazing feeling in the world. You feel all the emotions. There's nothing quite like it. You're in an elite brotherhood where you feel so alive. It's a desperation to survive.
That almost primitive feeling of pushing your opponent to his physical limits is what draws Collier to the coal face and makes him one of the best tightheads in the Premiership. Discussing scrummaging, his piercing blue eyes spring to life. He animatedly says there are few experiences like two packs weighing nearly a tonne putting the squeeze on. "The front row at scrum time is the best place in the world. You feel all the emotions. There's nothing like it. You're in that elite brotherhood where you feel so alive. It's a desperation to survive. When you're at your best, you're not thinking about your set-up, you're just in the zone. It's almost like a tango, where you're reacting to the opposition's moving body positions. Props feel like those SAS boys. They can just look at each other, and know they've been through something a bit special."
What has pleased Collier in his 24 appearances this season is finding the consistency that is so elusive for many tightheads, when the flip of a coin can decide which side gets a scrum penalty. "There are a lot of players in the Premiership who truck along, have the odd good scrum, lose a few penalties, collapse a few scrums but get away with it. Finding consistency is about having the same process and getting the same positive outcomes, regardless of the opposition. We've come away from games with Leinster and Montpellier in recent months holding our own."
The Quins tighthead has seen his role evolve over the last decade, but he knows the set-piece is his bread and butter. "Outside of that, it's everything you want from a big lad. Hitting rucks around the breakdown, bringing physicality in everything you do, winning collisions, trying to dominate at the breakdown and disrupting where you can."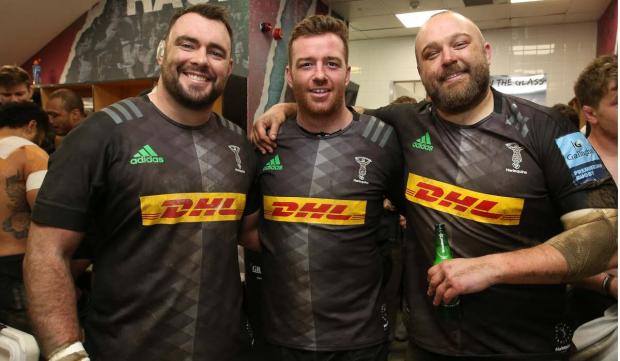 Well-spoken and hailing from Hammersmith, on paper Collier doesn't immediately strike you as strong man hewn from granite. That is until you dig a little deeper into the gene pool. "My dad, Mark, is a unit and both my grandparents were strong men. My grandfather on my mum's side, Larry Webb, was a Bedford man who played for England and got a few caps. My other grandfather was in the Merchant Navy and was hard as nails. He was from Cornwall and as a kid I'd go down there in the summer and carry heavy buckets of fish for him. I loved those days with a bit of sea air. It was quite the departure from East Sheen."
With more than its fair share of South African beef in the Quins pack, Collier, is loath to have sand kicked in his face, metaphorically, in the gym, and holds his own. "I did a bit of a powerlifting from a young age and I've squatted is 280kg for one rep. That's the best in the Quins front row," he smirks. No mean feat with Marler and Louw sharing squat racks.
Over time, I've got to know him properly. A beer here, a coffee there. When I'm blowing outside my backside mid-drill, he'll slip me a couple of chocolate eclairs, which I love

Collier on Adam Jones
The progression of the Harlequins front-five serves notice of Adam Jones' burgeoning coaching credentials but Collier says the change is perception is player-led. "Unlike say Leicester, I know we've been thought of as the soft city London boys, but we're now one of the toughest set-piece teams. We'd back ourselves against anyone physically. I think the change is player-driven because that's what the coaches have identified needs to be done. They've had the bravery to sit back, almost and say, 'we are going to be there to support you, but it has to come from you. Find your own way'. We don't want to fake it and pick words out that don't mean anything. We've matured organically."
Having 'Bomb' in their corner is priceless, however. "It's not just the technical stuff, it's life and rugby experience. He's faced all my heroes, and don't tell him but he's in that bracket. He doesn't scream and shout about what he's done but we hit it off from day one. Having played alongside him, we have a slightly different relationship to a coach who's just been parachuted in. Over time, I've got to know him properly. A beer here, a coffee there. When I'm blowing outside my backside mid-drill, he'll slip me a couple of chocolate eclairs, which I love. I actually think he wants me to be heavier!"
Collier's love of rugby comes from his father who built up and sold a digital marketing company. The old man was decent enough player to turn out for Wales Students while at University and Richmond, that's where the tighthead attributes his prodigious work ethic.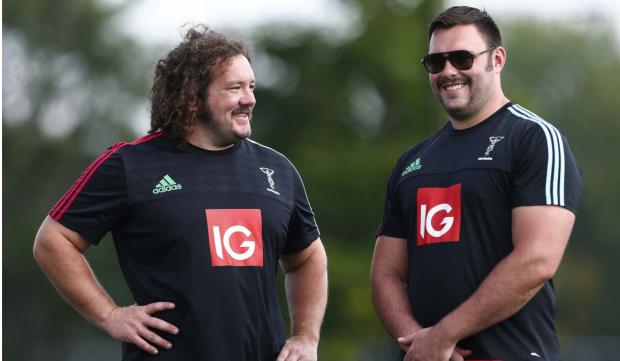 He spent his teenage delinquent years coming through with Rosslyn Park which he admits were some of the best of his life. "I'll never forget Andy Ripley was on his deathbed and we were told he wanted to watch his club one last time. There's such a strong bond at the club. London Irish were our big rivals back then but we put in our place when we went out to South Africa. We were playing in bare feet on the hard grounds and played Paarl Gymnasium and King Edward's. The physicality was incredible. All the parents went out on the beers and we had a right laugh. It's what rugby is about. I'll never forget it."
In his formative years at Quins, Collier could only look on in awe at some of the big beasts of the front row, roaming around the Premiership, going onto to face a few grizzled behemoths. "I used to love Julian White and Andrew Sheridan. Proper hard men. I was also fortunate to pack down against Marcos Ayerza, who was simply amazing. One of the world's best."
Having been lucky enough to win a few Premierships, you want to experience it again and again. It's a bit like a drug
Nowadays, Collier says there is a new breed of looseheads who are every bit as good as the old boys. "Someone who is very understated is Ben Moon, down at Exeter Chiefs. He's been so consistent for over a decade. He doesn't scream and shout, he just goes about his work. In the Premiership final last year, I came off the bench and I've never been more psyched up for a scrum, but he stayed so square. He's an honest player, who doesn't muck you about. Val Rapava Ruskin is doing a good job down at Gloucester and I always have a good little tussle with Alex Waller."
Collier admits to a tussle with someone he could be facing again at the business end. "A few weeks ago it was Gengey (Ellis Genge). He's great fun to play against. Babs gives it some chat but he's a lovely bloke. We were both lifting up each other's tops before we engaged which was a shame because he's in much better nick than me."
After winning two Premierships, the one medal Collier craves, much like his team-mates, is a European medal. This season they went out agonisingly to Montpellier 60-59 on aggregate, but the side have silverware in their sights. "Having been lucky enough to win a few Premierships, you want to experience it again and again. It's a bit like a drug. Look at Saracens and Exeter. They've had sustained success. It's not just the big games, it's the Worcesters or London Irish's away. They are not the glamourous games but one's you have to grind it out."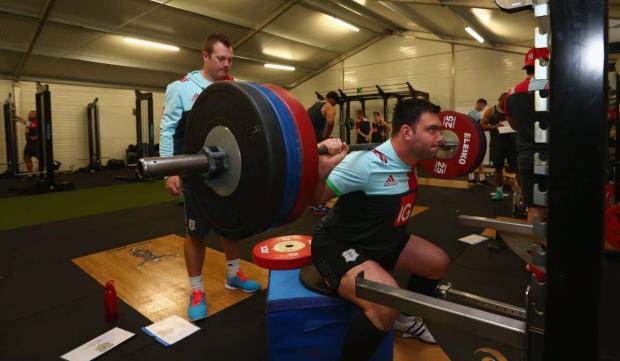 As for the Champions Cup, pitting yourself against gnarled front-rowers of the Top 14 is where Collier craves respect. "I absolutely love the challenge of playing those French and Georgian props. Those two Montpellier looseheads, Mikheil Nariashvili and Titi Lamositele were tough boys. You see them a few times a year but Europe adds that layer of mystique I love."
While Quins have reasserted themselves at the set-piece, they have rock stars like Marcus Smith and Alex Dombrandt creating viral moments. Do the front-five ever tire of watching the fancy stuff? "It's quite funny. Often we get up from a scrum or a maul, covered in blood and mud and they're down the end of the pitch and having scored a worldie. We just get our breath back and watch it back on the big screens. It's the magic they produce that the fans love."
Quins have been my everything. I came here as a boy and watched them as a fan. Some of my best mates are still here. The amount it means to my family. There are so many layers to it
With two caps on the 2017 Argentina tour, and the recent England training squad being named without Collier's name on it. The tighthead knows he has to keep on grafting to achieve his dream of a call-up. "I've spoken to the England camp. I think I know what I need to do to get back into that environment, and I'm desperate to do it. Come the World Cup, there will be some massive scrum and set-piece battles and I feel in a great place with my scrummaging at Premiership level. I believe I can be a dominant tighthead at that Test level too. I want to prove to the world I can."
With Gloucester the only hurdle to them qualifying for the play-offs and a chance to retain their Premiership title, ahead of Leicester and Saracens, Collier says the club comes first and is part of his DNA. "Quins have been my everything. I'm so fortunate that I have a few more years here. To be a part of Premiership wins in 2012 and 2021 was incredible. It's been such a big part of my identity, of my life. I came here as a boy and watched them as a fan. Some of my best mates are still here. The amount it means to my family. There are so many layers to it. My relationship with the fans, the players and coaches. We had someone in to talk about our culture and they described now as being our time in the spotlight. At some point the light moves on and it leaves you in the past. I want to keep that legacy going and have no regrets."